I like Seeking Alpha articles with a lot of graphics. Here's one such article telling the current story of Micron Technology (NASDAQ:MU) with a bunch of sell side graphs and tables and some of my own making.
I don't have the time to update my $1.62 earnings model for the May quarter. And despite some errors or wrongly placed emphasis which has become apparent in the month since it was written, I think I will stick with the number and hope my errors and emphasis cancel each other out.
Here's the main chart to keep in mind as we sail into earnings season: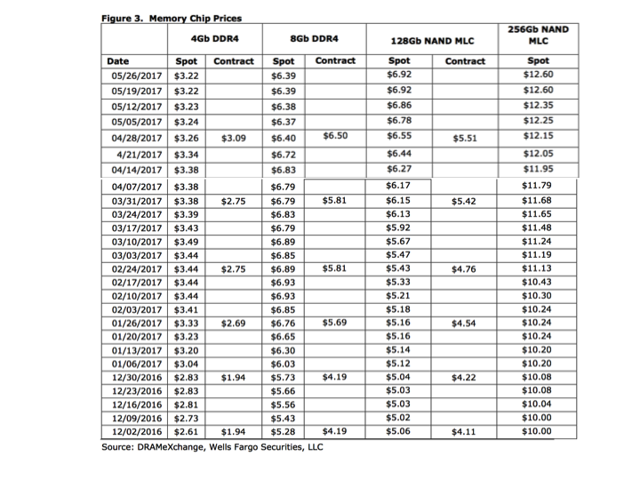 This spanned two pages in Wells Fargo's May 29, 2017 Chip Weekly, so excuse my humble efforts trying to get in back into one graphic. To me, this is a key part of the Micron story: contract prices remain strong as we exit the seasonally worst calendar quarter for memory demand and pricing.
Here is the chart I keep on a daily basis, of DRAMeXchange's DXI index plotted against Micron's stock price: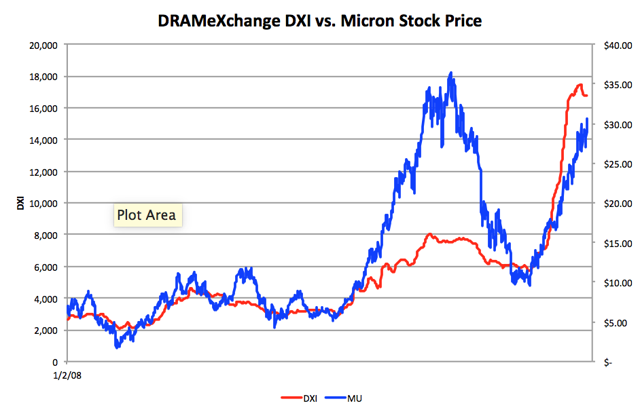 And now onto DRAM. Here's my daily chart of Micron's stock price vs. the average of chip prices reported nightly on DRAMeXchange. (Note this is an average of chip prices, not price per Gb):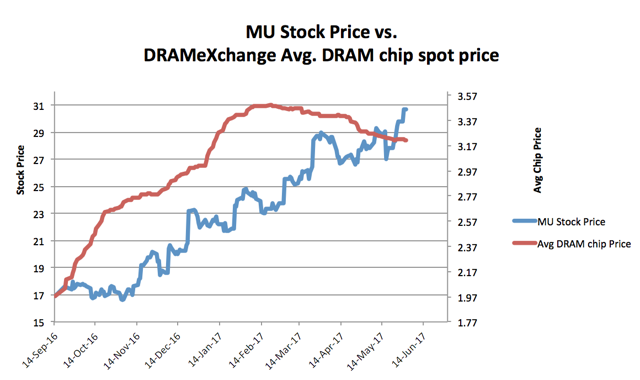 The crossing of these two lines was etched in my mind as a mental caution-- I was definitely intending to lighten up when it happened. Well I have trimmed with the stock price upward surge but I certainly haven't exited and the duo of Bernstein charts on DRAM spot vs. contract tell the tale of "why not exit now?":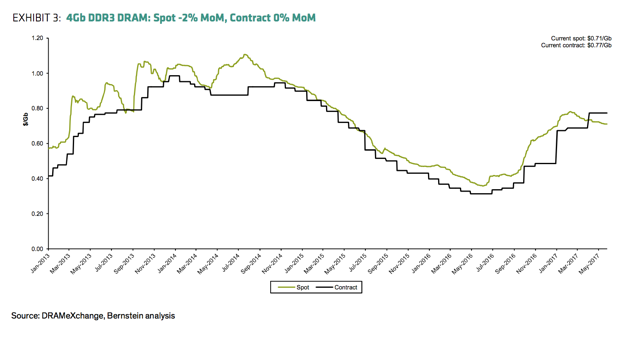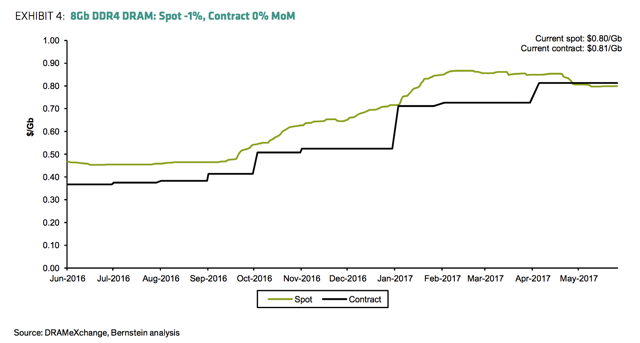 The general upward trend of both spot and contract pricing seems to be intact. We will see if the recent sideways action is just another stair step or a pricing top. I think iPhone8, various reports of company shortages, etc. speak to the possibility that the upward trend will resume in the 2H.
And what about NAND? I think this is really the quarter in which NAND will shine. Here's my own chart on the nightly DRAMeXchange chip pricing vs. the Micron stock price: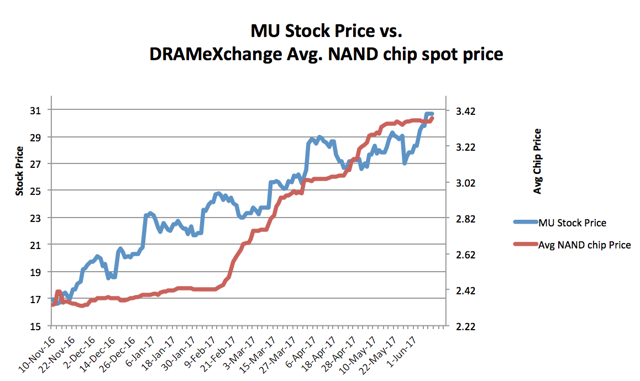 And here's a troika of Bernstein charts on NAND spot vs. contract: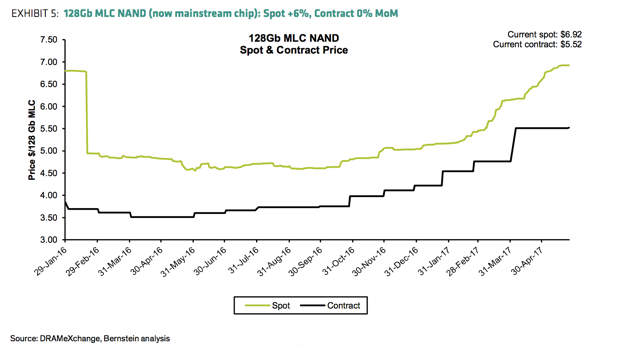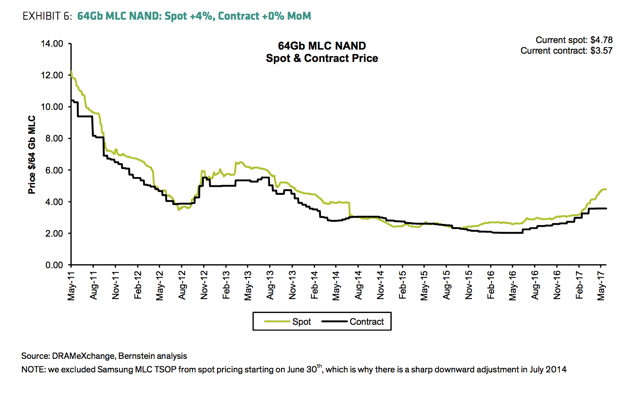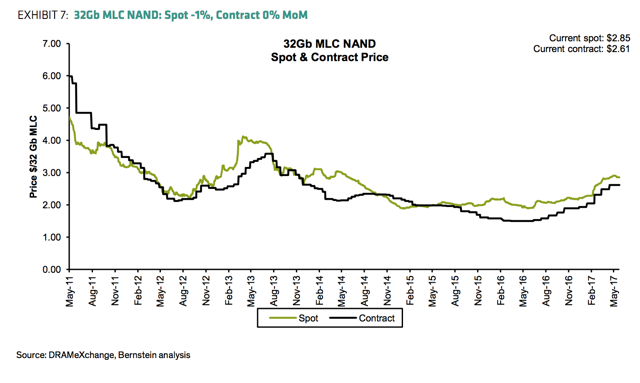 Here the spot vs. contract picture remains more intact than it is in DDRAM. I like the wider gap on the more dense chips as I think this is where Micron's emphasis lies. There are various reports and rumors that have Micron picking up additional NAND market share. As their 32 layer 3DNand matures and their 64 layer product rolls out we should see some very healthy upticks in already record high (for Micron) NAND margins.
Conclusion. Morgan Stanley and Deutsche Bank have said they don't expect an earnings pre-announcement. I think there is a 50/50 chance they are wrong and that Monday's Stifel conference at 12:30 EST is the spot where it could happen. This has become part of Ernie Maddock's (MU CFO) playbook and he uses these pre-announcements to signal customers and competitors and to improve Micron's transparency with shareholders. Heck, it could even be a good debutante outing for our new CEO Sanjay Mehrotra or set the stage for him to exceed an update when earnings are reported on June 29th.
Too many sell side analysts are writing gloom and doom reports on how the cycle may have already begun to turn. I think they are wrong and that we still have a long way to go. Read some research. Read William Tidwell's excellent article on our excellent new CEO. Tune in to the Stifel presentation on Monday. And good luck to all.
Disclosure: I am/we are long MU. I wrote this article myself, and it expresses my own opinions. I am not receiving compensation for it (other than from Seeking Alpha). I have no business relationship with any company whose stock is mentioned in this article.