As OPEC/Non-OPEC recommits to lowering oil production (and now cutting exports) for another 9-months it becomes even more important for us to look at EIA data. Although EIA's data is US centric, sentiment around its results will inevitably drive the market. Here's a few charts we've been playing around with today, after the release of some highly anticipated reports. Often we'll take EIA data and reframe it so the numbers are placed into some type of understandable context.
First, the EIA-914 Monthly Crude Oil and Natural Gas Production report came out yesterday showing the survey data for oil production among several basins.
US Production
This monthly report is typically considered more accurate than the estimates used in the Weekly Petroleum Status Report ("WPSR"), which the market prefers to use for trading.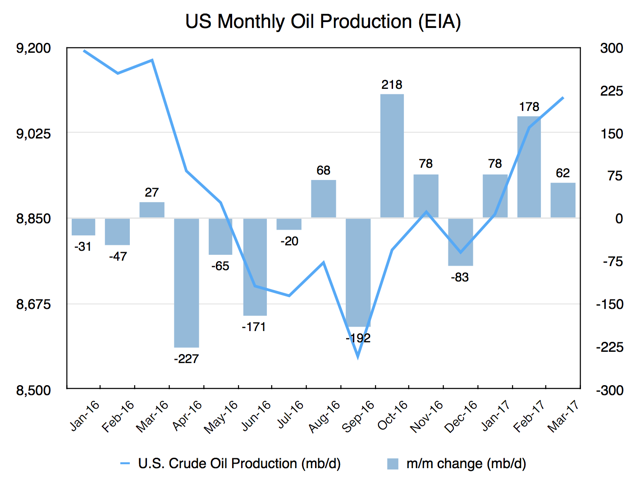 What's particularly interesting is the March decrease in production. In February, the oil market looked at the data and extrapolated the dramatic increase in February production (shown as a month-to-month increase), and thus forecasted a larger rise in production. While production will certainly increase simply because of the cadence of rig additions since last year, we don't believe it's as simple as employing a rig, drilling and turning on the tap. There's a large difference between drilling and completion, as completion requires pressure pumps, proppant and fracking crews, all of which are in high demand and driving increased costs and completion delays. Consequently, the increased production seen in February may be simply be a timing difference (i.e., many completed wells coming online) and when viewed in the context of March, production will increase but not at the astounding rates indicated initially by February's stand alone data. On the face of it, the 9,098 mbpd is lower than the 9,145 mbpd currently calculated in the WPSR, thus WPSR may be adjusted going forward.
Texas Production
The second chart we wanted to point out is a drill down on Texas production (with its prolific Permian basin).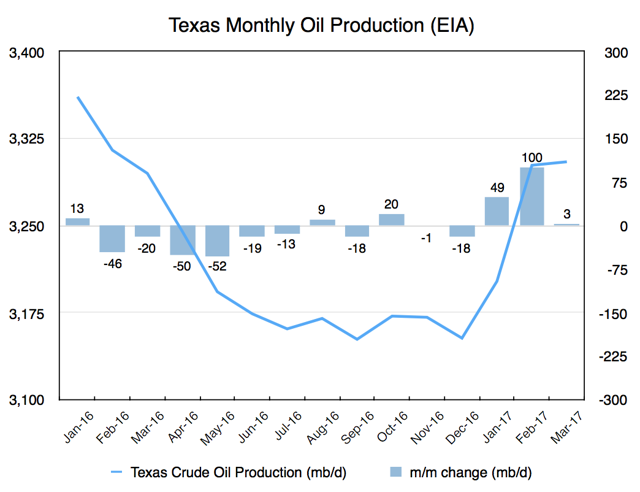 If we compare the two charts, we can see that Texas represents close to half of the production increase in overall US production in January and February. It's drop-off in March also led to an overall decrease in March. Overall while the media "talks" about the Permian, half of overall US production growth is coming from the various other basis including the Gulf of Mexico, so be careful of overfixating on a single play.
WPSR
Lastly, today's WPSR again showed another significant crude draw.

What's interesting about today's data isn't the crude draw, we anticipate this to occur as the barrels arriving today were barrels sent a few months ago (given shipping times) and by March, OPEC had begun to pay attention to exports. What's really interesting about today's data is the rise of US exports. Here's a chart of the 4 week moving average overlaid on the total US petroleum stocks. As OPEC/Non-OPEC continues to cut production/exports, we anticipate increasing US exports coupled with decreasing imports could potentially lead to a greater than 1m bpd drawdown of crude stocks in the heart of the third quarter. Thus far, the market has been focusing on imports and OPEC/Non-OPEC's shipments, but keep in mind the increasing demand/exports of the US's lighter API rated oil.
As always, we welcome your comments. If you would like to read more of our articles, please be sure to hit the "Follow" button above.
Relevance: USO, OIL, XLE, UCO, VDE, ERX, OIH, SCO, XOP, BNO, DBO, ERY, DIG, DTO, USL, DUG, BGR, IYE, IEO, FENY, DNO, PXE, FIF, OLO, PXJ, RYE, SZO, NDP, GUSH, DRIP, DDG, FXN, OLEM, CRAK
Disclosure: I/we have no positions in any stocks mentioned, and no plans to initiate any positions within the next 72 hours.
I wrote this article myself, and it expresses my own opinions. I am not receiving compensation for it (other than from Seeking Alpha). I have no business relationship with any company whose stock is mentioned in this article.