Preferred stocks have long been among my most favorite segments across capital markets. And it is offering some attractive opportunities today for investors thirsting for yield in the current market environment.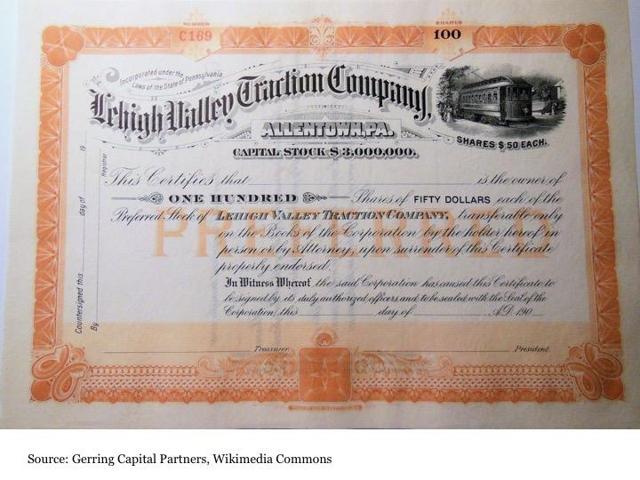 When referencing preferred stocks (NYSEARCA:PFF) in this article, this includes the grouping of securities that include such official identities as traditional preferred stocks, exchange traded debt securities, and fixed rate capital securities among others. And they have unique characteristics that make them particularly attractive from an investment standpoint.
To begin with, preferred stocks (NYSE:PGX) act like bonds (NASDAQ:BND) in many ways. They have a par value, which is typically $25 per share nowadays. They also have a maturity date, which is usually about 50 years from the date of issue, as well as a call date, which is usually about five years from the date of issue. They also pay a fixed dividend or interest payment in many cases that is at an interest rate that is measurably higher than what is offered by most common stocks. And preferred stocks (NYSEARCA:FPE) rank higher on the capital structure than common stocks, thus providing an added degree of default risk protection. Preferred stock ownership also does not come with voting rights.
Also, preferred stocks also act like stocks (NYSEARCA:SPY) in other ways. Perhaps most significantly, they can trade on the exchanges including the New York Stock Exchange and the NASDAQ (NASDAQ:QQQ). This provides an added level of liquidity and price transparency. And for many retail investors, it also results in lower transaction costs than buying or selling bonds (NYSEARCA:AGG).
When screening for preferred stocks, I place a particular emphasis on the following characteristics.
Quality
Just as I seek to own common stock (NYSEARCA:DIA) securities that have an investment grade credit rating, the same principles hold true in my preferred stock screening process, as I place a priority on higher-quality securities (BATS:EPRF) that have an investment grade credit rating from both S&P AND Moody's.
Liquidity
While preferred stock securities can be exchange traded, many also trade in the over-the-counter market. In the interest of seeking to reduce liquidity risk, which can be meaningful in the preferred stock market at any given point in time, I place a priority on those preferreds that trade on either the NYSE or the NASDAQ.
Discounts
At any given point in time, preferred stocks can be trading either at a premium above their par value of $25 per share or at a discount below their par value of $25 per share. A priority when buying preferred stock securities is to purchase them at a discount to par value, which builds in the potential for upside price appreciation if the preferred stock ends up being called at some point in the future.
Non-Financial Preferreds
While less of an issue today, as I own a number of financial preferreds (NYSE:PGF), I have always, even prior to the financial crisis and still today, placed a priority on the smaller subset of non-financial preferred stocks (NYSEARCA:PFXF). The reasoning here is that non-financial preferreds have demonstrated less downside risk volatility relative to their financial preferred counterparts over time. And this has proven particularly useful during periods of market stress in recent years.
High Income
Of course, another key priority in the preferred stock screening process is to focus on securities that are offering a higher-than-average yield when possible while not compromising the other characteristics listed above.
4 Quality Preferred Stocks For High Income And Risk Protection
With all of these characteristics in mind, four preferred stocks in particular stand out in this regard today. These are listed below:
Entergy Arkansas (NYSE:ETR) 4.875%
Ticker: EAI
Credit Rating: A2/A
Current Price: $23.77
Discount To Par: 5.17%
Current Yield: 5.13%
NextEra Energy (NYSE:NEE) 5.25%
Ticker: NEE-K
Credit Rating: Baa2/BBB
Current Price: $25.02
Discount To Par: -
Current Yield: 5.25%
Public Storage (NYSE:PSA) 4.90%
Ticker: PSA-E
Credit Rating: A3/BBB+
Current Price: $24.23
Discount To Par: 3.18%
Current Yield: 5.06%
Southern Company (NYSE:SO) 5.25%
Ticker: SOJB
Credit Rating: Baa3/BBB
Current Price: $24.92
Discount To Par: 0.32%
Current Yield: 5.27%
All four preferred stocks are investment grade credit rated, trade on the NYSE, either trade effectively at par or at a discount of as much as 5% to par, are all from non-financial issuers, and offer a yield in excess of 5%, which is attractive in the current market environment particularly for securities with an investment grade credit rating.
And it should be noted that I am currently long all four preferred stocks and have been since late last year, which leads to my next point about the preferred stock market.
The Blue Light Special
Every so often, the preferred stock market has a fire sale. Since the calming of the financial crisis, we have seen four such "Blue Light Specials" and all have presented particularly attractive buying opportunities to back up the bus and buy preferred stocks.
Essentially what happens is the following. An event will take place that causes global liquidity conditions across fixed income markets to tighten for a spell. While bonds such as Treasuries (NYSEARCA:TLT) see their prices fall and their yields rise during such episodes, the preferred stock market feels the downside impact disproportionately to the fact that despite their exchange traded status are still relatively illiquid and can be thinly traded on any given trading day. As a result, if a shock liquidity event takes place across capital markets that results in voluntary or forced selling of preferred stocks, more often than not buying demand is insufficient to receive the overwhelming selling volume.
This short-term phenomenon can result in high-quality, investment-grade preferreds such as those listed above that are trading at discounts of as much as 20% to par for a relatively brief period of time. Such episodes offer particularly attractive buying opportunity, as scooping up these preferreds during such discount periods enables an investor to lock in a more favorable yield at cost in excess of 6% while also setting up for an attractive double-digit capital gains opportunity as the preferred stock price eventually makes its way back toward its par value over time.
These fire-sale opportunities only take place occasionally, with the most recent taking place late last year in November and December 2016. It was during this time starting in mid-November on my premium marketplace service on Seeking Alpha that the recommendation was issued to buy these and other preferred stock securities at deeply oversold prices while the fire sale lasted. And the following chart shows the price performance of one of the four preferred stocks highlighted in this article in the months since: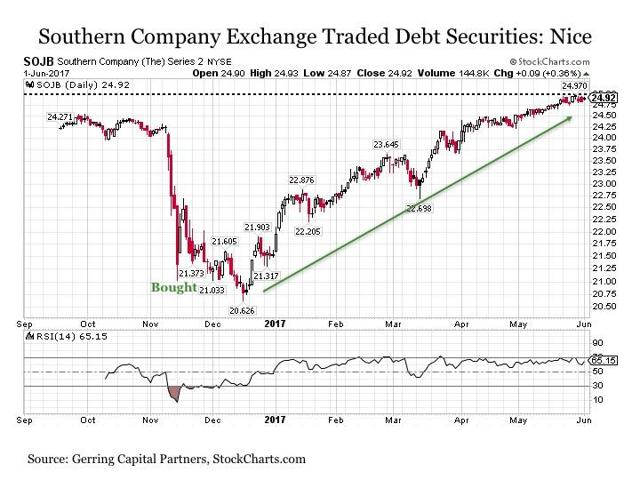 While the initial purchase in the case of SOJB required some patience, it has since been rewarded.
The Bottom Line
The preferred stock market is currently offering attractive quality investment opportunities for income-oriented investors. And over time, it is worthwhile to monitor the preferred stock market for notable sale opportunities, for they typically do not last long but offer particularly attractive investments with upside potential as they play out along the way.
Disclosure: This article is for information purposes only. There are risks involved with investing including loss of principal. Gerring Capital Partners makes no explicit or implicit guarantee with respect to performance or the outcome of any investment or projections made. There is no guarantee that the goals of the strategies discussed by Gerring Capital Partners will be met.
Disclosure: I am/we are long TLT.
I wrote this article myself, and it expresses my own opinions. I am not receiving compensation for it (other than from Seeking Alpha). I have no business relationship with any company whose stock is mentioned in this article.
Additional disclosure: I am long EAI, PSA-E, NEE-K, SOJB