The May jobs report was disappointing, printing at 138,000 jobs compared to a consensus estimate of 185,000. The disappointment was exacerbated by additional downward revisions in the March report (to 50,000 from 79,000) and April report (to 174,000 from 211,000).
Average jobs creation over the last three months has been a moribund 121,000 jobs. That compares to a three months average job creation rate of 201,000 jobs for the three months ended February, 2017 and 140000 jobs for the three months ended May, 2016. The May average three jobs creation is the lowest three month average jobs creation rate in nearly five years, since July, 2012, when the three month average rate was just 111,000 jobs.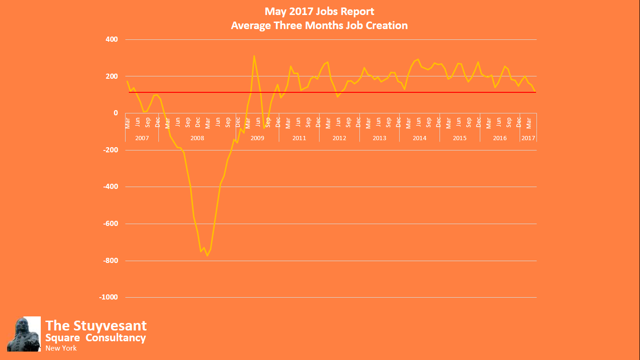 The unemployment rate stood at 4.3%, down from 4.4% and down from 4.7% in May, 2016. The U-6 unemployment rate stood at 8.4% in May, down from 8.6% in April and 9.7% for May of 2016. The labor force participation rate declined to 62.7% from 62.9% in April, but was up from 62.7% in May, 2016.
Average weekly wages printed at $901.97, an increase of $21.67 over May of last year. The largest wage gains were seen in the information sector; however, there were monthly wage losses in the manufacturing and utility sector, other services and professional and business services. (We report more extensive wage data and real-wage data in more detail on the quarter, with our June jobs report.)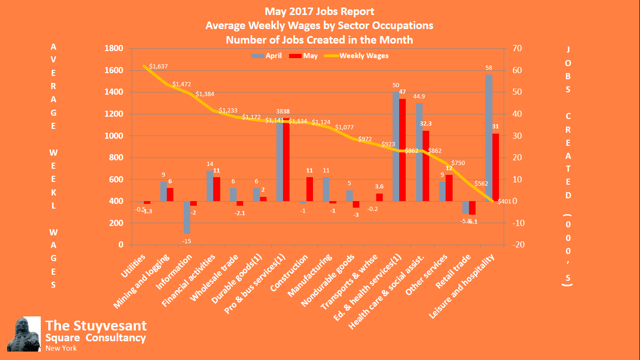 Turning to our exclusive chart of monthly jobs creation by average weekly wages, we note the jobs creation in virtually every sector fell, save for Construction,Transportation and Warehousing, and Other Services. Professional Services job creation, at 38,000 new jobs, remained the same as in April. The retail sector lost another 6,000 jobs, adding to the heavy losses we saw in the early part of the year. As we have previously reported, these continuing losses in the retail sector cause us to remain concerned about REITs that are heavily invested in retail, convenience QSRs, and general obligation municipal bonds of small and medium sized towns and small cities that rely disproportionately upon property taxes from shopping malls.
Macro Analysis
Surprisingly, the Atlanta fed GDP Now estimate ticked up to 4% on today's jobs report. But we note that this estimate is nearly 100 basis points above the highest last consensus estimate shown on its chart (as measured, approximately, on May 23.) We also note that the GDP Now number has been quite volatile in May.
We're calling today's jobs report a "Grey Swan" -- an event that increases market risk. We have two principal concerns.
First, We are concerned about the 3-month average job creation. It is the lowest since July 2012. Such a low three month average tends to slow the rate of GDP growth in the current and subsequent quarters. Janet Yellen has said that only 100,000 new jobs all required each month to absorb population growth; but a robust economy -- and particularly one aiming for a 3% growth rate the Trump Administration is targeting -- requires much more job creation.
Second, as we noted on April 21, we continue to be gravely concerned about the narrowing yield curve. As of yesterday, June 1st, the yield curve between the three month and the ten year was just 123 basis points (bps.) That's a decline of nearly 70 bps since the beginning of the year when the two rates were separated by 192 bps.
We are concerned that the Fed will continue to normalize interest rates in its meeting June 13th - 14th. Since the Fed has its greatest influence over shorter-term rates, we fear that a boost in rates by the Fed will further narrow the yield curve. If declining corporate profits forecasts are realized, and, as a result, more money moves into the bond market, the risk for recession will increase as the yield curve narrows even further. Since PCE inflation is still below the Fed's 2.0% target, and we are at nominal "full employment," an aggressive normalization of short-term rates by the Fed at the June or September meetings risks continued narrowing -- even inversion.
We also don't see much likelihood of a tax bill being adopted before the end of the year. (Even if one were, one adopted so late in the year creates enormous technical administrative difficulties if tax reductions are made retroactive to the beginning of 2017.) We don't see any other fiscal stimulus on the horizon.
For now, investors should adopt the kind of portfolio defense they should already have in place for a "black swan" event: stop losses, out of the money puts, and even a selective move out of high-performing equities in the consumer, financial, and industrial sectors into bonds and cash. They should carefully monitor the yield curve at least weekly, check daily economic releases for other big misses in consensus data, keep attuned to Fed meetings, minutes, and speeches, and check the Atlanta Fed GDP Now on its release dates.
Author Note: Our commentaries most often tend to be event-driven. They are mostly written from a public policy, economic, or political/geopolitical perspective. Some are written from a management consulting perspective for companies that we believe to be underperforming and include strategies that we would recommend were the companies our clients. This approach lends special value to contrarian investors to uncover potential opportunities in companies that are otherwise in downturn. (Opinions with respect to such companies here, however, assume the company will not change.)
If you like our perspective, consider following us by clicking the "Follow" link above.
Disclaimer: The views expressed, including the outcome of future events, are the opinions of the firm and its management and do not represent, and should not be considered to be, investment advice. You should not use this article for that purpose. This article includes forward looking statements as to future events that may or may not develop as the writer opines. Before making any investment decision you should consult your own investment, business, legal, tax, and financial advisers.
Disclosure: I/we have no positions in any stocks mentioned, and no plans to initiate any positions within the next 72 hours. I wrote this article myself, and it expresses my own opinions. I am not receiving compensation for it (other than from Seeking Alpha). I have no business relationship with any company whose stock is mentioned in this article.