U.S exports of crude oil have reached 1 million barrels a day.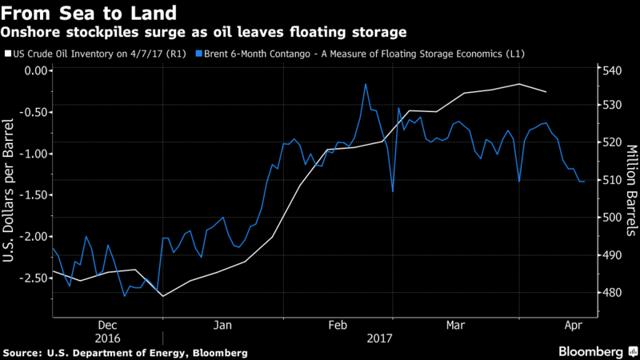 Source: Crude Oil Daily
That is good for the U.S. balance of trade and, in my opinion, bullish for U.S. crude oil prices over time. The U.S. imports substantial volumes of crude oil from Canada and the mid-East with imports of petroleum based products including crude oil running over 10 million barrels a day.
Several U.S. refineries have been designed to process heavy crude from Canada and other places like Venezuela, which is more profitable for the refineries than processing light sweet oil.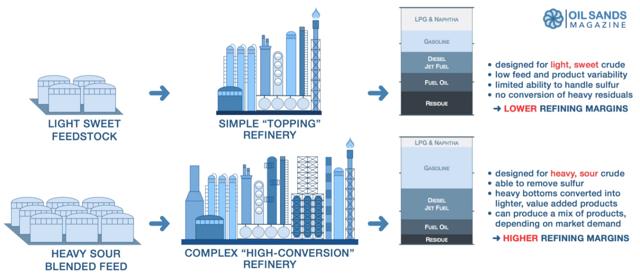 Source: oilsandsmagazine.com
Burgeoning U.S. production in the Permian Basin is primarily light sweet crude oil.
That oil needs to find a market and is doing so through exports.
The growing U.S. production has more relevance to the global supply-demand balance than to the price for oil in the United States, the benchmark for which is West Texas Intermediate ("WTI") which is a light crude oil blend. WTI is important for producers in the Permian and in other productive areas like Eagle Ford but is only of passing interest to Canadian producers whose focus is a heavy oil blend called Western Canadian Select ("WCS"). The price of WCS reflects both competition from other sources of heavy crude like Venezuela and the relative cost of transportation from Western Canada.
Investors in Canadian oil companies should be concerned about pipeline construction and capacity more than WTI price trends since WCS is prices at a discount owing to many factors of which transportation costs loom large. The Keystone XL pipeline is important.
U.S. shale oil production is the wild card in the oil market. Prolific and with attractive returns on capital at oil prices north of $50 per barrel in many cases, shale production has been the driving force in the dramatic rise in U.S. oil production over the last decade. The difficulty with shale oil production is the steep decline rate.
Using Eagle Ford data in a Master's Degree thesis, Linnea Lund in 2014 calculated production from an Eagle Ford shale oil well suffered a decline in output of 86.6% after two years.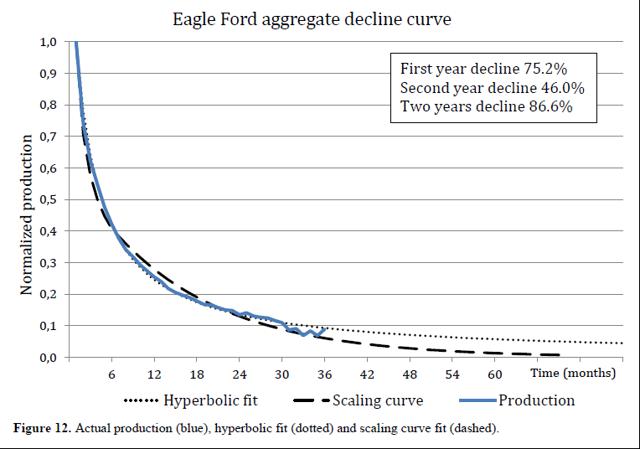 Source: Linnea Lund thesis
The implication of a high decline rate is the amount of capital needed just to sustain production at a given level. To illustrate, if a well can be drilled and completed for a theoretical $1 million and produces 100 barrels of oil a day at initial production rate, after 1 year production will have fallen to 20 barrels a day and full year production in the first year would average somewhere around 500 barrels per day. By the end of the second year, output would have fallen to 100 barrels a day. To maintain the 500 barrels a day first year average production would require a further $4 million of capital expenditures. The "sustaining capital" rises exponentially as the field expands.
The most attractive feature of shale oil production is that initial capital can be recovered quickly during the period of high production provided prices remain at economic levels for the first year or two. That makes fracturing shale a relatively low risk play since payout is achieved in a matter of months in some cases. It should be no surprise that shale producers enter the market quickly when prices firm and exit just as quickly when prices fall.
For world markets, oversupply may exist whenever prices are high enough to prompt fracturing companies to expand. But the oversupply will ultimately dampen prices and drilling will fall off with a rapid shift to shortage. In the real world, this will lead to prices being range bound - capped on the upside by the surge of production from shale producers the higher prices attract and with a floor of sorts on the downside as prices fall below the full cycle costs of production for most producers. Prices will overshoot on both ends causing volatility in energy stocks.
Getting the right quality of oil to the right market as the U.S. industry increases both production and exports of light sweet crude creates gaps in supply of both light and heavy crude as the transportation infrastructure catches. The recent start of the Dakota access pipeline is an example of a step change benefitting Bakken producers and narrowing one of those gaps.
How should investors play the energy space? It is a challening question fraught with uncertainty and risk. However, in my view, the answer is clear. Buy stocks in conventional producers with large reserves, low production costs and reasonable access to markets and buy them during the troughs in the market as long term holdings. Trading is a mug's game but holding well managed low-cost producers will pay off over the long run.
The better bets in the Canadian industry include Bonterra (OTC:BNEFF) and Crescent Point (NYSE:CPG) to name two. The hard data on both companies paint a compelling investment case despite these producers concentration on light sweet crude production.
Bonterra pays a 7.5% dividend and demonstrates production growth from internally generated cash flow which not only supports the dividend and capital outlays but also reduces debt. With all-in costs per barrel below $20 Canadian ($14.75 U.S.), Bonterra will do well even if oil prices fall considerably. Unhedged, Bonterra has attractive leverage to higher commodity prices in addition to meaningful downside protection owing to its low costs and limited use of debt.
Crescent Point pays a 3% dividend while both increasing production and reducing debt from internally generated cash flows. Like Bonterra, Crescent Point is a low- cost producer with the ability to generate positive cash flows at lower commodity prices.
In my opinion, Bonterra and Crescent Point are terrific long-term holdings for investors favoring the oil industry and they should play a part in every diversified oil & gas portfolio.
Bonterra is a small cap stock suitable for investors who appreciate the benefits of investing in a small cap play and who can withstand the likely volatility. Crescent Point is a larger cap stock and quite liquid suggesting wide swings in valuation should be less apparent in any short period.
For those bullish on heavy oil, Baytex (NYSE:BTE) offers high leverage and high risk with both significant heavy oil output from Canada and growing light oil output from Eagle Ford, with total output split almost equally between Canada and the US.
I am long all three names.
Disclosure: I am/we are long BNEFF, BTE, CPG. I wrote this article myself, and it expresses my own opinions. I am not receiving compensation for it (other than from Seeking Alpha). I have no business relationship with any company whose stock is mentioned in this article.