Today, a world without online shopping is unimaginable. Many of the youngest global consumers have never even lived in a world where what you want to buy is more than a click away. Everyone does some of their online shopping online, but e-commerce in general remains a growth sector. In Europe alone, the online retail market is expected to grow by 14.2% in 2017 and 13.8% in 2018 to $338bn at current exchange rates. In the U.S., these figures are 14.9% and 15.4%, with the market expected to reach a value of $529.76bn by the end of 2018. Online retail is in fact the primary driver of retail in both continents. In this article, we examine three companies in a sector that is a prerequisite for the e-commerce sector: transportation, i.e. the delivery of goods direct to the consumer: UPS (NYSE:UPS), FedEx (NYSE:FDX), and ZTO Express (NYSE:ZTO). Each represents a potentially interesting long-term investment.
Online Retail Sales/Growth Rates '16/'17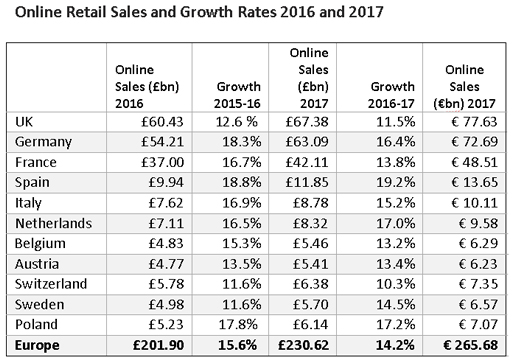 Source: Retail Research
UPS, ZTO, FDX - One-Year Share Price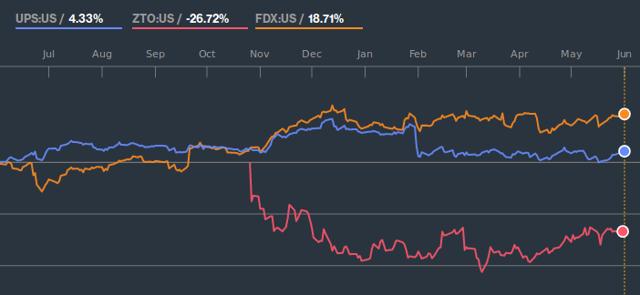 Source: Bloomberg
As the e-commerce market grows, and grow it will, so too will demand for companies such as FedEx to deliver purchases direct to the consumer. This is reflected in price targets for both FedEx and UPS, with 12 analysts, including some from Credit Suisse, BMO Capital, and Stifel Nicolaus, predicting an average price target of $223 for FedEx (+15%), and several, inclusive of Oppenheimer, Wells Fargo, and Credit Suisse, forecasting a target of $114 for UPS (+6%). ZTO is a slightly trickier proposition, given its sharp decline from its IPO launch price of $19.50, to lows of $11.23. ZTO shares do however now trade at the $14.50 mark on the back of a three-month climb. This has led several analysts to suggest that the Chinese company is in line for share price growth of between 7.2% ($16.60) and 44.3% ($21). Of the three companies this article considers, the average price target for each company comes in at upwards of 14%, which suggests that 2017 may be a solid year for market growth. Additionally, with worldwide e-commerce expected to top $3.4tn in just two years, FedEx, UPS, and ZTO are sure to be amongst those who reap the rewards, making them worth considering as long-term holdings.
Global E-Commerce Retail Sales to 2020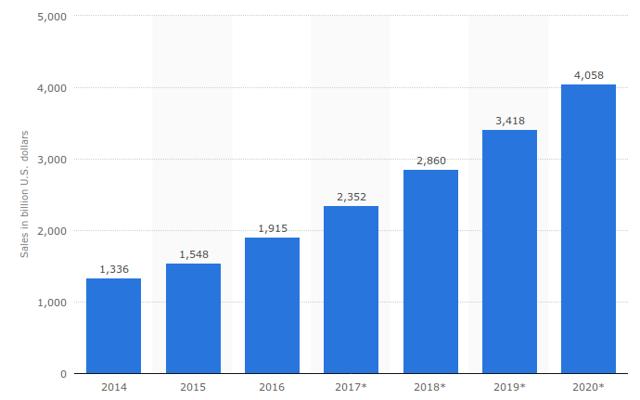 Source: Statista
The Companies
FedEx
SPX & FDX - Five Years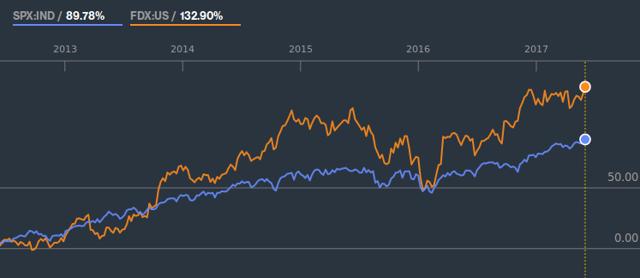 Source: Bloomberg
The brand recognition FedEx have is excellent. Even if you've never used them, you've heard of them. From solid advertisements, like its FedEx in the Wild Instagram campaign, to a customer-centric marketing approach, and some interesting product placements, the company's marketing reach is impressive. No doubt it is one of the drivers behind the fact that, as Adam Levine-Weinberg notes, FedEx has gained ground on UPS for 16 consecutive years. The Tennessee-based company has a market capitalisation of $52.5bn, offers dividends of 0.81%, up 26.67% year on year, and has seen share price growth of over 20% in the past 12 months. FedEx's low P/E ratio also marks it out as offering some value. Furthermore, analysts at the FT suggest that FedEx is likely to issue dividends in 2017 of $1.68 per share, which means dividends would climb by a strongly attractive 76%.
Revenue History and Estimates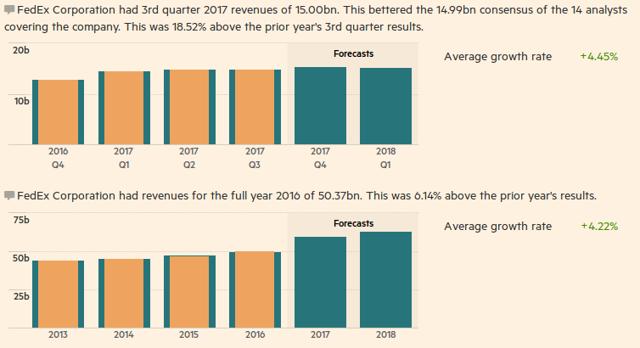 Source: FT
In terms of the company's financials, FedEx's latest yearly and quarterly revenue figures are strong and outperformed market estimates. Revenues of $15bn in the last quarter and yearly revenues of $50.37bn, for instance, mean that average revenue growth is upwards of 4%. The company has also maintained long-term EPS growth, with EPS up 14% over the past four years, and this figure is expected to average around 12% over the next two years. What is problematic about FedEx, however, is the company's debt to capital ratio, which at 49.29% could be considered too high, although with this figure declining by 10% year on year, debt management seems to be well in hand. Annual earnings growth, although not tremendous over the past five years (+7.3%), remains on an upward trend, and with institutional ownership making up a sizeable proportion of FedEx's investor base, it seems clear that the market views the company as a stable, long-term investment. Furthermore, whilst there was a strong decline in earnings per share two years ago, when EPS figures were down $3.83 per share to $3.65, EPS growth remains positive overall for the past five years, albeit narrowly.
As far as profit margins are considered, FedEx's margins are positive, yet at 3.31%, no one is likely to suggest they are booming, although they are consistent, with the three-year average being 3.64%. Sales figures are up by a healthy 18.52%, and the company's free cash flow level of $2.16 per share means it is quite capable of investing in future expansion. Moving from previous performance to forecasts, there is a strong likelihood that as online shopping continues to increase its market share of the retail space, companies like FedEx are in line for a potential bonanza. This is borne out by predictions that earnings may increase by up to 162% over the next five years, revenues by 20%, and net income by up to 2.5 times its current level. Such anticipated growth contributes to FedEx having an extremely favourable PEG ratio of just 0.4, indicating that as well as being a stable, long-term investment that the company may be in line for a good few years.
FedEx Dividend Growth & Forecasts. Consistently Rising

Source: FT
EPS Forecast for FDX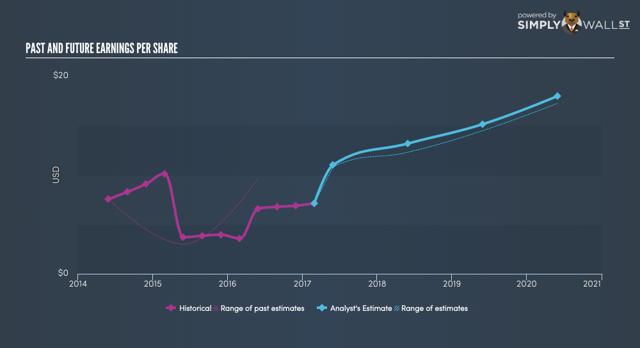 Source: Simply Wall St
In terms of technical measures, some analysts suggest that although FedEx may be in line for growth, that the short-term trends for the stock may see it breaking low, at least at first. Should the company's stock pass the psychological $200 barrier however, a sustained rally may be on the cards. Indeed at present, there are a lot of short bets on FedEx. That said, with relatively recent M&A activities, such as the acquisition of TNT Express, being more fully integrated, and the continuing growth of FedEx Ground, with revenues up an average of 10% year on year, and package transportation volume up by the same level, FDX is in a strong position for the future. If you're looking to take a long position, with a potential medium-term upside, one with consistent dividend growth and a stable business model, FDX is certainly one to consider adding to your portfolio.
FDX Income Statement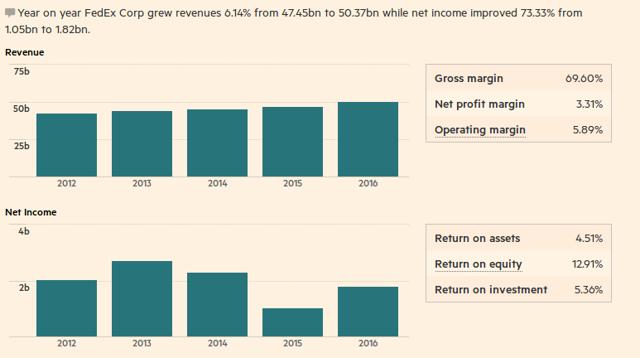 Source: FT
UPS
SPX & UPS - Five Years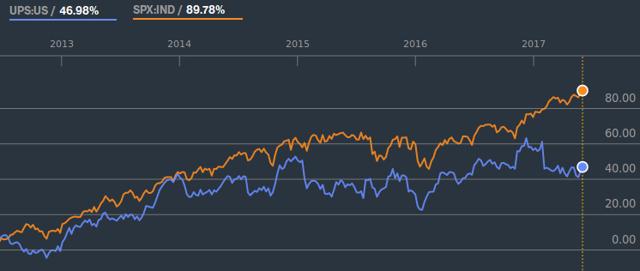 Source: Bloomberg
UPS is an interesting company. There is certainly an argument that it has been, at times, undervalued, and may even remain so. With a market capitalisation of $93.12bn, it can't be said that the United Parcel Service is unknown, yet somehow its brand lacks the "star" quality of its smaller rival FedEx. Unlike the latter, no one is likely to be caught using UPS as a verb. Marketing quibbles aside, the Sandy Springs based company is a solid offering, as its most recent earnings report shows despite its poor reception. In the last report, earnings came in at $1.32, beating market estimates, and were up 3.9% year on year. Revenues were also higher, up 6.2% to $15.32bn on a quarterly basis. Year-on-year dividend growth is also promising, up 6.85%, and rising each year of the past five. That said, the company's annual figures make for less positive reading. Net income fell 29.17% despite a rise in revenues of 4.36%, with this disparity attributed to rising costs, while the company's debt to capital ratio is a high 95.85%. EPS figures are also down, falling by 27.65%, and EPS growth has been consistently unstable for the past five years. Despite these negative indicators, it should be borne in mind that UPS is a profitable company and one with pedigree in the transportation sector. Indeed, revenues are expected to rise in 2017 and 2018, and interestingly so are dividends, to a level of $3.32.
Growth Rates - EPS/Dividends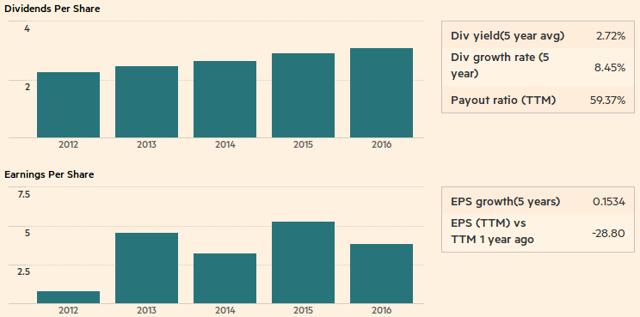 Source: FT
What is often forgotten about UPS is that when compared to other carriers such as FedEx, UPS already is the market leader in several areas, not least in the ground-game relevant to e-commerce, although this gap is steadily narrowing. UPS ships to over 7.9 million receivers in a business day, and is currently the best placed to deliver on the ground, where it matters for typically small-scale online transactions. Additionally, whilst FedEx has long outperformed UPS in share price terms, as far as fundamental metrics go, there are several where UPS remains firmly in the driving seat. UPS's return on invested capital outdoes that of its rival by almost 300%. Operating margins are almost 3% higher, and UPS's Free Cash Flow to Assets Ratio is also approximately 9% higher than FedEx's. Additionally, adjusted guidance given by UPS for 2017 EPS figures of between $5.80 and $6.10 has stabilised investor expectations whilst the market is now aware of the headwinds the company faces: from currency fluctuations to the significant capital expenditure required to address the consistently rising transportation demands of e-commerce. This means that a lot of the negativity around UPS has been priced in, and the company's share price may therefore be in line to grow as revenues increase. If you see it as a stable, long-term holding, you could do a lot worse than invest in UPS.
UPS vs. FedEx Financial Data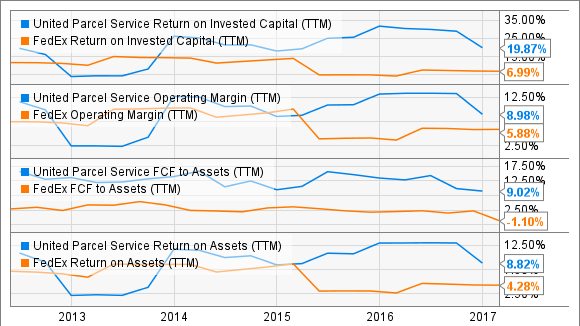 Source: YCharts
UPS Income Statement to '16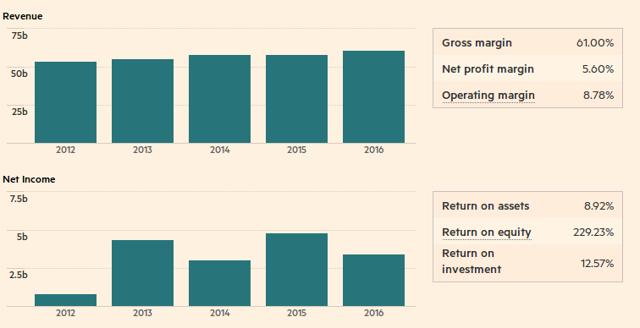 Source: FT
ZTO
ZTO Share Price Performance Since IPO

Source: Bloomberg
ZTO, depending on how you see it, is potentially the riskiest investment considered in this article. The Chinese-based company offers access to the already lucrative and almost certain to increase in value Chinese e-commerce market. ZTO, alongside being a general logistics company, delivers goods bought online direct to Chinese consumers, most particularly those bought through Alibaba (NYSE:BABA). Indeed it is ZTO's close ties to Alibaba that many find worrying, with approximately 75% of ZTO's business coming from the Chinese giant. Yet, with the e-commerce share of retail sales in China booming, as the below graph illustrates, increased diversity in its customer base is certainly something ZTO can achieve.
E-Commerce share of Chinese Retail Market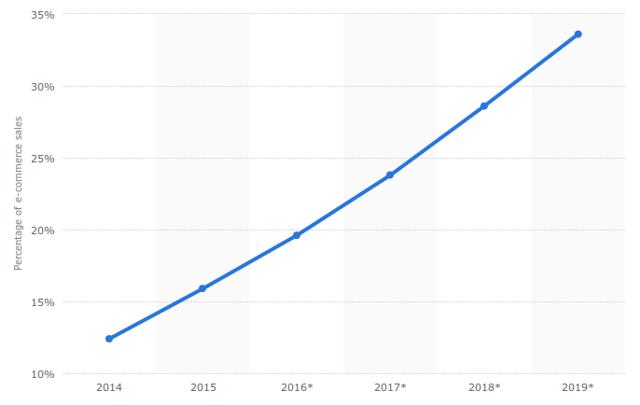 Source: Statista
ZTO is valued at around $14.50 per share, has a market capitalisation of $10.6bn, and has posted year-to-date share price returns of 20.96%. Its current P/E ratio of 33.21 is somewhat higher than UPS's or FedEx's, though this is likely to indicate both that investors are willing to pay a premium for a slice of the Chinese e-commerce infrastructure market and that they anticipate growth. ZTO's sales are a healthy $1,437bn, it is virtually debt-free, EPS figures have been coming in broadly in line with investor expectations since ZTO's IPO last year, and per share earnings since the company's inception show average EPS growth of $.06, whilst annual earnings growth of around 10% is solid. A profit margin of 21.33% also makes for a positive reading, and margins have increased each year for the past three. Sales growth and revenue growth are both extremely positive, with sales figures for the last quarter up 125% year on year, while revenues grew 51% last year, and net income was up 39%, with all these figures taken from Nasdaq. These figures are healthy, and as CEO Meisong Lai notes, they support the argument that ZTO is benefiting from an effective, long-term strategy.
ZTO Revenue and Income Financial Data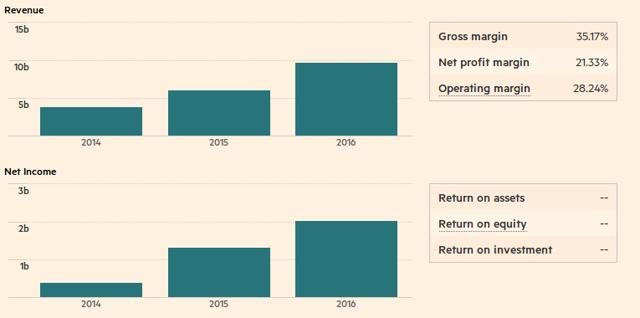 Source: FT
ZTO EPS Growth

Source: FT
As Scott Kennedy, holder of the Freeman Chair in China Studies, observes, any enthusiasm about an investment in ZTO ought to be based on enthusiasm for the Chinese market's potential domestic growth and the company's ability to capitalise on it. Noting Deloitte's assessment that China hosts the largest express delivery market in the world, valued at $30.2bn, there is a lot to be confident about. In considering an investment in ZTO, it would however be understandable to look at the company's post IPO share price performance and feel a little nervous; yet, it is hardly unusual for a company to suffer a sustained drop in its valuation after a first public offering, with early investors recouping their investments and longer-term growth still on the horizon. What is and remains true however is that ZTO is a market leader in the Chinese domestic market, that there remains significant room for growth in the Chinese e-commerce driven transportation sector, and that as demand rises, so too will the company's profits. If you want to take a position in a company that will give you exposure to Chinese e-commerce, current price-targets of around $20 per share (+37%), alongside potentially tremendous long-term growth, suggest that ZTO might well be worth taking a position in.
ZTO Share Price Forecast

Source: FT
ZTO Earnings and Sales Forecasts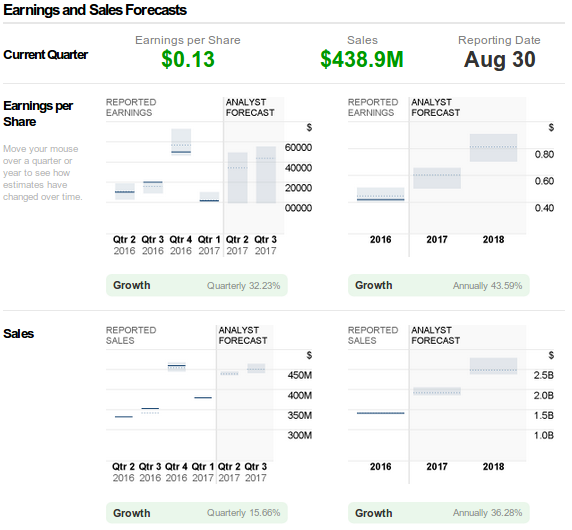 Source: Oisin Breen
Disclosure: I/we have no positions in any stocks mentioned, and no plans to initiate any positions within the next 72 hours. I wrote this article myself, and it expresses my own opinions. I am not receiving compensation for it (other than from Seeking Alpha). I have no business relationship with any company whose stock is mentioned in this article.
Additional disclosure: CFDs, spread-betting and FX can result in losses exceeding your initial deposit. They are not suitable for everyone, so please ensure you understand the risks. Seek independent financial advice if necessary. Nothing in this article should be considered a personal recommendation. It does not account for your personal circumstances or appetite for risk.