A month ago, shortly after the major automakers released their U.S. sales figures for April, I penned -- or should say re-penned -- a warning to all automaker investors, but to owners of Ford Motor (NYSE:F), General Motors (NYSE:GM) in particular. The two biggest names of the U.S. auto industry were particularly vulnerable to the brewing trend, and there was more than a mere handful of ancillary evidence to that end.
Here we are a month later with the freshest updates of the metrics that were so alarming a month ago. They're even more alarming now, and as such, merit another warning to GM and Ford shareholders.
The Car Industry's Engine is Sputtering
The short version of a long story: It increasingly looks like 'peak auto' is in the rear-view mirror (in a bad way), and as much as many would like to believe auto sales are going to merely plateau at 2016's levels and hold steady indefinitely. That, however, looks like wishful thinking.
Last month, the U.S. auto industry sold 1.52 million vehicles domestically. That's an annualized pace 16.7 million units, down from 17.2 million a year earlier, and short of the 16.8 million cars and trucks the pros were expecting to sell to U.S. car buyers.
Perhaps more alarming than the shortfall was the fact that May marked the fifth straight month y-o-y automobile sales fell in the United States. Had it not been for December's surge, it would have been the tenth straight month sales of cars fell in the U.S.
And make no mistake -- the degree of weakening unit sales isn't getting smaller. If anything, the dropoffs are getting bigger.
I'm a fan of using charts to tell a story. Numbers don't lie, and it's just more efficient. To that end, the image below tells the tale. Total vehicle sales are falling, and doing so at a pretty good clip.
Here's the same data from a different point of view. On this chart, we're making year-over-year comparisons. Sales of passenger cars have been negative on a year-over-year basis for over a year now, but even the growth of truck sales is clearly starting to wane.
And had last month's decline in automobile sales materialized because dealers weren't willing to wheel and deal, it would almost be understandable. That wasn't the case though. Car sales slumped despite extremely generous incentives from manufacturers. Edmunds says finance incentives were up 33% on a year-over-year basis last month. J.D. Power pegged the per-car incentive average at $3583... a record for May.
The data jibes with a long-term trend laid out and updated every month by Autodata in a report published by J.D. Power. Although May's update hasn't been posted yet, as of April (see the nearby chart), buyers' incentives remained uncomfortably high even though they were ebbing a bit from December's peak. Once May's incentive total is incorporated into the graphic, it will only solidify the reason to worry.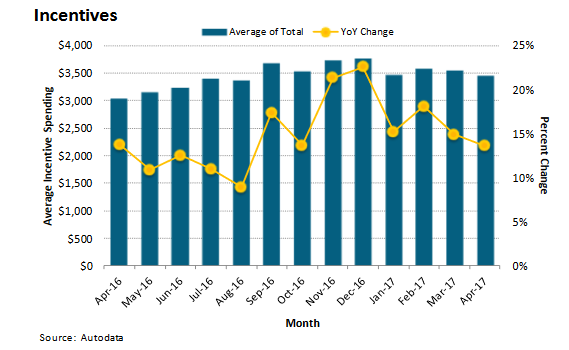 Source: J.D. Power and Autodata
In other words, dealers are having a tough time selling cars even when they're offering deals seemingly too good to pass up. This poses a major threat to profit margins, and neither General Motors nor Ford have wiggle room on the margin front right now.
The relative glut isn't apt to abate soon either. GM dealers are sitting on 101 days worth of supply, while Ford's car lots have 72 days worth of inventory. Some say the industry's ideal on-hand supply is 60 days.
The underpinnings for this deterioration haven't changed in the meantime either. Indeed, they've worsened. The big one even became more pronounced in April, and likely further deteriorated in May.
That's the price of used cars. They're falling so much, so quickly that it's tough for would-be new car buyers to overlook a bargain on a barely-used vehicle. Provided in the same report that J.D. Powers and NADA jointly put out, May's used car index hasn't been posted yet. But, as of April, the freefall has become clear.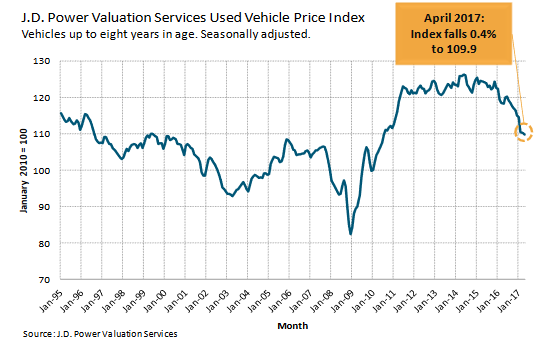 Source: J.D. Power and Autodata
It looks like Morgan Stanley may have been right back in April when the firm predicted the average price of a used car would likely fall 20% through 2021. Those deals make it increasingly tougher for a consumer looking to buy a vehicle to justify the purchase of a new car, which depreciates in a big way the minute it's driven off the lot.
Bottom Line
As one commenter replied to one of my previous looks at the slow implosion of the car-making business in the United States, one month doesn't make a trend. I don't disagree. But, after five months -- and effectively, ten months -- it's difficult to dismiss car-sales weakness as an anomaly.
Other comments have pointed out that both General Motors and Ford both have non-U.S. operations that aren't necessarily subject to a headwind in the U.S. I can't disagree there either. But, the United States is the most important market to both organizations, especially now that GM is getting out of several of its foreign operations. North America accounted for almost all of General Motors' profit last quarter. Ditto for Ford. If they're struggling in the United States, it will take a big toll on the bottom line.
And they are struggling in the United States. This quarter's results could be particularly ugly, hammering home the idea that car sales aren't just leveling off at 2016's impressive levels. The tide's moving in the opposite direction it was then.
Disclosure: I am/we are long F. I wrote this article myself, and it expresses my own opinions. I am not receiving compensation for it (other than from Seeking Alpha). I have no business relationship with any company whose stock is mentioned in this article.