You might have heard some folks mention the fact that stocks (NYSEARCA:SPY) and bonds (NYSEARCA:TLT) have been rallying simultaneously of late.
That, as RBC put it recently, is "risk-parity heaven."

If you're a regular reader, I hope you've put the pieces together by now. I've talked a ton about the impact of programmatic/systematic strats - the CTAs, volatility control, and risk parity funds of the world.
Well, when you've got artificially suppressed volatility across stocks and bonds...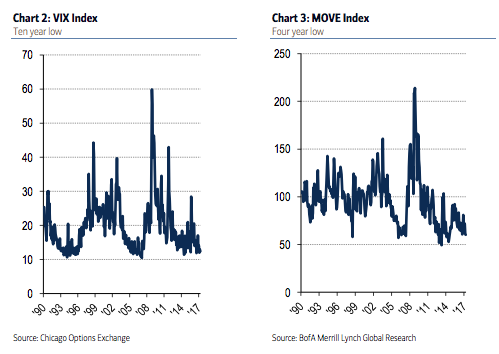 (BofAML; note: MOVE is basically just the Treasury VIX)
... that green-lights more leverage and more exposure and leads directly to this: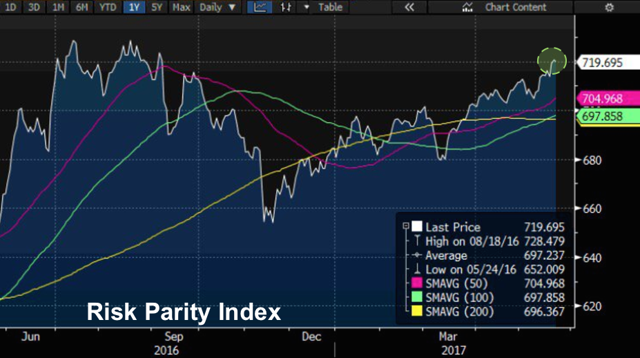 (Bloomberg)
It's a self-fulfilling prophecy. Here's what I said early Saturday about this dynamic:
Further, it is abundantly clear that part of this is programmatic/systematic strats continuing to lever up. Specifically, imagine what this is doing for risk parity! Suppressed volatility across assets, stocks continuing to hit new highs, and bonds continuing to rally. It's a veritable bonanza. And when it comes to these types of strats, bonanzas are self-fulfilling.
Can this continue? Well, for their part, Deutsche Bank thinks it probably can. And their reasoning is as interesting as it is amusing.
Deutsche thinks bonds are acting as "a crutch" for equities. More specifically, the bank's fixed income team thinks you're not thinking about things the right way. "It is not," the bank's Dominic Konstam says, "that equities are cheap to bonds and therefore equities can keep rising."
Rather, "it is that bonds are expensive to equities and by staying expensive can allow equities to become more expensive."
Now, you might think that's just semantics. But it's not. Because the reason bonds are expensive is distorted supply/demand dynamics (hint: QE).
"The wrong conclusion to draw - and many equity folks do - is that equities can continue to do well because they are cheap to bonds," Konstam chides, before concluding that "as soon as the demand supply dynamics in the bond market flip around, this will be abundantly clear."
But here's the nuance. The market seems to be concerned that by hiking rates ahead of a sustained upturn in realized inflation, the Fed may end up i) ensuring that inflation doesn't return to target, and ii) choking off growth. So what is the market's natural reaction to those worries? According to Konstam, "the self-inoculating response is therefore lower rates (5 years and out)."
Now think about that in terms of bonds acting as "a crutch" for equities. If the market is "self-inoculating" the way Konstam describes, then bonds are getting still more expensive and that, in turn, allows equities to get still more expensive too (and no, there are no typos there).
If you're interested in an in-depth discussion of how this relates to the Fed's reaction function and financial conditions, you can read more here, but for our purposes, here's Deutsche Bank's conclusion:
The path of least resistance is therefore a soggy dollar, low yields and robust equities.
Or, more simply, stocks and bonds will continue to rally simultaneously.
So you know, maybe go start your own risk parity fund. Let me know how it goes.
Disclosure: I/we have no positions in any stocks mentioned, and no plans to initiate any positions within the next 72 hours. I wrote this article myself, and it expresses my own opinions. I am not receiving compensation for it (other than from Seeking Alpha). I have no business relationship with any company whose stock is mentioned in this article.