Apple (AAPL) will hold its Worldwide Developers Conference (WWDC) on June 5-9. I doubt the rumored Siri-powered smart speaker will perform better than Stone Temple Consulting's April test of digital assistants. Stone Temple used 5,000 general knowledge questions to examine the Artificial Intelligence [AI] of Alphabet's (NASDAQ:GOOG) (NASDAQ:GOOGL) Home speaker with Google Assistant, Microsoft's (MSFT) Cortana, Amazon's (AMZN) Alexa-powered Echo, and Apple's Siri.
Alphabet spent a lot of money acquiring AI-related companies. It was no surprise that Google Assistant emerged as the smartest. Out of the 5,000 general knowledge questions asked by Stone Temple, Google Assistant answered 68.1% of them, with 90.6% complete and correct answers. Siri was only able to answer 21.7% and its accuracy was rather low, 62.2%. Alexa answered 20.7%, with 87% answered correct and complete. Cortana was the second-best, it answered 56.5% and 81.9% of the answers were 100% complete and correct.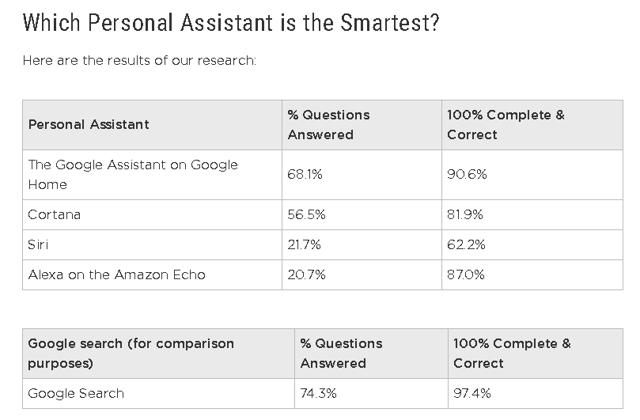 (Source: Stone Temple)
Stone Temple's findings prompted ZeroHedge to call Siri the 'dumbest smart assistant.' Aside from being the least accurate digital assistant, Siri also committed the highest percentage of completely wrong answers to Stone Temple's queries.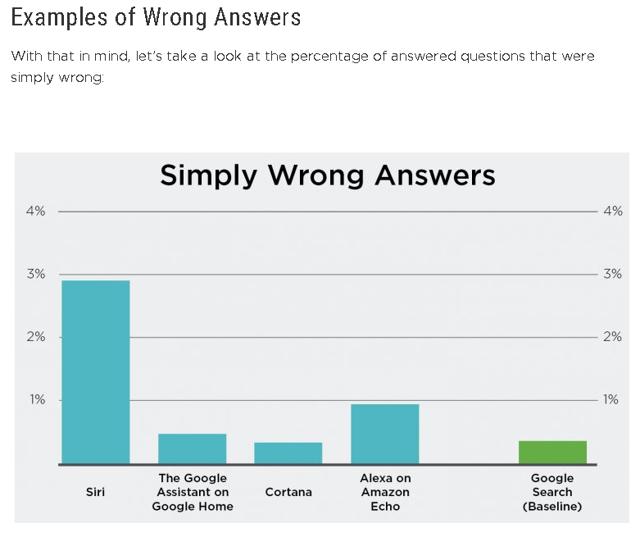 (Source: Stone Temple)
Smart Digital Assistants Are Conduit for Commerce and Targeted Advertising
When it comes to monetizing intelligent digital assistants, the smart money is on Google and Amazon. Yes, Amazon started the Voice Interface smart home appliance fad with its Echo products. Amazon has sold more than 11 million units of the Echo. The success of the Alexa-powered Echo even made investment outfit Mizuho predict that Amazon could gain $11 billion in revenue from it by 2020. Mizuho said $4 billion from the sales of Echo devices and $7 billion from the e-commerce transactions were processed through those Echo devices.
However, aside from online shopping, other activities could benefit from the notably superior AI of Google Assistant. As per the chart below shows, voice-interface smart appliances like the Echo and Google Home could serve other purposes. Alphabet can further increase its personal data mining through the questions, activities, and requests that people do through Google Home.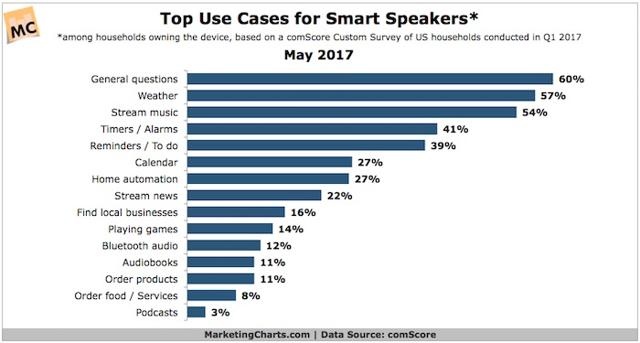 (Source: Marketing Charts)
The core purpose of Artificial Intelligence-enhanced machines is to continuously learn everything about the people who use them. Knowing everything about a person is also Google's fundamental business principle. Accurate profiling of people allows optimized delivery of targeted ads.
Why Google Is Winning In AI
Google doesn't pay out dividends, but Google Assistant's victory over its peers justified Alphabet's buying spree of carefully-selected AI-related companies. Alphabet made the most corporate acquisitions related to Artificial Intelligence. Alphabet, which makes most of its money from advertising, is hoarding cash to make further bets on Artificial Intelligence. My long-term view is that the advertising-dependent Google we know today is going to be a lot different ten years from now.
Look at the recent AI acquisitions of Alphabet. They were all chosen based on Google's specific requirements. DeepMind is for self-learning algorithms. Dark Blue Labs is for deep learning and natural language. Vision Factory is also for deep learning, object and text recognition. These three acquisitions alone give Alphabet a complete set of tools to build a perfect visual/audio-based personal digital assistant.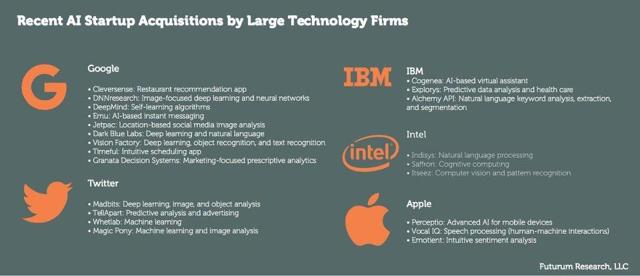 (Source: Futurum Research)
The bigger picture of course extends beyond personal digital assistants. One example of this is Alphabet's self-driving car subsidiary, Waymo. Morgan Stanley (MS) analysts see Waymo as a $70-billion challenger to Tesla (TSLA) and Uber (UBER). I do not believe that Google has spent $7 billion in acquiring AI-related companies. Waymo's high valuation could go even higher when it starts selling consumer versions of its autonomous cars and trucks.
The self-learning ability of DeepMind computers could also do a much better version of my company's (I Know First) AI-based algorithmic stock market forecasting service. The AlphaGo machine soundly beat the best players of the very complex Go game. I believe Alphabet can also build an AI machine which will easily beat the best-performing technical traders, candlestick speculators, dividend growth, and value investors.
In my case, I would gladly pay $50k for a mini-AlphaGo machine which could help me dominate at online poker. My PokerStars account was banned in 2015, but there are other online poker sites that I could exploit using a Google-made AI poker assistant.
Final Thoughts
Alphabet's refusal to pay dividends can be forgiven because of its wise investments in Artificial Intelligence and Machine Learning. Shareholders should bear this short-term pain for long-term gains. Patience has its great rewards. Artificial Intelligence-enhanced devices like the Google Home are helping Alphabet's current advertising-centric business. However, the investments in cloud-based AI are also making Alphabet as the ultimate go-to service provider for Big Data analytics and deep-learning compute workloads.
While Apple is creating a dedicated Artificial Intelligence processor to help save battery life of iPhones and iPads, Google's objective for its AI is far more wide-ranging.
Google Assistant is just a small part of Alphabet's grand strategy to lead in the 27 industry verticals for AI applications and services. Alphabet's list of AI-related acquisitions has made it ready to service the top 10 industry applications of Artificial Intelligence.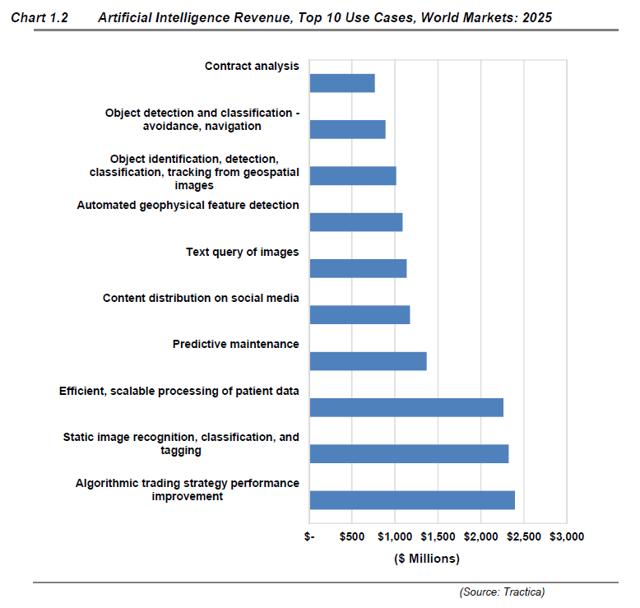 Alphabet's Waymo will play a major part in the predicted year 2050's $7-trillion market enabled by autonomous vehicles. The Artificial Intelligence infrastructure to build a nation full of self-driving cars will likely run on Google Cloud, not on Amazon Web Services, not on Microsoft Azure. Google Cloud's server farms will also probably use Google-made ASIC Tensor processors.
I invested before on GOOG because I love its undisputed leadership in digital advertising. I want to add more shares because of Alphabet's emergence as the undisputed leader in commercial Artificial Intelligence.
I rate GOOG and GOOGL as a buy. Below is my five-year DCF Revenue Exit fair value guesstimate for GOOG. Commercial revenue from AI-related services could help sustain Google's history of making double-digit annual revenue growth rate.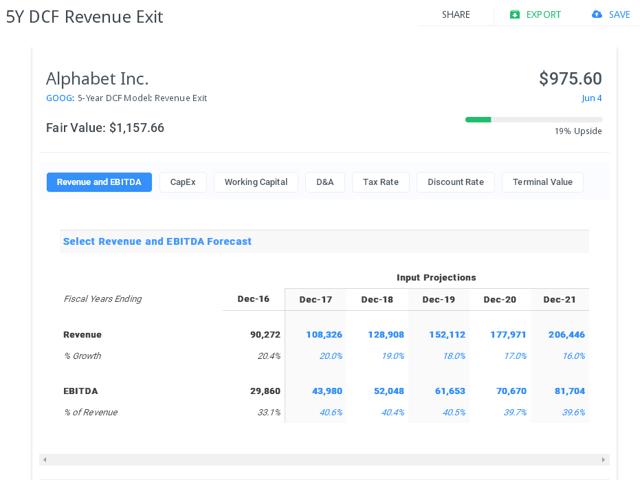 (Source: finbox.io)
Lastly, an analysis of monthly technical indicators and moving averages also support my bullish view of Alphabet.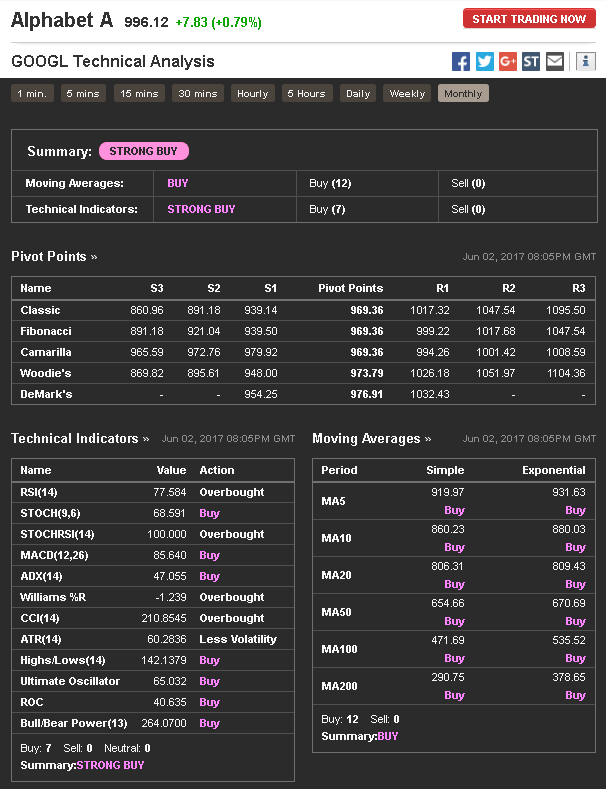 (Source: Investing.com)