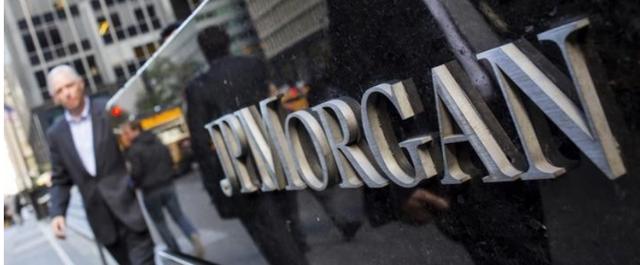 Bank Stocks Tumble
According to Reuters, Shares in U.S.Banks tumbled on Wednesday with the S&P 500 Bank Index hitting its lowest level since early December after JPMorgan Chase (NYSE:JPM) and Bank of America Corp (NYSE:BAC) warned of revenue weakness in the current quarter.
Trading Revenue Decline
Chief Financial Officer, Marianne Lake, reported JPMorgan's Q1 trading revenue has fallen 15%. Similarly, Bank of America CEO, Brian Moynihan, reported that second quarter revenues are weaker than last year. Neither provided a prediction for June or Q2 July 2017.
Recent Share Declines
JPM and BAC are major banks dragging down the S&P 500 Stock Index 2.34%, each falling more than 2% year to year. This compares poorly to 2016 when JPM trading revenue was up 15% and BAC was up 5%.
JPMorgan Chart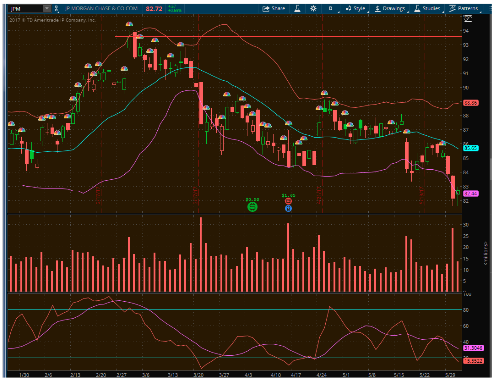 After peaking in early March at 93.60 per share, JPM at the time of this writing on June 1 is trading at 82.83. This equals a 12% decline from that close with an oversold Slow Stochastic that was overbought in late April. A very similar chart pattern is noted below for BAC.
Bank Of America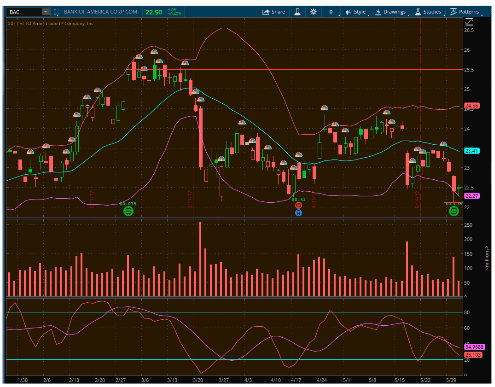 BAC peaked in early March at 25.50. Currently, it is trading at 22.56, also a decline of 12%. Also note the oversold Slow Stochastic relative to late April's overbought technical.
Goldman Sachs
Goldman Sachs (NYSE:GS) shares have fallen to their lowest level in six months according to FactSet. After notching their February first record high share price since the 2007- 09 recession, the stock has been drifting lower.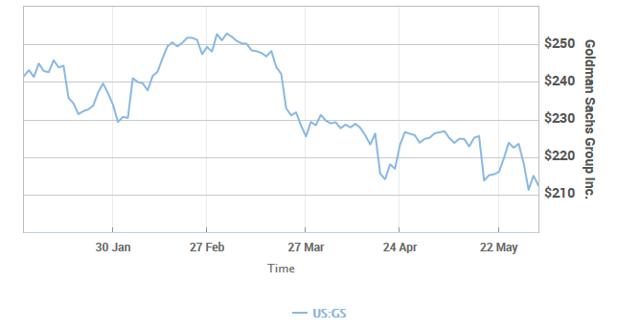 Trading Slump
Executives of the two biggest U.S. banks, JPM and BAC signaled Wednesday that second-quarter trading is weakening, bringing to a halt a string of strong quarters that have previously boosted bank profits.
Effect and Cause
What can the investor or trader glean from financial weakness in the largest U.S. banks and other financial institutions? There is an effect, but can we game our way back to the cause and from that deduce a best strategy to deal with it.
Causal factors:
Woeful revenue figures, now a fact in the financial sector, are a warning that there is not a lot to trade at this time as many attractive stocks are overbought and priced at very high valuations.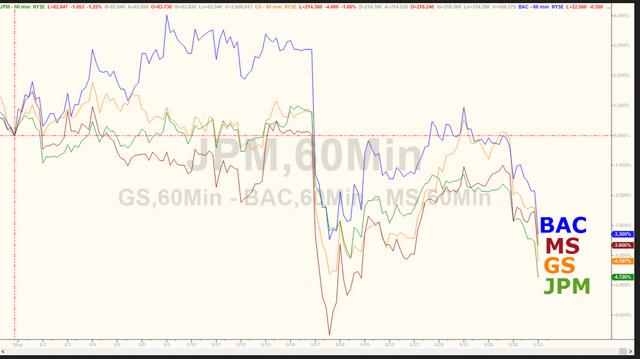 Unspecified Source
Uncharacteristic low volatility with the CBOE Volatility Index trading at -5.00%, well below its average of 20 only adds to those woes. Historically low market volatility in the second quarter signals less activity which can further depress banking revenues.
Ten year Treasury rates used to price car loans, mortgages and other debt instruments slipped to a five weak low of 2.20% on Wednesday. This presents headwinds to increasing bank revenues despite the Fed's proposed tightening agenda.
Yield levels are plumbing 2017 lows with a flattening yield curve.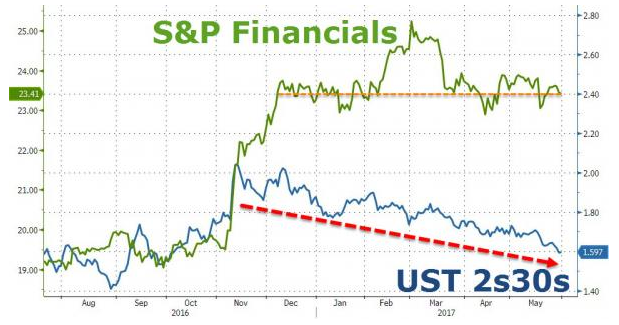 Unspecified Source
Take Away
A close look shows that after a big rally following the Trump election, presently, bank stocks are the second worst performers among the eleven sectors of the S&P 500 stock index. This comes in the midst of the Federal Reserve supposedly trying to lift interest rates above their present bank killing lows.
Keep your eyes on the causal factors which are subject to positive changes that would improve investment prospects in this sector.
Clearly, investors may decide to take pause about near future prospects for banking and financial sectors and consider the complex individual decisions about lightening up or holding.
NOTE: Thank you for reading and commenting. You can follow my article on SA by clicking follow directly after my name.
Disclosure: I/we have no positions in any stocks mentioned, and no plans to initiate any positions within the next 72 hours. I wrote this article myself, and it expresses my own opinions. I am not receiving compensation for it (other than from Seeking Alpha). I have no business relationship with any company whose stock is mentioned in this article.
Additional disclosure: The information and data that comprise this article came from external sources that I consider reliable, but they were not independently verified for accuracy. Points of view are my considered opinions, not investment advice. I bear no responsibility for investment decisions you choose to make.