As I had threatened for many years, I sold off much of my Canadian High Yield Dividend ETF, Vanguard's VDY on the Toronto Stock Exchange and put those monies to work in 7 Canadian companies. Those companies are Bell Canada (NYSE:BCE), Telus (NYSE:TU), TransCanada (NYSE:TRP) Enbridge (NYSE:ENB), Royal Bank of Canada (NYSE:RY), Toronto-Dominion Bank (NYSE:TD) and ScotiaBank (NYSE:BNS). All companies are available with US listings. All 7 companies are all top holdings of that Vanguard High Yield ETF.
You can find more on my original rationale on the Wide Moat 7 in this article, from May of 2015. I manage the discount brokerage retirement accounts for my wife and for myself.
Warren Buffett and many investors will seek that "wide moat" - meaning that certain companies possess an incredible advantage against any potential competition. Some companies have a stranglehold on their sector or specific area of expertise. There are barriers to entry into their space. Competition largely stays away.
This from Investopedia:
DEFINITION of "Wide Economic Moat":
A type of sustainable competitive advantage that a business possesses that makes it difficult for rivals to wear down its market share and profit. The term is derived from the water filled moats that surrounded medieval castles. The wider the moat, the more difficult it would be for an invader to reach the castle.
I am not a stock analyst and I have conducted no financial analysis other than observing decades of mostly increasing profits and healthy dividend payments. These are wide moats that I have observed and see as obvious. I have worked in the Canadian Telco space (with Bell and Telus) in the Canadian banking space and Canadian energy space. I have a basic understanding of the sectors and the barriers to entry. And as a former 'ad guy' I understand the brand strength of Bell and Telus and those big Canadian banks. There are risks in concentrating considerable wealth in only 7 companies. But I am comfortable with that proposition due to my interpretation of a wide moat. Keep in mind, as always, that past performance does not guarantee future returns or performance.
Also, TRP and ENB are longer term holdings. I have held those two companies for about 10 years. Those two energy/pipelines were my first foray into dividend and dividend growth investing and have certainly taught me more than a 'thing or two' about consistency and patience.
The Wide Moat 7 would have made a wonderful investment through the last recession. Here's the total return history from January of 2007 through to the end of April 2017, courtesy of portfoliovisualizer.com. The benchmark is the TSX 60. All values in Canadian dollars.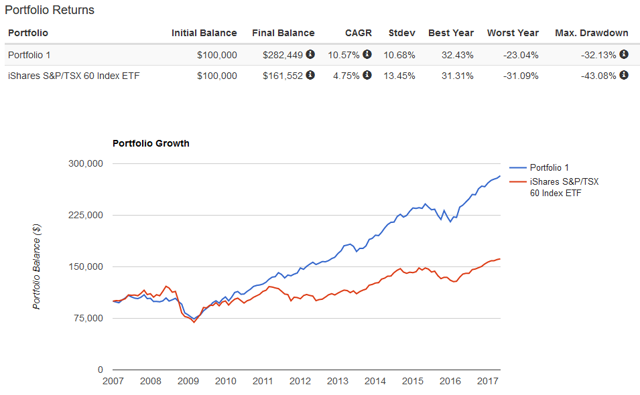 We certainly see a sizeable outperformance coming out of the recession. The portfolio also demonstrated lesser volatility and a lesser drawdown in the recession, compared to the broader market index. Once again, past performance does not guarantee future returns. According to portfoliovisualizer, the portfolio had an initial yield of 3.4%. These are very generous dividend payers.
So how did those dividends hold up in the recession? As many may know the big Canadian banks remarkably did not cut dividends through the recession, they all held their dividends (but did not increase dividends) through the stress of the financial meltdown.
Bell, according to its website, increased its dividend through the recession, from .365 per share in April of 2007 to .405 per share in October of 2009. Telus, according to their investor website increased their dividend by 5.5% in the recession. The dividend payment in December of 2007 was .225 per share, in January of 2009 it was increased to .2375 per share.
TransCanada also increased their dividends in the recession. Their website was kind enough to deliver this handsome chart. That's certainly a mouthwatering chart for dividend growth investors. TransCanada increased their dividend by 5.5% from 2008 to 2009.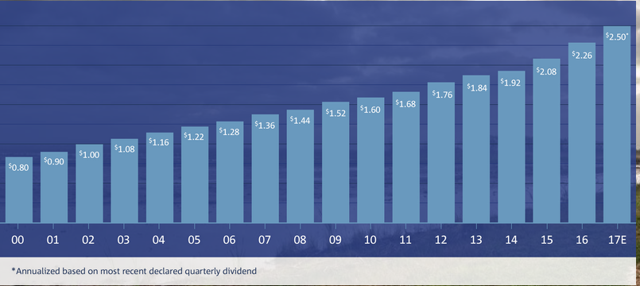 Enbridge also delivered dividend increases through the recession. This from their investor website.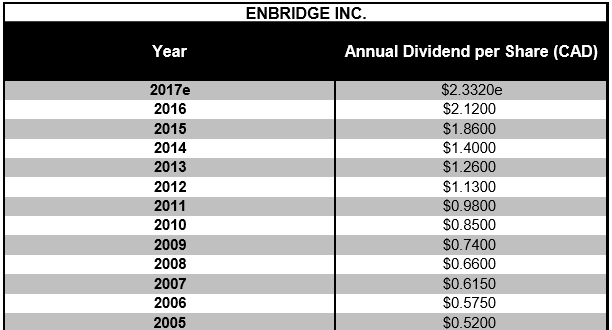 Enbridge increased its dividend 12% from 2008 to 2009.
The information from the investor website is different than the results for dividend income displayed on portfoliovisualizer.com. portfoliovisualizer shows a dividend cut of 6.5% for the wide moat 7 from 2007 to 2008. Always check your data back to the original source whenever possible. It was a pleasant surprise to discover that my Wide Moat 7 did not experience a decrease in income during the recession.
I bought the Wide Moat 7 with a forward looking approach, but I am happy to see that historically the dividends held up in a very difficult recession.
On total returns the Canadian Wide Moat 7 has a nice beat of the Canadian High Yield Index, from the ETF inception date of December of 2012 end of April 2017. Portfolio 1 is the Wide Moat 7, Portfolio 2 is the ETF VDY.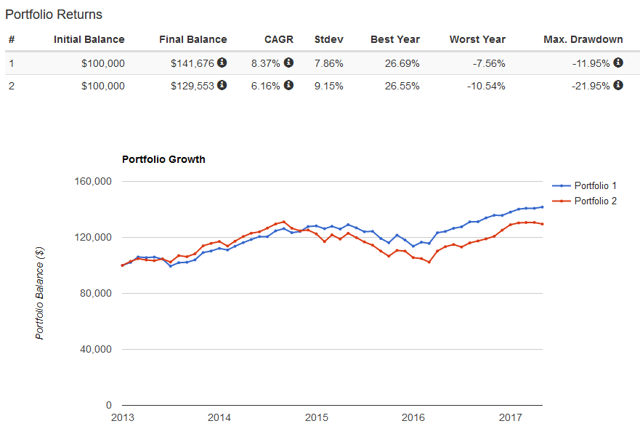 Those who love income will like this chart. Here's the income from the Wide Moat 7 (Portfolio 1) vs. the High Yield Index ETF (Portfolio 2) from that inception date. The income is more generous with the Wide Moat 7 and it did not experience the dividend cuts in 2016 that were experienced by the index.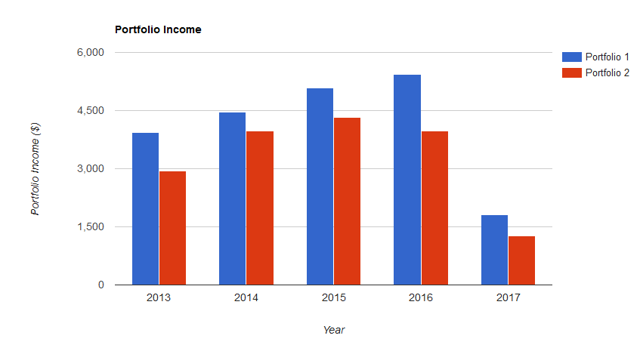 The goal of owning the Wide Moat 7 for our semi retirement years is to provide generous (and hopefully growing) dividend income. As you may know, generous income within a portfolio can reduce or even eliminate sequence of returns risk. That increasing income can also provide a hedge against inflation. If inflation is running at 3% and dividends are growing at 7%, an investor might have inflation adjusted spending needs covered, or mostly covered. We also hold a bond allocation in the area of 40%; the recent income history of our bond ETF is a decreasing income stream. All said, our retirement funding will not come solely from portfolio income. Our retirement income will be created from dividends, bond income, share harvesting of stocks, unit harvesting of bond ETFs, real estate rental income, part time employment income and perhaps borrowing against the insanely high value of our Toronto area home. If we do (sell) downsize from our Toronto home we will then have very large cash pile, a portion of which will be invested in a taxable environment. Our home has certainly become our 'accidental investment'.
Thanks for reading more on the Canadian Wide Moat 7. I welcome your comments and criticisms and suggestions. And please always remember to know and understand and invest within your risk tolerance level. Always know your tax implications. When in doubt, consult a tax professional or Certified Financial Planner.
Happy Investing.
Disclosure: I am/we are long AAPL, NKE, BCE, TU, ENB, TRP, CVS, WBA, MSFT, MMM, CL, JNJ, QCOM, MDT, BRK.B, ABT, PEP, TXN, WMT, UTX, LOW, BNS, RY, TD, BLK. I wrote this article myself, and it expresses my own opinions. I am not receiving compensation for it (other than from Seeking Alpha). I have no business relationship with any company whose stock is mentioned in this article.
Additional disclosure: Additional disclosure: Dale Roberts is an Investment Funds Advisor at Tangerine Investment Funds Limited a subsidiary of Tangerine Bank, wholly owned by Scotia Bank; he is not licensed to provide professional advice on stocks. The opinions expressed herein are Dale Roberts' personal opinions relating to his experience as an investor and are not those of Tangerine Bank or its subsidiaries and/or affiliates. This article is for information purposes only and does not constitute investment advice or an offer or the solicitation of an offer to buy or sell any securities. Past performance is not a guarantee and may not be repeated. Investment strategies are not suitable for everyone and you should always conduct your own research or speak to a financial advisor.