May has flown by, and a great deal of companies have reported their quarterly results for the previous period. In addition to monthly and quarterly portfolio reviews, I think it's important to use quarterly earnings reports to evaluate existing holdings. When companies report a big surprise on earnings (either positive or negative), this can sometimes trigger a buying spree or sell-off that should prompt an investor to make sure the new realities still reflect the original investment thesis. My goal in this series is to perform just that exercise with each of my holdings, ensuring that the results and forward guidance provided by each company reaffirm my decision to hold their shares. In addition to reviewing the results, I'll also provide a BUY, HOLD, or SELL (hopefully not too many of these!) rating. Today I'll be looking at the last 4 holdings in my portfolio across the Financials and Telecommunications sectors: T. Rowe Price (NASDAQ:TROW), Bank of Nova Scotia (NYSE:BNS), Toronto Dominion Bank (NYSE:TD), and AT&T (NYSE:T).
T. Rowe Price
Current Investment: 21.0586 shares (6.49% of portfolio, 6.22% of income)
Current Yield (6/2/17): 3.19%, Yield on cost: 3.30%
Investment Thesis: TROW is a leading provider of actively managed mutual funds with a strong dividend paying history (earning it elevated status as a Dividend Aristocrat). Coupled with a low payout ratio and crystal clean balance sheet, TROW is well-positioned to continue rewarding shareholders through all kinds of market conditions.
Quarterly Results: On April 25, TROW reported mixed results for its quarterly earnings. EPS of $1.18 came in $0.02 shy of analyst estimates, while revenue of $1.12b exceeded expectations of $1.11b. These results represented surprises of -1.7% and 0.9%, respectively. It's also worth pointing out that the revenue number was higher by over 12% on a YoY basis.
The most important metrics for companies like T. Rowe Price are Assets Under Management, or AUM, representing the total dollar amount of investments handled by the company, and net inflows/outflows, which show how much money is coming in or out of T. Rowe Price's investment products. In Q1, TROW saw its AUM increase by $50.8b to $861.7b, with net cash inflows of $700m. Reflecting an industry-wide trend, T. Rowe Price made note of increasing customer interest in passive investment vehicles, with net cash flows of $2.3b into the company's target date retirement funds.
My Reaction: T. Rowe Price, like other asset management companies, faces industry-wide challenges as patterns of consumer investment continue to move from active to passive funds and portfolios. This means TROW will be more challenged moving forward to create net cash inflows, as 23.5% of the company's AUM are in passive target date portfolios.
It was good to see that TROW did still manage to see net positive cash flow during Q1, though these represented only 1.4% of the company's total net increase in AUM during Q1 (the rest coming from existing capital appreciation). That is a concerning number, and bears watching in future quarters.
I have no concerns about the safety of TROW's dividend now or at any point in the near future with a payout ratio well under 50% (and remember, no long-term debt to worry about). However, it's clear that T. Rowe Price will need to continue demonstrating it is able to navigate the clear headwinds ahead and continue to deliver solid results. Therefore, I see TROW as a HOLD at this time - sudden exceptional share price weakness might entice me to consider buying, but I'd prefer to see more quarterly results before upgrading its rating.
Bank of Nova Scotia
Current Investment: 25.2162 shares (6.19% of portfolio, 7.35% of income)
Current Yield (6/2/17): 3.96%, Yield on cost: 3.82%
Investment Thesis: Bank of Nova Scotia is the third-largest and most internationally-focused of Canada's "Big Five" banks, a wide moat oligopoly in a highly regulated financial system. With a dividend history of over 150 years, and better performance during the financial crisis than U.S. counterparts (Canadian banks largely froze dividends rather than cutting them), BNS gives shareholders a stable base in Canadian banking while also providing a back door to emerging market exposure.
Quarterly Results: On May 30, Bank of Nova Scotia reported positive quarterly results. EPS came in at C$1.62, beating analyst estimates by C$0.06, or a beat of 3.8%. On a taxable equivalent basis, or TEB, revenues came in at C$6.92b, a 4% YoY increase.
Breaking the results down geographically, Canadian banking saw modest gains of 5%, 4%, and 4% in net income, loan growth, and deposits, respectively (slide 18). International banking performed even better, seeing gains of 6%, 4% and 10%, respectively, in the same categories (slide 20). BNS also maintained a strong CET1 ratio of 11.3%, well above the regulatory minimum and representing solid asset quality in the company's portfolio. (slide 7). The company's leverage ratio was 4.4%.
One of the biggest concerns for Canadian banks right now is exposure to the country's overvalued housing market through mortgages, on the expectation that the valuation "bubble" is approaching a pop. In part because of its international focus, BNS has less risk exposure in its domestic mortgage portfolio than its counterparts. The following slide from the company's quarterly earnings presentation provides a good overview of company's situation.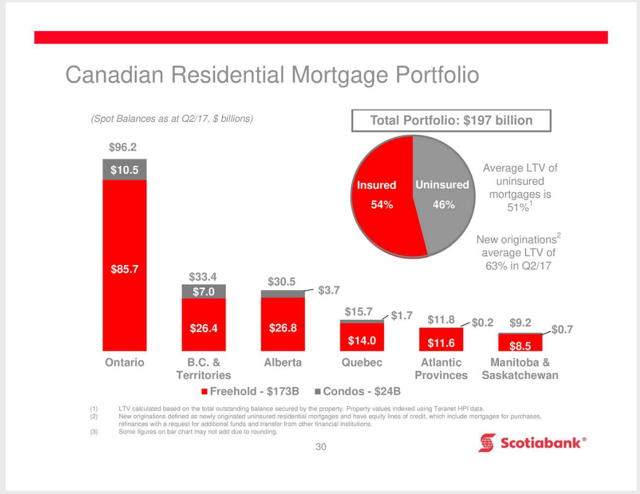 My Reaction: All things considered, it looks like another solid quarter from BNS. While growth both domestically and internationally was relatively modest, this is not the sort of investment or company I expect massive growth from. Slow and steady wins the race, and BNS is a perfect example of that. Still, it's good to see that the YoY comps were slightly better for international banking, which represented nearly 38% of BNS's total revenue in Q2.
Valuations on all Canadian banks remain fairly attractive; BNS currently sits at a P/E of 11.8 as the share price has fallen somewhat over the past month as mortgage/housing bubble noise has tampered the nearly year-long run up for the company's stock price and that of its competitors. For me, BNS is a BUY in this current $54-57 range.
Toronto Dominion Bank
Current Investment: 35.2824 shares (7.33% of portfolio, 8.13% of income)
Current Yield (6/2/17): 3.70%, Yield on cost: 3.96%
Investment Thesis: TD Bank is the second-largest and most U.S.-exposed of Canada's "Big Five" banks, a wide-moat oligopoly in a highly regulated financial system. With a dividend history of over 150 years, and better performance during the financial crisis than U.S. counterparts (Canadian banks largely froze their dividends rather than cutting them), TD gives shareholders a stable base in Canadian banking while also providing a back door to U.S. banking exposure.
Quarterly Results: On May 25, TD Bank reported mixed quarterly results. EPS of C$1.34 came in ahead of analyst estimates by C$0.09, but revenue of C$8.47b came short of an expected $8.72b. These results represented surprises of +7.2% and -2.9%, respectively. However, I should note that revenues were up by 2.5% on a YoY basis.
As with BNS, let's break out TD's results by geographical region. The company's Canadian Retail segment saw increases of 7%, 4%, and 11% in net income, loan volume, and deposits, respectively (slide 5). On the U.S. Retail side, the comparative numbers were 18%, 6%, and 9%, respectively, across the same three categories (slide 6). The CET1 ratio remained relatively flat at 10.9%, and the company's leverage ratio was a low 3.9% (slide 9).
As with BNS, it's important to examine TD's situation with mortgages as a major lender to homeowners. As you can see, TD bears closer watching as it has 7% more uninsured mortgages than BNS, and a larger total portfolio (by nearly 30%). That said, the loan-to-value, or LTV, ratio for its uninsured mortgages is 52%, which is similar to BNS's 51%.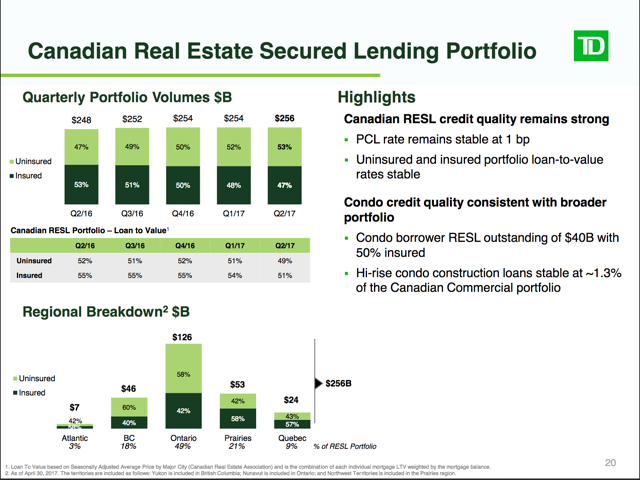 My Reaction: Where BNS is showing a slow and steady approach, TD has more high-growth potential, especially from its U.S. Retail portfolio. This is evident from the strong growth in both net income and deposits. That being said, the growth on the Canadian side wasn't shabby either, and 60% of TD's total quarterly revenue continues to come from its Canadian Retail segment.
In addition to the general noise about the housing bubble, TD's stock price was disproportionately affected earlier in the quarter by news it had engaged in heavy-handed sales practices reminiscent of news of the Wells Fargo (NYSE:WFC) scandal that broke last year in the U.S. Management responded quickly, and further investigation of the allegations showed that this was nothing close to the scale or scope of the Wells Fargo scandal, meaning that the sell-off was an overreaction. That being said, TD had begun creeping into overvalued territory at that point anyway, so the price weakness of late has provided a nice opportunity for new or existing shareholders to pick up shares at a more fair value price.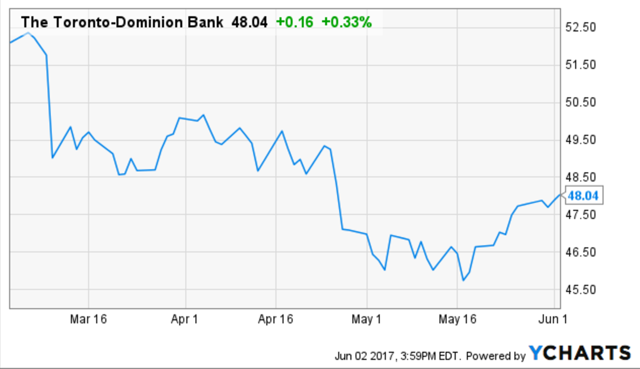 That's where I continue to see TD today, neither exceedingly cheap nor wildly overvalued. Still, there is always a premium on quality, and with TD you get the double benefit of strong current conditions as well as continued demonstrated potential for (and delivery on) growth. For those reasons, at current levels TD remains a BUY.
AT&T
Current Investment: 43.5383 shares (7.31% of portfolio, 11.06% of income)
Current Yield (6/2/17): 5.04%, Yield on cost: 5.36%
Investment Thesis: AT&T is a telecommunications giant with billions in cash flow and a generous dividend yield in excess of 4.5%-5%. Its recent acquisitions of DirecTV in 2015 and Time Warner (NYSE:TWX) in 2016 demonstrate the company's ability to leverage its cash flows into a transition from a purely communications company into a multi-segment media powerhouse, but rising debt and stagnant results from its legacy businesses remain two key concerns.
Quarterly Results: On April 25, AT&T reported mixed to negative quarterly results. EPS of $0.74 were in-line with analyst estimates, but revenue of $39.4b came in over $1b short of the expected $40.57b. This represented a miss of 2.9% and was also lower by about 2.8% on a YoY basis.
As you might expect given those headline numbers, three of AT&T's four business segments reported negative revenue growth. The one bright spot was International, with growth of over 15%, but representing only a miniscule 4.8% of total revenue. AT&T was able to report 2.7m wireless net adds, but lost 191,000 postpaid phone subscribers.
While AT&T is continuing to tout the success of its rollout of DirecTV Now, its clear that the DirecTV acquisition alone is not substantively moving the needle on subscribers for the company. Take a look at this graph from the company's Q1 earnings materials: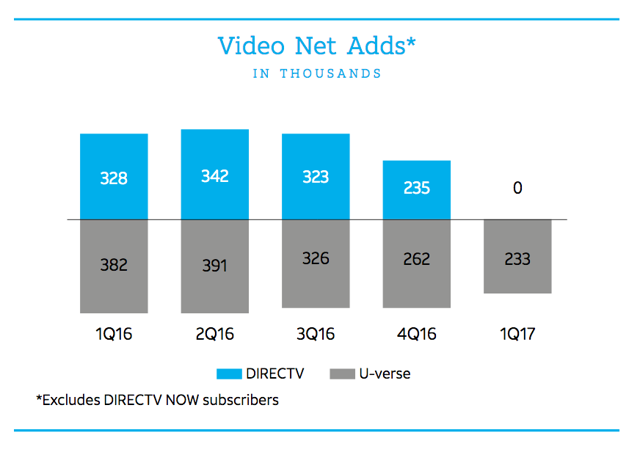 As you can see, in previous quarters, DirecTV adds were more or less only offsetting losses each quarter from AT&T's legacy U-verse service, but that trend was already declining by Q4. Keep in mind this does not count DirecTV Now subscribers, who contributed to an increase of 242,000 IP Broadband Subscribers in 2017Q1, though the net increase was only 115,000 due to DSL losses.
My Reaction: Overall, it was not a great quarter for AT&T. Even with relatively low comps following poor results from main competitor Verizon (NYSE:VZ), the nearly $1b revenue miss and lackluster numbers from both wireless and entertainment segments did not inspire much confidence. If it wasn't clear before, it certainly is now that AT&T is making the right move in acquiring TWX, as DirecTV has not and will not keep AT&T afloat alone.
The question, then, for investors, is how much additional benefit TWX will add, and at what cost. And above all, is AT&T's dividend sustainable and likely to continue growing? For now, that answer remains a tentative yes, though I and I'm sure many others will feel better once the acquisition is officially approved. Shares of AT&T have mostly dropped this year, and many voices are arguing that the current 5+% yield is attractive, which it no doubt is for those seeking income now. But as a younger investor, I want to also see that the dividend will continue to grow for many years to come. I see AT&T as a HOLD, until it can show more solid delivery on quarterly results and prove that it will continue to generate cash flow to sustain a growing dividend.
Conclusion
Quarterly earnings results provide a nice opportunity to review one's holdings. Going through this exercise, I'm able to review a company's results and forward guidance against my original investment thesis to ensure the holding is still a good fit for my portfolio. In the four cases above, generally positive earnings results indicate positions with relatively solid footing in my portfolio, and I saw no red flags that would cause me to consider exiting from any positions at this time. While I continue to await more solid numbers from both T. Rowe Price and AT&T, this quarter was business as usual for the rock-solid Canadian banks and I would have no qualms adding to my positions in either Bank of Nova Scotia or Toronto-Dominion Bank in the current environment.
I hope you have found this article (and this series!) interesting, and if you'd like to share your own opinions on these stocks please feel free to comment!
Disclosure: I am/we are long TROW, BNS, TD, T. I wrote this article myself, and it expresses my own opinions. I am not receiving compensation for it (other than from Seeking Alpha). I have no business relationship with any company whose stock is mentioned in this article.