The MLP index breached 300 on the downside twice and closed the week at its lowest level so far this year and lowest since 12/14/16. MLPs have dropped 2 weeks in a row, have declined 12% from their January peak, have produced negative total return YTD, and have produced just 3.2% total return the last 12 months. Adding insult to injury on this short but painful week, utilities and stocks again outperformed, while the 10-year treasury rate drifted lower towards 2.00% again.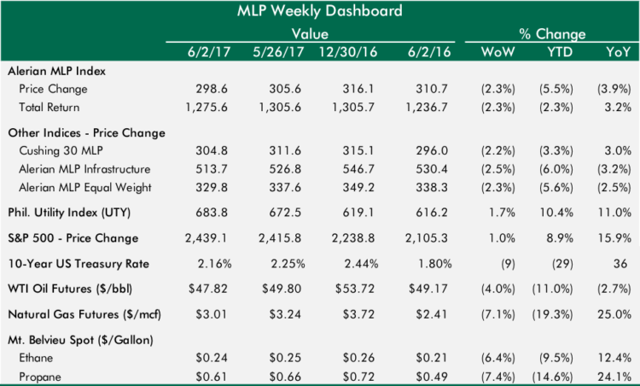 Oil prices weakness continues to overwhelm any potential bounce in energy and MLP sentiment. It wasn't just oil prices this time. Natural gas dropped back to $3/mmbtu, a 7.1% decline this week. But year-over-year, natural gas, ethane and propane are all up 10%+, while oil and MLP prices are negative.
I attended the MLPA conference in Orlando this week. The conference saw a material year-over-year decline in investor sentiment, attendance, and weather. Almost by default, MLP management teams came off as more confident than investors in the current environment and outlook from here.
With the migration away from the MLP structure from several large MLPs over the last few years and with the proliferation of new conferences, the MLPA conference isn't the premier midstream event that it was even just a few years ago.
The weather in Orlando was terrible, with periodic storms all week, indicative of the mood across midstream. Like Eeyore, MLPs must feel like rain clouds are following them wherever they go these days.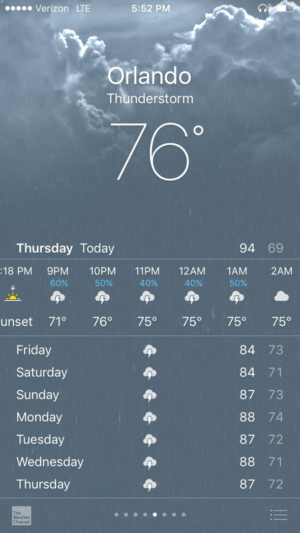 MLP negativity is less acute than last February near the bottom when I posted that negativity was peaking for MLPs. Negativity these days feels less intense, but more chronic, more of a dull pain than the stabbing pain of last year. MLP owners are frustrated at the apathy of the market towards MLPs despite improvements year-over-year, which hurts conviction that the sector has righted itself. Hedge funds aren't helping sentiment with skepticism and cynicism.
The negative sentiment across energy, oil and MLPs seems a bit extreme for the current fundamental environment. U.S. oil inventory is moving in the right direction. Midstream companies are confidently building new infrastructure to meet customer demands and production growth.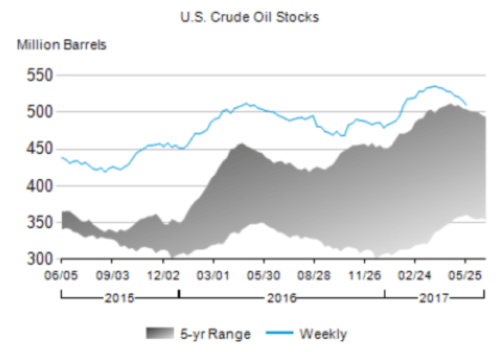 The positive outlook for growth capital should eventually lead to growth in cash flow. As we've seen in the past, times of great pain and frustration among investors are often very good buying opportunities. MLPs have now seen price correction of 10%+ and a washout of generalist investors from the beginning of the year, setting up for their return and better days ahead for those that have remained.
Status Update
The MLP index declined 4.1% in May. It was the worst month for the index since October 2016. It was the worst May in 5 years. MLPs have declined in each of the last 3 months, the longest losing streak for MLPs since the streak that ended in February 2016. Also, MLPs are now negative year to date.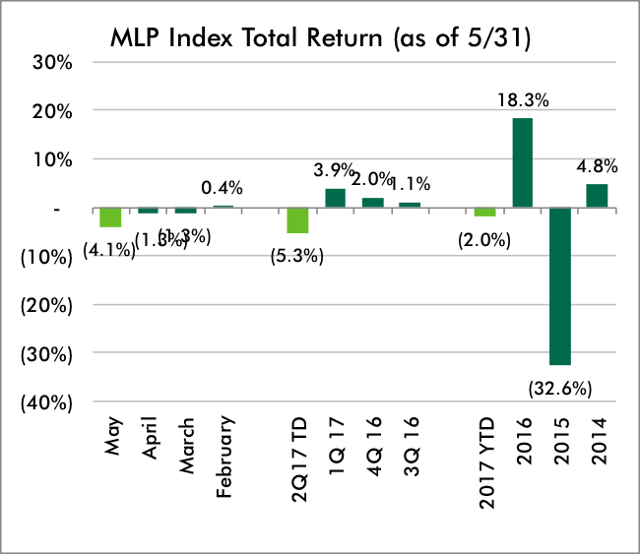 Looking forward, June has already gotten off to a rough start, but over the years, June has been a solid month with positive performance in 10 of the last 14 years.
Winners & Losers
There wasn't much positive price action across the sector to get excited about, but of the few positive MLPs this week, two were propane MLPs and one was a wholesale gasoline distributor. Small capitalization, demand-focused MLPs with largely retail investor bases performed the best this week. ETP was among the worst performers, as it continues to face challenges on the Rover construction process, and the market continues to punish it for it. No news on any of the others in the bottom 5.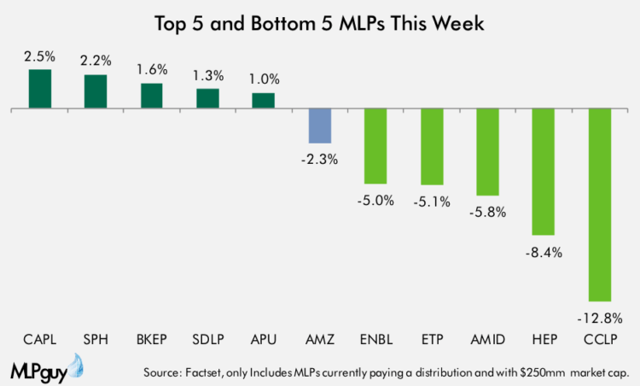 CCLP, which seems to have dropped around 10% a week for the last month, was the biggest loser of the week.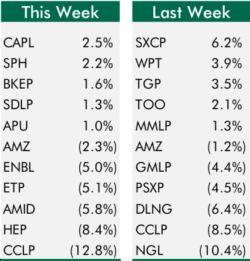 YTD Leaderboard
OKS dropped out of the top 5 this week, replaced by SUN. We now have just 4 names in the sector with more than 20% gains for the year, while on the downside, we have 4 names that have declined more than 30%, both troubling trends compared with where we were a month or two ago.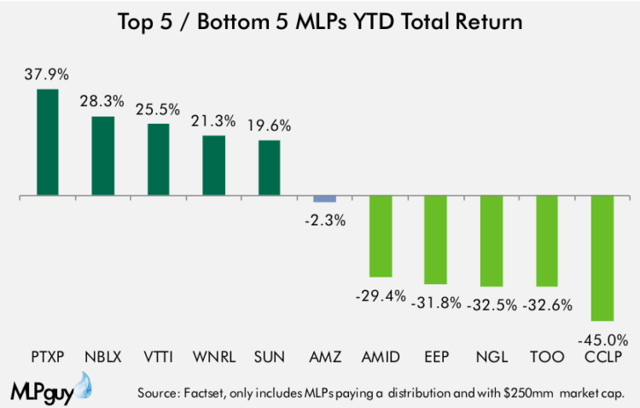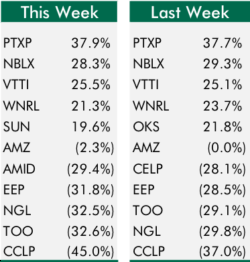 General Partners and Midstream Corporations
GPs and midstream corporations underperformed MLPs again this week, with a median decline of 3.2%. TEGP-OLD was the worst performer, while ETE made it two straight weeks close to the bottom of the group. On the positive side, AMGP was the only GP to be positive and for a second straight week it led the group. KMI showed some relative strength late in the week after an insider purchase by Rich Kinder.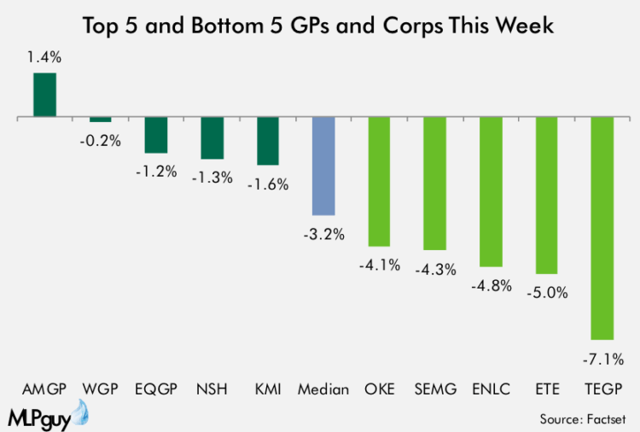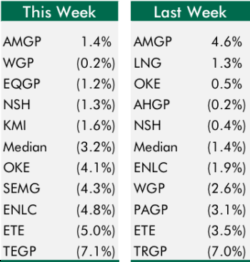 News of the (MLP) World
No big equity deals or M&A this week. DCP followed last week's TRGP NGL pipeline project announcement with an expansion of its Permian NGL takeaway pipeline. A few other MLPs announced efforts to gain commitments for their pipeline projects. A few of the more outspoken MLP executives stepped up to buy shares of their companies. But the biggest news may have been on the HR front, as MPLX poached Mike Hennigan from Energy Transfer.

Capital Markets
Williams Partners (NYSE:WPZ) priced $1.45bn of 3.75% senior notes due 2027 at 99.949% of par (press release)

WPZ will use the proceeds to redeem its 4.875% senior notes due 2023, of which $1.4bn is outstanding
Growth Projects / M&A
DCP Midstream (NYSE:DCP) announced expansion of Sand Hills NGL pipeline (press release)

DCP's latest expansion will be 85,000 bbls/d (up to 450,000 bbls/d), expected to cost $500mm and is expected to be in-service by 2H 2018
Energy Transfer (NYSE:ETP) announced Bakken Pipeline is in-service (press release)

One major pipeline financed and in-service, one to go
Western Refining (NYSE:WNR) announced binding open season for new Conan Crude Oil Gathering Pipeline to be constructed in the Permian Basin (press release)

Gathering system would be ~130 miles in length and transport oil from Lea County, New Mexico, to Loving County, Texas, to connect to a new terminal in Loving County and interconnect with long-haul pipelines
If constructed, these assets would add to the drop-down pool of assets at the combined TSO/WNR entity
Cheniere Energy (NYSEMKT:LNG) announced achievement of certain regulatory and financial milestones for its 200-mile Midship Pipeline (press release)

EIG Global Partners agreed to invest up to $500mm into the pipeline development, assuming it reaches FID
Tallgrass Energy (TEP) announced binding open season and additional volume commitments on Platteville Extension to its Pony Express Pipeline (press release)

TEP reported already receiving one shipper commitment of an undisclosed size
Other
MPLX appoints Michael Hennigan President, replacing Donald Templin, who was named President of Marathon Petroleum (press release)

Hennigan was CEO of Sunoco Logistics and is very well-respected by investors in the MLP community
Hennigan will start in his new role June 20
Chairman/CEO stock purchases:

KMI Chairman Rich Kinder bought 500,000 shares of KMI for $9.3mm
TEP CEO Dave Dehaemers bought a total of 20,470 TEP units for $1.0mm
Tesoro (TSO) and Tesoro Logistics (TLLP) announced new names as a result of the merger with Western Refining (press release)