Subscribers to The Mortgage REIT Forum received early access to this article and receive real-time text message and e-mail alerts which often produce stronger dividend yields from lower entry prices.
It is useful for readers to have a solid disclosure about the investing choices of the analysts they follow. Seeing the choices the analyst has personally made and what plans the analyst has for their future investing choices should give readers an insight into the mentality and process of the analyst.
Holdings
The following list contains my current holdings, recent holdings, and some of the shares that I am currently considering taking a position in. This is a fairly long list because some of the ETFs are interchangeable. Since the funds are so similar, it often makes sense to pick the ETF with favorable commission rates for that account. Since I will also use positions in preferred stock, I've listed several series of preferred stocks that I keep an eye on.
| | |
| --- | --- |
| Ticker | Name of Fund |
| | Vanguard Total Stock Market ETF |
| | Fidelity® Total Market Index Fund Fidelity Advantage Class |
| | Schwab U.S. Broad Market ETF |
| | Schwab U.S. Dividend Equity ETF |
| | Altria Group |
| | Exxon Mobil |
| | Wal-Mart Stores, Inc. |
| | Target |
| | Freeport-McMoRan |
| | Phillip Morris International |
| | Schwab International Equity ETF |
| | Schwab International Small-Cap Equity ETF |
| | Fidelity® International Index Fund |
| | Fidelity® Real Estate Index Fund Fidelity Advantage® Class |
| | Vanguard REIT Index ETF |
| | Schwab U.S. REIT ETF |
| | Washington Prime Group |
| | National Retail Properties |
| | STORE Capital |
| | Realty Income Corp. |
| | EPR Properties |
| | Fidelity Spartan® U.S. Bond Index Fund |
| | Schwab U.S. Aggregate Bond ETF |
| | American Capital Agency Corp |
| | AGNCB |
| | AGNCP |
| | Anworth Mortgage Asset Corporation |
| | Annaly Capital Management |
| | NLY-E |
| | NLY-D |
| | American Capital Mortgage Investment |
| | MTGEP |
| | Dynex Capital |
| | DX-A |
| | DX-B |
| | Capstead Mortgage Corporation |
| | CMO-E |
| RSO | Resource Capital Corporation |
| | RSO-A |
| | RSO-B |
| | RSO-C |
| SLD | Sutherland Asset Management |
| | Global Indemnity |
| | GBLI |
| | Bimini Capital Management |
| | CASH |
Working on New Organizational System
The format I was using for monthly updates took quite a while to fill out. I put in some work simplifying it. This version doesn't have as many charts, but it handles the updates.
Here are the latest holdings from 2017-05-31 (prices taken after close):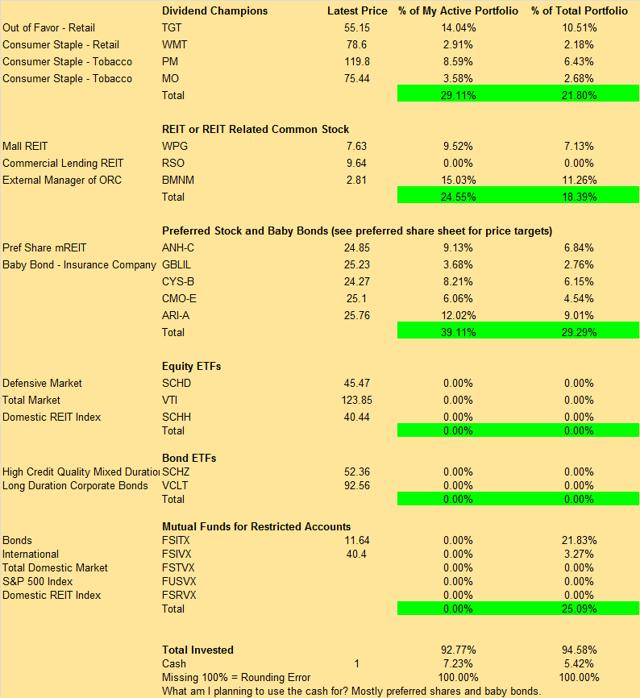 I cleared out the position in RSO heading into their most recent earnings release. That further increased my cash allocation. I took the huge pile of cash of from a month ago, combined with proceeds from harvesting gains in RSO, and I put it to work in preferred shares. The preferred shares combine to establish a massive chunk of my portfolio. While the P/E ratios are extremely high across the economy, it is exceptionally difficult to find bargains. It is not difficult to find analysts touting which security they think you should buy, but finding securities with a real margin of safety is much more difficult.
My domestic equity index exposure is at 0%. The only index fund investing in equity in the portfolio is some FSIVX. That is international equity for an employer-sponsored account. Most of the employer-sponsored account is in FSITX, which is a bond mutual fund.
My position in Washington Prime Group is in an unrealized loss, but shares already went ex-dividend for $.25. That covers a huge chunk of the unrealized loss. At these prices, I just need the company to survive without massive damage to their balance sheet. In my view, WPG remains a buy.
My individual picks for domestic equity exposure have all performed excellently, with the exception of Target. So be it; I'm content to continue disagreeing with the market about the future of Target.
I get the market's premise: Apparel sellers are performing terribly; therefore, stores must be closed and the whole sector should go down. That makes sense. However, the stores getting closed were doing far more than $0 in sales. When those dollars make their way to another store, what are the odds consumers continue to spend in roughly similar patterns? The odds shouldn't be too bad, so Target has a potential tailwind after 2017 when fewer apparel stores remain.
Defensive Investing
The strategy is simple. I want relatively low volatility and high yields. I'm happy to deal with poor liquidity because I'm comfortable calling the exact prices where I want execution.
To reduce my exposure to a pull-back in the market, I moved even further into preferred shares. Securities that rarely move outside of the $24.00 to $26.00 range and pay dividends around $2.00 per share? That sounds like a great area for risk-adjusted returns.
With macroeconomic headwinds from lower participation in the labor force and a fairly flat yield curve, I see plenty of opportunity. The biggest risk to yield investments in this scenario is the prospect of the Federal Reserve starting to sell off their balance sheets in an attempt to push yields higher so they can avoid inverting the yield curve as they continue their path of hiking regardless of the fundamentals.
Think the low unemployment rate is a great sign? It was fueled by people dropping out of the labor force.
The following image from MBSLive covers the unemployment situation:

The columns start with the actual number, the forecast number, the previous value, and then revisions to the previous value.
Those figures for non-farm payrolls and private payrolls are both significant misses. It may seem like the lower unemployment rate of 4.3 compared to the forecast and previous of 4.4 is a great sign. Nothing could be further from the truth. This is a sign that even more people are simply leaving the labor force entirely.
How are we supposed to get this great GDP growth when the labor market is shrinking substantially enough to miss significantly on the jobs report and still end up with lower unemployment?
I'm not the only one ringing this bell. The GDPNow forecast posted on the website for the Federal Reserve Bank of Atlanta raises the same question. The forecast for GDP growth fell from an absurd 4.0% down to 3.4% as soon as the latest data was incorporated.
Despite realizing that the GDP forecast numbers of 4% are unlikely to occur, the odds are still well over 80% for another Federal Reserve rate hike.
Is it any surprise long-term Treasuries were rallying (higher prices, lower yields)? Investors don't want to buy into the shortest-duration Treasuries because that is the one area where the Federal Reserve can still easily jack up rates by offering to pay interest on the excess reserves of the banks.
Ratings
I'll toss another buy rating on for both WPG and TGT. I believe the death of retail is a viable story for a few of the weaker players, but I don't believe that the story should expand to the extent it has currently.
Cash
I may add some additional cash to my portfolio and as always I may buy or sell anything as changes occur in both share prices and my outlook on the investment.
My cash allocations in prior months were substantially higher, but finding some great entry prices on the preferred shares caused me to enter a few limit-buy orders.
Conclusion
Due to poor liquidity, the portfolio value appears to fluctuate a bit more on a daily basis than it does on a weekly or monthly basis. So far I'm up 9.85% on the year. The movement to put more of my cash in preferred shares is riskier than holding it in cash, but I think there are quite a few opportunities right now where the risk/return profile is excellent on the preferred shares. Pouring more capital into common equity at this point looks like a fairly absurd bet, so I'd rather play with the safer areas where I can still grab a huge yield. If you'd like to join me, please sign up for The Mortgage REIT Forum. I'm covering investments with yields running from 7% to 12% and several of them are very defensive investments.
Disclosure: I am/we are long STOCKS IN THE CHARTS. I wrote this article myself, and it expresses my own opinions. I am not receiving compensation for it (other than from Seeking Alpha). I have no business relationship with any company whose stock is mentioned in this article.
Additional disclosure: I am actively trading in some securities and may buy or sell any preferred shares at any point.
Editor's Note: This article covers one or more microcap stocks. Please be aware of the risks associated with these stocks.