In a surprise move, oil (NYSEARCA:USO) weakened further despite OPEC and key non-OPEC oil producing countries agreeing to extend production cuts through to March 2018 in an attempt to bolster prices. Currently, the key North American benchmark West Texas Intermediate or WTI (NYSEARCA:USL) has slid below the psychologically important $50 per barrel market to be hovering around $48 per barrel, while Brent (NYSEARCA:BNO) is trading at almost $51 per barrel.
For some time I have been bearish on the short-term prospects for crude, predicting at the start of January this year that prices would weaken despite the optimism surrounding the outlook for crude at the time. Since that article, WTI has dipped by 7%, and key macro fundamentals and geopolitical factors indicate that weaker prices are here to stay for at least the foreseeable future anyway.
Global oil stocks remain high
A key factor weighing heavily on oil prices and their outlook is high global oil stocks. This is one of the issues that the OPEC production cuts are aimed at resolving, but as you can see from the chart, there is little evidence of them having any material effect on global inventories.
As at the end of April, OECD commercial crude oil and other petroleum liquids supply stood at 66 days, its highest level since the same month in 2016.
Of even greater concern is that the U.S. EIA has forecast that inventories will remain at around these levels until the end of 2018.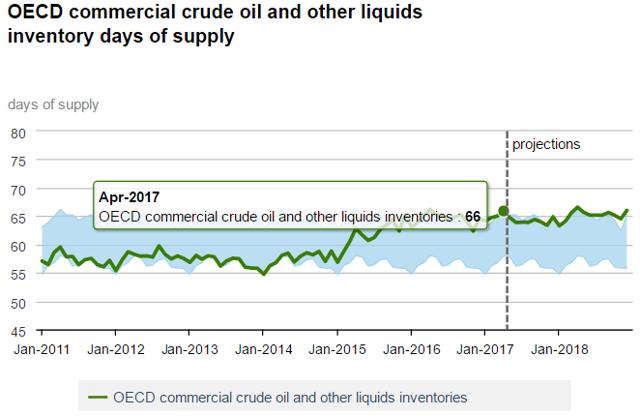 Source: U.S. EIA
U.S. oil inventories, despite declining in recent weeks because of a larger-than-expected draw on Thursday, are less than one percent lower than they were in early 2016, when the price of crude slipped under $30 per barrel.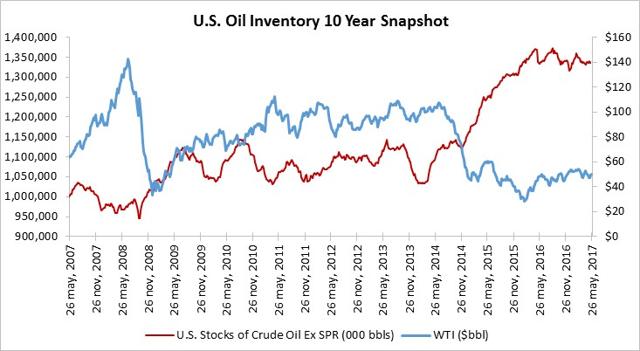 Source data: U.S. EIA
It is difficult to see any significant decline in U.S. oil stocks because of growing production. There are no signs of inventories easing, because global oil production continues to grow regardless of the prolonged slump in prices.
Growing OPEC and non-OPEC oil production
Another major issue weighing on the outlook for oil is growing world oil production. OPEC and key non-OPEC producers, including Russia, may have agreed to extend the production cuts and proved that to a point they can be effectively enforced.
But in reality, all they have done is incentivized those OPEC members exempted from the cuts and nations that are heavily dependent on oil revenues that are not part of the deal to ramp-up production.
For 2016, OPEC oil output was 3% higher than 2015, and even after the production cuts coming into effect in January 2017, OPEC oil production for February, March and April was roughly 1% higher than in 2015. There are clear signs that despite the extension of the agreement, OPEC oil production will keep growing.
Both Nigeria and Libya, which are exempt from the OPEC production caps, are focused on bumping up their oil production in recent months.
War-torn Libya recently expanded output from its largest oil field, the Shara field, by 25,000 barrels daily to now see it producing 250,000 barrels. This now sees Libya's production hitting 827,000 barrels a day, or 18% higher than the 700,000 barrels averaged during April. That production can only grow as order is gradually reestablished in the nation. Prior to the 2011 uprising, Libya was producing 1.6 million barrels a day, or roughly double the latest figures.
Nigeria is bumping up its production, and it is speculated that it could reach 2.2 million barrels daily by the end of June, and according to government sources, rise well above that figure by the end of the year.
Then there is strife-torn Iraq, which appears unwilling to abide by the production cuts. Data from Bloomberg shows that in May, Iraq exported the most crude it has exported over the preceding six months. It also exceeded the October 2016 baseline production established for the OPEC cuts, indicating that the country is not complying with the agreement.
Baghdad appears determined to further grow its oil output. You see, the conflict torn nation is highly dependent upon oil for desperately needed export earnings and revenue, with 95% of government revenues coming from crude. Earlier this year, Oil Minister Jabbar Al-Luaibi stated that Iraq intends to grow oil production to 5 million barrels daily, highlighting that the OPEC agreement holds little relevance for Baghdad. This because it desperately needs to boost revenue in order to fill a government budget deficit, fund the war against ISIS and manage a major humanitarian crisis.
Non-OPEC oil production is also growing. It is forecast that for 2017, it will rise by almost 2% compared to 2016. Excluding the U.S., much of that growth will come from Latin America, because the oil revenue-dependent governments of Mexico, Colombia, Brazil and Argentina are focused on ramping up investment in those countries' energy sectors.
Then there is the predicted explosion in U.S. oil production, the majority of which will come from shale oil.
Already, U.S. output is up by almost 7% since the start of 2017 to be 9.3 million barrels daily, its highest level since mid-August 2015. That trend can only continue, because falling costs means many companies are now profitable even with WTI at around $50 per barrel.
For this reason, many operators have ramped up investment in drilling, exploration and well development, as evidenced by the steep increase in U.S. rig count. The number of operational rigs since the start of 2017 has grown by 38% to now total 908, the highest number since April 2015.
That will lead to even higher U.S. production over the course of 2017, which can only be aided by the Trump administration's energy policies.
Trump's energy policies continue to weigh on oil prices
For some time, I have highlighted the impact that Trump's push to boost U.S. oil production and make the U.S. energy independent will have on the price of crude. Many analysts believe the U.S. could easily be energy independent by as early as 2020 and oil self-sufficient by 2030.
That was before the energy polices, including repealing regulation, reducing taxes and increasing the acreage available for drilling, were considered. It now appears that the Trump administration has established a far more ambitious target; according to Interior Secretary Ryan Zinke, the U.S. is positioned to become a dominant player in the global oil industry.
There are signs that Trump is moving rapidly to ensure that occurs, having already scrapped some legislation that impeded investment in oil companies, as well as opening up federal land and waters to drilling.
Furthermore, Trump recently announced that the U.S. will withdraw from the Paris Climate agreement on climate change. This gives Trump and the U.S. oil industry a far freer hand by easing the regulatory burden on the energy patch.
While some pundits expressed surprise that oil and oil stocks drifted lower, with many viewing it as a positive catalyst for the sector, it is clear that this will reduce the obligations the U.S. as a signatory is forced to enact. This means the move fits well with Trump's plans to reduce industry regulation, making it easier for oil companies to operate domestically and leading to higher U.S. oil production.
The Trump administration has also proposed draining the Strategic Petroleum Reserve, selling up to almost half of the almost 668 million barrels held by 2027. While this has drawn considerable criticism because of the alleged risks it poses to U.S. energy security, the greatest threat that it poses is to push oil prices lower. This is not a positive development for crude, especially in a difficult market environment dominated by a massive supply overhang and growing production.
These factors will contribute to significant growth in U.S. oil production particularly from shale oil because of lower costs, reduced regulation and greater drilling opportunities.
Bottom line
What the latest developments for oil emphasize is that many analysts are fundamentally misunderstanding the nexus between politics, economics and oil prices. Trump's announcement that the U.S. would leave the Paris Accord was perceived to a positive for oil and energy stocks, but the reality is it is a negative. This is because it eliminates the clean energy obligations placed on the U.S. by the treaty and accordingly reduces the level of regulation in the energy patch, making it easier to ultimately ramp up U.S. oil production. That means global oil stocks will not fall to the required level to support higher oil prices regardless of OPEC's production cuts.
Then there are the financial pressures triggered by the slump in crude that are being experienced by a range of OPEC states. While it may appear logical to reduce supply in order to bump up prices, that just won't occur because of high inventories, the eagerness of oil-dependent nations to boost production and Trump's energy policies aimed at strengthening the U.S. energy sector.
For these reasons, it is difficult to see oil recovering over the course of 2017 and rising above $55 per barrel. What is becoming increasingly likely is another slump to below $40 per barrel, particularly with the incentive for OPEC to maintain the production cuts dwindling and the U.S. shale oil industry focused on significantly boosting output.
Disclosure: I/we have no positions in any stocks mentioned, and no plans to initiate any positions within the next 72 hours. I wrote this article myself, and it expresses my own opinions. I am not receiving compensation for it (other than from Seeking Alpha). I have no business relationship with any company whose stock is mentioned in this article.