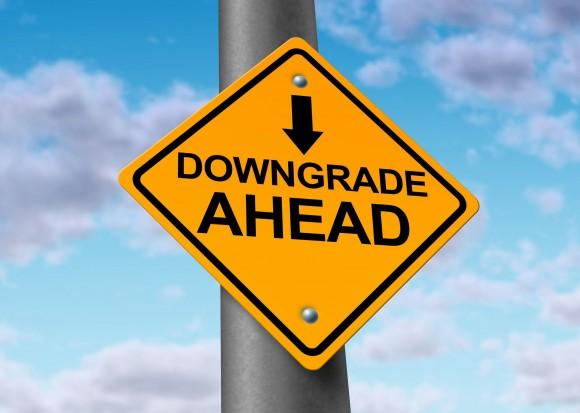 Forget about what's going on with the bankruptcy situation in Puerto Rico. Muni credit problems have come to the mainland. Illinois is just one notch away from junk status following the downgrades by Moody's and S&P to Baa3 and BBB- respectively. According to Bloomberg, this is the lowest rating for a U.S. state in recent history.
Some of Illinois' appropriation bonds, such as the moral obligation bonds, are already rated below investment grade. Within the next month, S&P indicates the GO rating could be lowered below investment grade if the state does not come to an agreement on a budget - something that has not been accomplished in almost three years.
Connecticut was also downgraded in the past month as Moody's and S&P lowered their ratings to A1 and A+ respectively. This downgrade came as a result of continued weakness in its economy which negatively impacts the state's largest source of revenue - personal income taxes. Moody's also cites three straight years of population declines.
These downgrades should have been expected by muni investors who complete proper credit analysis on bonds they purchase or hold in their portfolio. The problems Illinois and Connecticut are facing are just a preview of what's coming to other municipalities in the coming years.
That's not to say munis should be avoided - far from it. There are lessons to be learned from what's happened in Illinois and Connecticut. I'll share with you what I believe are the most important.
Credit Analysis is Becoming More Important
Credit analysis is the process of reviewing the bond documents and financial statements of a municipality to determine their ability to repay their debt. Learning about the revenue streams that support the bonds, bonds covenants and provisions, and the local economy is also part of this process.
State GOs have historically been very highly rated. Other than Illinois, New Jersey, and Connecticut, the lowest rating of any other state is AA-. There are nine states rated higher than the U.S. with full AAA ratings.
Here are the current state GO ratings:
| | | | | | | | |
| --- | --- | --- | --- | --- | --- | --- | --- |
| State | Fitch | Moody's | S&P | State | Fitch | Moody's | S&P |
| Alabama | AA+ | Aa1 | AA | Montana | AA+ | Aa1 | AA |
| Alaska | AA+ | Aa2 | AA+ | Nebraska | NR | NR | NR |
| Arizona | NR | NR | NR | Nevada | AA+ | Aa2 | AA |
| Arkansas | NR | Aa1 | AA | New Hampshire | AA+ | Aa1 | AA |
| California | AA- | Aa3 | AA- | New Jersey | A | A3 | A- |
| Colorado | NR | NR | NR | New Mexico | NR | Aa1 | AA |
| Connecticut | A+ | A1 | A+ | New York | AA+ | Aa1 | AA+ |
| Delaware | AAA | Aaa | AAA | North Carolina | AAA | Aaa | AAA |
| Florida | AAA | Aa1 | AAA | North Dakota | NR | NR | NR |
| Georgia | AAA | Aaa | AAA | Ohio | AA+ | Aa1 | AA+ |
| Hawaii | AA | Aa1 | AA+ | Oklahoma | AA+ | Aa2 | AA |
| Idaho | NR | NR | NR | Oregon | AA+ | Aa1 | AA+ |
| Illinois | BBB | Baa3 | BBB- | Pennsylvania | AA- | Aa3 | AA- |
| Indiana | NR | NR | NR | Rhode Island | AA | Aa2 | AA |
| Iowa | NR | NR | NR | South Carolina | AAA | Aaa | AA+ |
| Kansas | NR | NR | NR | South Dakota | NR | NR | NR |
| Kentucky | NR | NR | NR | Tennessee | AAA | Aaa | AAA |
| Louisiana | AA- | Aa3 | AA- | Texas | AAA | Aaa | AAA |
| Maine | AA | Aa2 | AA | Utah | AAA | Aaa | AAA |
| Maryland | AAA | Aaa | AAA | Vermont | AAA | Aaa | AA+ |
| Massachusetts | AA+ | Aa1 | AA+ | Virginia | AAA | Aaa | AAA |
| Michigan | AA | Aa1 | AA- | Washington | AA+ | Aa1 | AA+ |
| Minnesota | AAA | Aa1 | AA+ | West Virginia | AA | Aa2 | AA- |
| Mississippi | AA | Aa2 | AA | Wisconsin | AA | Aa2 | AA |
| Missouri | AAA | Aaa | AAA | Wyoming | NR | NR | NR |
State GOs have been viewed as one of the more secure muni credit pledges because of their unlimited ability to levy taxes to pay back their debt. Thus, the potential for a state GO to be downgraded to junk is concerning. There is no path for states to file bankruptcy - but that does not mean they cannot default.
That's one reason credit analysis is becoming much more important. Simply buying a muni bond because it's a state GO or because it is highly rated is not enough.
My preferred method of owning muni bonds is through individual bond selection.
This is where credit analysis can really pay off. For example, investors are selling bonds in Illinois and Connecticut just because they no longer want bonds associated with these states due to the ratings downgrades.
This creates an opportunity to find good municipalities that are being punished because of the contagion from concerns at the state level. Sure, there are some municipalities, such as school districts, that rely on state aid and could be dragged down by problems at the state level, but there are water/sewer systems or other revenue backed debt that will be just fine.
Researching and buying individual muni bonds is not for everyone. Another option is to just buy the muni index ETF (NYSEARCA:MUB). MUB tracks the overall muni market and includes over 2,000 bond holdings for an expense ratio of just .25%. It would be very difficult to build such a diversified portfolio for just .25% on your own when factoring in the embedded costs of trading.
If you are not familiar with muni credit analysis, a good way to learn is through reading the credit ratings reports from Moody's, S&P, and Fitch. After reading enough of these, you will become familiar with the various types of muni bonds and realize it's not as difficult as it may seem.
You can also follow me here on Seeking Alpha for my weekly thoughts and commentary on the muni market.
Underfunded Pensions are Driving GO Ratings Lower
State pensions are becoming more like ponzi schemes. Politicians promised and guaranteed investment returns for the pensioners over the years but haven't lived up to those promises. There are a variety of reasons that most pensions are vastly underfunded. The most common is the government entities responsible for making contributions have simply not made their full annual required contribution. By not contributing the required amount to the fund, there are two main ways they try to make up the difference.
1) Have active working employees pay more into the fund so they can continue paying retirees.
2) Invest the pension funds in riskier investments in an attempt to generate higher returns.
This is a recipe for disaster and pensions were a major factor in the Illinois and Connecticut downgrades.
In the 2016 Comprehensive Annual Financial Report (CAFR) for Illinois, the state reported a net pension liability of $116 billion. It plans to have the pensions 90% funded by 2045! The state only generated $39 billion in revenue before expenses in 2016. How does the math work on this?
As noted below, it decided to lower its contributions to the pensions from 2006 to 2010. This only made matters worse as the liability continued to grow while the assets did not grow as fast, and thus, the net pension liability increased.

Source: Illinois 2016 CAFR
By comparison, Illinois only had about $32 billion debt outstanding, which makes the pension liability 3.6x as large. At some point in the not so distant future, bondholders will face pensioners in court, and history tells us pensioners fare better.
Turning to Connecticut, the net pension liability is not as large at $39 billion (including OPEB and other benefits). Connecticut had $25 billion debt outstanding, which is much closer to its pension liability than Illinois.

Source: Connecticut 2016 CAFR
The funded status tells us the ratio of pension assets to liabilities for the three pension funds. For example, the State Employees' Retirement System (SERS) has $10.6b in assets but owe pensioners $27b for a funded status of 39%. To make up the deficit, a combination of methods could be used. The state could contribute more to the fund, working employees could contribute more, improved investment returns, or pensioners' benefits could be cut.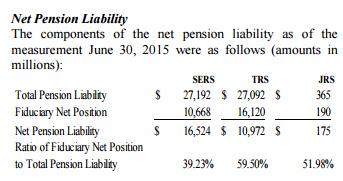 Source: Connecticut 2016 CAFR
One of the problems with many pension funds is they use a discount rate that should represent their expected return on their plan assets. For the Connecticut pensions, they are using discount rates as high as 8.5%.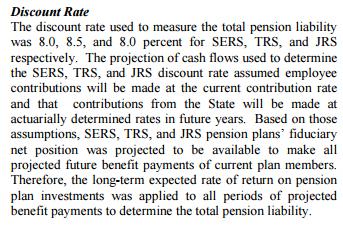 Source: Connecticut 2016 CAFR
When actual returns don't meet the discount rate used, the net pension liability grows. Actual returns on the pension plan assets for 2016 were barely positive at .23% to 1.11%.

Source: Connecticut 2016 CAFR
It would be prudent to lower the discount rate to actual achievable returns, but to do that would increase the net pension liability. By lowering the discount rate to 7-7.5%, we see that the net pension liability increases $6 billion and puts the state's balance sheet in an even worse position.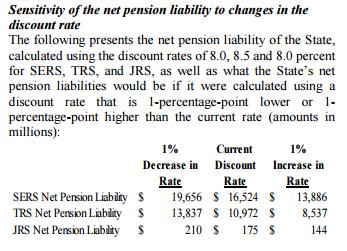 Source: Connecticut 2016 CAFR
This situation is not uncommon to municipalities across the country, and pensions will continue be a major factor in GO ratings. Any municipality I analyze includes a review of the pension for this reason.
The Risk of Politics and Poor Governance
Is it any surprise two of the lowest-rated states are known for corruption in their government? Illinois and New Jersey have a history of corrupt politicians. My own state of Louisiana (AA-) is not exactly known for ethical politicians. Most of the problems in Puerto Rico can be attributed to poor governance and corruption.
It's becoming more important to examine the leadership of municipalities as part of the credit analysis process.
The disagreement on a budget between Illinois Republican Governor Rauner and the Democratic lawmakers that control the legislature is a prime example of the problems politicians can cause for muni bond owners. S&P says if there is no budget agreement by July 1st, the state will be downgraded to junk. This will mark three years the state has not agreed on a budget. One of the fundamental jobs of state leadership is to create a balanced budget. The citizens of Illinois should repeal and replace all of their elected officials for failing to perform this task.
Ultimately, poor governance on both sides will cost bondholders and citizens of the state of Illinois as yields rise and increase borrowing costs for the state.
Our broken federal government proves that even full control of the executive and legislative branches by one party doesn't guarantee politicians will agree on anything.
Sadly, it doesn't seem like things will improve until people actually try to come together on what they agree on rather than constantly focusing on what divides us. The 24/7 news cycle and social media only decrease the possibility of that happening.
My point is leadership matters, and taking this into account as part of the muni analysis process has never been more important than it is now.
Conclusion
The issues I've outlined are some of the biggest credit problems facing municipalities. Poor leadership and underfunded pensions are driving muni ratings lower.
Munis are still a valuable fixed income product to own due to the tax advantages, but yields have fallen recently making it a less attractive time to buy.
Do proper analysis if you are investing in munis - don't trust a fund manager you'll never meet to do it for you. Only you (or your investment advisor) know the risks that you are willing to take.
Author Note: What are your thoughts? I would love to hear them in the comments section. I appreciate you reading my article and hope you will follow me to be notified when my articles are published in the future.
Disclosure: I/we have no positions in any stocks mentioned, and no plans to initiate any positions within the next 72 hours.
I wrote this article myself, and it expresses my own opinions. I am not receiving compensation for it (other than from Seeking Alpha). I have no business relationship with any company whose stock is mentioned in this article.