Sell in May and go away? Not quite.
Investors seemed to ignore that oft-repeated strategy, and instead appeared to focus on May's strong earnings results and prospects for economic growth amid still elusive pro-growth policies like corporate tax reform.
Yes, stocks tumbled following President Trump's dismissal of FBI Director James Comey on May 15, but investors waved off the Comey news, and sent the S&P 500, the Dow Jones Industrial Average, and the Nasdaq to fresh highs during the month.
Also holding steady in May was the Federal Reserve, which signaled that it is on track to execute its long-discussed plan to normalize monetary policy and reduce its balance sheet. Minutes from the May meeting indicated the Fed's preference to further raise rates before unloading the debt that it bought up to help keep borrowing costs low. Provided economic data remain in line with its expectations, many market observers believe the stage is set for the Fed to hike at the June 13-14 meeting. According to the minutes, officials believe "it would soon be appropriate" to increase the short-term rate.
Notable data releases dotted the last week of the month, with market observers keen to see how the second quarter is progressing. Private payrolls came in at 253,000 for May, according to ADP Research Institute's monthly report. Ahead of expectations, that result may contribute to the perception that the economy is sure-footed, and perhaps strengthen the Fed's conviction to raise rates in June. Also on the sunny side, the U.S. Commerce Department revised up its preliminary estimate of gross domestic product for the first quarter from 0.7% to 1.2%.
Domestic equities
Investors seemed to shrug off yet another bout of turbulence from the White House and kept stocks in positive territory for the month. One example was the Dow, which took its biggest daily drop since September 2016 and ended 373 points lower on May 17, a roughly 1.8% decline. But within about a week, it had recovered the lost ground. In contrast, investors seemed to turn away from small-cap stocks, with the Russell 2000 declining on the month.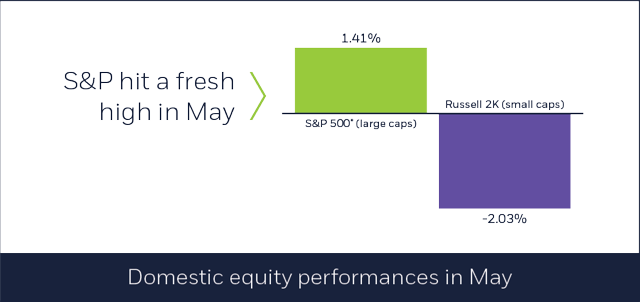 Source: Morningstar Direct
The technology-heavy Nasdaq was up 2.51% in May and big names continued to surge. Following tech was the interest rate-sensitive utilities sector. Its higher yields typically play well in falling rate environments, so investors seemed to look past the prospect of higher rates and found value.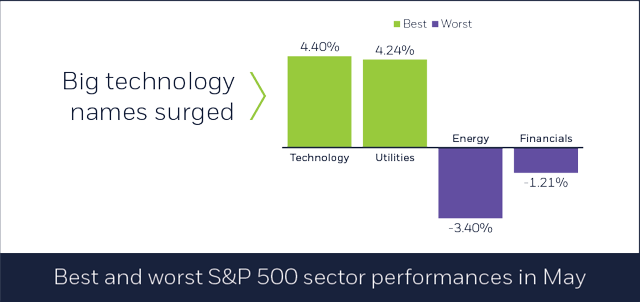 Source: Morningstar Direct
Five months into the year and technology shows no signs of relinquishing its hold as the dominant sector in 2017. Consumer discretionary followed, powered by the likes of Amazon, as many consumers continue to shift buying habits away from brick and mortar to the web.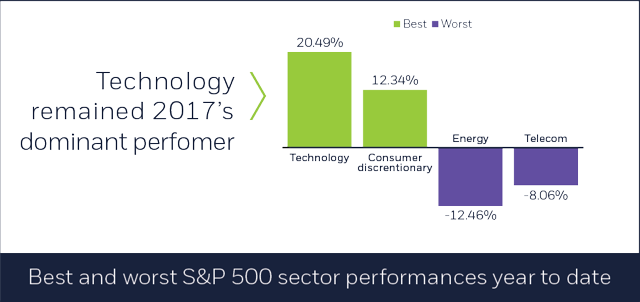 Source: Morningstar Direct
International equities
The political spotlight turned to the Avenue des Champs-Élysées and France's presidential election in early May. The victory for the pro-euro and pro-European Union centrist candidate Emmanuel Macron over the far-right's Marine Le Pen seemed to put skittish pre-election markets at ease and provided stability to the European Union. However, European stocks wavered some toward the end of the month on comments from European Central Bank President Mario Draghi, who said the eurozone still needs "an extraordinary amount of monetary support."
Sticking in the political arena, bribery allegations levied against Brazilian President Michel Temer, who came to the office by way of Dilma Rousseff's impeachment, caused the Bovespa Index to tumble 10% and actually halt trading in Brazil after the news broke on May 18. But market observers noted investors still saw opportunity in a market that has been weighed down by political and economic strife in recent years.
And that's a trend that has played loud and proud across foreign equities in 2017-investors are finding attractive opportunities abroad, especially in previously beaten down markets, and riding the momentum provided by the global growth story. And thus far, Asia's been the poster child.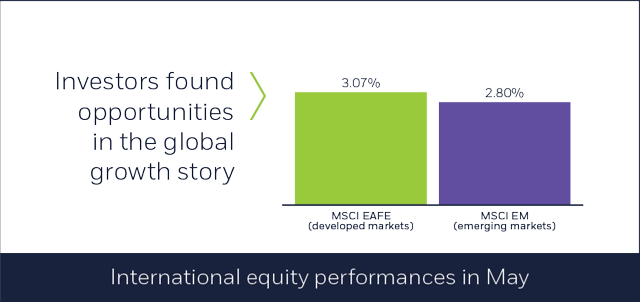 Source: Morningstar Direct
According to the MSCI's indexes, Asia's continued strength in May stemmed from the surging Korea and China. While Brazil dragged Latin America's performance for the month, the region has still returned 8.19% this year.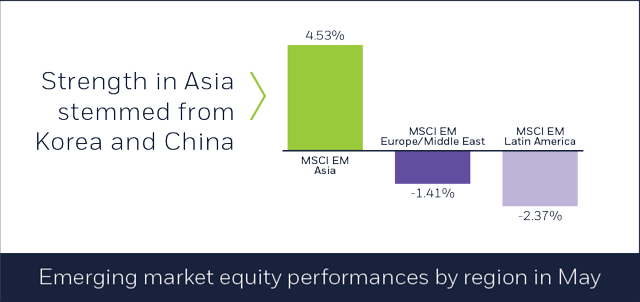 Source: Morningstar Direct
For the year, the MSCI EM has returned an eye-catching 16.59%, driven by rather hefty returns from Korea (27.31%), Turkey (24.45%), and China (21.81%).
Fixed income
Some might say the bond market remained skeptical of the economic growth story in May, with the spread between the two-year and 10-year Treasury notes narrowing. The two-year ended the month at 1.28%, roughly flat, while the 10-year at 2.21% was lower by about 12 basis points (a basis point is one one-hundredth of a percent). But on a relative basis, U.S. Treasury yields were still attractive and appealed to buyers, likely due to their safe haven status.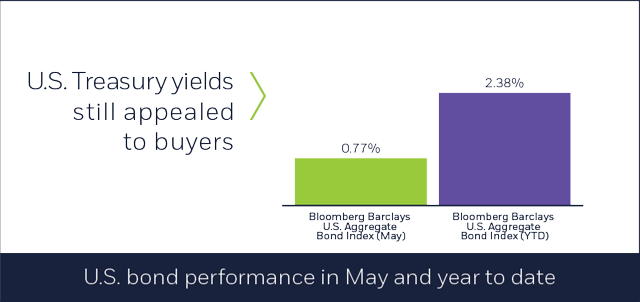 Source: Morningstar Direct
Long-term Treasuries performed the best, as the 30-year Treasury yield dropped close to levels not seen since November 2016. This could be a sign that market participants do not see the same prospects for higher inflation as they did earlier in the year. Corporate bonds were close behind, led by investment grade. They likely benefited from falling yields throughout the bond market with investors seemingly showing little concern about moving out of the risk spectrum. Treasury Inflation-Protected Securities (TIPS) were the only negative, but losses were mild.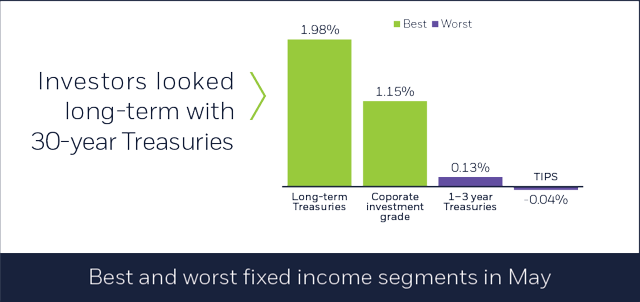 Source: Morningstar Direct
Also, investors continued to show interest in municipal bonds and their favorable tax treatments, especially with the market still checking its watch on a tax reform package that has yet to wind its way through Congress.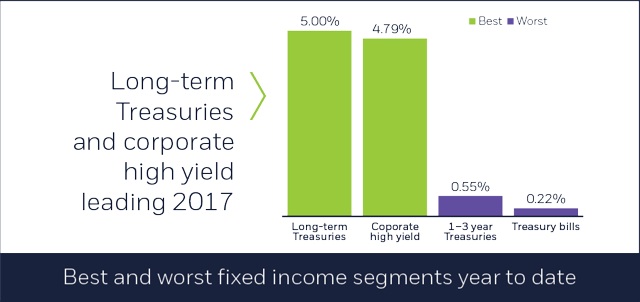 Source: Morningstar Direct
The bottom line
One could argue that the market's ability to bounce back from wild headlines is admirable. But such resiliency can lull people into a sense of complacency, or a false sense of security. It's wise for investors to keep their portfolios diversified and aligned with their long-term risk tolerance and goals, in preparation for what could come next.
What's next for many is summer rest, relaxation, and fun, but for those keeping tabs on potential opportunities, here's what we'll be watching this June:
Fed status. The Fed appears primed for a rate increase in June-according to the CME Group's FedWatch Tool, probability is at 88%.4 But whether it hikes or holds, it will be notable to see how the Fed positions its view of the economy, especially as it attempts to unwind the debt on its balance sheet. For investors concerned about rising rates, a counterbalance may be to look toward shorter duration bonds.
Global growth story. Developed and emerging market equities have outpaced their U.S. counterparts significantly in 2017, even amid a surge among U.S. equities. Encouraging macro data out of Asia recently have given markets there a significant boost, and investors have noticed.
Political maneuvers. Controversy from The Beltway has not been in short supply thus far in 2017. How the next breaking news affects lawmakers' abilities to deliver on a pro-growth, business-friendly agenda should continue to keep the market's attention.
Disclosure: I/we have no positions in any stocks mentioned, and no plans to initiate any positions within the next 72 hours. I wrote this article myself, and it expresses my own opinions. I am not receiving compensation for it. I have no business relationship with any company whose stock is mentioned in this article.