In one of my past research articles - Implications Of Equity And Currency Correlations - I pointed out the rather high correlation of the growth of the Australian economy in relation to the growth of the Australian dollar (NYSE:FXA); being a commodities-based country, import/export is vital to its growth.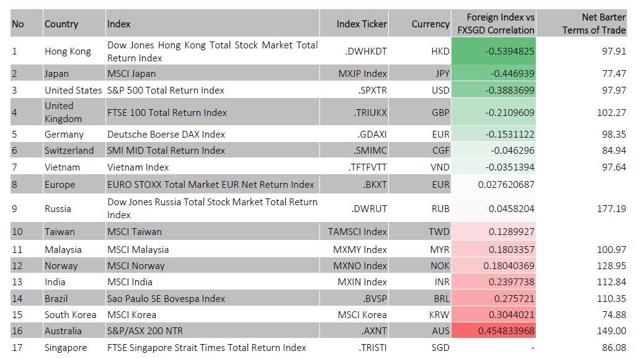 Source: Thomson Reuters
From the graphic below, we can observe that a large part of Australia's economy focuses on two main exports, Iron Ore - 20% and Coal Briquettes - 16%, which together make up a very large portion of the Australia's economy.

Source: Observatory of Economic Complexity
As such, prices in relation to such raw materials of iron ore and coal have an adverse effect on the Australian economy; a dwindling demand would mean less revenue generated for Australia, and it would adversely affect the Australian dollar as well. Much of this chain reaction is typically lagging.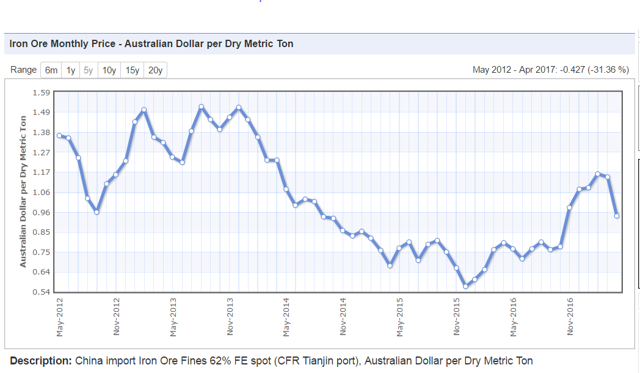 Source: IndexMundi
As observed from the chart above, in April to May alone, there is an over 30% drop in the price of iron ore. Iron ore mining companies such as Rio Tinto (NYSE:RIO), BHP Billiton (NYSE:BHP) [LON: BLT], and Brazil's Vale (NYSE:VALE) are suffering price declines in the recent month as well. While most articles claim the typical rhetoric about the slowdown in Chinese growth and consumption being the major headwind for this decline, there are more forces at play.
China is developing its iron more mining capabilities, resulting in a decreased reliance on Australian ore imports. Mining.com recently released an article that once shuttered iron mines are recently reopened, adding another 30 million tonnes to the world supply.
Additionally, another new headwind is the increase in the usage of scrap in china, where Platts reports basic oxygen steelmaking plants in China have nearly doubled their use of scrap to as much as 17.5% (Mining.com).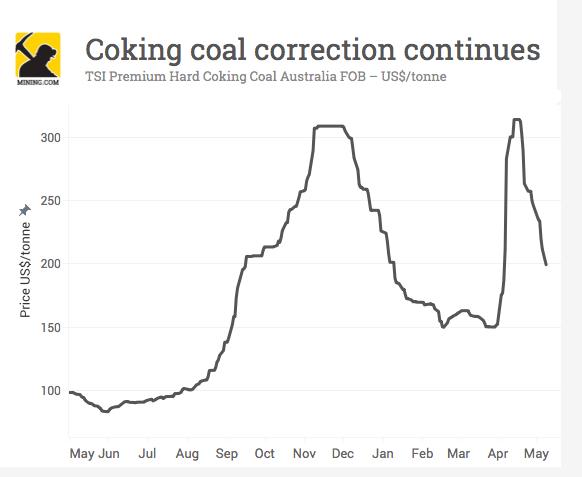 Source: Mining.com
The next most essential export to Australia as discussed earlier was coal briquettes, which are rapidly declining to normalized levels. As observed from the large spike of coking coal in April, it was due to Cyclone Debbie, a major disruption to the supply of coal required for China. However, as prices rapidly decline back to normalized levels, the Australian dollar would gradually track this decline in commodity prices as well.
As the glut in iron and coal continues, the Australian dollar would be hindered over the following weeks. While monetary policy would be a separate article for another day, I could see little to no upside for the Australian dollar in some time to come.
Disclosure: I/we have no positions in any stocks mentioned, and no plans to initiate any positions within the next 72 hours.
I wrote this article myself, and it expresses my own opinions. I am not receiving compensation for it (other than from Seeking Alpha). I have no business relationship with any company whose stock is mentioned in this article.