In a theoretical sense, country ETFs are a great idea: they allow investors diversify their heavily domestic oriented portfolios or make a call on favorable macroeconomic conditions of a particular country. In practice however, country ETFs can end up being an investment that has a lot less to do with the macroeconomic picture and a lot more to do with the fortunes of a handful of local companies.
Because the US market for both debt and equities is so large and deep, many of us that are based here can easily forget that this is not the case in the rest of the world. In fact, due to the bull market that we are currently experiencing in the US, the US equity market is at a position that takes up over 50% of the market capitalization of the listed stocks in the entire world right now. Take for example the Vanguard Total World Stock ETF (NYSEARCA:VT), Vanguard's world equity ETF which aims to track the performance of the FTSE Global All Cap Index, an index with about 7700 stocks from both developed and emerging markets. A look at the regional allocation and the top 10 holdings shows how the U.S. dominates the investable market for equities on a global scale.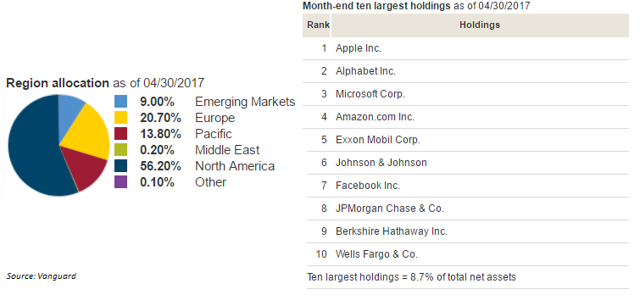 Of course the ETF industry has offered all manner of potential solutions for those that feel a bit uncomfortable about the world index's reliance on U.S. companies for performance: the world except the Vanguard Total International Stock ETF (NASDAQ:VXUS), the Vanguard FTSE Europe ETF (NYSEARCA:VGK) and the famous Vanguard FTSE Emerging Markets ETF (NYSEARCA:VWO). In fact, there are so many options to choose from that the curious phenomenon has developed where we actually have more indexes than stocks.
Venturing Off the Beaten Path - Peru
For those that are even more adventurous, have particular local knowledge or are even feeling particularly contrarian, there are the country specific ETFs. I became interested in these a few years ago when I noticed the positive macroeconomic and political fundamentals that were producing rapid growth in countries like Colombia and Peru. I was particularly bullish on Peru at the time, the country was the "China" of Latin America due to it's high growth rate and upon a business trip there, all I heard were complaints from the locals that there were too many new millionaires and that all the resorts south of Lima were being booked months in advance when you only needed a few days prior notice not so long ago. So I decided to investigate where I could invest and naturally I started with the country ETF. At the time mining stocks were big (circa 2011) and I found that the entire index was dominated by a single stock, Buenaventura. The equity market in Peru is just too small and underdeveloped to offer securities for all manner of companies. Both size, depth and regulation have a long way to catch up so I decided not to invest in the ETF but it seems that even if we look at the breakdown of the iShares MSCI All Peru Capped ETF (NYSEARCA:EPU) today, not much has changed.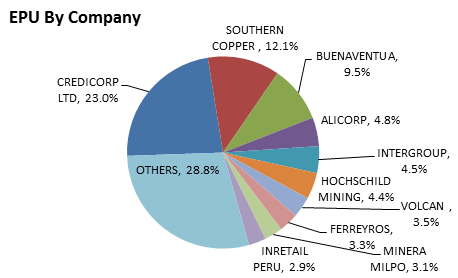 Source: Ishares and author's calculations
As you can see, the breakdown is still pretty lumpy with 3 companies making up 44.6% of the index as of June 1, 2017. Although that is not to say that Buenaventura (NYSE:BVN), Credicorp (NYSE:BAP) and Southern Copper (NYSE:SCCO) are not great companies, it begs the question that if these companies are available on their own to invest in, why not just ditch the ETF fees and by the stocks outright? Credicorp Southern Copper and Buenaventura all trade on the NYSE.
Looking to Other Markets
What brought this to my attention again was a recent post pointing out that emerging market stocks were particularly cheap right now, especially in emerging Europe. Being a long term and contrarian investor, I decided to take a look at the ETFs of a few of the countries the author rightly deemed cheap to see if I would be exposed to any unique concentration risk.
Because it was in the news so much in the past few years, one of the ETFs mentioned in the post that caught my attention was the Global X MSCI Greece ETF (NYSEARCA:GREK). A look into the breakdown by company reveals the top ten holdings make up 62.35% of the entire ETF, and of these the largest is a bank and 4 out of the 10 largest holdings are banks. So essentially, the Greece ETF is largely a play on Greek banks, which are still insolvent with 45% of all loans as non-performing although this ETF is up 21% this year, it seems like that is largely dependent on speculation of the bank stocks so I will take my chances elsewhere.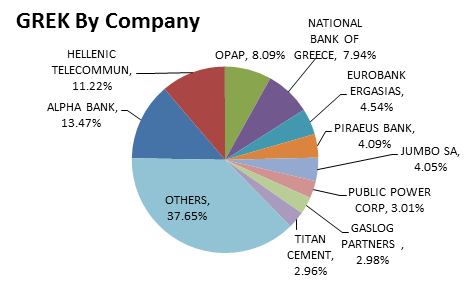 Source: Global X Funds and author's calculations
What about Poland? Its Cyclically Adjusted Price Earnings (CAPE) is currently 11.4 and it is up 33% year to date. Sounds like a strong value and momentum play. Being that I am not scared of emerging markets but that I know very little about Poland, let's take a look at the breakdown by company of the iShares MSCI Poland Capped ETF (NYSEARCA:EPOL). Forgive me if you know the names, I have shortened some of them to fit on my chart.

Source: Ishares and author's calculations
Looks like similar story to some of the other ETFs we have looked at so far. The 3 largest companies by market cap make up 34.7% of the entire market cap for Poland and the index is dominated by financials making up over 41% of the index. Starting to see a pattern here? Let's take a look at 1 more ETF, this time for Turkey. With a CAPE ratio of 10.1 and recent headlines chasing some big investors away, maybe there is an opportunity for the small contrarian investor to take a long position? Before we do that however, let's take a look at the composition of the iShares MSCI Turkey ETF (NYSEARCA:TUR).

Source: Ishares and author's calculations
Not as much concentration in the top 3 companies this time and the top 10 companies make up 62.3% of the index. A breakdown by sector reveals that industrials, consumer staples and materials also play an important role in the makeup of this index. The lack of energy stocks may also be one reason that the index has been doing well this year outside of the overall national story.
One other pattern you may notice is that many of these emerging market indexes have a high proportion of their exposure to the financial sector. This may seem odd but when you think about it, it kind of makes sense. Universal banks in each country offer services in local investment banking, this would include helping local corporations list on the local exchange. They already have the in house expertise to list on an exchange so it makes sense that many of them list themselves in order to lower their cost of funds and diversify their capital base. Smaller local corporates may not have the need, scale or desire to list on local exchanges which ends up leaving indexes highly exposed to financials.
What to Take Away from This
The most important takeaway from all this is to know your risk. Diversification is good but when investing internationally, always take into account that there may be big distortions when it comes to sector risk or concentration risk of local indexes. The US is the elephant in the room in terms of the investable world of stocks and it will have an outsized impact on markets in a positive and negative way if the equity markets to go into a downturn here.
Also take into account that in many markets, financials will play an important role in the performance of the index. This doesn't have to be a bad thing. Large international banks lend all over the world due to their size and the need for diversification. In my experience in the sector, I know that some banks such as Wells Fargo (NYSE:WFC) and Standard Chartered (OTCPK:SCBFF) have a policy of only lending to financial institutions outside of their home market. The reasoning is that financial institution exposure is an easy play on the economy as a whole, since many banks offer a broad exposure to the whole economy through their loan portfolio.
If you share this logic in your personal equity investments then some country indexes may be right for you, but if not, take a close look at the composition and the holdings before taking the plunge into a country ETF to take advantage of a broad play.
Disclosure: I am/we are long VWO, VT.
I wrote this article myself, and it expresses my own opinions. I am not receiving compensation for it (other than from Seeking Alpha). I have no business relationship with any company whose stock is mentioned in this article.