Yeah, so just 10 stocks are responsible for 47% of the S&P's 2017 return.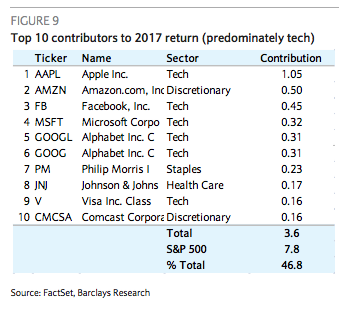 (Barclays)
That's a fun factoid, right?
I mentioned that a couple of days ago. Actually, I mentioned it a few times before that, and some people suggested it was somehow normal.
I'll never understand why people make declarations when what they really want to do is ask questions. I mean you have to think that most people have no idea off the top of their head what's normal and what's not in terms of a small number of stocks accounting for an outsized percentage of a given benchmark's return.
I wouldn't know the answer to that off the top of my head. Neither would the vast majority of equity analysts.
So it strikes me as odd when people assert the equivalent of "there's nothing to see here" when you tell them that nearly half of the S&P's (NYSEARCA:SPY) YTD return is attributable to just 10 stocks.
What they really want to do is ask a question. Specifically, they want to ask this question: "Well, how does that compare to previous years where S&P returns were comparable to what they've been so far this year?"
So why not just ask that? Why act like the author is saying something that doesn't matter when you know good and well that you don't know the numbers?
Anyway, that's a bit of a strawman. I don't think anybody came right out and said "nothing to see here," but as regular readers are acutely aware, some folks are inclined to think everything that comes out of the mouth of a market cynic can automatically be written off as an example of a "nothing to see here" statement.
Well, in the case of 10 stocks making up nearly half of the benchmark's return, it turns out that there is indeed "something to see here."
More specifically, in years where the S&P has been up 5% or more, the average contribution for the top 10 stocks is just 30% - so a full 17 percentage points lower than what we're seeing currently. Here's the chart: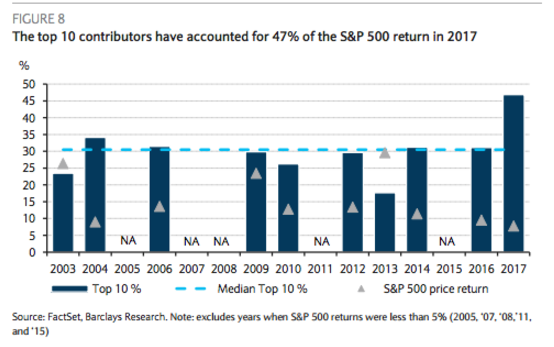 (Barclays)
Importantly, hedge funds, growth mutual funds, and value mutual funds are piggybacking off this dynamic. Here's Goldman:
Both mutual fund and hedge fund returns in 2017 have benefited from high allocations to the Information Technology sector, which has surged by 21% YTD and contributed 46% of S&P 500's YTD return. Our analysis of $1.9 trillion of long and short hedge fund positions revealed a 25% net exposure to the Tech sector. Our review of $1.3 trillion of large-cap mutual fund assets showed growth funds with a 37% Tech weight (422 bp overweight vs. Russell 1000 Growth index), and value funds with a 13% weight (277 bp overweight vs. Russell 1000 Value benchmark).
So basically, "active" management now just involves overweighting whatever is driving benchmark returns. As I noted over at HR on Saturday, I'm not entirely sure that counts as "active" in any real sense.
You can see the tech (NYSEARCA:IYW) tilt in the flows data as well: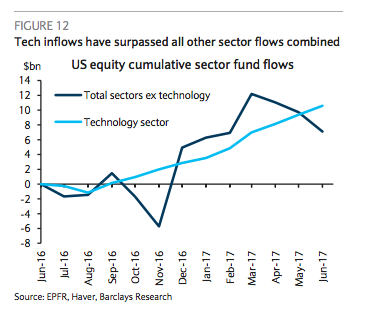 (Barclays)
The question, obviously, is whether this is sustainable. This chart certainly seems to suggest it isn't: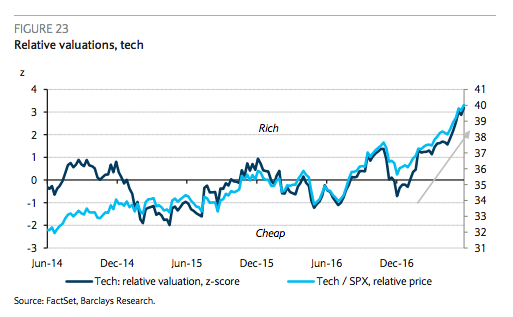 (Barclays)
It looks like tech is now 3 standard deviations expensive. That casts considerable doubt on the prospects for further upside and therefore on this sector's ability to shoulder the burden when it comes to sustaining the rally.
So where, you might fairly ask, would the leadership come from if tech is bumping up against a theoretical upper limit? That's a good question, and I'm not sure there's a good answer. Here's why: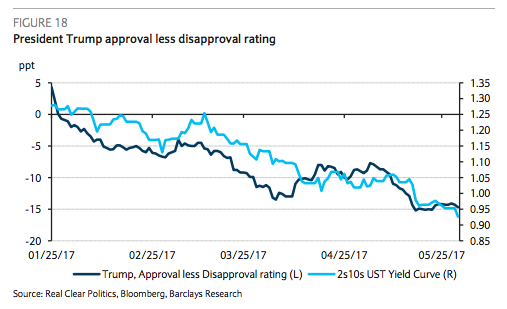 (Barclays)
The turmoil in Washington has flattened the curve and that means you can forget it when it comes to financials and/or factors that isolate for plays which would have benefited from a quick implementation of this administration's agenda.

(Barclays. Note: Those are just a few examples; you can see the full "Trumpflation" fade in more detail here).
For its part, Barclays thinks this is an opportunity to "reallocate out of growth and to selectively buy 'value' laggards."
You can take that for whatever it's worth, but I think the more important takeaway here is simply that it isn't clear how much longer we can depend on just a few names (or on one sector) when it comes to sustaining a rally that's already facing myriad headwinds.
Food for thought as you ponder the new week.
Disclosure: I/we have no positions in any stocks mentioned, and no plans to initiate any positions within the next 72 hours. I wrote this article myself, and it expresses my own opinions. I am not receiving compensation for it (other than from Seeking Alpha). I have no business relationship with any company whose stock is mentioned in this article.