While investors continue to cheer rising stock prices, even as world economic and social issues are causing massive problems, several warning signs continue to be ignored that an imminent major correction in the stock market is overdue. Currently, we are in the 99th month of the current bull market, which is the 2nd longest bull market in history, and second only to the historic tech bubble bull market between 1990-2000. Ultimately, that bubble finally burst with stocks being sent into a 50% decline. It is not a matter of "if" the bubble bursts, but "when" the bubble bursts. History has shown that lofty evaluations are just not sustainable, and it doesn't matter who the President is at the time.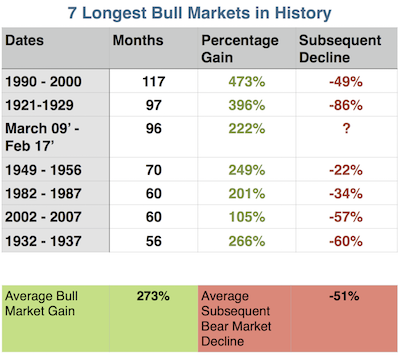 (Chart via: http://www.sbcgold.com/)
The chart above, which is roughly 4 months old, does not reflect the additional gains the market has seen between March 2017 and present. Additionally important, is the fact that there has been no substantial correction in stock prices since February 2016, and was short lived less than a month, so it can't really be considered a correction, but more of a pullback. The last two corrections in stock prices that are substantial enough to be considered "corrections" occurred in 2002 and 2008. Since March 2009, and the market has been full steam ahead with the assistance of FED interventions.
The chart also shows the impending results of overvalued markets where every bull market saw significant corrections that lasted for many months before beginning to reverse and start to build sustainable price gains again. We also see that the most overvalued eras saw the largest percentage corrections with the exception of the 1932-1937 bull market.
The Case-Shiller PE Ratio which is widely respected as a valuation measure of the S&P 500 Equity Market now shows that stocks are overvalued by 75%. The current measure is 29.88 as of June 2. 2017. The highest measure of 43.77 occurred just prior to the dot-com bubble bursting in early 2000 from the overextended bull market run from 1990-1999, where technology company valuations were extremely overpriced. The next highest measure prior to a major bull market run occurred in January 2007, at 27.21, and soon afterwards the housing and financial sector problems started to become apparent and led to the subsequent 2007/8 market collapse.
The Case-Shiller 10-City Home Price Index now shows that the housing bubble that helped collapse global markets around the world may be upon us again. The Index is now measuring above the 2007 and 2008 pre-collapse levels. The only higher level seen was in 2006, which the period when President Bush began the refund check disbursements to tax payers in an attempt to boost spending to spur the economy and failed miserably. In recalling this period, I remember friends and family using those checks to pay their mortgage and car notes, instead of boosting economic spending.
The last time the index was in the 209 range, where it currently sits, was October 2007. This is the same timeframe when the stock market began its slow and painful 1 1/2 year decline and ultimately caused the FED to intervene in the housing market in March 2009.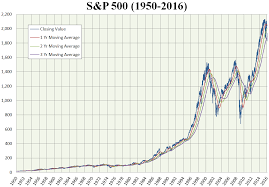 History has proven many times, that when stock and housing prices enter into over-valued zones, there will be substantial corrections that last several months, and usually result in at least a 50% correction or more. History has also proven, that timing when those events will occur, is simply a task too tough to tame. Even the largest firms have failed to be able to time when the bubble bursts. However, when the warning signs begin to reach historic levels, as they have reached now, smart investors will usually begin to heed those warnings and begin making adjustments to their portfolios to reduce their risk.
Markets have been rising to such lofty levels due to the Trump election and euphoria. They have risen on future prospect and promises made by this President, even though all the warning signs say it is time to reduce risk now. In fact, President Trump has been in office for over 4 months, and his "First 100 Days Plan" has already been a complete fairy tale. Not one piece of legislation he promised the American people has come to fruition. The most recent jobs reports show that jobs are being lost faster than they are being created, and those that are being created are majority "minimum wage" jobs that will not sustain economic growth.
Conclusion
Americans are maxing out their credit again, and defaults are at a 4 year high and the problem is getting worse day by day. Housing prices have surged to astronomical levels once again, primarily due to the FED Reserve intervention in previous years. As the FED is now under the "must raise interest rates" scenario, expect housing defaults to rise again very quickly. Stocks have reached extremely lofty levels under the euphoria of a President that has delivered none of what he promised so far, and a Congress full of Democrats that are going to fight him every inch of the way for 4 years. Corporate equities to GDP ratios are off the charts and show stocks over-valued by almost 90%. Massive retail closures are being ignored as non-events as large numbers of people enter the unemployment line again. Terrorist activity around the world is becoming an almost daily event, which puts strain on global economies, and it is ignored by the markets. It's just a matter of time before it cannot be ignored anymore.
For all these reasons, and some that I have not even covered in this article, I recommend investors take heed of the warning signs that history has proven not to ignore. Do not get caught up in the Trump euphoria "stock pump". Start making the right decisions to protect your financial interests by limiting your risk in equities that are at all time lofty levels, and not supported by economic growth and true job creation, yet supported by FED reserve free money economics and prospects of a future that isn't going to materialize. There are too many political, social, and economic issues troubling the world, and the stock market is just one major event away from collapse. We are in the biggest stock market bubble since 1999 and 2007, and the data proves it.
Disclosure: I/we have no positions in any stocks mentioned, and no plans to initiate any positions within the next 72 hours.
I wrote this article myself, and it expresses my own opinions. I am not receiving compensation for it (other than from Seeking Alpha). I have no business relationship with any company whose stock is mentioned in this article.