Consumer spending appears back on track with April's 0.4% month-over-month increase, the highest post since December. The ever-optimistic Federal Reserve Banks of Atlanta now projects US 2nd quarter GDP growth at a robust 3.4%, a far cry from the anemic 1.2% to date performance in the first three months of the calendar year. Once again, the US economy has fallen prey to the debilitating mix of winter's deep freeze and recurrent statistical end-of-the-year anomalies that consistently shift spending totals from 1st to the 2nd quarter tallies. Income during the month doubled with a 0.4% increase while prices returned to positive territory after both headline and core inflation unexpectedly fell in March.
More of a concern emanates from the inflation front with headline PCE inflation slipping back to 1.7% while core PCE also backtracked during the month to 1.5% on prices posted in April 2016. Core PCE price inflation has fallen in the greater economy in each of the past three months after hitting a high of 1.8% YOY in February. Core PCE inflation has missed the Fed's 2% target for the 58th consecutive month. Inflation continues to confound the Fed as weak prices fly in the face of a labor market that officials largely assume to be at full employment. Wage growth in May remained weak at 2.5% barely nosing past inflation for the period while the unemployment rate at 4.3% hit a 16-year low. In Japan, the issue is even more confounding-Tuesday's government report placed the national unemployment rate at 2.8% with wage growth registering a mere 0.4% YOY. While economists struggle to pinpoint a single or even a host of explanatory variables to explain the anomaly, the divergence of monetary policy in the US with that of Japan and Europe remains high on the list.
The broad economic outlook in April makes the second Fed move on short-term interest rates at its June meeting all but certain, with the probability of such a move now over 90% through Friday's (2 June) market close. That said, the year's third installment of short-term interest rate hikes appears much more problematic. After a large run-up in yield in the wake of November's presidential election, the yield of the 10-year Treasury has fallen for much of the year as investor skepticism grows on the Trump administration's ability to deliver on its fiscal agenda. A weak May jobs report sent the yield on the ten-year Treasury crashing through its 200-day moving average, ending up with a yield of 2.162% at Friday's market close (2 June)-a yield that has fallen over 46 b/p since mid-March. The 2-year and 10-year Treasury yield spread fell to 0.87%, the lowest spread since October. The falling spread between the two benchmark rates usually signals a lowering of expectations on higher inflation and growth as the yield curve flattens. Not surprisingly, small and regional bank stocks are down almost 9% on the year. A bond rally could further signal increasing levels of risk in the economy which might cause the Fed to stand pat on further short-term interest hikes in the fall. The upcoming Congressional vote to increase the country's debt authority looms large in September with the memory of default being narrowly avoided in 2011 and 2013-ironically the Congressional charge was led both times by a fervent deficit hawk Mick Mulvaney, now the administration's budget director. Meanwhile, the dollar registered its weakest post since the November election amidst uncertainty as to the path of US interest rates beyond the Fed's policy meeting in two weeks. With inflation quiescent there is little need for the Fed to risk cutting off the economic upswing.
The bond market aside, in an economy where 70% of its output depends on consumer spending, the short-term outlook looks reasonably good. Equity markets remain buoyant and continue to chase record highs. The dollar has retreated and financial conditions throughout much of the developed world remain easy. Internationally, Japan's Nikkei average closed above the 20,000 mark for the first time since December 2015. All of this bodes well for Costco (NASDAQ:COST), its 715 stores (501 in the US) worldwide and its highly successful membership warehouse food and retail business platform. The company plans further national and international expansion with 29 new stores slated to come on-line during the year, including stores in France and Ireland.
Figure 1: Costco, Food & Retail Index, S&P 500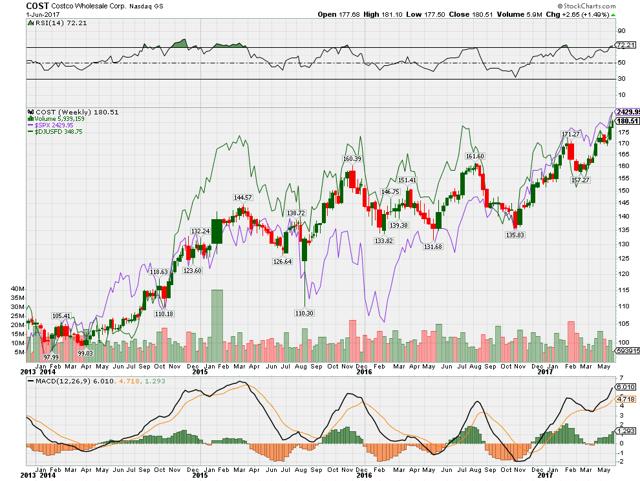 Costco has steered well clear of rampant retail distress that is experiencing a record pace of bankruptcies year-to-date that will soon exceed those filed in all of 2016, according to S&P Global Market Intelligence. Few market segments have been spared as a literal bubble created by too many stores coupled with intense on-line competition has wreaked havoc across the industry. Costco's unique membership platform and strong balance sheet offers investors a higher degree of revenue predictability and dividend growth not usually found in traditional retail platform formats. Membership fees comprised just over 73% of net income before taxes for the 52-week period through the end of August 2016, just over 70% through the end of August 2015 and just over 75% through August 2014. Membership fees have been steadily increasing from $1.3 billion in 2007 to $2.6 billion through the end of 2016, an annualized growth of about 2.3%. Annual membership fees are slated to increase on 1 June, pushing annual membership revenue to roughly $2.81 billion by June 2018.
Dividend growth, particularly special dividend payments, provide another highly positive shareholder benefit that also adds to predictability. In January of 2015, the company handed back to shareholders $2.2 billion, which produced the large volume spike for the month (see Figure 1, above). The dividend yield for the period surged to $6.51/share for the 52-week period ending the 30 August 2015. The company returned another $3.1 billion or $7/share distribution to shareholders of record on the 26th of May. Dividend growth has increased for thirteen straight years.
Expense ratios are critical in a low margin industry such as food retailing where food (22%), sundries (21%) and fresh food (14%) comprise 57% of your retail mix. Operating expenses from August 2014 through August 2016 were 97% of total sales. Over the period, resulting operating income grew at an annualized rate of 4.48%, implying a decline in overall operating expenses for the period.
Net sales hit $116.07 billion over the 52-week period ending 28 August 2016, up 2.12% YOY. Membership fees at $2.65 billion were up 4.46% for the period. Membership fees comprised 73% of before tax income of $3.62 billion, which was up 0.42%. Earnings-per-share posted out at $5.33/share, down 0.07% YOY. Cash dividends per share for the year came to $1.70/share. Resulting operating income increased 1.32% to $3.672 billion. Net sales for the 52-week period ending 30 August 2015 came in at $113.67 billion, up 3.13% YOY. Membership fees posted $2.54 billion and comprised just over 70% of before tax income of $3.61 billion for the period. Earnings-per-share hit $5.37/share, up 15% YOY, while the period saw a special dividend that drove the cash payout to $6.51/share. The share price jumped just over 9% on the payout (see Figure 1, above). Operating income came to $3.624 billion, up 12.73% YOY. For the 52-week period ending 31 August 2014, net sales hit $110.2 billion. Membership fees came in at $2.43 billion and comprised 76% of before tax income at $3.197 billion. Earnings-per-share came to $4.65/share while the cash dividend for the period was $1.30/share. Operating income came to $3.22 billion for the period.
Debt appears manageable. Debt remains cheap and has long been favored by tax laws. Accordingly, old economy firms with highly predictable revenue streams have long used debt as a primary financing tool and returned as much cash as possible to shareholders. Costco's long-term debt over a 52-week period ending in August 2016 shrank 16% YOY. At $4.1 billion the sum is 57% of retained earnings of $7.876 billion for the period. Total liabilities at $20.831 billion are 62% of assets. By way of comparison, Target (TGT) long-term debt through the end of April 2017 came to $11.086 billion with retained earnings at $5.927 billion over the period, or 187% of retained earnings. Total liabilities through the end of April 2017 came to $26.197 billion while total assets came to $37.128 billion or 71% of assets.
Investor support remained strong from the beginning of May 2014 through the end of March of 2015 before support levels collapsed in the late spring of 2015, dropping from a market high of $144.57 to a low of $126.64, a loss of almost 13%. A small recovery came in the latter part of that summer which saw investor support return which pushed the stock up almost 10% only to plunge soon thereafter to a 12-month low of $110.30 (see Figure 1, above).
As with many companies that managed to tapped into the market euphoria in the aftermath of the surprise Trump electoral win, Costco successfully rode the market wave through the end of 2016 with a good deal of investor support. That support waned to a certain extent through the month of January before reigniting through much of February. Net sales for the 12-week period through the week ending 12 February came to $29.13 billion, up 5.67% YOY. Income before taxes came to $809,000. Annual membership fees collected during the period came to $636,000, up 5.47% YOY or 78.62% of before tax income. Earnings per share came to $1.17/share for the quarter, down 5.65% YOY. The cash dividend paid per share for the period came to $0.45/share, up 12.5% YOY. Operating income fell 1.44% to $809,000 YOY.
Figure 2: Costco, Food & Retail Index and the S&P 500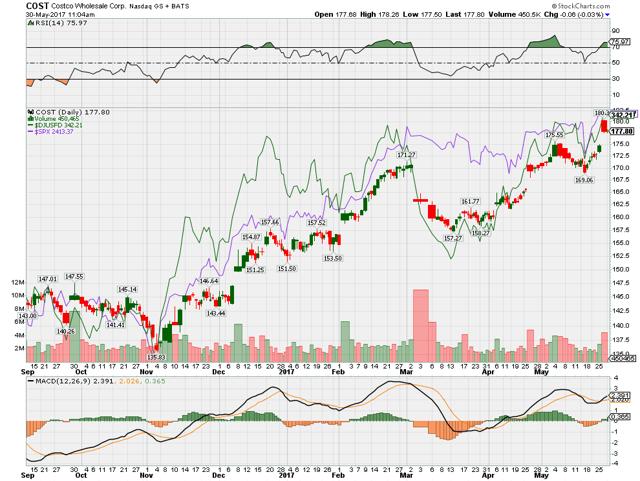 In the most recent 12-week tabulation through the 7 May, total sales came to $28.216 billion, up 8% YOY. Membership fees for the period hit $644,000 for a 4.21% increase YOY with membership fees comprising 67% of the total. Operating income increased 13% YOY, sending a strong signal that ongoing expenses remain under control. Income before taxes increased 16% YOY for the period. Earnings-per-share came to $1.59/share, up 28% YOY while a special dividend payout of $3.29 billion during the period put the cash dividend at $7.50/share. The stock soared 5.17% (see Figure 2, above).
My 12-month share price target comes to $190 which is 31 times projected earnings-per-share growth in 2017 of $6.13. The projection is based on average EPS growth since 2014. At Friday's market close, Costco shares traded for $180.97, up 0.19% on the day and up 13.30% year-to-date.