Whether EOG Resources (NYSE:EOG) is the Apple (NASDAQ:AAPL) of unconventional oil is a question pondered by IBD in a recent article. It continues to use the latest and greatest technologies, and set the pace for the competition. EOG uses many technologies. It would be difficult to cover all of the known (and unknown) ways it increases production in one article, but we are covering EOG's production from this core area. This should better show how much upside other operators have, if it can duplicate results. The beauty of the unconventional oil industry is its ability to replicate and improve. Many have said these results have topped out. This has been the case for years, and those have only been proven wrong.
If we look at the industry as a whole, it's in its infancy. Although frac'ing has been used for decades, its use in horizontal applications is still somewhat new (at least when compared to the industry in general). While it is difficult to know future improvements, but we can gauge what will be from out performers. In Part 1 of this series, we provided production data from the Delaware core. The 135 wells were logged based on wells having one year of production data. We used the Whirling Wind pad as a sort of epicenter, as these EOG completions could be the best in the country based on oil production. Although Whirling Wind has been excellent there are a large number of great producers by EOG in Lea County. In Part 2, we covered Chevron's (NYSE:CVX) results which grossly underperformed the average. We will focus on Concho (NYSE:CXO) results in this article.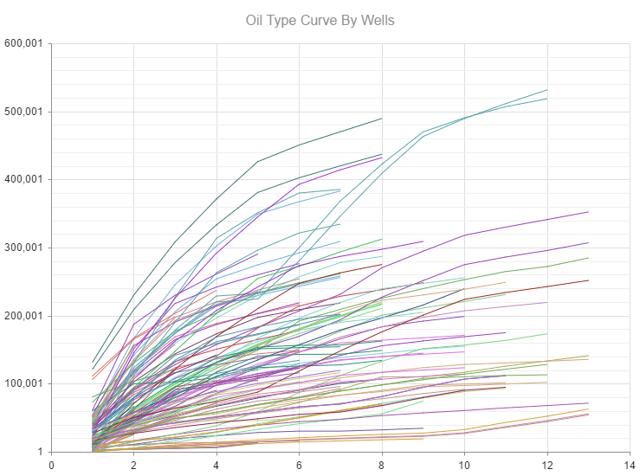 Source: Welldatabase.com
The graph above provides all producers used with in this comparison. The oil production type curve varies greatly from one location to the next. All of the wells pulled are in the core, but cover all intervals drilled and completed. It does not cover the entire core, but that in southern Lea and northern Loving counties.
Concho has 15 producers. It is the focus of this article based on the number of completions. EOG had the most, followed by Chevron . We will cover EOG's results in better detail in a future article, after covering some of the more active operators. This should provide a good comparison of the difference seen in production results.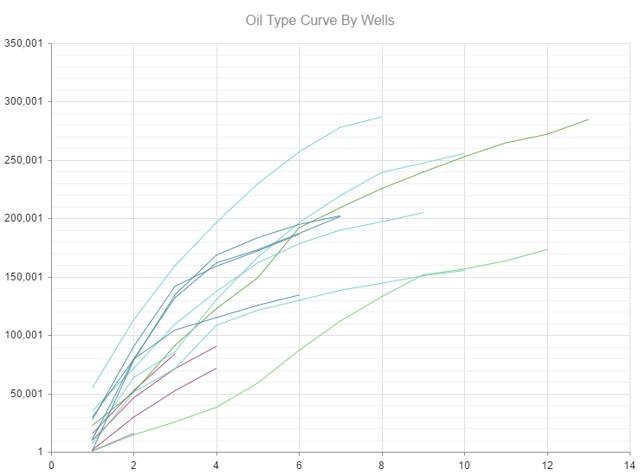 Source: Welldatabase.com
CXO has three locations that have produced more than 250 KBO. One location accomplished this in 8 months.

Source: Welldatabase.com
There is a significant difference in cumulative BOE production per well. Three locations produced more than 400 KBOE and two were less than 50 KBOE. Keep in mind, it depends on well life. Some produce less based on when the well is turned to sales. Considering eleven locations produced more than 200 KBOE, these results are still well above the industry average in the U.S.

Source: Welldatabase.com
The largest producing month per location is 51,313 BO. Nine locations had a top month over 30 KBO.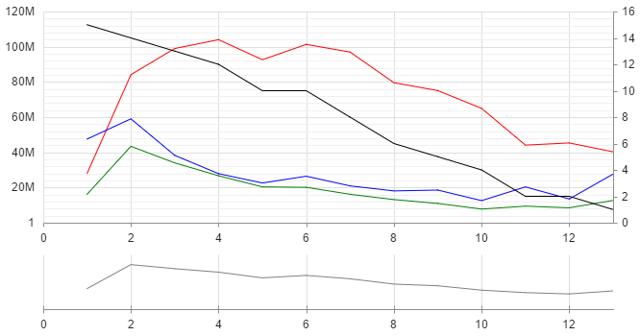 Source: Welldatabase.com
The type curve of CXO wells outperform CVX's. It produced an average of 239,340 BO and 955,330 Mcf. It was better than the average of all 135 wells by 14 KBO. This is important as most of the CXO wells were farther to the north, and not considered to be on as good of geology. CXO has been a relative outperformer with respect to shale. It's large Delaware footprint provides excellent exposure to the basin.
| | | |
| --- | --- | --- |
| EUR: | 239335.79 | |
| Months: | 13 | |
| Selling Price: | $50 | |
| Initial Capital Expense: | ($8,000,000.00) | |
| Lease Operating Cost: | ($2,393,352.00) | |
| | Total | NRI |
| Total: | $11,966,789.29 | $9,573,431.43 |
| | Total | NRI |
| Total: | ($10,393,352.00) | ($10,393,352.00) |
| | Total | NRI |
| Total: | $1,573,437.29 | ($819,920.57) |
Source: Welldatabase.com
Just using oil revenues there is approximately $819,000 to payback in 13 months. When we figure in natural gas revenues (not considering NGLs) we move to a $2MM net positive. CXO wells are reaching payback in less than one year.
When we look at CXO and compare to CVX, Concho is doing a much better job from a production standpoint. CVX is probably more focused on costs, and one would guess those costs are lower. CXO is an outperformer when compared to the entire group of operators. This includes: EOG, Chevron, Devon (NYSE:DVN), RSP Permian (NYSE:RSPP), Anadarko (NYSE:APC), Conoco (NYSE:COP), Exxon (NYSE:XOM), and Shell (NYSE:RDS.A) (NYSE:RDS.B). Each operator has a differing representation due to the number of results and overall well design.
In summary, Concho's results have been excellent. When compared to its peers, production numbers continue to outperform. We believe Delaware acreage prices will eventually match and exceed those in Midland. This could mean Delaware players will grow at a faster rate. Concho looks to have an advantage, and with this should be able to accumulate acreage as oil prices remain in the $40 to $60 range this year. Any unplanned oil price shocks could produce a relatively large ramp in valuations of these companies. Suntrust (NYSE:STI) loves this area based on EOG's recent well results. It is our guess than all operators will continue to improve on results with better stimulation and longer lateral lengths.
Disclaimer: This article is limited to the dissemination of general information pertaining to its advisory services, together with access to additional investment-related information, publications, and links. Well data is provided by WellDatabase. Accordingly, the publication of articles should not be construed by any consumer and/or prospective client as a solicitation to effect, or attempt to effect transactions in securities, or the rendering of personalized investment advice for compensation, over the internet. This information is provided for guidance and information purposes only. This information is not intended to provide investment, tax, or legal advice. The information contained herein has been compiled from sources deemed reliable and it is accurate to the best of our knowledge and belief. However, I cannot guarantee its accuracy, completeness, and validity and cannot be held liable for any errors or omissions. All information contained herein should be independently verified and confirmed. Hartstreet LLC does not accept any liability for any loss or damage whatsoever caused in reliance upon such information. Readers are advised that the material contained herein should be used solely for informational purposes. Information presented is for educational purposes only and does not intend to make an offer or solicitation for the sale or purchase of any specific securities, investments, or investment strategies. Investments involve risk and unless otherwise stated, are not guaranteed. Be sure to first consult with a qualified financial adviser and/or tax professional before implementing any strategy discussed herein. Welldatabase.com provided the data for this article. There might be a delay between upcoming articles because we are working on securing investments for Hartstreet LLC.
Disclosure: I am/we are long EOG, CXO, RSPP, DVN. I wrote this article myself, and it expresses my own opinions. I am not receiving compensation for it (other than from Seeking Alpha). I have no business relationship with any company whose stock is mentioned in this article.