Over the past several weeks, I've written about the big players in the Japanese mobile carrier market. My posts can be found here:
Today's article is intended to be a recap of the Japanese mobile carrier industry. First, let's start by going over market share movement: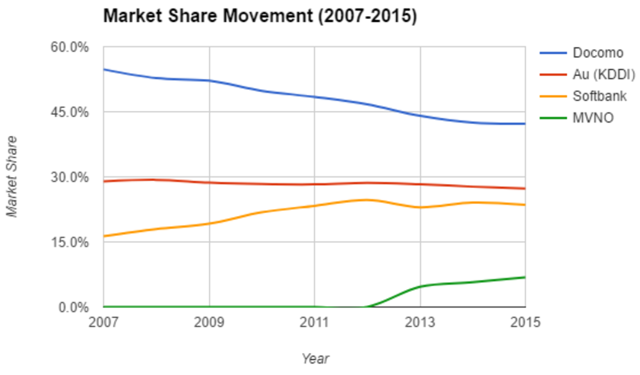 Source: NTT DoCoMo, KDDI, SoftBank filings
Here is a brief description of each of the 3 MNOs from a Japanese perspective:
NTT DoCoMo - Largest market share. First Japanese company to engage in mobile carrier business. Generally known for stable network and service.
KDDI - Long-time, established mobile carrier. Customer service satisfaction ranked #1 among Japanese MNOs in 2016. Also known for stable network and service.
SoftBank - Entered mobile carrier business through acquisition in 2006. Most known for its Founder and CEO Masayoshi Son. Generally viewed as the wild child. Network isn't known to be as stable as the other two MNOs.
Taking one look at the market share movement gives us the impression that NTT DoCoMo is quickly losing its grip in the business. However, share loss over the past several years have largely been attributable to the rapid expansion of low-cost, MVNO carriers that mostly operate on NTT DoCoMo's network.
Low-cost MVNO carriers
The Japanese government has been pushing MNOs to lower prices over the past several years. Part of this push came through the injection of competition. Essentially, the government set the pricing for renting each one of the MNO's network. As a result, NTT DoCoMo's pricing was the lowest, followed by KDDI and SoftBank. This is largely due to the fact that NTT DoCoMo maintains the largest market share among the 3 MNOs.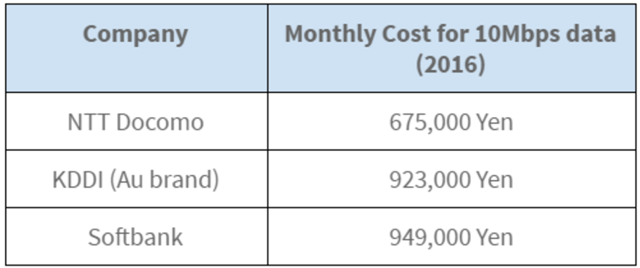 Source: Company documents geared for MVNO operators (all in Japanese) - NTT DoCoMo, KDDI (Au), SoftBank
Because NTT DoCoMo offers the lowest price to MVNOs, a majority of the 200+ MVNOs operate on NTT DoCoMo's network. On the surface, it appears that KDDI has largely maintained its market share despite MVNOs quickly gaining share. However, KDDI customers have a difficult time switching to MVNOs running on NTT DoCoMo's network, due to technical differences in networks. While KDDI's 3G network runs on CDMA2000, NTT DoCoMo and SoftBank both run on W-CDMA. These technical differences will no longer be a factor after 2020, when CDMA2000 is set to fully phase out.
Essentially, because of technical differences, it is easiest for NTT DoCoMo customers to switch to NTT DoCoMo MVNOs, KDDI customers to KDDI MVNOs, and SoftBank to SoftBank MVNOs. This at least explains part of NTT DoCoMo's quick share loss with the emergence of MVNOs.
Combating MVNOs
As it is difficult to differentiate a commoditized voice and data service, the MNOs are looking outside of vanilla voice and data offerings to maintain its comparatively higher ARPU customers. In effect, all three MNOs are strengthening their "eco-system."
NTT DoCoMo has shifted to a content-focus to rebuild its moat while KDDI places heavier emphasis on financial and lifestyle services. In the meantime, SoftBank is tightening its relationship with Yahoo! Japan (OTCPK:YAHOY) (which is tied for 2nd largest e-commerce business in Japan).
From a qualitative perspective, NTT DoCoMo's content services tend to be in areas with low switching costs (they offer services similar to Netflix (NASDAQ:NFLX), Pandora (NYSE:P), Amazon's (NASDAQ:AMZN) ebooks, etc). KDDI is more focused on what I would consider "sticky" areas - like mortgage lending, power and gas, etc.
SoftBank and KDDI both developed low-cost sub brands - Y! Mobile for SoftBank and UQ Mobile for KDDI. NTT DoCoMo has no plans to develop a sub brand.
Strictly speaking about the Japanese mobile carrier market, NTT DoCoMo and KDDI appear better positioned than SoftBank. That said SoftBank's Y! Mobile is currently the dominant low-cost carrier (though it is a bittersweet victory).
Financial Health, Business Performance, And Market Price

Source: Financial Times (Data retrieved: 6/4/2017)
At least in simple measurable terms, NTT DoCoMo has a rock-solid balance sheet with decent business performance. KDDI's balance sheet is also solid, with comparable business performance. SoftBank's metrics here would not be an apples-to-apples comparison since they are involved in many businesses, all over the world.
The Japanese government has been on a rampage in the mobile carrier industry, driving down price and increasing competition. Personally, I would wait a couple of years until the MVNO vs. MNO war dust settles before investing in any of the three MNOs. That said, if I had a gun pointed to my head and had to choose one of the companies, my pick would be NTT DoCoMo, figuring that their balance sheet offers the greatest amount of flexibility for a reasonable price.
In my SoftBank article, there were comments that discussed SoftBank's Alibaba (NYSE:BABA) holdings, which amounts to $80+B alone (vs. SoftBank's market cap of roughly $90B). While true, the Alibaba valuation appears to have growth priced in, as fellow SA author Brandon Dempster notes. Additionally, Jim Chanos brought up a few points of concern about the company's accounting transparency in a CNN interview.
My concern is far more basic: I am simply not comfortable with the amount of counterfeit goods sold on their ecommerce site. My approach to Alibaba here isn't to choose the bear or bull side of the story, but rather just to stay away from it entirely (read: I won't personally invest in SoftBank anytime soon).
Takeaways
When looking at the mobile carrier industry in Japan, paying attention to the power balance shift from MNOs to MVNOs is critical. MNOs have resorted to value-added services to justify premium pricing for an otherwise commoditized voice and data service. It is equally important to track the level of involvement of the Japanese government. With MVNOs already commanding a 7+% market share, my best guess is that the government would not be applying the same level of pressure that it has over the past several years to MNOs going forward.
As far as investability goes, NTT DoCoMo and KDDI are both in the "safe" bucket, while SoftBank is the most exciting (and potentially lucrative) investment. Personally, I would wait for the MVNO market share to stabilize before deciding to invest in the Japanese mobile carrier industry.
If you enjoyed this article and would like to read more on Japanese ADRs, please click the orange "Follow" button at the top of this article. If you would like to read about Japanese securities in general, please visit my website at KenkyoInvesting.com.
Disclosure: I/we have no positions in any stocks mentioned, and no plans to initiate any positions within the next 72 hours. I wrote this article myself, and it expresses my own opinions. I am not receiving compensation for it (other than from Seeking Alpha). I have no business relationship with any company whose stock is mentioned in this article.
Editor's Note: This article discusses one or more securities that do not trade on a major U.S. exchange. Please be aware of the risks associated with these stocks.