Project $1M has continued to outperform the S&P 500. Nearly 18 months into the project, Project $1M has annualized returns of almost 15.3% versus just over 13% for the S&P over the same period.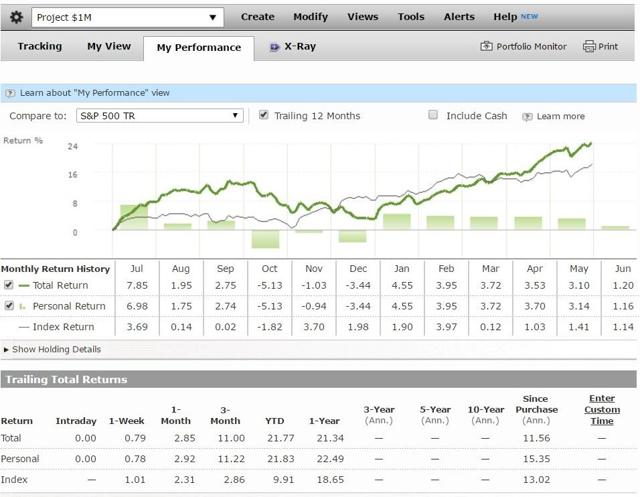 While the performance in 2017 has been particularly pleasing, I'm starting to wonder to what extent this rapid rate of share price appreciation can continue for technology stocks. Project $1M's performance has been significantly driven by the strong performance of my technology holdings. Alibaba (NYSE:BABA), Amazon (NASDAQ:AMZN), MercadoLibre (NASDAQ:MELI), Alphabet (NASDAQ:GOOGL) (NASDAQ:GOOG) and Priceline (PCLN) have all contributed to a fairly solid result.
The outstanding question is what the likely share price performance will be from this point forward. I don't believe these tech leaders offer compelling value at this stage. That being said, I don't believe any of the companies are excessively priced and dictate being sold. To that end, I'm comfortable continuing to hold all of these names, but don't expect to be adding to my existing positions.
I wouldn't be surprised if some sort of pullback were to happen over the summer months. I just don't believe this kind of straight line outperformance will be sustainable over the remainder of the year. While some technologists such as Tom Lee believe that the FANG stocks could see as much as 20-40% share growth for the remainder of the year, I don't share this level of bullishness. In fact, I'd be more comfortable if I can just maintain the performance that I've seen year to date.
What's been most notable about the track record of Project $1M was that there was notable underperformance of the portfolio toward the end of 2016 (October-December) as tech stocks came under pressure from concerns about the impact that Trump's policies may have. However, this was very promptly reversed throughout 2017 as a result of the solid earnings growth of these technology stocks which powered the stock price of these businesses forward.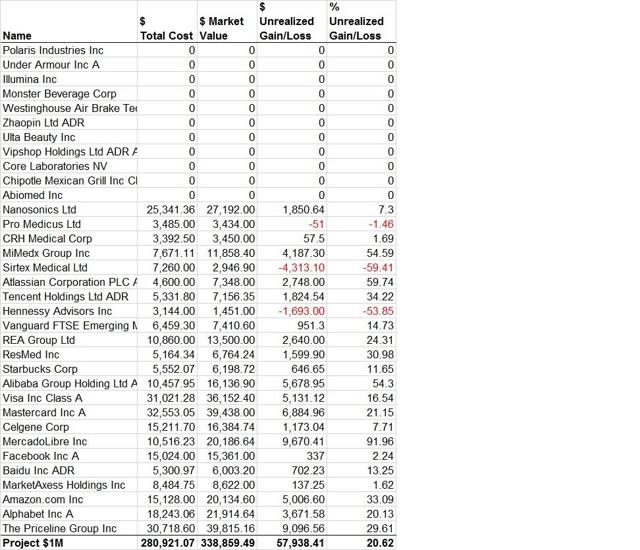 Biggest Performers
I've had some monster performers in the Project $1M portfolio.
MercadoLibre, Atlassian (NASDAQ:TEAM) and Alibaba continue to provide the largest returns to the fund. They have all been massive performers, returning over 50% in each case, with MELI returning close to 90% (even with my recent addition). There have also been a clutch of commendables, with Tencent (OTCPK:TCEHY), Amazon , Priceline and ResMed (NYSE:RMD) all returning near 30% in share price returns.
On the negative side, Hennessey (NASDAQ:HNNA) and Sirtex (OTCPK:SXMDF) have been major disappointments, but fortunately, less than 1.5% of the portfolio is invested in these 2 positions.
Biggest Surprise
I also expected the portfolio to throw up a result that was a surprise. After 18 months, the most surprising result without a doubt has to be the performance of MiMedx (OTC:MDXG), which I had added to in April 2017. After floundering along for the majority of the 18 months, it has recently been on fire, and has logged in a gain of over 50%. I attribute this to declining short positions on the register, better-than-expected operational performance, and an increasing number of insurers coming on board to reimburse products.
Recent Portfolio Changes
I divested my holdings of Core Labs (NYSE:CLB), Wabtec (NYSE:WAB), Zhaopin (NYSE:ZPIN) and Monster (NASDAQ:MNST). While I believe that all of these businesses will likely perform well over the next decade, I'm moving to a more concentrated portfolio, with more of my money invested in slightly fewer, higher conviction positions. That decision has meant that I had to lighten the portfolio of some of these lower conviction positions.
Zhaopin, which is the Chinese job site that brings employers and prospective job seekers together, is under a takeover offer from Seek.com that the company has already accepted. Given that the upside in this name will be limited from here moving forward, I decided to exit the name.
Core Labs was a more difficult decision. With the oil price likely subdued for longer and exploration and capital investment in new production likely to be subdued for some period of time, Core Labs appeared expensive to me. Combined with the news that CLB is in the eyes of some short sellers, this led me to look to exit Core Labs.
Wabtec has been in a depressed state for the recent few years as declining coal volumes and a depressed freight market have hurt Wabtec's growth. While some recent acquisitions may reignite growth, I feel like there is more risk to the Wabtec story and have exited my position here.
Finally, I've grown a little cool on Monster. While I still think this business will likely have some great promise in international markets, the overall trend away from soft drinks toward more health conscious alternatives will likely hit this business at some point. I'm maintaining a 10-year time horizon with my purchases, and feel that this is likely to impact Monster at some stage during this time frame.
On the purchase side, I have felt a higher conviction in Alibaba's investment outlook. The business' network effects are strengthening, with substantially more Chinese transacting on Alibaba's platforms. I decided to back my conviction with the injection of an additional $4k in the business.
I also significantly increased my holding in Nanosonics (OTCPK:NNCSF), which is the Australian maker of a high level disinfection system for ultrasonic probes. This business' performance has exceeded my expectations, and I want to ensure that I am well positioned in this business to capture ensuing long-term growth.
I'm not intending to make any material moves in my existing positions (either sales or buys). It would take a lot to get my back into the market to make any purchases at this stage. I have suspended fresh contributions to the "My 30 stocks for 30 years" portfolio since mid-2016 because of inflated prices for more mature businesses. It looks likely that the same will also happen for Project $1M given how high valuations are. In any case, I've fully funded this portfolio to the extent that I've wanted to, and intend to sit back and see how things play out.
Disclosure: I am/we are long AMZN, GOOG, FB, NNCSF, MDXG, MELI, BABA, PCLN, RMD, TEAM. I wrote this article myself, and it expresses my own opinions. I am not receiving compensation for it (other than from Seeking Alpha). I have no business relationship with any company whose stock is mentioned in this article.
Editor's Note: This article discusses one or more securities that do not trade on a major U.S. exchange. Please be aware of the risks associated with these stocks.