Let's chat about Pfizer (NYSE:PFE). Pfizer is a somewhat boring giant in the pharma space. Sentiment seems to be poor and/or lacking with shares, along with investors patience. I haven't owned Pfizer in years, but it's always on my watchlist, and recently I found shares intriguing. Let's take a closer look at PFE's Q1 to better understand if we should be interested in shares.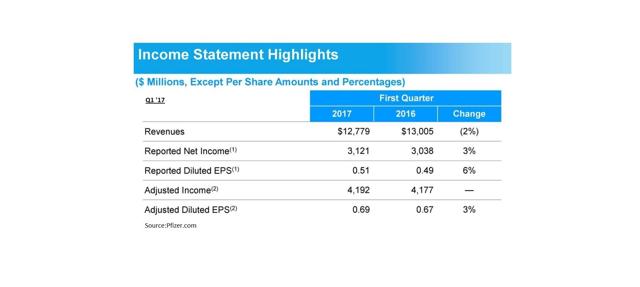 Pfizer showed strength in beating EPS numbers while narrowly missing on revenue estimates. However, with less selling days in Q1 '17 compared to Q1 of '16, this impacted revenue by about $300M. It's always great to see a company beating both GAAP and Non-GAAP EPS figures, like Pfizer in Q1. For myself, analyzing shares, these numbers look encouraging. However, when we look at Q1 '16 figures, we can clearly see figures that aren't quite as robust.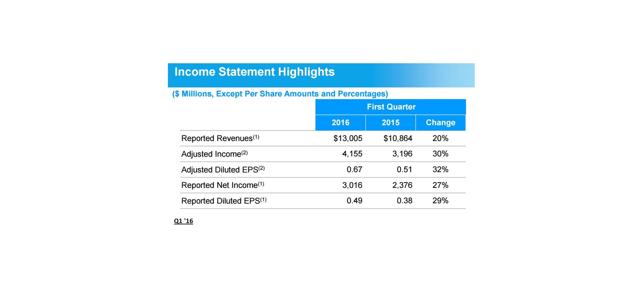 Pfizer went on to reaffirm FY '17 guidance numbers. Once again, these numbers look respectable and adequate.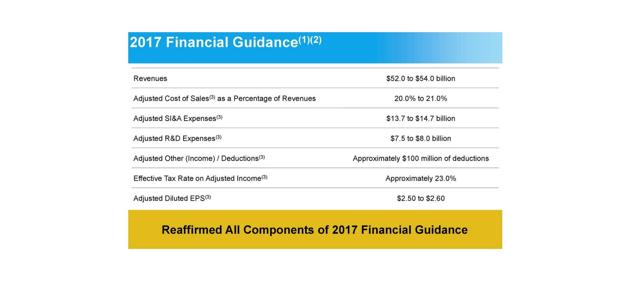 However, when we look closer at the figures for FY16 guidance vs actual results for '16, the FY17 numbers seem ho-hum. Some folks might see this as a sticking point, however, with Pfizer's size I think mid-single-digit growth is at least respectable. Meeting and exceeding all of your guidance targets also shows credibility.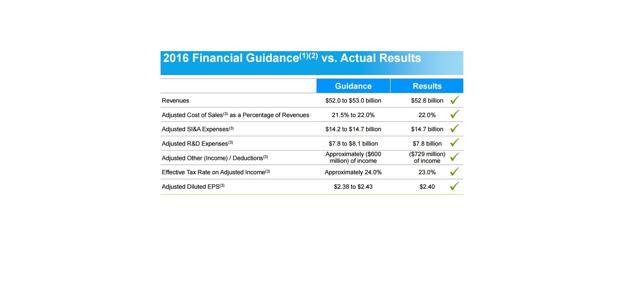 With fresh eyes, Pfizer's pipeline doesn't contain the same kind of potential throughout, that others in the space have. Perhaps, this has stemmed from Pfizer's dependence on giant acquisitions, and being swift to trim R&D through headcount. To be fair, the company does have some impressive growth figures for relatively new drugs, like iBrance and indications from Biosimilars. Pfizer's capital allocation for shareholders was very impressive in Q1. They returned nearly $7B in dividends and buybacks. Pfizer's current dividend yield of nearly 4% is something I love to see, although their payout ratio is a tad high also.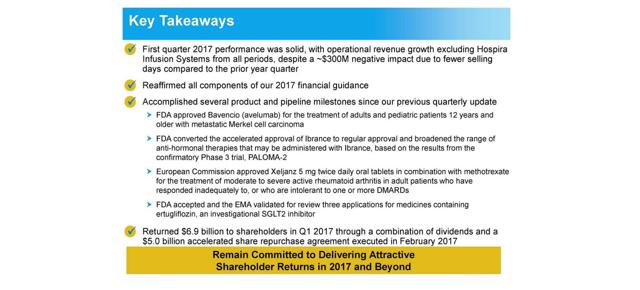 Pfizer seems to be content with not splitting up the company, and running their growth and maturity units in an overlapping cog. For myself, scale and synergies makes this an understandable decision for now. It's fairly obvious that Ian Read, CEO of Pfizer, is leaning heavily on tax reform and repatriation. He mentioned these points several times in '17. Read has also said he watches the political landscape closely, along with possible legislative changes.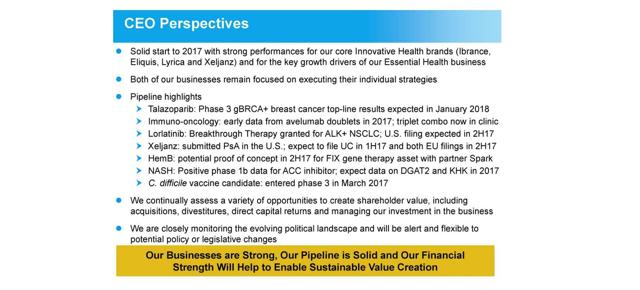 Read has stated, lobbying efforts are in full force in Washington. He states, " We are continuing to engage with elected officials to educate them on issues relevant to our business". For myself, politics can be draining, and I'd prefer to see the CEO spend less time concentrating on them. I do understand, he's trying to help the company, but leaning on what will, or will not happen in D.C. makes me feel neutral at best. Of course, with repatriations, and less legislative interference, larger acquisitions might be on the horizon. An acquisition of a large size, albeit also a good fit, might also help kick-start the pipeline if it was the right company.
Pfizer's valuation metrics look compelling on a forward looking basis. PEG looks reasonable for a company of Pfizer's size, and a FWD P/E of around 12 has potential for multiple expansion. There Debt/EBITDA ratio is solid, however, I'd like to see FCF figures more robust, given the generous yield Pfizer is responsible for. The company's margins are not quite up to snuff with some of their peers either, the legacy business being the culprit here.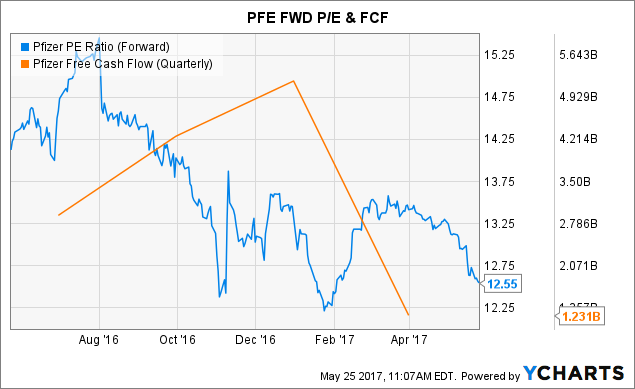 PFE PE Ratio (Forward) data by YCharts
Pfizer's chart looks pretty consistent since '09. Share have returned 115% over that span, however, this lags the overall S&P 500 which has seen returns of 175% since '09. I feel like a triple digit return can't be scoffed at too hard, so I'll say this return is impressive.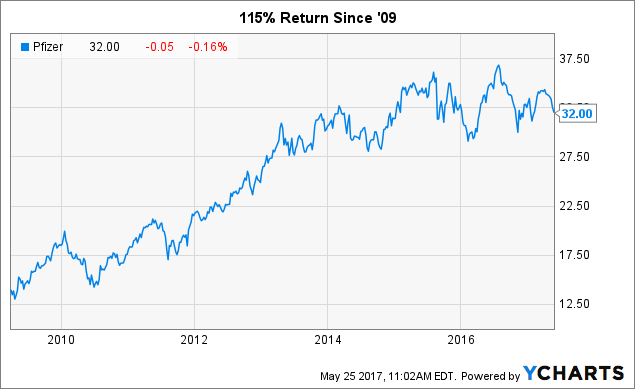 For shareholders concerned of too many Negative Nancys in the room, in regards to Pfizer, the numbers really don't show that. Basically, a lot of folks like to hear themselves talk, but actually placing funds to short? That's an entirely different ballgame. The short float is a very paltry, less than 1%.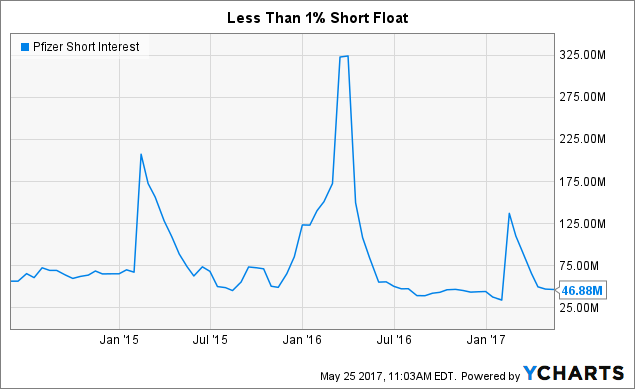 PFE Short Interest data by YCharts
Conclusion
We examined and explored Pfizer's Q1, along with Q1 '16, and while the company didn't see robust numbers, the figures were still very solid showing growth. We toured the FY '17 numbers and expect actual results to exceed these based on past FY '16 guidance figures. We delved into the valuation of shares, along with Read's perhaps too intense focus on D.C. and what could happen. Finally, while some folks might talk a big game, and tell you 100 reasons why they wouldn't invest in a company; those folks actually putting funds on the line to back up their agendas? That's an entirely different story. I'll continue to keep a close watch on shares to see how they behave in the coming weeks.
Author's note: Thank you for reading. Perhaps you enjoy what you're reading? Then click the "follow" button next to my name. If you leave a comment or have a question, I will surely do my best to respond.
Disclosure: I am/we are long TEVA. I wrote this article myself, and it expresses my own opinions. I am not receiving compensation for it (other than from Seeking Alpha). I have no business relationship with any company whose stock is mentioned in this article.