Socially responsible investment products exist in order to investors the ability to build a broadly diversified portfolio while being able to avoid companies that operate in personally unappealing industries. It's not a huge space in the ETF market (by my count, there's only around $3 billion in total assets invested in funds that could even loosely be described as socially conscious). Most follow a general ESG theme although some target more specific strategies such as women in leadership, religious values and gender diversity. The latest offering from Legg Mason may be a first though - socially conscious dividend growers.
The ClearBridge Dividend Strategy ESG ETF (NASDAQ:YLDE) is an actively managed ETF targeting large-cap companies that have a history of growing dividends, are in a solid financial position to continue growing their dividends, have attractive valuations and exhibit strong ESG practices.
Fund Strategy
According to Legg Mason's investment guide, the fund's managers take a multi-pronged approach to building the portfolio.
It starts with identifying companies that have strong balance sheets, dominant market positions and the potential for future dividend growth through unique products and services. Those with more attractive valuations are favored.
Each company's ESG policy and practices are examined. Environmental health & safety, workplace, community and corporate factors are evaluated and scored within a proprietary grading system.
The fund is actively managed so holdings are constantly monitored for changes in fundamentals, valuations or changes in ESG practices.
The fund's entire management process is detailed in the graphic below.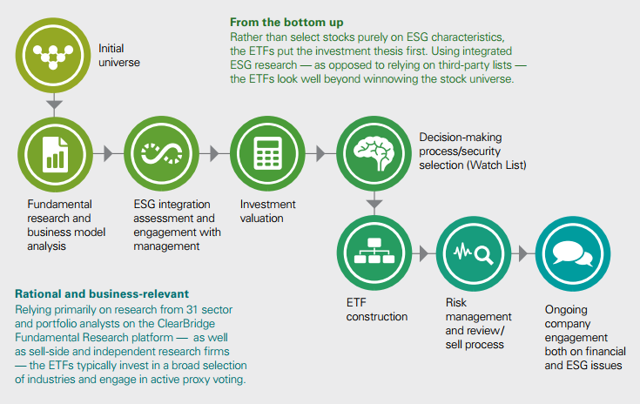 Portfolio
The fund currently has just over 50 different and looks fairly well diversified across industries (seven different sectors have allocations of at least 7%). The fund's top 10 holdings are listed below.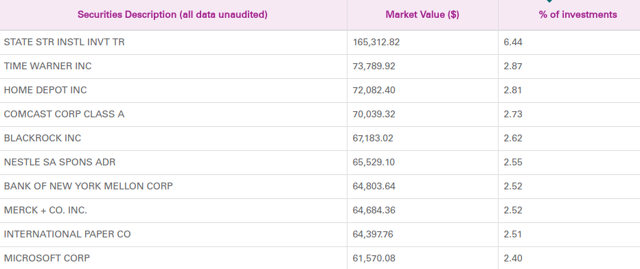 The fund's biggest position is its cash component at over 6% of the fund. While equal weighting isn't a declared strategy of the fund, nearly every holding has a weight of at least 1% and none make up more than 3% of the fund.
It's still too early for the fund to publish a dividend yield, but looking at some of the fund's major holdings we can get a ballpark idea of what it should look like. Of the fund's top 15 holdings, only two have a trailing 12 month dividend yield of over 3% so investors shouldn't expect this to be a high yield fund. Many of the top stocks have yields in the 1.6-2.3% range which is similar to the popular dividend aristocrat ETFs. I'd expect the fund's dividend yield to come in somewhere around 2% to 2.2% once it gets published.
The fund's expense ratio is 0.59%. That's not too bad for an actively managed fund, but it won't be nearly competitive in relation to other popular dividend ETFs that charge a fraction of that rate. Funds such as the Schwab U.S. Dividend Equity ETF (NYSEARCA:SCHD), the Vanguard High Dividend Yield ETF (NYSEARCA:VYM) and the Vanguard Dividend Appreciation ETF (NYSEARCA:VIG) are all highly rated funds that charge less than 10 basis points annually.
Conclusion
The dividend ETF group continues to be very popular, especially among investors looking for yields greater than those in the fixed income markets. I can picture this fund gaining some traction among those looking to take advantage of the dividend growth theme while remaining socially conscious. In the vacuum of how this fund fits into the broader dividend ETF universe, however, there are better options elsewhere.
In fairness, the fund should be afforded some time to see how the dividend yield, volatility characteristics and such shake out. Regardless, the fund's expense ratio will be a significant headwind where its investment objective isn't a huge differentiator.
The current verdict is to keep an eye on it but don't be in a rush to buy.
----------
If you're interested in more dividend strategies and ETF analysis, please consider following me by clicking on the "Follow" button at the top of this article next to my name. Even if you don't, thanks for taking the time to read!
----------
Disclosure: I/we have no positions in any stocks mentioned, and no plans to initiate any positions within the next 72 hours.
I wrote this article myself, and it expresses my own opinions. I am not receiving compensation for it (other than from Seeking Alpha). I have no business relationship with any company whose stock is mentioned in this article.