As we stated in an earlier SA article, there are four major drivers of gold: interest rates, the USD, the USD/JPY FOREX ratio, and inflation. What happens in these huge markets matters to the price of gold - it is gold that reacts to these markets, not the other way around. Here, we revisit these markets to get an idea of where gold might be headed.
Interest Rates
Gold negatively correlates with interest rates throughout the curve. Recently, long rates (10-y and 30-y) have dropped below their upward-sloping bias channel (first two charts below), while short-term rates have held steady and remain within their bias channel (third chart below).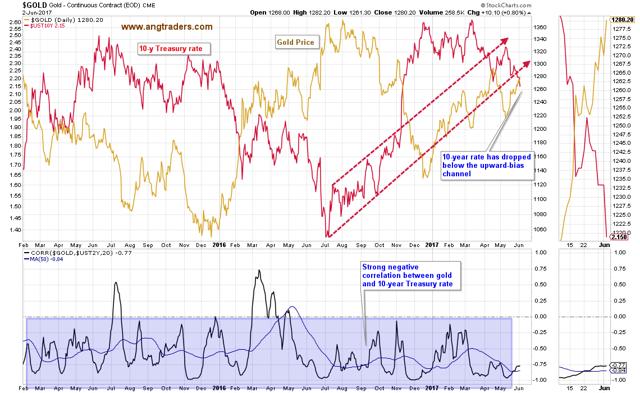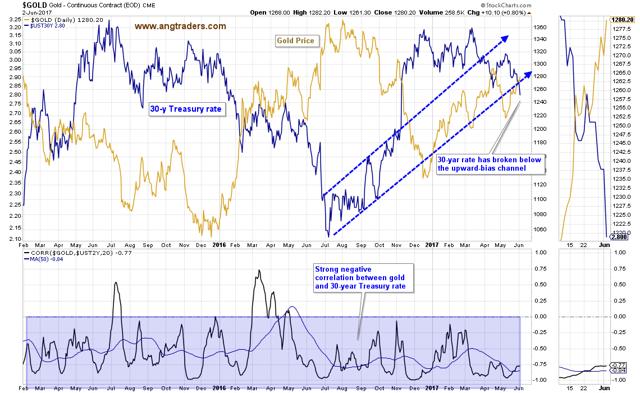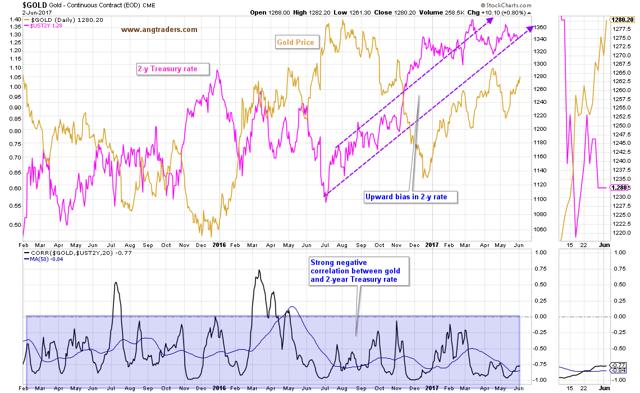 Considering that we see the business cycle continuing to improve, and the Fed likely to raise rates at least twice this year, it is reasonable to expect that long-term rates will turn back up and put pressure on gold.
The Dollar
Like rates, the USD - except for a few weeks, earlier in the spring - has a strong negative correlation with the price of gold. The question now is, will the downward trend that has been in place since December 2016 continue, or will the reality of the Fed rate normalization turn the dollar higher? We tend to go with the latter, even though the USD might drop a little more before rebounding.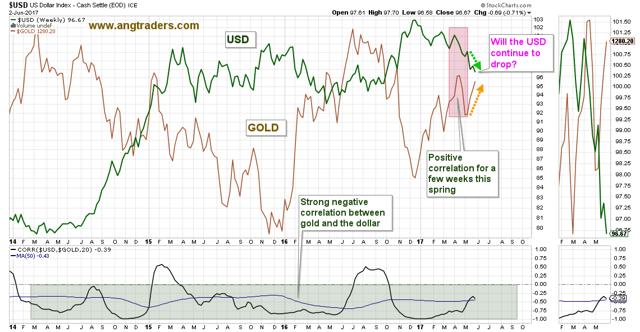 The USD/JPY FOREX Ratio
The USD/JPY ratio displays a strong inverse relation with the price of gold. A couple of weeks ago, the ratio rallied up through its 38% Fibonacci retrace line, but since then has corrected back down below it. Resistance is at its 50% retrace, and if it can bounce higher from there, then gold is not going too far past $1300.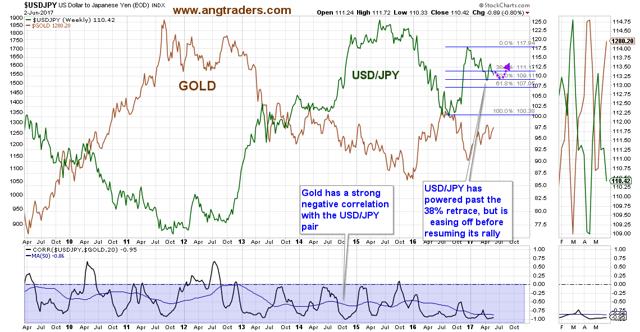 Inflation
Inflation, as measured by the non-governmental Pring inflation index, has a very strong positive correlation with gold. Since the beginning of 2017, however, the correlation has been negative, as gold moved higher while inflation fell. We expect the correlation to revert to the mean, and since inflation is not a threat at present - thanks to the expected Fed rate hikes - a drop in the price of gold will likely be the cause of the reversion.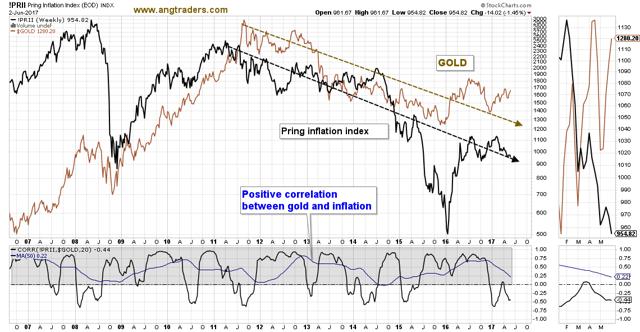 In conclusion, three of gold's drivers - rates, the USD, and the USD/JPY ratio - are neutral to positive, while the fourth driver - inflation - is bearish for gold. We think gold could still rise marginally over the next week, but we expect the longer-term trend to be down for gold as it reverts to its mean correlation with inflation.
Disclosure: I/we have no positions in any stocks mentioned, and no plans to initiate any positions within the next 72 hours. I wrote this article myself, and it expresses my own opinions. I am not receiving compensation for it. I have no business relationship with any company whose stock is mentioned in this article.