As usual, upcoming Fed interest rate decision is about to affect all the markets. FOMC decisions also make sense for those who trade or invest in gold (NYSEARCA:GLD) and gold-related instruments. What do we know now? Here is short analysis.
Market participants' opinion
Firstly, let us look at FedWatch data (CME). This data reflects market participants' sentiment about the upcoming Fed rate decision. Probabilities calculation is based on fed funds futures data.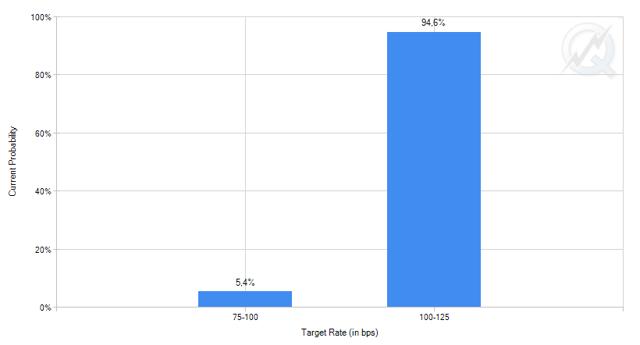 Source: cmegroup.com
The chart above confirms the rate hiking idea. According to the available data, the market participants have been increasing their total hedge exposure since the end of April. This number of 94.6% for target rate to be 100-125 bps leads to the conclusion that the markets are waiting for the rate increase.
Fed policymakers are stuck with the idea of 3 rate hikes in 2017, so it makes sense to be hedged. Furthermore, market expectations for a June rate increase have never been lower than 50% this year. Starting with May, this trend continued at a steady pace.
It is important to note that the latest macroeconomic data also tells about the upcoming rate increase. According to the Federal Reserve's dual mandate, the primary goals of the Fed are stable prices and maximum employment. Indeed, unemployment rate dynamics is stable; the inflation rate is steady as well.
Some of us may have an idea that data-heavy Friday (2nd June) with bleak labor market data can change the situation and delay the Fed's action. I must admit, it is not meaningless. Markets still remember the May 2016 NFP report with 11,000 jobs created. According to the last year fed funds futures data, there was only a 24% chance of rate increase in 2016 after the June labor market release. However, the Fed officials were not dovish at all. For instance, Janet Yellen was very clear about labor market condition. She emphasized that it was meaningless to attach so "much significance to any single report." The Fed will move on no matter how current local data fluctuates.
That is why Friday's data can hardly change the general picture, no matter how mixed the given readings are (the unemployment rate actual reading is 4.3%).
In addition to the points above, look at the chart below. It is the primary dealer survey data (May). Dealers are usually asked before every FOMC meeting about the overall trend in the economy, financial markets, and monetary policy. Moreover, these surveys contain topics widely discussed in financial society.

Source: newyourkfed.org
This chart represents dealers' opinion about the Fed's next step. It indicates the percent chance of an outcome for the given meetings. According to the data, more than 62% probability goes to a June rate hike. Most notably, this survey was distributed to the dealers on 20th April, so the prediction of May interest rate decision was correct. Going back to March survey, it showed a 86% probability for a 15th March rate increase - dealers were right again. All these examples underline that dealers' data is trustworthy enough.
The market participants are very solid about the upcoming event as well as the dealers. What about the Fed?
If we take a closer look at the latest FOMC statement, the Fed firmly adheres to its path - 2 more rate increase to come this year. Even weak first-quarter economic growth has not changed Fed officials' minds. This rhetoric lends powerful support to the current market sentiment.
Time for gold
In the short-term perspective, we hardly see investors talking about safe-heaven investments because the market condition is healthy. S&P 500 (NYSEARCA:SPY) shows a steady growth since February 2016; all the market participants are facing in the same direction, and their expectations are clear for everybody. Moreover, a hawkish Fed is seen as negative for gold.
It might appear that everything goes against gold, but it is not that easy. One of the most popular belief about the gold market and the Fed is the negative correlation between interest rates rising and gold prices. The key concept here is the growing attractiveness of fixed-income investments, while gold does not offer any interest at all.
However, the reality shows no existence of such relationship. Over the past 50 years, the correlation between Fed interest rates and gold prices was hardly 30%. The reading near 30% cannot be statistically significant, so the popular belief failed the reality test. It should be noted that ~30% correlation could also mean the possible relationship between gold and interest rates is non-linear, but for analysis purposes, this result is appropriate.
The March Fed decision (raising interest rates) also confirms an idea of erroneous nature of that belief. Gold rallied following the announcement of the Fed; a month later (in April) gold even made a $1,260 level breakout.
With that said, there are no clear negatives for gold from the Fed. What about the positives?
Although current inflation is higher than 2%, the data for March and April show a significant decrease. After an impressive 2.7% in February, the market has seen two consecutive lower-than-expected readings (2.4% in March and 2.2% in April).
Fed officials claim that soft inflation data could lead to the reassessment of the current policy. It means the Fed will not raise the rates before the inflation rate is stable. With that said, the Fed virtually guarantees negative real rates. Bullish for gold? Indeed.
What now?
In conclusion, I would like to emphasize that the current market condition does not necessarily lead to an immediate gold rally. However, today's market environment has market participants looking forward to new rate hikes and a hawkish Fed has got nothing against it. In addition, the real example of such gold price increase took place not far from now (March).
Although the labor market data and inflation rates are still stable, it would not be a good idea to miss the inflation decrease case. During the last two months, markets have been frustrated twice (in March 2.4% against 2.6% forecast and in April 2.2% against 2.3% forecast). Investors should also keep in mind that the Fed needs to be sure the inflation rate is steady. It leads to an effect of negative real rates - a good opportunity for gold investors.
Only time will show if these factors drive the gold price to new highs, but if the Fed starts raising rates cautiously, at least from a short-term perspective, nothing will stand in gold's way.
Disclosure: I/we have no positions in any stocks mentioned, and no plans to initiate any positions within the next 72 hours.
I wrote this article myself, and it expresses my own opinions. I am not receiving compensation for it (other than from Seeking Alpha). I have no business relationship with any company whose stock is mentioned in this article.