Ultralife Corporation (NASDAQ:ULBI) is a small-cap technology and industrial goods company focused on battery, energy, and communication products. Based out of Newark, New York, the company is a global business, serving markets in the Americas, Europe, and Asia.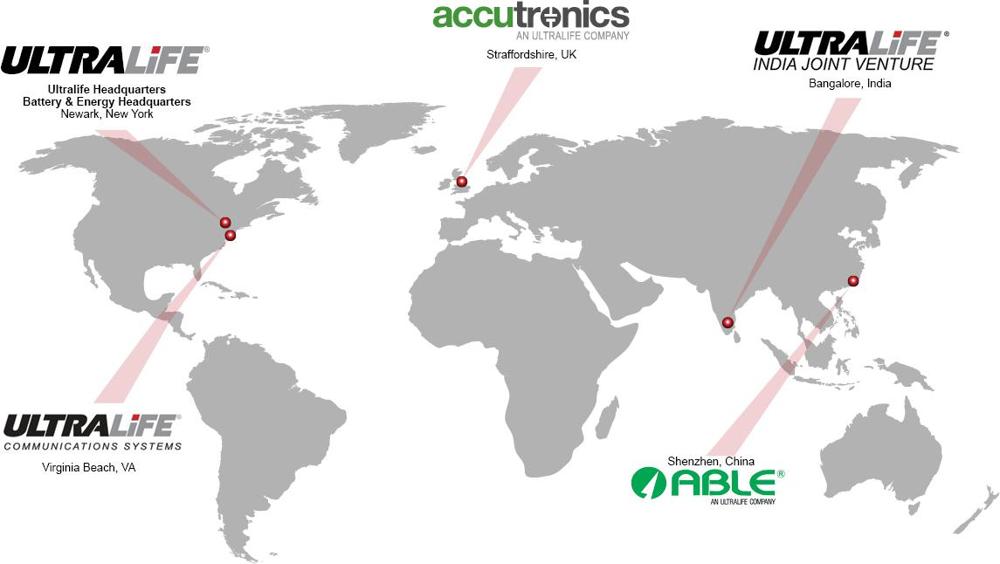 (Source: Company website)
Recently, management announced closing on a 3-year $30M senior secured revolving credit facility with a $20M accordion feature from KeyBank National Association. As the name suggests, the accordion feature means the facility has the potential to stretch to a total of $50M, which is a significantly larger sum than the $20M available on the previous facility. From the recent press release: "Upgrading to a cash-flow based credit facility of greater size enhances our preparedness to seize new growth opportunities organically and through acquisitions, and invest strategic cap-ex to increase our competitive advantage."
Management has historically displayed a willingness to use cash on hand and debt to fund acquisitions. This fact is evidenced by their purchase of Accutronics last year, a battery specialist based in the UK serving the medical device market. Based on company filings, this market is expected to grow by mid-to-high single digits and will be a boon to EPS growth in the future. Other previous acquisitions include AMTI (2009) and McDowell Research (2006), providing expertise in the communications arena, as well as ABLE (2006), a Lithium battery manufacturer in China.
Judging the potential impact of any new acquisition is difficult since no details have been provided and it is speculative at this point. However, to get a ballpark idea it is instructive to consider the terms of the recent Accutronics acquisition. Ultralife paid $11M for $12.5M in revenue, or about $1.14 in sales/$1 paid. Considering the size of the new facility and the fact that Ultralife has $13.6M in cash on hand, it is reasonable to assume that they are planning on a larger purchase than the previous one.
For the purpose of illustration, assume around a $30M price tag with a similar revenue multiplier as before. That would add an additional $34M in revenue on an annual basis. With current 12-month trailing revenues at $84M, that would increase sales by an additional 40%. Admittedly, these are rough estimates for demonstrative purposes.
But assuming the market grows the share price to maintain a similar P/S, it is easy to see how an acquisition would be a catalyst for price appreciation from these levels. Of course, this will be counteracted by debt on the balance sheet. Given current profitability and cash on hand though, this would likely be paid down quickly (there is no debt currently remaining from the previous four acquisitions over the past 11 years).
Valuation and Financials

It is also instructive to examine the current state of the company and stock as they stand today. With a market capitalization of $105M, Ultralife has a modest valuation with plenty of room to grow should management's trend of successful earnings improvement continue. The balance sheet is clean with $13.6M in cash and no debt.
Over the past 4 quarters, the company has racked up 32 cents/share, for a trailing P/E ratio of 20.9 at the current price. Backing out cash, this translates to a P/E of 18.2, a discount from the S&P 500 average of 24.1 at the moment. The past 3 years, Ultralife has grown revenue and net income at a healthy clip. Q1 results in early May showed an increase of 5.8% in YoY revenues and a 5.5x increase in EPS.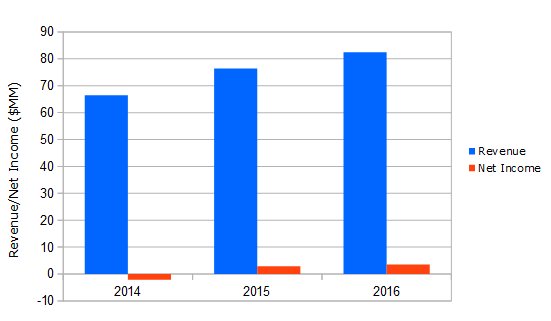 Insiders have continued to add shares recently, with a director picking up 4,000 shares at $5.80. In terms of technicals, since the election in November, the stock has been in a healthy uptrend. It has returned over 50% and looks to be on its way to multi-year highs.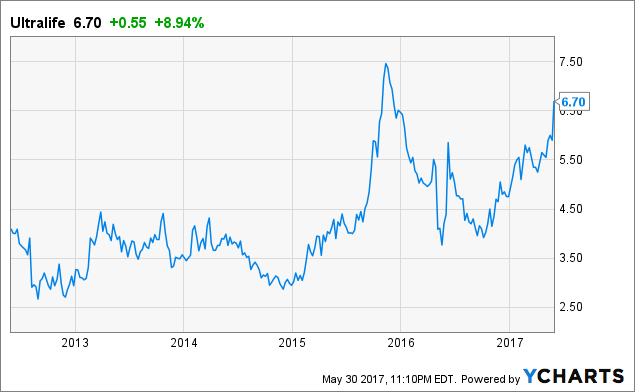 Overall, the theme is steady growth in revenue with a focus on improving margins for increased profitability.
Products and Costumers


(Source: Company website)
As can be seen by the Q1 revenue breakdown, the company is a battery and energy business first and a communication business second. They manufacture and sell a wide range of chargeable and non-rechargeable products of different chemical compositions and energy capacities. Their main selling point is durability and robustness for applications where reliability is the paramount consideration.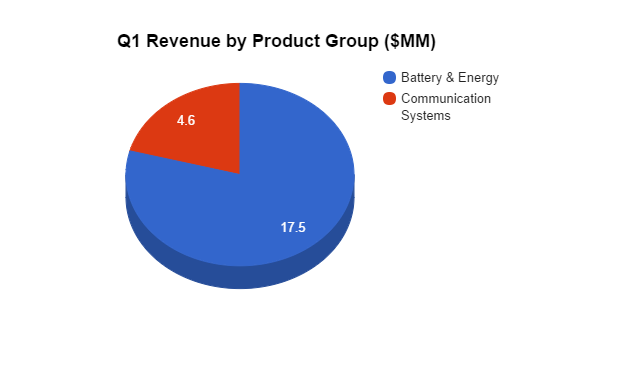 A key customer for Ultralife is the U.S. military, and with Trump set to increase the military budget by $52B in 2018, there doesn't appear to be any current threat on the horizon there. Back in March, Ultralife announced a $21M contract for its lithium manganese dioxide non-rechargeable batteries for the U.S. Government's Defense Logistic Agency.
As mentioned previously, Ultralife purchased Accutronics back in January of last year. Accutronics primarily serves the portable medical device market in Europe, so this is a good step in the direction of diversifying customer concentration away from military spending (should investors be worried future defense spending climates won't be as friendly as the current one).
Risks
Given Ultralife's dependence on military spending and its fluctuation due to global events and the political climate in Washington, there is always the risk that changes there could negatively impact the company's revenue sources. Additionally, with acquisitions there is the chance that the market perceives that the company overpaid and punishes the stock accordingly.
Should the acquisition be large, Ultralife may need to draw down the credit facility significantly to fund it. However, given the current lack of debt and the profitability of the company, this would likely only be temporary until it is paid down. Finally, given the small-cap nature of the company, it is more likely to undergo larger swings during market downturns.
Conclusion
Ultralife is a growing company with healthy fundamentals which has successfully managed four acquisitions over the past 11 years. Given the current cash on hand, the recently upgraded credit facility, and management's appetite for acquisitions, it appears likely that another purchase will arise in the short-medium term. This would be a catalyst for further price appreciation, on top of the favorable defense spending environment. Current rating: Buy.
Disclosure: I/we have no positions in any stocks mentioned, and no plans to initiate any positions within the next 72 hours.
I wrote this article myself, and it expresses my own opinions. I am not receiving compensation for it (other than from Seeking Alpha). I have no business relationship with any company whose stock is mentioned in this article.