I have been bearish on the outlook for oil (NYSEARCA:USO) for some time regardless of the optimism surrounding prices since the advent of the agreement by OPEC and key non-OPEC nations to implement production cuts. A key reason for this has been the combination of high world oil inventories coupled with rising global oil production.
Then there is the nexus between politics, economics and oil which many pundits fail to understand and how it affects the outlook for crude.
One of the most recent misnomers was the belief that Trumps announcement that the U.S. would exit the Paris Accord would be a positive for energy stocks. This couldn't be further from the truth because it reduces the regulatory obligations that the U.S. would be required to enact as a signatory, thereby making it easier for Trump achieve his stated aim of U.S. energy independence and greater U.S. oil production.
In fact, the ease with which this goal can be achieved and the threat it poses to higher oil prices shouldn't be understated.
It was recent results from the shale oil industry and the surprising profitability of many companies regardless of weaker oil which is probably the greatest threat to any sustainable recovery in oil happening at this time.
U.S. oil production is rising regardless of weaker oil prices
U.S. oil output has expanded at an unprecedented rate over the last 10-years and even the protracted oil slump since the second half of 2014 has done little to reduce production. Since growing by 6% over the last year to be 9.3 million barrels it is now at the same level as August 2015 and there are signs that it will continue to grow.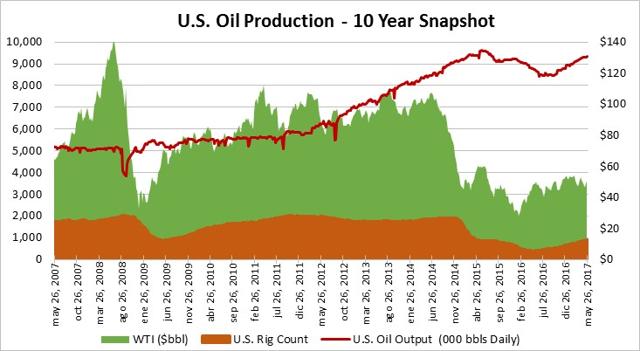 Source data: U.S. EIA.
There has been a significant uptick in activity in the energy patch as highlighted by the significant increase in the U.S. rig count. As at the end of May 2017 there were 908 active rigs which is more than double a year earlier and the highest level since April 2015.
What's more is that the tempo of activity in the energy patch will continue to rise.
You see, not only are Trump's policies favorably disposed towards the oil industry as part of his push to make the U.S. energy independent but they will make it easier and cheaper for energy companies to do business. This is because of the Trump administration's push to reduce regulation, open additional onshore as well as offshore locations for drilling. It was only recently that Interior Secretary Ryan Zinke stated that the U.S. is looking past energy independence to becoming a dominant global player.
Those ambitions will be supported by the shale oil industry which surprised many analysts with its resilience in the face of sharply weaker oil prices. Technological improvements coupled with an ongoing push to reduce costs has substantially reduced the breakeven costs for the industry. As you can see from the chart the major shale plays have wellhead breakeven prices that range between $29 to $39 per barrel.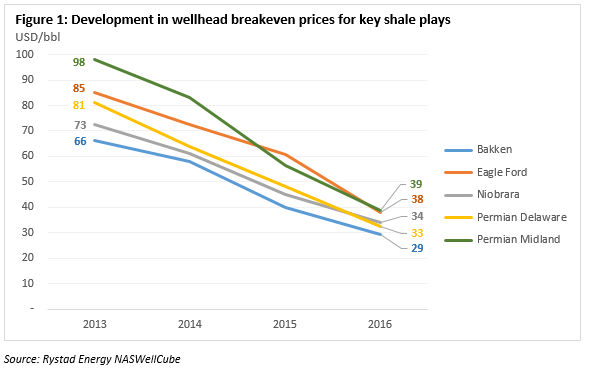 While there is considerable debate over what the true breakeven costs are for shale oil what is obvious is that costs have fallen sharply since the boom began to the point where $50 WTI is profitable for many operators.
The sharp decline in breakeven prices is reflected in the 2016 results of oil companies. The graphic highlights that the oil majors and large shale oil companies had breakeven prices of less than $40 per barrel for 2016.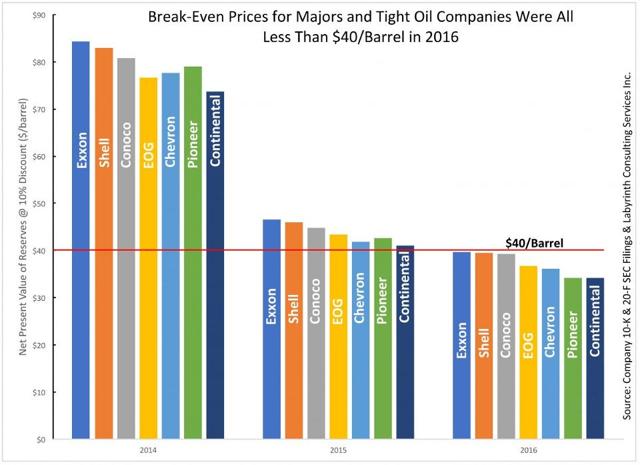 This becomes more discernible if we look at the results of major shale companies. Continental Resources (NYSE:CLR) reported first quarter net income of US$469,000 for a quarter where according to data from the EIA WTI averaged $51 per barrel. Cash provided by operating activities for that period almost doubled year over year.
While Pioneer Resources (NYSE:PXD) reported a net loss of $42 million for the quarter which was less than a sixth of the loss reported for the same period in 2016. More importantly, net cash generated by operating activities was more than three times the equivalent quarter in 2016. Whiting Petroleum (NYSE:WLL) which has been struggling with its highly levered balance sheet reported a net loss of $54 million or less than a third of what it had been a year earlier.
Industry heavyweight EOG Resources (NYSE:EOG) also reported a massive improvement in its bottom line for the first quarter 2017. Net income came in at $28.5 million compared to a $472 million loss a year earlier while net cash provided by operating activities tripled to $836 million. This impressive result considering the difficult operating environment was achieved during a period when EOG realized an average price of $ per barrel, underscoring just how profitable the company is regardless of WTI only averaging $51 over that period.
Just how far could oil fall?
The outlook for crude remains highly uncertain with a range of contradictory views muddying the waters. What is plainly clear is that U.S. oil production will continue to grow because of the shale oil industry's resilience to weaker oil prices and its surprising ability to become profitable with WTI at $50 per barrel.
It is also worth considering that costs will only fall further as the industry benefits from the Trump administration's industry friendly policies, a focus on reducing operating expenses and further technological improvements.
A significant uplift in U.S. oil output will place further pressure on oil prices. This means that in a market dominated by a significant supply overhang including burgeoning oil inventories OPEC's production cuts alone are insufficient to trigger any concerted recovery in oil prices. It appears that the only means of eradicating the supply overhang and sparking higher prices is a significant uptick in global demand for crude, and until that happens it is possible that oil could slide back to $40 per barrel during 2017.
Disclosure: I/we have no positions in any stocks mentioned, and no plans to initiate any positions within the next 72 hours.
I wrote this article myself, and it expresses my own opinions. I am not receiving compensation for it (other than from Seeking Alpha). I have no business relationship with any company whose stock is mentioned in this article.