In my ongoing hunt for yield coupled with solid growth prospects in emerging markets I have been focusing on South America of late. I recently uncovered a hidden dividend gem Enel Generacon Chile (NYSE:EOCC-OLD) which along with yielding 3% has considerable potential upside as the largest producer and supplier of electricity in Chile. After determining it has up to 38% upside it is already up by almost 8% since late March.
Since then I have identified another opportunity in the utilities sector which gives investors broad-based exposure to four of South America's five largest economies, Brazil, Argentina, Colombia and Peru. That company is electric utility Enel Americas (NYSE:ENIA) another member of the Italian Enel group of companies.
Like Enel Generacion it also pays a dividend yielding 3% and possesses considerable potential upside but gives investors far more diverse exposure to some of the fastest growing economies in South America. This means that it offers considerable upside but comes with additional risk.
What is Enel Americas?
Enel Americas is an electric utility that generates and distributes electricity in Argentina, Brazil, Colombia and Peru. It was formed out of the corporate restructure of Enersis and its subsidiaries, being originally known as Enersis Americas and is Latin America's largest private power utility.
It emerged in its final form as Enel Americas in September 2016 and is essentially Enersis' Latin American assets ex-Chile, with those assets forming Enel Generacion Chile. The utility is part of the multinational Enel Group (OTCPK:ESOCF), which is an Italian-based electric utility with global operations. The ownership structure is set out below: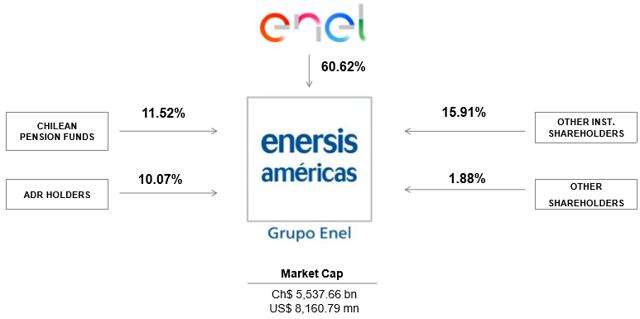 Source: company filings.
*note: the ownership structure remains the same but in its final form the company is now known as Enel Americas and not Enersis Americas.
Enel Americas is Latin America's largest private power company and has total installed capacity of almost 11,000 megawatts and producing 44.5 terawatt-hours in 2016. Of that capacity 32% is located in Colombia, 9% in Brazil, 18% in Peru and the remaining 41% in Argentina.
During 2016, the majority of its electricity was produced in Argentina, then Colombia, Peru and lastly Brazil.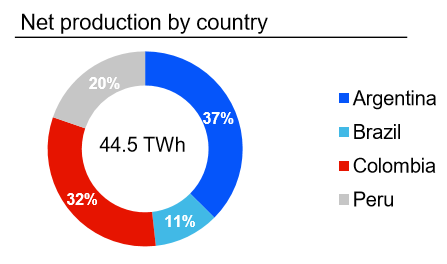 Source: company filings.
Of its installed capacity 53% is in hydro, 45% in natural gas / oil fired production and the remainder is coal-fired.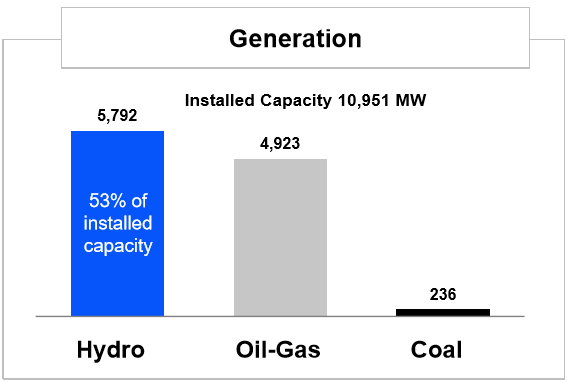 Source: company filings.
Then there is Enel Americas electricity distribution businesses where it has 13.5 million clients across the four countries where it operates with 50% in Brazil, 21% in Colombia, 19% in Argentina and 10% in Peru.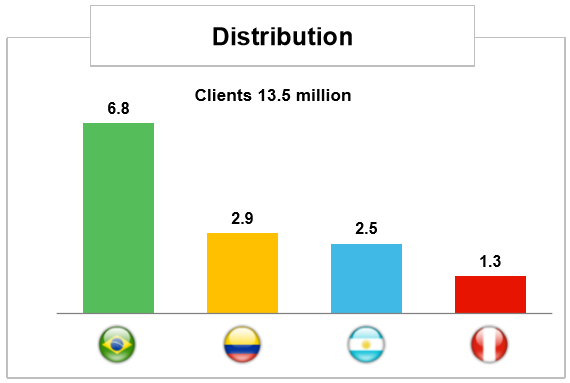 Source: company filings.
This will grow by up to 3 million clients once the acquisition of CELG-D in Brazil is completed, which is discussed in the section below on growth catalysts.
For 2016, Enel Americas sold almost 63,000 gigawatt hours through its distribution network across those four countries.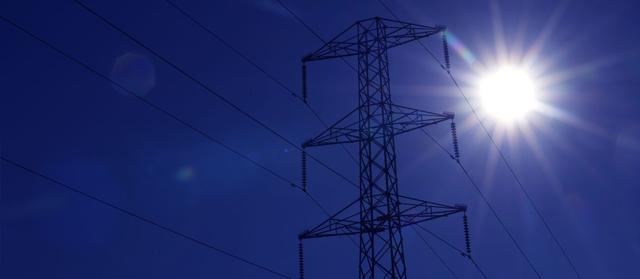 These assets endow Enel Americas with a wide-economic moat that enhances its competitive advantage and protects its earnings. This is strengthened by the fact that it operates those assets in highly regulated markets with oligopolistic characteristics while providing a good i.e. electricity which has inelastic demand.
Key growth catalysts
Typically, electric utilities are recognized as being solid defensive stocks because of the characteristics discussed above that help to shield them from economic downturns. This is certainly very true of Enel Americas but what makes it a particularly appealing investment is that there are an array of growth catalysts that endow it with considerable upside. In part because of the region and emerging economies in which it operates coupled with a range of other internal attributes.
#1 Recent accretive acquisition will boost earnings
One important growth catalyst s the acquisition of CELG-D from Eletrobras (NYSE:EBR) and Companhia Celg de Participações. CELG-D is the electricity distribution company of the Brazilian State of Goiás and the deal on completion will add almost three million customers to Enel Americas Brazilian electricity distribution network. This will make Enel Americas the second-largest electricity distribution company in Brazil, positioning it nicely to benefit from Brazil's economic recovery.
The end result will be a healthy lift in Enel Americas earnings for the following reasons:
Brazil has the third largest electricity sector in the Americas after the U.S. and Canada.
The majority of Brazil's generating capacity lies far away from major urban centers, making transmission and distribution systems critical to the functioning of the electric grid.
It has a young and rapidly growing population which will cause the demand for electricity to grow, despite Brazil being caught in a deep economic slump, driving greater demand for distribution systems.
The state of Goias' GDP is growing at a faster rate than the national average for Brazil. Between 2003 and 2015 its GDP grew at an average of 4.2% compared to the national average of 2.8%. This is particularly important because there is a direct link between GDP or economic growth and increasing demand for electricity. The U.S. EIA went as far as to state; "A country's economy and its energy use, particularly electricity use, are linked. Short-term changes in electricity use are often positively correlated with changes in economic output (measured by gross domestic product (NYSEMKT:GDP))."
The reason for Goias' strong economic growth is that the state has a large industrial base encompassing mining and manufacturing. These industries are heavy users of electricity, boding well for greater demand for energy.
For the reasons listed this acquisition over-time will significantly boost Enel's earnings over the long-term.
The deal will give Enel's EBITDA a healthy bump over the short to medium-term because the company has identified a range of synergies with its existing Brazilian operations. It also expects to cut costs by around 20% by 2019, further expanding CELG-D's margins and contributing to a further lift in EBITDA.
#2 Renewed regional economic growth and growing demand for electricity
A key driver of growth for Enel Americas is that it operates in some of the most populous and fastest developing nations in South America. This creates considerable opportunities for growth both organically and through further acquisitions.
You see, it is widely recognized as discussed earlier that there is a direct correlation between GDP growth and demand for electricity as the chart below illustrates: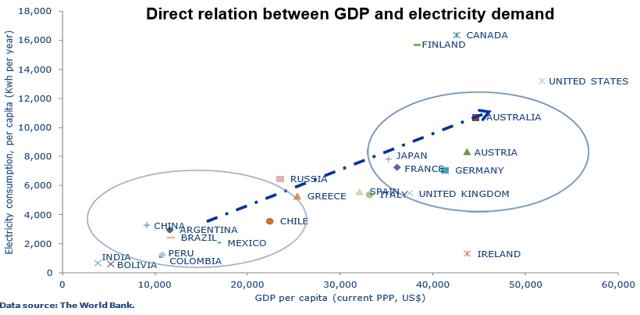 Source: Enel Generacion Chile.
Brazil, Colombia, Peru and Argentina are rapidly modernizing, have young populations, rapidly expanding middle-classes and growing industrial sectors all of which will increase the demand for electricity.
Enel America's installed capacity and EBITDA from power generation is split between the four nations as illustrated by the chart below, with Colombia generating the greatest share.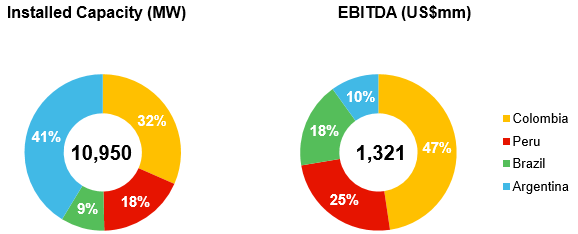 Source: company filings.
This is a particularly important point to note. Colombia of the four countries, has the most business-friendly environment and in the wake of the collapse in crude the Santos government has been working hard to attract other forms of investment in order to bolster the manufacturing and mining sectors, both of which are intensive users of electricity.
While the commodities slump hit Brazil, Colombia and Peru hard because they are highly dependent upon the extraction and export of commodities there are signs that economic activity is picking up. GDP growth for 2017 is expected to strengthen compared to 2016.
The hardest hit has been Brazil. The confluence of a political crisis, corruption scandals, structural economic failings and the prolonged commodities slump the country plunged into its deepest economic crisis in almost a century. Recent data shows that Brazil is mired in its worst recession ever and that the economy has contracted by 8% since 2014.
Nevertheless, there are signs that the economy is improving with it forecast to return to growth in 2017. There are signs of growing business optimism and job creation.
As mentioned earlier Brazil has the third largest electricity sector in the Americas, thereby providing Enel Americas with considerable growth opportunities. This is important to note because not only will it drive higher economic growth thereby boosting demand for electricity but mining, metals smelting and oil production are all intensive users of electricity.
Accordingly, as the tempo of those activities picks up in the commodities reliant economies of Brazil, Colombia, Peru and Argentina the demand for electricity will rise.
Colombia's economy is forecast to expand by up to 3% in 2017. There are also signs that its nascent manufacturing sector is expanding as is tourism which have become important growth industries being promoted by the government as it battles to replace lost oil revenues because of weaker crude.
There have already been electricity shortages which has led to higher electricity prices and the government to consider rationing and this along with growing demand will underpin higher prices for Enel.
The surge in metals prices especially copper, zinc, gold and silver has been a boon for Peru because mining accounts for 12% of GDP and 57% of the Andean nations exports. This has accelerated activity in Peru's mining sector and led to GDP growth estimates being reforecast to as high as 4.5%.
More importantly for the demand for electricity, analysts believe this trend will continue into 2018 and through to 2020.
Finally there is Argentina, which under President Macri's reform oriented agenda is experiencing an increase in the tempo of economic activity. According to the OECD Argentina's economy is expected to rebound strongly over the course of 2017 and 2018, because of Macri's reforms which are focused on stabilizing the peso, reducing inflation and removing trade barriers.
Higher GDP and more stable economic growth will lead to an uptick in electricity consumption. These reforms will also attract greater foreign investment, particularly in Argentina's burgeoning oil industry. The Vaca Muerta which is touted as one of the most promising shale plays outside of North America is estimated to hold the world's second-largest shale gas and oil reserves.
The uptick in GDP growth across those four countries will lead to higher demand for electricity as the chart below which shows the link between electricity consumption and economic growth in Latin America highlights.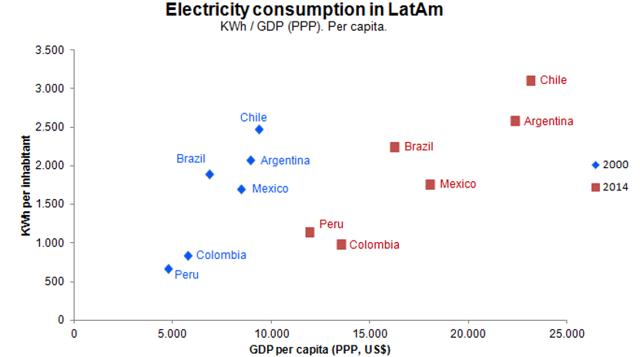 Source: company filings.
As a result, demand for electricity and its consumption can only continue rising as the economies of Brazil, Peru, Argentina and Colombia expand. As Enel Americas is the largest private power company in Latin American it is well positioned to benefit from that growth.
#3 Dependable and growing cash flows coupled with a solid balance sheet
One thing for investors to love about investing in electric utilities is the dependable cash flows. Electricity is an essential form of energy in our modern lives and economies and without it everything would essentially grind to a halt.
That combined with electricity demand growth being very stable in the countries where Enel Americas operates coupled with the strong growth potential of its operations bodes well for a significant uptick in cash flow and earnings.
That is further reinforced by the majority of its earnings being contractually locked in with regular periodic tariff revision processes across Colombia, Peru and Brazil. Such dependable earnings support Enel America's solid balance sheet.
#4 Strong balance sheet and well laddered debt profile
At the end of 2016 Enel Americas had gross debt of billion which was broken down as set out in the chart below.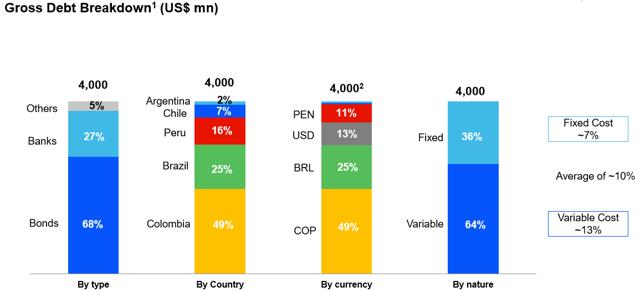 Source: company filings.
Given that its debt comes to a mere 2.1 times EBITDA it is sustainable with the debt expense being quite manageable. It also reduces the risks associated with currency fluctuations and rising interest rates.
The strength of Enel America's balance sheet can be seen by its conservative level of debt when compared to its EBITDA and cash flow, especially when compared to its peers.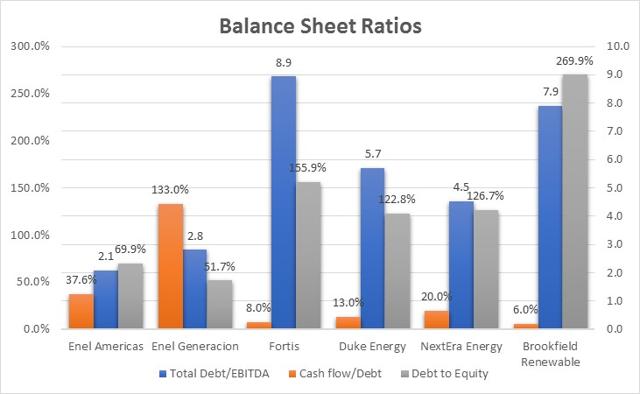 Source: company filings.
These ratios are an important consideration when deciding to invest in an electric utility. This is because they indicate how much debt has been used to fund the businesses growth in a very capital-intensive industry. That means they give insight into a utility's financial health and its ability to manage its debt burden including the risks posed by higher interest rates, which is certainly a key risk for utilities at this time.
A pleasing aspect of Enel Americas' balance sheet is its well-laddered debt profile. It has total debt of around $4 billion, the majority of which does not fall due until 2019 or later as the chart shows: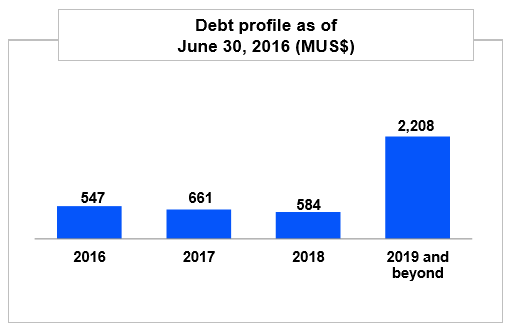 Source: company filings.
As a result, Enel Americas has sufficient time to bed-down the new operating structure and the CEL-G acquisition and ramp-up earnings as demand for electricity in Brazil, Colombia, Argentina and Peru grows. The healthy bump in earnings that will come from those activities will allow it to pay down that debt as and when it falls due.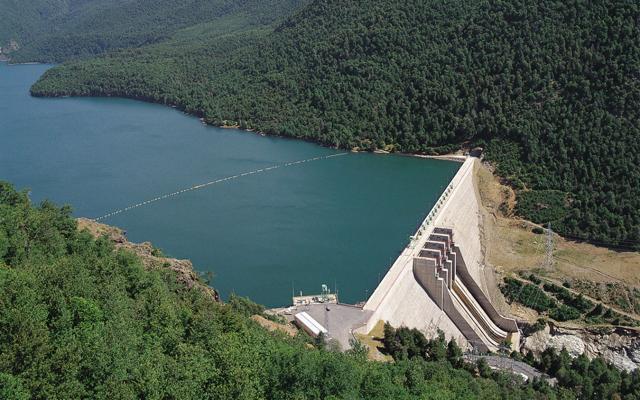 Determining Enel Americas Fair Value
Because of its stable cash flows and dependable earnings, a DCF valuation model is the most appropriate means of valuing Enel Americas. When applying this methodology, the following assumptions have been used:
I have used a conservative average revenue growth rate of 5.1%. This represents the expected increase in demand for electricity while factoring in the impact of lower prices, weaker economic growth and the risk of poor hydrology along with its impact of the output of the utility's hydro assets.
I have assigned a terminal growth rate of 2.5%, which reflects the average weighted long-term GDP growth rate for Brazil, Colombia, Argentina and Peru.
A risk-free rate of 3.5% has been assigned representing the long-term yield on 10-year Treasuries.
The weighted average cost of capital, or WACC, used is 13.8%and this has been applied as the discount rate in accordance with the DCF methodology.
I have used a cost of equity of 15% calculated using the CAPM model and considering the risks associated with operating in emerging markets in Latin America. This includes factoring in a 2% country risk premium.
This gives an indicative fair value of $12.19 per ADR which represents a premium of 29% over the last traded share price of $9.46.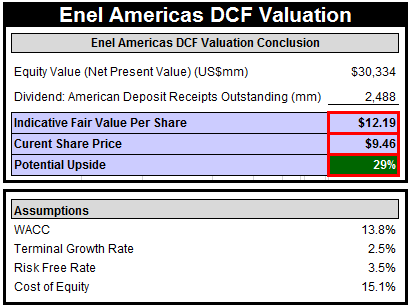 That shows the considerable potential upside on offer for investors which is certainly achievable given Enel Americas solid growth potential and the conservative methodology used.
Understanding its Dividend
The stable cash flows and solid balance sheet bode well for not only the sustainability of Enel Americas' dividend but also the company's plans to grow that dividend over coming years. At this time it pays its dividend semi-annually and is targeting a payout ratio of 50% of earnings as the chart illustrates: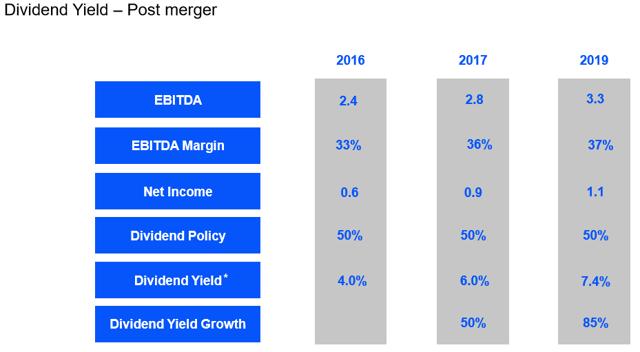 Source: company filings.
This according to the last interim dividend payment and the company's planned payout ratio gives investors a 3% yield which management intends to grow at a decent clip.
Investors should note that there is a 35% withholding tax payable on dividends paid by companies domiciled in Chile. There are however amendments to the tax system underway and these coupled with the pending tax treaty between Chile and the U.S. could very well see that rate fall once enacted.
Risks to the Investment Thesis
Aside from the generic risks associated with investing in an electric utility such as significant shifts in the cost of capital, regulatory risk, commodity price risk and climate change, there are some specific risks faced by Enel Americas:
Variable power generation - 53% of Enel Americas installed capacity is hydro and it is vulnerable to changes in hydrology which affects the volume of water that passes through those facilities and therefore the amount of electricity produced. Lower water levels cause the volume of electricity generated to decline impacting revenues, cash flows and the bottom line. This risk is further aggravated by climate change which has sparked changes in weather patterns such as the El Niño system, affecting hydrology in South America.
Interest rate and exchange rate risk - While this is a typical risk for any electric utility, there are specific aspects of this risk that apply to Enel Americas. This is because a significant portion of its long-term debt is denominated in U.S. dollars leaving it vulnerable to the risk of a stronger U.S. dollar and higher interest rates. A firmer U.S. dollar will cause the cost of servicing and repaying that debt to increase.
This risk is mitigated by the company having currency hedges in place and the relatively low amount of dollar denominated debt in relation to its EBITDA and cash flows.
Country/geopolitical risk - Latin America's emerging markets are riskier jurisdictions in which to invest. To account for this risk, I have included a 2% country risk premium in the calculation of the WACC used in the DCF. As witnessed lately the degree of risk and corruption that exists in countries such as Brazil is quite high.
Bottom-line
Enel Americas is an appealing investment offering low risk almost ETF style exposure to four of South America's largest economies, three of which have strong growth potential. The utility's solid defensive characteristics, strong growth potential, healthy balance sheet and regular dividend coupled with a wide economic moat and growing demand for electricity virtually guarantee its earnings.
Based on existing cash flows and projected growth it offers investors 29% upside which incorporates a reasonable margin of error. There is also the 3% yield to consider which is sustainable and will reward patient investors as they wait for its share price to appreciate.
Disclosure: I/we have no positions in any stocks mentioned, and no plans to initiate any positions within the next 72 hours. I wrote this article myself, and it expresses my own opinions. I am not receiving compensation for it (other than from Seeking Alpha). I have no business relationship with any company whose stock is mentioned in this article.
Editor's Note: This article discusses one or more securities that do not trade on a major U.S. exchange. Please be aware of the risks associated with these stocks.