This article is written by Cristiano Bellavitis, portfolio manager of Integer Investments, with the assistance of Yusuf Velanwadawala.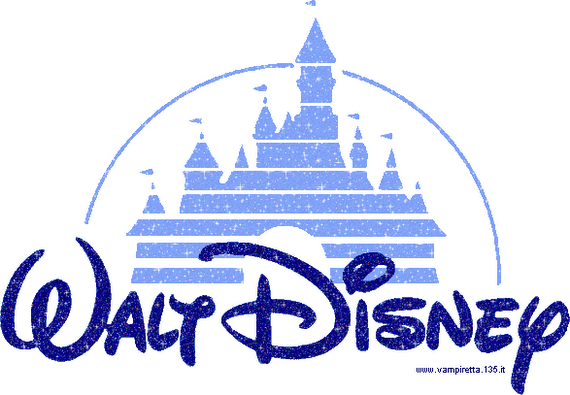 About the company
The Walt Disney Company (NYSE: DIS) is a leading entertainment company. The Company operates in four business segments: Media Networks (including ESPN), Parks and Resorts, Studio Entertainment, and Consumer Products & Interactive Media.
The stock is currently trading at 18X 2017 forecasted earnings and 15.8X forecasted earnings for 2018. We believe that these multiples are too low for a franchise with Disney's qualities. The main reasons for this weakness, is the perceived downtrend in the cable business (OTC:ESPN) which is even exaggerated. However, we do not think that ESPN fits well within the Disney's portfolio and we think that shareholder value can be created by divesting ESPN and focusing on the core of the brand. We also propose how Disney could use the proceeds coming out of the ESPN divestiture.
Disney brand
According to Interbrand, Disney is the 13 th most valuable brand around the world, for a total value of $39B. According to Brand Finance, Disney is the n.1 in Media and n.24 of all global brands.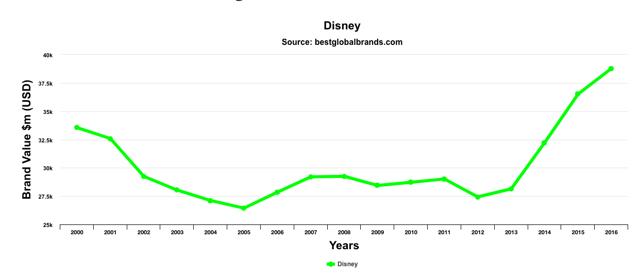 Financial Outlook
Disney reported the quarterly earnings for the fiscal year 2017; the results were a mixed bag. The quarterly revenues fell by 3% year over year to $14.8 billion; this was due to the weak performance by the media networks department. Issues with Disney's ESPN affected the first quarter earnings. ESPN's poor performance was due to a number of factors: (1) a decline in the advertising revenue, (2) a drop in the subscriber's rate, (3) a growth in ESPN's programming costs associated with its new NBA agreement and a contractual rate increase for NFL programming. However, the company's CEO Bob Iger said:
"We're very pleased with our financial performance in the first quarter, our Parks and Resorts delivered excellent results and, coming off a record year, our Studio had three global hits, including our first billion-dollar film of fiscal 2017, Rogue One: A Star Wars Story".
Despite the mediocre performance by the media entertainment segment especially by ESPN, the company's CEO stays optimistic about ESPN; he said: "ESPN is still in demand, and the brand is still strong, the product is still good and we've invested nicely to keep that product as high quality as possible." However, we feel ESPN will continue to lose subscribers as traditional TV viewers have switched to cheaper alternatives.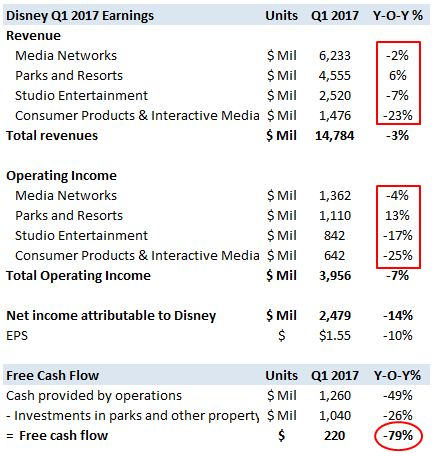 (Source: Forbes.com)
ESPN
ESPN is a multimedia sports entertainment company owned 80% by the Company and 20% by Hearst Corporation. ESPN operates eight 24-hour domestic television sports networks: ESPN, ESPN2, ESPNU (a network devoted to college sports), ESPNEWS, SEC Network (a sports programming network dedicated to Southeastern Conference college athletics), ESPN Classic, the regionally focused Longhorn Network (a network dedicated to The University of Texas athletics) and ESPN Deportes (a Spanish language network), which are all simulcast in high definition except ESPN Classic. ESPN programs the sports schedule on the ABC Television Network, which is branded ESPN on ABC. ESPN owns 19 television networks outside of the United States (primarily in Latin America) that allow ESPN to reach sports fans in over 60 countries and territories in four languages. However, the sports giant is losing subscribers over the past few years. In 2011 ESPN had close to 100 million subscribers however the number has dropped over the years and now is close to 90 million subscribers.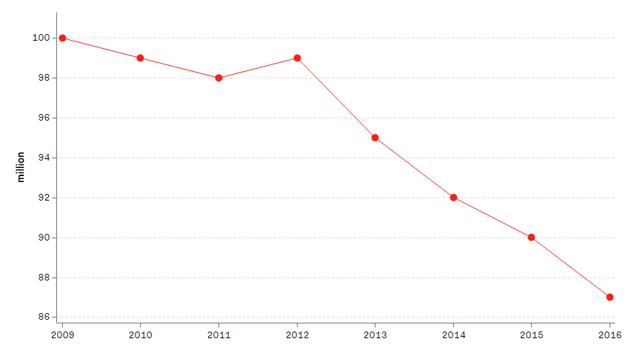 (Source: Nielsen Media Research)
The screenshot below shows the amount of subscribers for each product of the Media Networks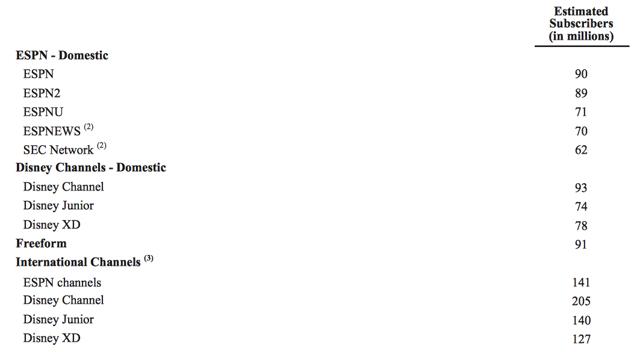 With rising costs and declining viewership ESPN has resorted to job cuts. The company chief John Skipper announced roughly 100 layoffs these included anchors, analysts, reporters and writers. To save costs ESPN has been dropping some high-paid talent and laying off people for a few years now. However, this cost-cutting has not been successful as they have not been able to tackle the costs they incur to purchase the NFL rights.
ESPN has been making billions of dollars all these years from its subscriber's fees which are about $8 a month from people who do not watch its channels but pay for them anyway because they are included in the basic cable packages. But cord cutting has become famous over the years, and more and more US customers are kicking the service providers to the curb by cutting the cord and sourcing their TV programming elsewhere. This has led to a drop in ESPN subscribers over the years, and this will continue since people don't want to pay $8 a month for ESPN and ESPN2. And also because of the rise of popularity of illegal streaming websites such as ronaldo7.net, streamsarena.eu, vipbox.nu etc. These illegal websites stream all the international sports events in high definition quality. To tackle the problems of illegal streaming and to retain its customers Disney has invested in BAMTech, which is a leading company that develops technology for video streaming. The partnership with BAMTech will result in developing technology for streaming video and other digital products from Disney, and ESPN. BAMTech will develop a direct-to-customer service that will feature the content of both BAMTech and ESPN, and include all the live regional, national and international sporting events. Cord-cutting has become an unavoidable truth in the industry and Disney has to take steps to make up for it.
ESPN results are reported within the "cable networks", in addition to Disney Channels and Freedom. In the latest earnings, despite the fact that cable networks generated $16.6B in revenues and $6.7B in operating income, in line with the previous year, ESPN was slightly down. The company explains that the decrease at ESPN was due to higher programming costs, partially offset by affiliate and advertising revenue growth. Disney Channels and Freeform compensated for this fall. However, ESPN is far from a dying business. Disney does not report revenues for ESPN only but we can try to estimate them. A 2014 article of the WSJ assumed that ESPN represented 60% of the Cable Networks revenues. Considering the declines, we can assume that ESPN now represents 50%. Hence, we can assume that ESPN generated $8.3B in revenues and $3.85B in operating income.
Comparing these numbers with other media companies such as Discovery Communications (NASDAQ: DISCA), Scripps Networks (NYSE: SNI), Tegna (NYSE:TGNA) or SKY (OTCPK:SKYAY), we can estimate the value of ESPN.
(Figures sourced from 4-traders)
| | | | |
| --- | --- | --- | --- |
| | EV/Revenue '17 | EV/EBIT '17 | Weighting |
| TGNA | 2.03 | 8.28 | 20% |
| SNI | 3.11 | 8.57 | 20% |
| DISCA | 2.6 | 8.21 | 20% |
| SKY | 1.81 | 16.76 | 40% |
| Weighted Average | 2.272 | 11.716 | |
If we apply the average multiple to the estimated revenues of ESPN we get:
ESPN revenues of $8.3B * 2.272 = $18.9B ESPN operating income of $3.85B * 11.716 = $45B
The reason for this discrepancy is the different operating margins. The Disney cable network margin is very strong. Other SA authors estimated the value of ESPN closer to the $40/50B mark. If we assume a value of $45B, Disney could fetch 80% of this sum, $36B. The current Disney EV is $186B, hence excluding ESPN would be $150B.
Box Office
Disney is well positioned for the year 2017. Disney's studio division looks great, and the release of Beauty and the Beast topped all expectations and the movie officially crossed the $1 Billion mark at the global box office. Guardians of the Galaxy Vol. 2 has bagged over $100 million in the international box office a week ahead of its U.S launch. Guardians of the Galaxy was a huge hit in the year 2014, grossing more than $750 million worldwide. The earnings are expected to reach close to the billion-dollar mark, and we'll know more once the movie is released in China, North America, Russia and elsewhere. Disney also just released its5 th instalment of the Pirates of the Caribbean franchise Dead Men Tell No Tales. The movie fetched an impressive $275M in its first weekend worldwide. The last Pirates of the Caribbean film crossed a billion-dollar mark globally. Disney is well-positioned to take a significant chunk of the box office this year with the release of the following most anticipated movies:
- Cars 3 (June 16th)
- Spider-Man: Homecoming (July 7th)
- Thor: Ragnarok (November 3rd)
- Star Wars: The Last Jedi (December 15th)
The release of these movies will drive up the operating income and will also increase the sales of the Disney merchandise business.
Consumer products and interactive media
Consumer products and Interactive media department suffered the most in the quarter with revenues falling by 23% to $1.5 billion, and operating income fell by 25% to $642 million. Disney said the lower revenues were due to decrease at the merchandise licensing, games and retail business. This is not surprising as the demand for merchandise is seasonal and it will catch on once again since Beauty and the Beast were such a huge success and also due to the upcoming Star Wars film. However, the area of concern was the Disney video games, but they switched last year from publishing and developing to license only model which reduces the risks directly for Disney. Last year Disney ultimately pulled the plug on Infinity which was its most successful video game line. However, if Disney sells the rights to its Infinity games to other game developers, then it can certainly make profits since the risk will be passed on to other entities.
Parks and Resorts
Disney's parks and resorts segment bagged a total of $4.56 billion in revenues and $1.11 billion in operating income. Disney in total has 12 theme parks in six cities: two in California, four in Florida, two in Tokyo, two in Paris, and one in Hong Kong and one in Shanghai. Disney dominates the industry, and in the fiscal year, 2016 Disney's parks and resorts contributed to 30.5% of the total revenue. Disney is expecting this number to go up due to the opening of its massive theme park in Shanghai last year. Disney also just opened its grand Pandora-The World of Avatar. This theme land at Disney's Animal Kingdom will make people feel they are in the real Pandora. The park is receiving positive reviews.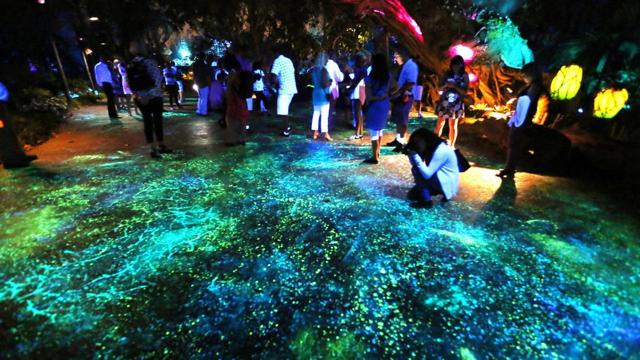 (Photo from the theme lands sneak peek)
How much is Disney worth without ESPN?
According to the annual report, revenues for the year increased 6% to a record $55.6 billion and operating income grew 7% to$15.7B. If we remove ESPN revenues of $8.3B and operating income of $3.85B, we remain with $47.3B in revenues and $11.85B in operating income. It is difficult to find a media company with such a strong list of franchises but we will try value Disney. Looking at Merlin Entertainment Plc which operates theme parks and family entertainment resorts we can find a comparable for the theme parks. The company is listed in UK which is not a particularly strong market at the moment. Yet, Merlin EV trades at 3.37X 2017 revenues and 20.3X 2017 expected operating income. Comcast (NASDAQ:CMCSA), that owns the Universal Studios (and has a cable network) trades at 2.93X 2017 revenues and 13.7X 2017 operating income. Twenty-First Century Disney is definitely a stronger franchise but we can apply the average of these multiples:
3.15X revenues of $47.3B = $149B
17X operating income of $11.85B = $201.45B
These figures compare with Disney EV ex-ESPN of $150B. Hence, Disney stock price might benefit from selling ESPN but not by a wide margin. However, we believe that the major benefits would arise from a major shift and focus in strategy.
What should Disney do after the ESPN sale?
Disney could acquire Netflix (NASDAQ:NFLX). Integrating Netflix and Disney would provide strong strategic synergies and an amazing brand. Netflix currently has an enterprise value of $74B. Assuming an acquisition price tag of $100B, Disney would need $64B of debt (on top of the $36B for the sale of ESPN). The screenshot below shows that Disney is currently conservatively financed. According to the latest financial report, Disney has long term borrowing of $16B and short term borrowings of $3B but $4B in cash. Assuming that the deal closes in 2018, the newco would have an approximate operating income of 12.5B + Netflix $1.4B for a total of almost $14B. A total cash offer would bring the debt to approximately $70B (assuming some of the existing debt will be paid with 2017 free cash flow) and $14B in EBIT which is significant but not impossible. We would be in favour of such strategic move.
(Source: Simply Wall St)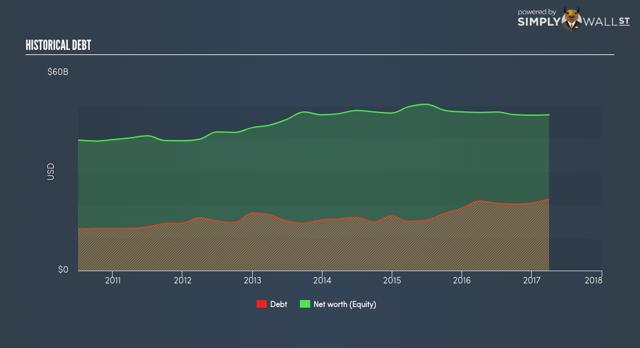 Conclusion
Disney has one of the best brands around the world. The company continues to generate solid financial results by making millions of children and adults dream about its fairy tales. Unfortunately, the ESPN network is not a stellar business anymore and this is impacting Disney's stock price. We believe that Disney should significantly reshape itself to re-born as a new company that focuses around its core brands. We like Disney at the current prices (even more at $102 per share) and we believe that there is a clear path toward value creation. The company should divest ESPN for an approximate value of $45B. With these proceeds Disney should try to acquire Netflix for about $100B. This combination would create interesting synergies, an incredible franchise, and would help Disney focus on what it does best. The current Disney is dead, long live the new Disney.
As always, thank you for reading. If you wish to follow our future articles, just click the "Follow" button next to our name at the top. If you would like us to cover a company, please let us know in the comments. For information about Integer Investments, visit our website. Thank you for reading.
Disclosure: I/we have no positions in any stocks mentioned, but may initiate a long position in DIS, TGNA over the next 72 hours. I wrote this article myself, and it expresses my own opinions. I am not receiving compensation for it (other than from Seeking Alpha). I have no business relationship with any company whose stock is mentioned in this article.
Editor's Note: This article discusses one or more securities that do not trade on a major U.S. exchange. Please be aware of the risks associated with these stocks.