A few days ago someone asked me that if I could buy just one Healthcare REIT, which one would you buy.
Of course, as you can imagine, it's difficult for me to answer that question, and my normal response is that I would always recommend owning more than one REIT. I'm sure you've heard me say this before:
"the cheapest and simplest way to achieve a margin of safety is to diversify."
However, I also recognize that investing is a process, and it's important to build an intelligent REIT portfolio, brick by brick, starting with companies that are the most durable and that can be purchased at or below sound value.
Picking the best Healthcare REIT can also be an especially agonizing task since there are 20 companies, all investing in various property sectors and sub-sectors. I can see why so many investors get frustrated with stick picking and opt to purchase shares in a REIT ETF.
However, you should be able to beat the Vanguard REIT Index ETF (VNQ) by becoming a more tactical investor, and by pursuing a more strategic process of picking the best REITs in each property sector.
To make your life easier, I decided to launch a series called, "If I Had To Buy Just One REIT" whereby I will examine all of the property sectors and sub-sectors and provide you with my TOP PICK overall. So let's get started…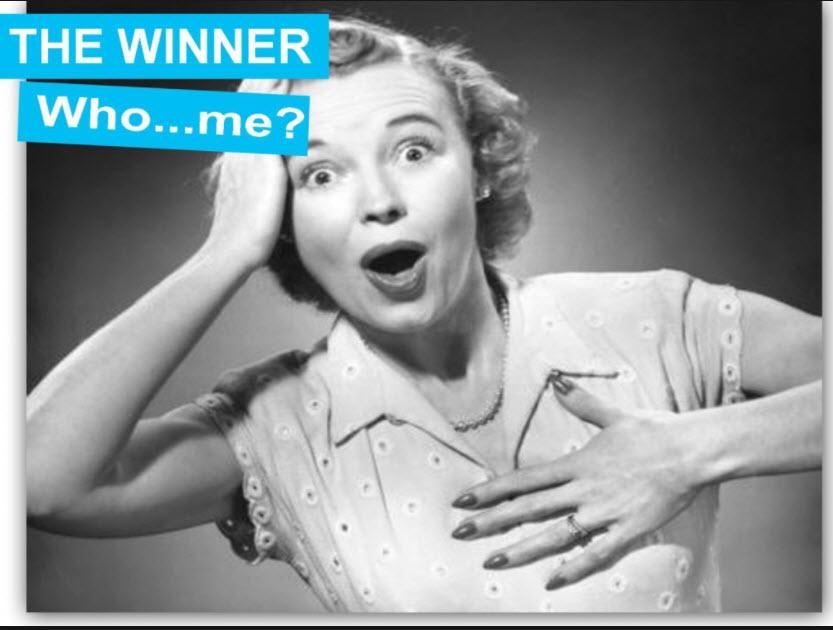 Ventas Inc. - Separating the Wheat from the Chaff
It's really interesting to see how both Simon Property Group (SPG) and Ventas, Inc. (NYSE:VTR) have become stronger by spinning the "ugly ducklings" into new REITs. Just take a look at the performance of Care Capital Properties (CCP) and Washington Prime (WPG) over the last year or so.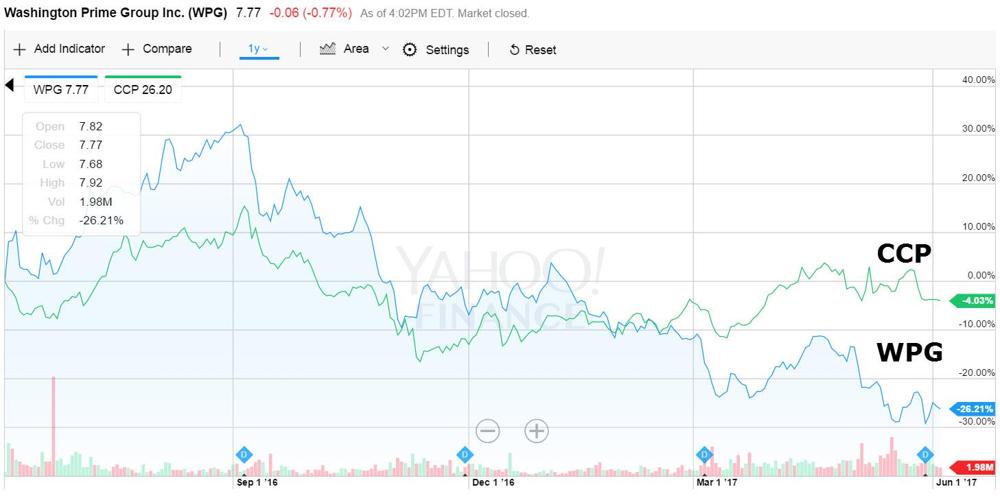 I know, I own CCP, and maybe I was too harsh calling the skilled nursing portfolio "ugly ducklings" but that's precisely how the market has viewed the more volatile property sector. As you may recall, over a year ago, Ventas underwent changes by shedding a large number of skilled nursing properties by way of a spin-off into CCP.
Although VTR's closest competitors, HCP, Inc. (NYSE: HCP) and Welltower (NYSE: HCN) previously had exposure in skilled nursing, VTR was the first of the "big 3" diversified REITs to successfully bifurcate the risk within the more volatile government pay sector.
By making spinning most of the skilled nursing properties (to CCP) and selling ~$700 million SNF of properties to Kindred (at a very favorable cash rent yield to Ventas of 7%), VTR has made smart divestitures that have allowed the REIT to further differentiate its excellent portfolio mix.
Concerns over structural headwinds in skilled nursing have continued to plague the operators' rent coverage and lead to lower valuations. By selectively exiting the skilled nursing sector, VTR has orchestrated a tactful strategy of focusing on best-in-class operators.
As a result of 2016 activities and the 2015 spin-off of most of the skilled nursing properties, VTR has created an industry-leading differentiated portfolio, highly diversified by asset type, business model and tenant. Specifically, the owned portfolio generates 93% of its revenue from private pay sources.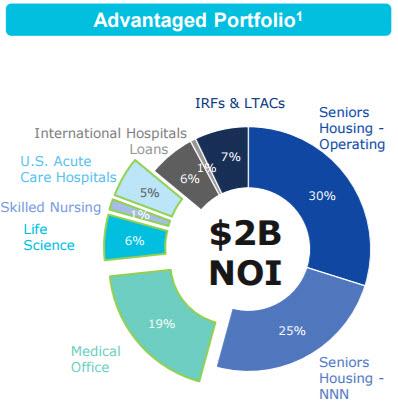 VTR has essentially removed its riskiest holdings (more volatile) from the balance sheet and replaced them with lower-risk hospitals and life science properties. Arguably, hospitals are exposed to government pay risk, but when was the last time you saw a dark hospital (more on that below).
By partnering with Sam Zell's firm EGI, VTR provides innovative capital solutions to fund acquisitions of acute care hospitals for the Ardent platform. In addition, VTR made or committed to investments of nearly $2 billion, including the accretive $1.5 billion acquisition of a high-quality new life sciences and innovation center portfolio, affiliated with leading universities, academic medical centers and research institutions.
This deal is a winner with great yield approaching 7%, attractive real estate, long-term leases with institutional quality tenants and a leading developer partner in Wexford. It also added an important new channel for growth for Ventas.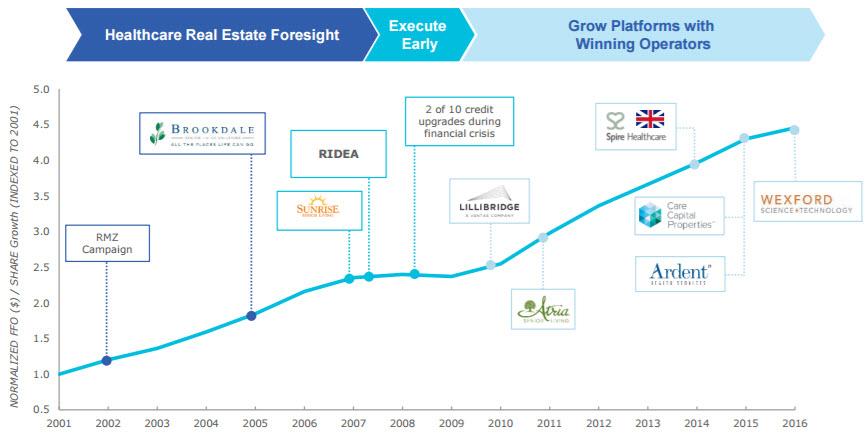 VTR's operating and development partners are the best in their respective businesses. The company's triple-net leases, representing 42% of NOI, have virtually no lease expirations through the end of 2018, and none of the tenants represents more than 10% of NOI. Most importantly, at the end of this year, VTR expects to generate only 1% of NOI from skilled nursing facilities.
VTR's insight to allocate capital wisely in five asset types across the capital structure has provided the company with an undeniable competitive advantage that should allow the company to generate better overall dividend quality.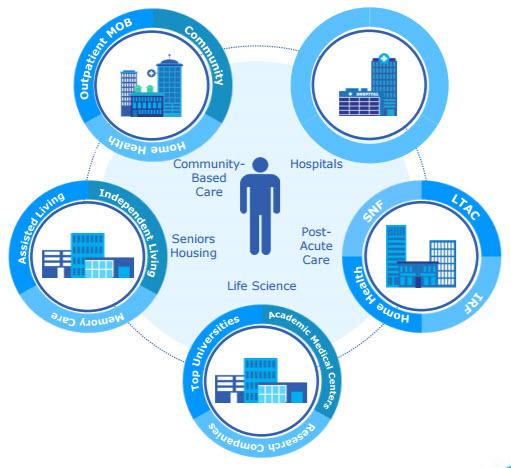 Highly Fragmented Sector
VTR is one of three larger diversified healthcare REITs, here's a snapshot of the peer group:

As noted above, VTR invests across the capital structure in the following 5 asset types: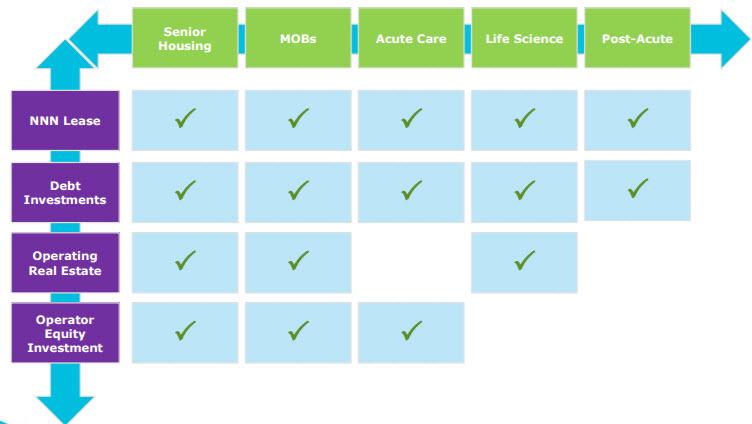 The U.S. healthcare real estate market is large – around $1 trillion – and care delivery is increasingly interconnected. By consolidating healthcare assets into a securities (REIT) structure, VTR is well-positioned to dominate.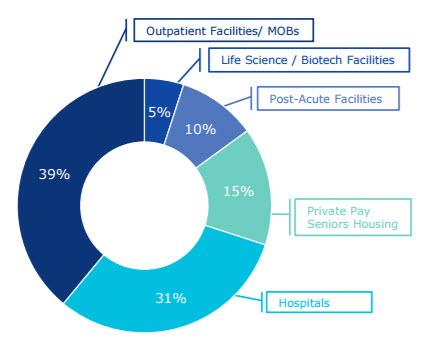 Also, for VTR and all healthcare REITs, there is considerable opportunity. As the chart below illustrates, Healthcare REITs own just 12%-15% of all institutional-quality healthcare properties, much lower than these other REIT property sectors: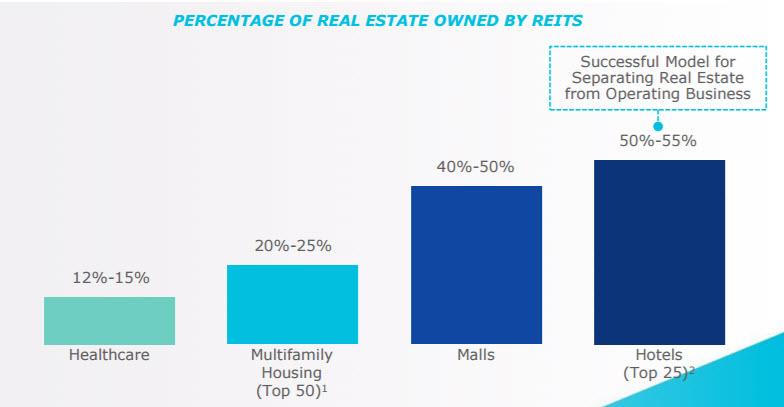 As the consolidation continues, VTR remains in an enviable position to maintain its dominance by using its low cost of capital advantage to gain scale. The chart below illustrates the market share of the top 10 operators and this suggests that the winners will emerge and these consolidators will need capital partners like VTR.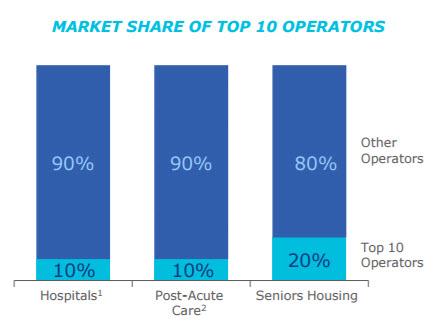 The healthcare sector is especially attractive as spending is expected to grow by 5.8% annually (2014-2024). The demand drivers - large and growing aging population - will provide enhanced spending power. The healthcare sector is huge, and because of the fragmented ownership base, the industry is ripe for consolidation. Healthcare real estate under-owned by REITs is less than 15% (well below other REIT sectors).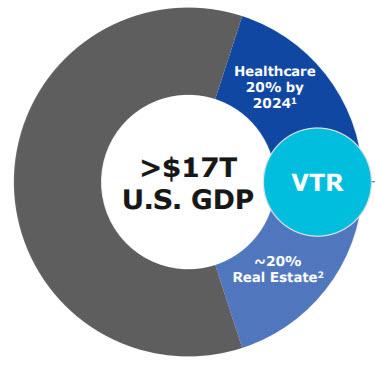 The senior population in the U.S. will grow rapidly, and with it, demand for VTR buildings where essential home, care and comfort are provided to individuals and their families and groundbreaking research is conducted. Senior housing and healthcare providers will work with each other and with managed care companies to limit readmissions and control healthcare costs.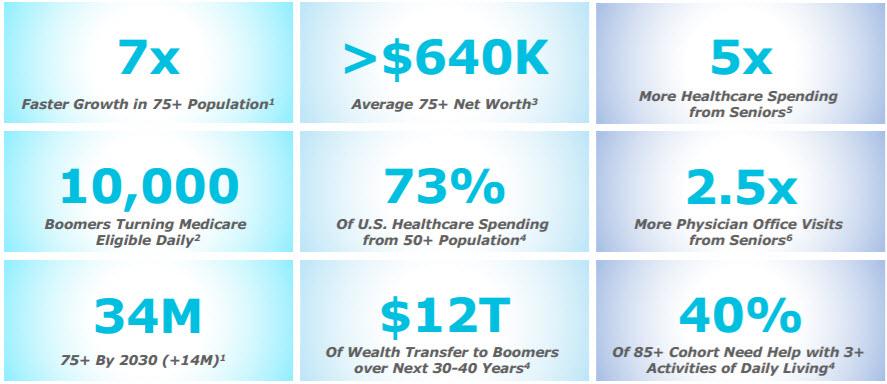 VTR focuses on managing the risk and capturing the opportunities that a changing environment presents through development of the right strategies, prudent capital allocation and excellent innovation and execution. The VTR advantage can be summed up as follows:

Breaking It All Down
VTR has partnered with key leaders within their respective sub-sectors: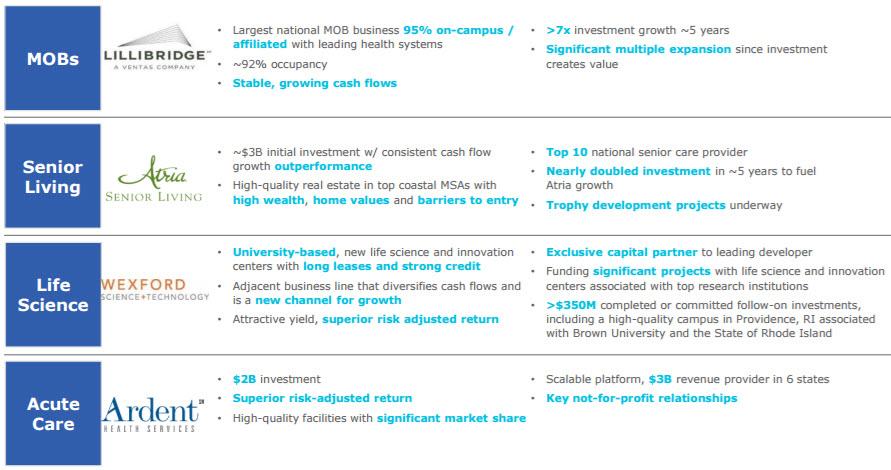 Within VTR's Senior Housing Portfolio (or SHOP), the company generates around 30% from SHOP and 25% from Net Lease. The senior housing sector has tremendous industry tailwinds due to aging population trends.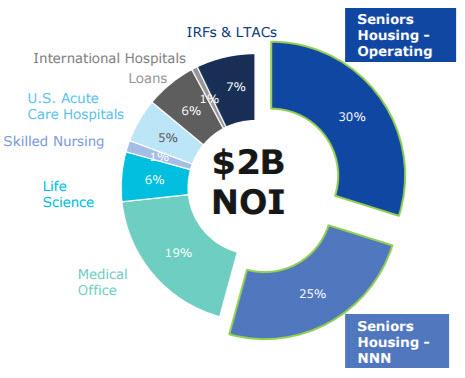 Over 67% of the SHOP NOI is generated in high barrier-to-entry coastal markets where media home values are 2.2x the national average. In Q1-17, VTR had a positive start to the year in the SHOP business: same-store cash NOI in the quarter grew 2.9% in line with expectations.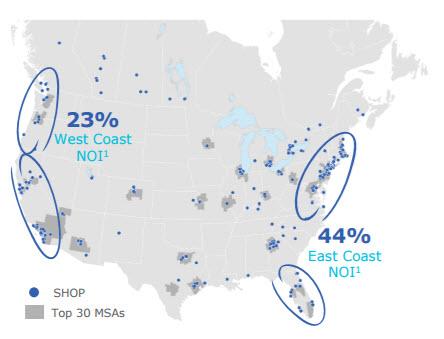 Over 90% of VTR's SHOP revenue is generated from Atria (63%) and Sunrise (30%). Atria's 5-year NOI CAGR is nearly 400 bps better than the industry average.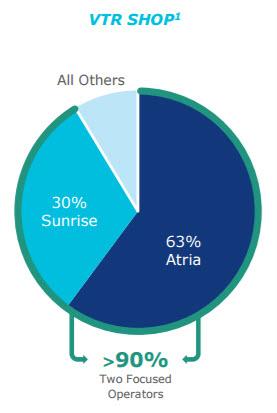 In terms of VTR's full-year outlook, the company has "confidence in the SHOP portfolio same-store NOI guidance range of 0% to 2%." The implied modest NOI growth at the guidance midpoint for the balance of the year is driven by the wider occupancy gap entering the second quarter and anticipated new supply coming online through the balance of 2017. On the earnings call, Bob Probst explains:
Despite near-term challenges, we remain encouraged by the resiliency of our high-quality senior housing operating portfolio, operated by the nation's leading care providers. The strength in our core markets reflects the continued long-term opportunity in senior housing.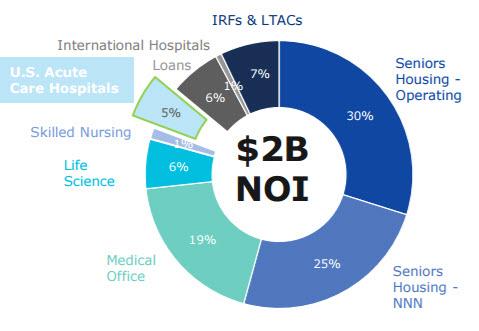 Within VTR's acute care hospital portfolio, the company generates over $100 million of annualized rent or around 5% of NOI. VTR is only investing in the highest quality hospitals. The recent deal with Ardent Care Hospital was, in my opinion, a transformational transaction.
Debra Cafaro, VTR's CEO, had previously worked with billionaire investor Sam Zell, and last year, the two deal-makers structured a $1.75 billion deal that provides broad reaching synergies (Zell's EGI purchased the majority of Ardent's operating company valued at $475 million).
VTR paid $1.4 billion to acquire 10 hospitals leased back to Ardent (2.5% annual rent bumps) at an unlevered cap rate of 7.5%. In addition, VTR funded ($26 million) to own a 9.9% stake in Zell's operating entity.
Fundamentals look strong for the hospital model:

Market consolidation results in better margins and credit:

There are over 5,000 hospitals in the U.S. and many public companies are looking to spin off assets. VTR has the lowest cost of capital (more on that below) in the hospital sector and the company is well-positioned to capitalize on the fragmentation by maintaining a prudent underwriting platform.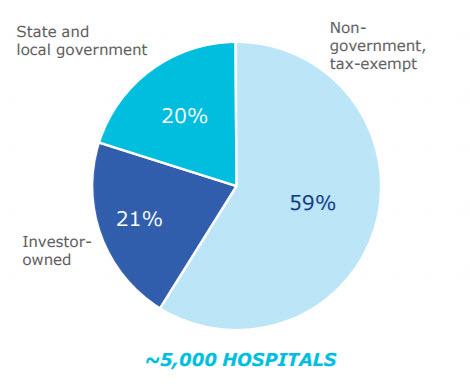 VTR generates around 19% of NOI from its medical office building (or MOB) portfolio. The company has over 400 hospital relationships and over 96% of the MOBs are located on affiliated or on-campus settings.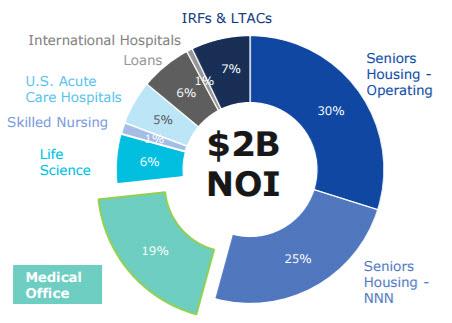 Secular trends make MOB an attractive asset sector due to increased insured population, increasing visits to the doctor offices and increased spending. Here's a snapshot of Lillibridge (VTR's MOB operator) and the company's nationwide MOB footprint: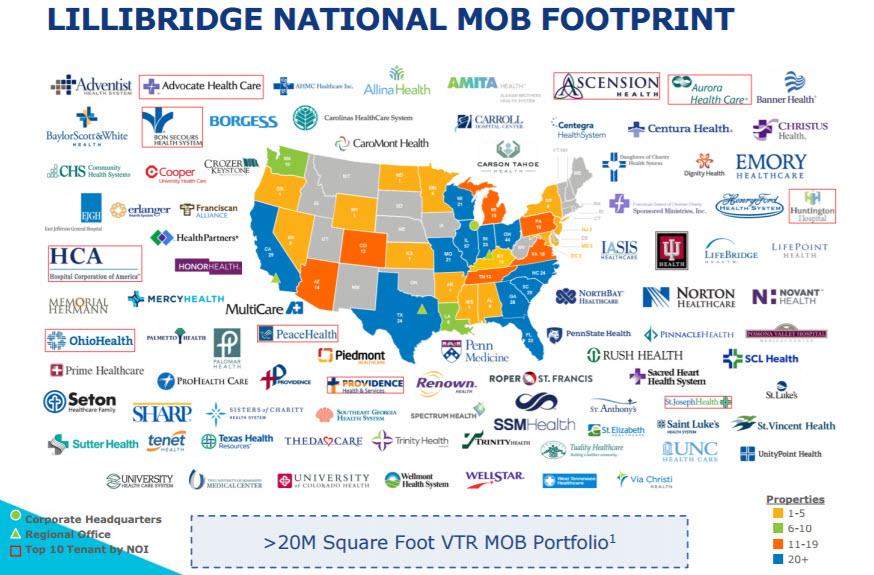 VTR recently entered the Life Science sector where the company generates around $100 million in rent (6% of NOI) from high-quality tenants.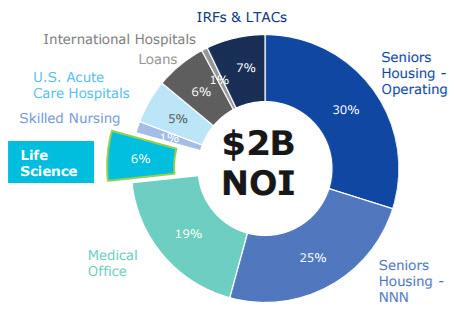 VTR's life science portfolio consists of over 4.1 million square feet of purpose-built real estate with an average age of 6 years. All of the buildings are located on or contiguous to major campuses. Here is a snapshot of VTR's top 10 Life Science tenants: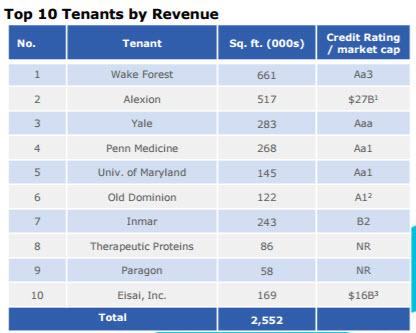 VTR has several new life science buildings underway in the Research Triangle: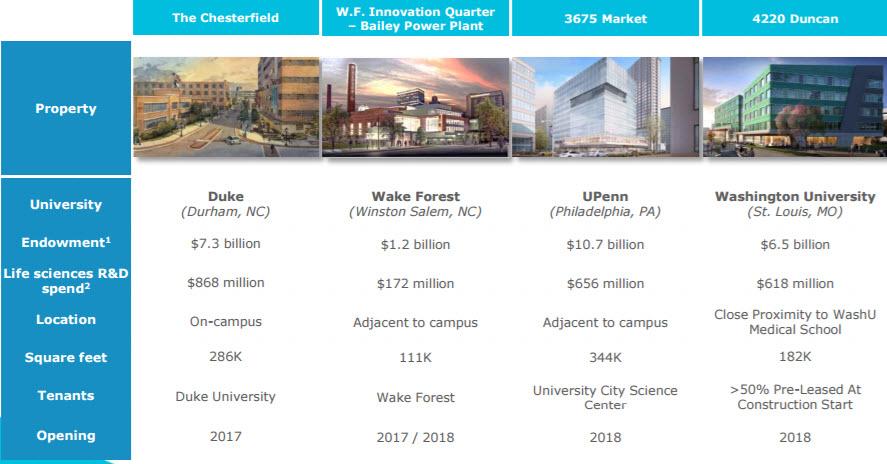 Here is a snapshot of VTR's relationships within these targeted markets: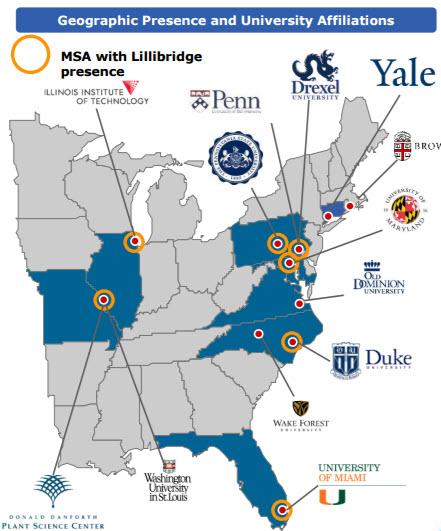 The life science sector is complementary to VTR's hospital business in that both sub-sectors represent highly fragmented categories. Life science represents around $38 billion of total university R&D spend across 100+ universities. VTR is well-positioned to benefit from consolidation.
As noted above, VTR will have around 1% invested in skilled nursing as the company has de-emphasized this sub-sector starting with the CCP spin. VTR has around 7% exposure to specialty hospitals.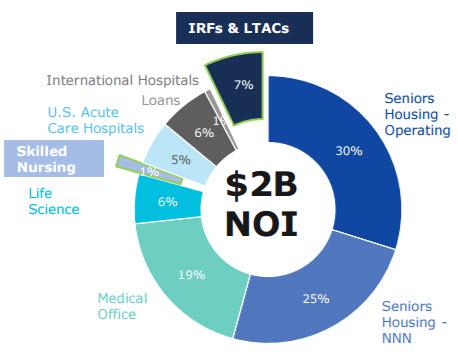 The Kindred sale is scheduled to close by year-end and Kindred expects this transition will have the most impact on asset performance through the first half of 2017, after which the net mitigated impact of criteria begins to ease. During the year, VTR also pruned the Kindred LTAC portfolio and extended leases on remaining LTACs for eight years, while Kindred navigates through the new rules on patient criteria.
The Balance Sheet
VTR has made great strides in enhancing its liquidity and maturity profile. The company raised $800 million of five- and 10-year senior notes to extend the maturity profile debt. VTR also closed recently on a new revolving credit facility, increasing its immediately available borrowing capacity from $2 billion to $3 billion, extending maturities through 2021 and improving pricing and terms.
VTR's credit metrics in Q1-17 include best-in-class fixed charge coverage of 4.6x, debt-to-gross assets of 40%, and secured debt to total indebtedness holding steady at 6%.
Net debt to adjusted EBITDA rose modestly to 5.9x, a temporary increase, which VTR expects will reverse when the disposition proceeds in guidance are received in the second half of the year.
VTR's guidance continues to assume that its capital recycling program will generate approximately $900 million in disposition proceeds of which $100 million has been closed as of Q1-17. The outlook includes $700 million in proceeds at a gain exceeding $650 million through the expected sale of 36 skilled nursing facilities in the back half of the year.
VTR is rated BBB+ (by S&P) and similar by the other rating agencies.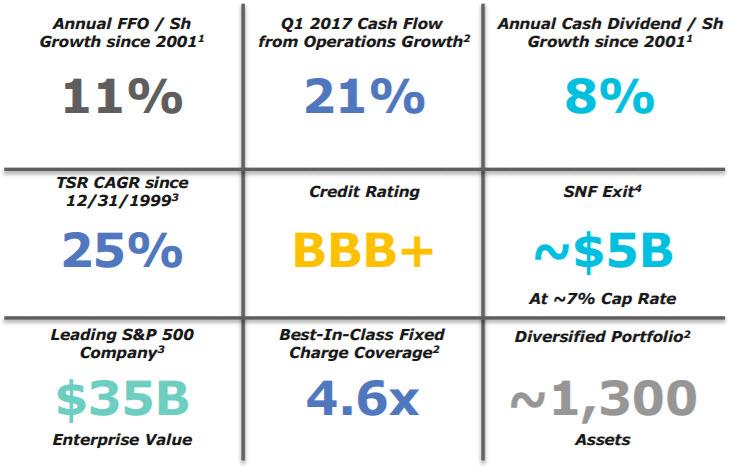 Once again, VTR has proven that it can access capital and be in the right place at the right time. This snapshot below provides a perspective of VTR's differentiated superior metrics: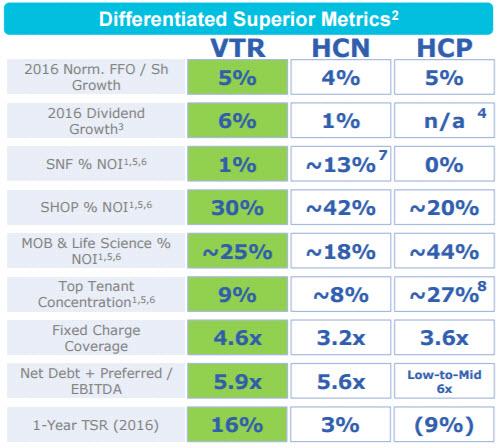 Liquidity will enable VTR to take advantage of opportunities and preserve value for stakeholders.
Earnings and Dividends
In Q1-17, VTR delivered $1.03 per share in normalized FFO, driven principally by excellent property NOI growth from the high quality diverse portfolio. The company's same-store cash NOI growth was 3.9% in the first quarter. Here's a snapshot of VTR's historical FFO/share results:

Income from continuing operations per share for Q1-17 grew 22% to $0.44 compared to the first quarter of 2016. First quarter normalized FFO totaled $1.03 per fully diluted share, a modest decline versus prior year (related to the CCP spin).
For 2017, VTR's income from continuing operations is expected to range from $1.72 to $1.78 per fully diluted share. Normalized FFO per share is forecast to range from $4.12 to $4.18. Total portfolio same-store cash NOI is anticipated to grow 1.5% to 2.5% while segment level growth expectations also remain unchanged.

If I Had To Buy One Healthcare REIT, It Would Be Ventas
Ventas is hitting all-cylinders and I find this diversified healthcare REIT to be the very best REIT based on a variety of metrics. Let's examine the dividend yield:

Now let's examine the P/FFO multiple:

Keep in mind, there are just two Healthcare REITs with a BBB+ rating (VTR and HCN), and I consider VTR more attractive due to the earnings and dividend growth history. Also, VTR has outperformed:

VTR is now trading at $67.10 per share: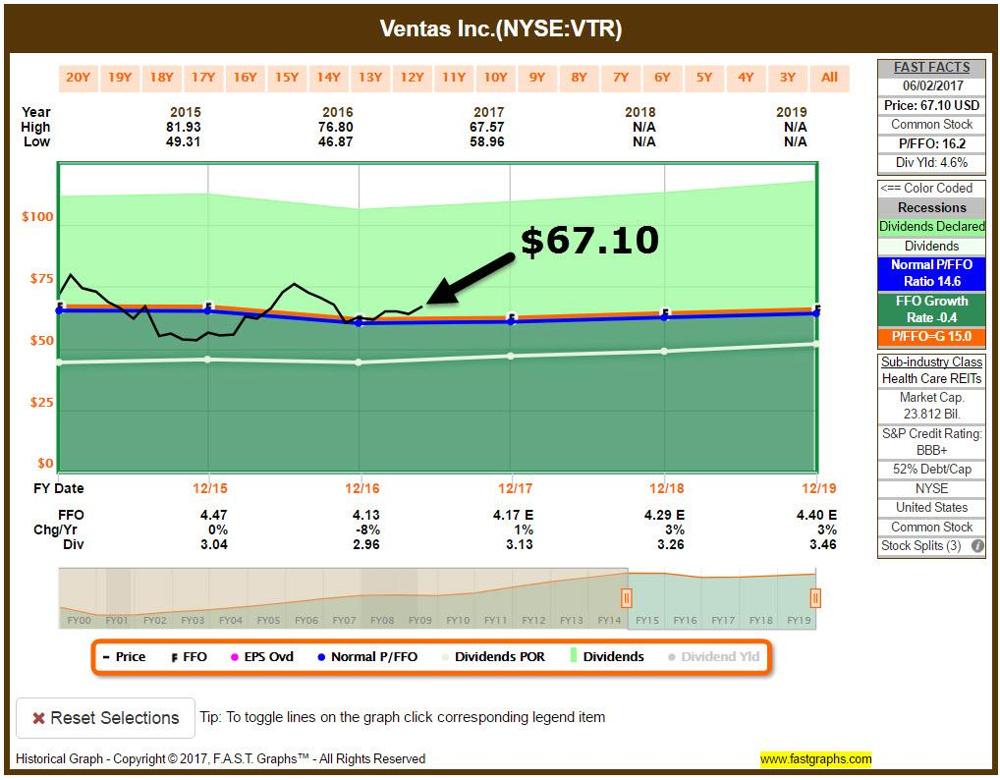 The Bottom Line: VTR is my favorite Healthcare REIT and one of the best managed REITs overall. While I don't consider the shares anywhere near bargain-pricing levels, I consider the stock soundly valued and worthy of an entry position. For a deep value investor, I would wait on a pullback, but I have no problem recommending shares at the current price point.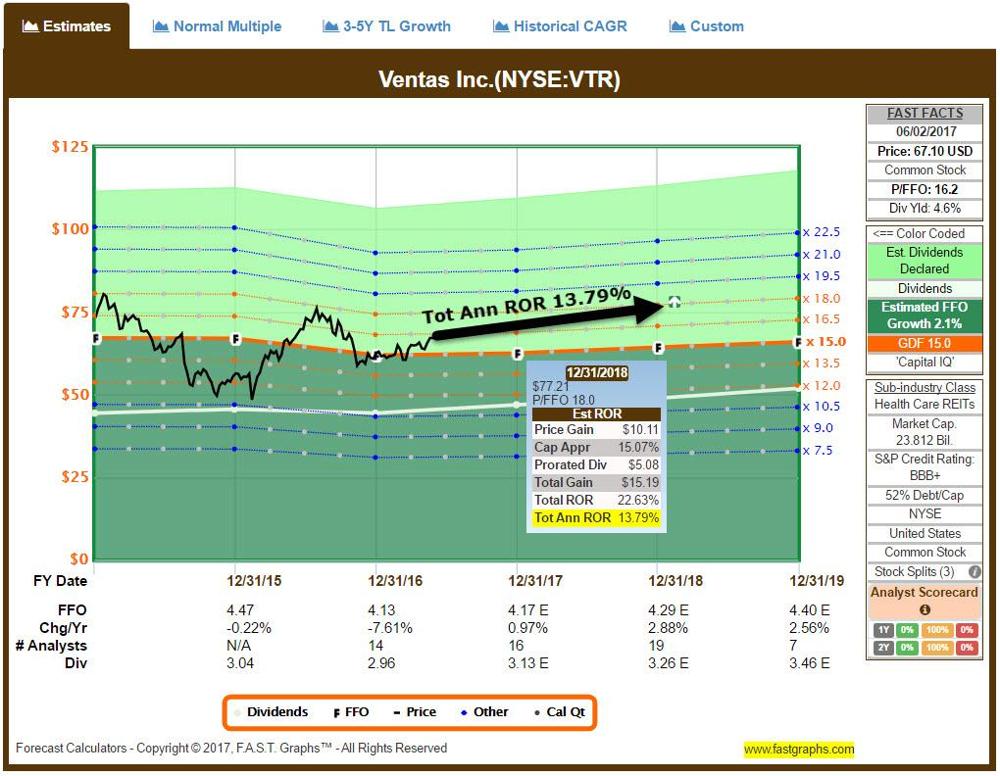 Note: I will be attending REIT Week (sponsored by NAREIT) on Tuesday and Wednesday. I will be commenting later in the day, and thanks for your patience.
To get a first look at my upcoming article, "The Evolution of My Durable Income Portfolio," click here.
Disclosure: I am on the Advisory Board of NY Residential REIT, and I am also a shareholder and publisher on the Maven.
Source: FAST Graphs and VTR Investor Deck
Author Note: Brad Thomas is a Wall Street writer, and that means he is not always right with his predictions or recommendations. That also applies to his grammar. Please excuse any typos, and be assured that he will do his best to correct any errors, if they are overlooked.
Finally, this article is free, and the sole purpose for writing it is to assist with research, while also providing a forum for second-level thinking. If you have not followed him, please take five seconds and click his name above (top of the page).