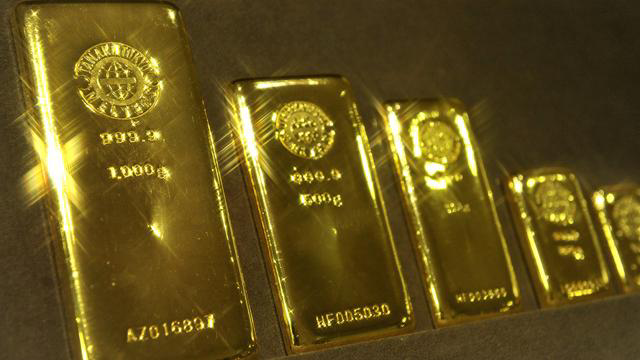 Image Source: MarketWatch
Investment Thesis
Overall, since 2011, gold has been trading in the downtrend direction. There have been several attempts to break this downtrend direction - all of which have failed. Now, with Gold again trading closer to the resistance level, I expect gold prices to move higher as the USD index edges lower, and political tensions continue.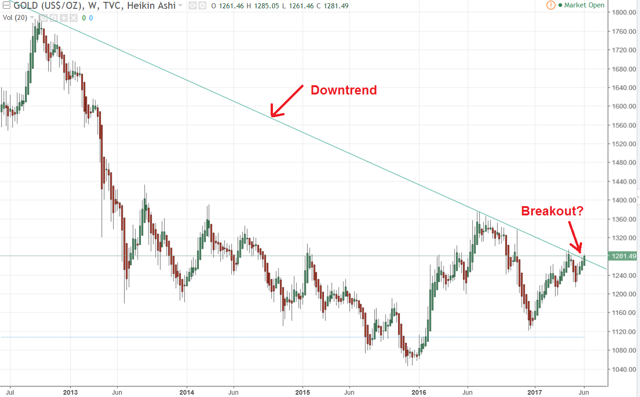 Source: Tradingview
USD Index
Traditionally, there is an inverse relationship between the USD index and gold prices. As we can see from the below chart, the USD index has been trending downward during 2017; I expect gold prices to go up. Since gold is priced in USD, if the USD weakens against other currencies then gold should be cheaper for other countries to buy. If the demand increases price increases; again the law of supply and demand reigns supreme.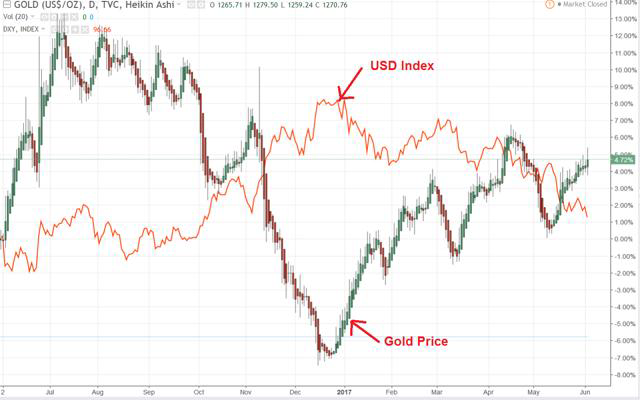 Source: Tradingview
Factors Influencing Gold Prices
Supply and Demand: Although mine production peaked in 2016, for the next few years it is expected to decrease dramatically. In terms of physical gold consumption, India and China account for more than 50% of global gold consumption.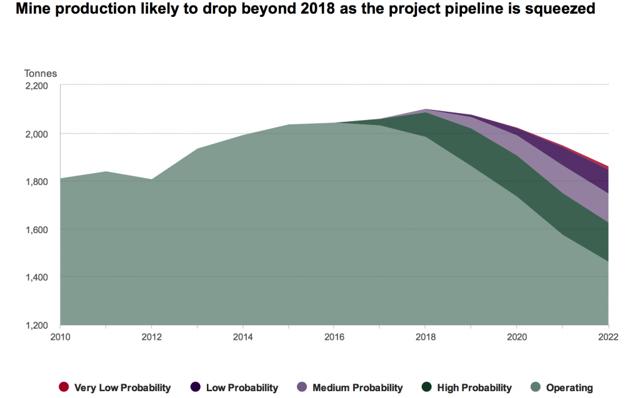 Source: Zerohedge
Gold demand in China and India is expected to increase - India's gold demand alone is up 15% to 123.5 tons in Q1 2017, according to the World Gold Council. Gold demand for 2017 is expected to increase overall, and with gold production expected to decrease along with demand remaining the same or increasing, I expect that gold prices will break the resistance level.
Gold demand in India stood at 674 tonnes in 2016, and should remain at 650-750 tonnes in 2017.
Supply and demand is just one of many factors that can influence gold prices. Technical indicators and moving averages suggest gold as a BUY. Gold breakout is a long overdue. Gold is currently trading at the breakout level. On the other hand, the support level is around $1270. According to Commodity Exchange Inc, commercial traders hold short positions of 289,970 gold future contracts versus 103,751 gold future contracts as of May 30, 2017. A short covering will push gold prices higher.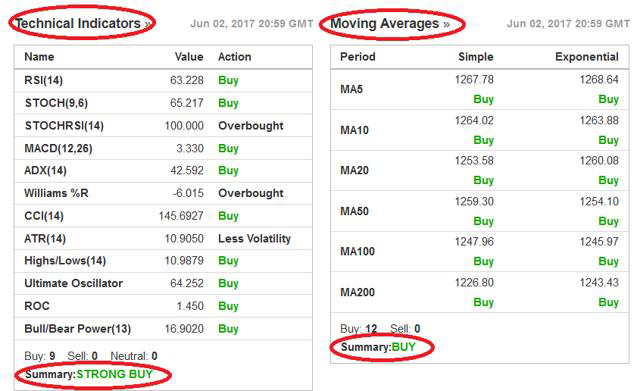 Source: Investing.com
According to James Turk (King World News), the most undervalued market is precious metals, gold stocks and gold ETFs. He also points out that the bearish trend in precious metals won't continue forever, and he expects a short squeeze. Political tensions always favor gold prices, as people tend to move from stocks to precious metals (safe-haven appeal). According to Fox News dated June 3, 2017, "Defense Secretary Jim Mattis said in no uncertain terms Saturday that North Korea presented a "clear and present danger," while also criticizing China for ratcheting up the tension over contested islands in the South China Sea."
Conclusion
There is no one single factor influencing gold prices; rather a combination of a number of contributing factors. Based on the technical indicators, sentiments and other factors such as political tension, I expect gold will break the long downtrend.
Author's note: Get my articles as soon as they are published by clicking the big orange "Follow" button at the top of this page.
Disclosure: I am/we are long NUGT.
I wrote this article myself, and it expresses my own opinions. I am not receiving compensation for it (other than from Seeking Alpha). I have no business relationship with any company whose stock is mentioned in this article.