Warren Buffett is famous for being the best investor in the world. Many times, Buffett has stated that his ideal holding period is "forever."
The following three stocks look to be good long term investments regardless of the daily gyrations of the S&P 500 because these stocks have delivered their investors real, tangible value over many decades and market cycles.
The following three names offer value but no investment on Earth is 100% risk free. According to the PE 10 measure, the overall stock market is not "dirt cheap" at 23X the last ten years of earnings, so we have to look for stocks that offer high quality, deep discounts to intrinsic value, and a nice dividend yield when available.
With these three stocks, consider owning them as long as the underlying fundamentals support your investment thesis. long term capital gains, transaction costs, and compound interest are all good reasons to buy and hold stocks as an asset class in general, but because anything can happen in the short run, investors have to be patient.
Don't concentrate your holdings in one issue and don't buy stock with money you may need to spend in an emergency -- you can't hold a stock forever if you need money today.
Petrobras (NYSE:PBR) -- Trading at just under 9 times earnings, Petrobras shares look dirt cheap to us based on net assets, net income, and free cash flows. I think PBR is a long-term holding period stock because the world is running out of oil, and Petrobras has one of the largest reserve bases of any of the major oil and gas companies worldwide. While the Brazillian government owns 54% of the company Petrobras owns an immense amount of below ground black gold:
"At the 20th National Forum, it was revealed that Petrobras, with 11.7 billion barrels of oil, has the fourth biggest oil reserves among petrochemical companies with publicly traded shares. The figure does not include the recent discoveries in the mega-fields of Tupi, Jupiter, Carioca and Bem-te-vi." -wikepedia.com
Even more interesting is the fact that 3 days ago Petrobras came out and said that they may have found as much oil in their new discoveries to match the reserves of the entire North Sea, or about 62 billion barrels of oil. Clearly, the stock market has not factored these new discoveries into the stock price. Investors can own this stock over a lifetime because this asset could one day be reflected at true value on the balance sheet and in the market price of PBR common stock. One thing is certain, if PBR can prove that it has 70 billion barrells of oil in the ground, the stock is dirt cheap at current prices.
The stock is up from last summer's lows, but valuations here are still quite reasonable considering how high the price of oil has become. Petrobras is not only inexpensive, but it is also a well run company and can be considered a true hard asset investment play given that oil prices are one of the best measures of inflationary trends in the economy besides gold and food. Oil is likely to move much higher given the state of currencies across the globe and also the lack of supply in the marketplace, let alone what a new war in the middle east could do to oil prices. Petrobras has been able to increase supply at an incredible rate and I see the deal with the Brazilian Government as a positive for shareholders given a peak oil or inflationary scenario.
Hess Corporation (NYSE:HES) -- Hess is another cheap oil play trading at only a 15% premium to book value and for a reasonable 9.8X forward earnings that long term investors can own through thick and thin. The world is running out of cheap, easy to find oil and that's one of the main reasons that Hess is a stock to own forever. Though shares have rallied a bit from the summer lows in the low $50 range, the stock still looks attractive given the longer term trend towards higher prices in the oil market -- could we retest the 2008 highs around the $150 level? Hess is one of the only plays on African oil that makes sense in my view aside from Vaalco Energy (NYSE:EGY), because the business is large and diversified and boasts one of the best management teams in the industry. Keep in mind that shares of the major integrated oil companies will rise and fall with the price of oil and that traders may be better served selling put options on these stocks versus buying shares directly. Either way, because of "peak oil" and HES's 8X forward earnings multiple we think these shares can be bought now and held over the very long term.
Coca Cola (NYSE:KO) -- While Coke may not be the "sexiest" investment idea in the world, it has been one of the very best investment ideas over the past two decades. Buffett has allocated a large chunk of Berkshire's (NYSE:BRK.A) capital towards this stock for decades and currently the shares look quite reasonable at 14X forward earnings. While KO shares are not as cheap as the oil names above, the company has a strong balance sheet and has raised their dividend like clockwork for over fifty years. Water scarcity will be one of the biggest stories in financial markets in the coming years and Coke has found a good hedge here via Dasani and Vitamin Water. Coke common has outperformed the major averages for half a century and it seems this Alpha will continue for decades to come. Covered calls seem an optimal approach to a KO investment at current levels. While the shares of this soda stock have, pardon the pun, remained quite flat in the short run we expect the stock to rise to the top over the long haul.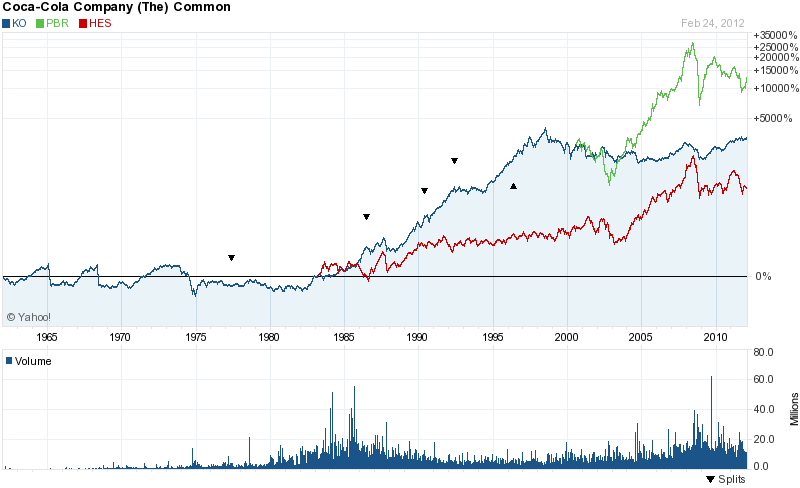 Disclosure: I have no positions in any stocks mentioned, and no plans to initiate any positions within the next 72 hours.