Overview:
On Friday, the Employment Report was released. Overall, the report was weak by a variety of metrics. The only 'strong' number was the decline of the unemployment rate to 4.3%. I will explain why this is very misleading.
The economy added 138,000 jobs in May vs. 174,000 in April and the growth rate in non-farm payrolls increased to 1.58% from 1.51% a month earlier. 1.58% is well off the cycle peak of 2.25% in January 2015.
Looking at the internals of the employment report shows more troubling trends that support the case we are past the peak in the economic cycle and nearing the end of the business cycle.
Bonds soared after the report was released with TLT rising 1.2% on Friday. Bonds go up on prospects of lower inflation and lower growth, so TLT rising over 1% supports the notion that this jobs report showed negative signs.
Not surprisingly anymore, stocks rose on worse economic data too with SPY rising 0.3%. The equity market continues to be detached from economic reality and is likely to experience a mean reversion based on how bonds are trading. Below I will show the internals of the jobs report. First, take a look at the 10-2 treasury spread and the XLF bank index. Bonds always trade on growth and inflation, signaling the two are going lower.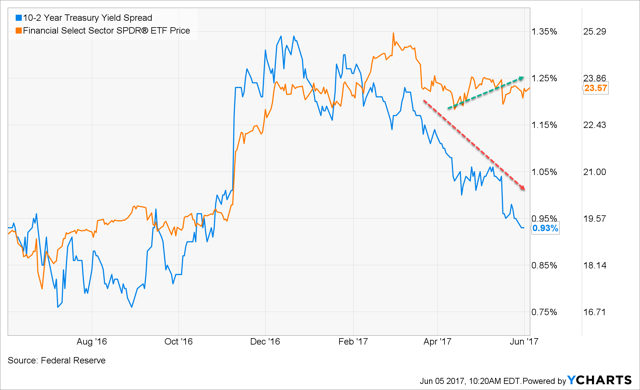 Jobs Report Breakdown:
(Data from Bureau of Labor Statistics)
Non-farm payrolls increased 138,000 in May and the growth rate increased to 1.58%. The trend of growth in Non-farm payrolls has not changed and continues to decelerate off the peak in January 2015.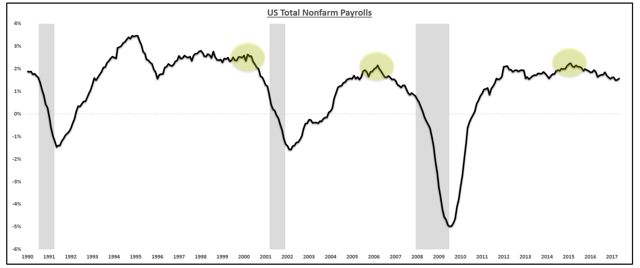 The unemployment rate continues to drop due to labor force decreases. Not only was the addition in Non-farm payrolls weak in May, 429,000 people left the labor force.

The divergence in the Unemployment rate and the Employment:Population ratio for 25-54-year-olds at the end of each economic cycle highlights how misleading it can be.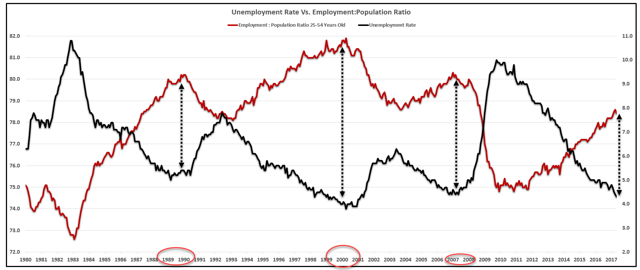 Food for thought: If an economy has 100 people, 98 stay home and leave the labor force while 2 people get jobs, the Unemployment rate is 0% based on how the BLS calculates it. 98% of the economy is not working...
Another startling part of the report was the change in full-time jobs and part-time jobs. Full-time jobs saw a net decrease while part-time jobs saw a net increase.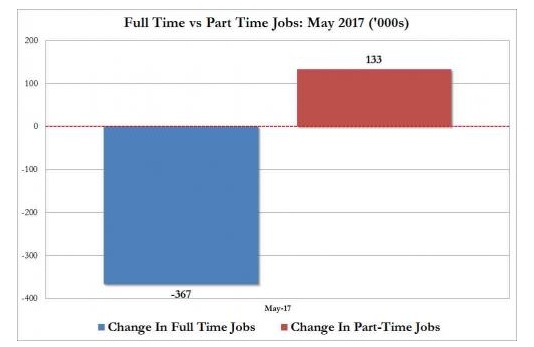 This shows how many of the jobs added in the economy are part-time. Not a strong sign.
Wages:
Aggregate wages is one of the best economic measures there is. If you take total employees *average weekly hours* average hourly earnings you get the total dollars earned in the economy. This is a very useful number. If there are less dollars earned this year vs. last year, the possibility of increased growth/consumption relies 100% on an increase in debt and leverage, an unsustainable model.
Of course, subtracting inflation is useful as real wages is what we are concerned with.
Real Aggregate wage growth remains at the lows of the economic cycle. Wage growth is trending towards 0%. Job growth decelerating and wage growth decelerating are very bearish signs for the economy.
Aggregate Wages - Inflation (CPI):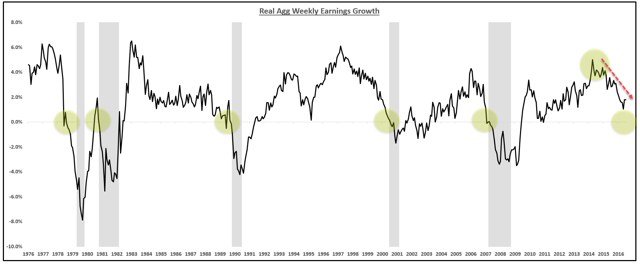 This does not show an optimistic view of the economy but its reliability as an economic indicator should be clear. Real wage growth turning negative has strong predictability to recessions. It is quite logical as well. If less money is earned this year vs. last year, growth should be lower as well.
I also like to show Aggregate Wages - Rent Inflation as this is a more real measure of the inflation that households feel. Rent / housing is almost always the largest expense so if total inflation is 1% but rent inflation is 5%, consumers would be way more squeezed than 1% inflation is indicating. If wages cannot keep up with rent inflation, that's another bad sign.
Aggregate Wages - Rent Inflation: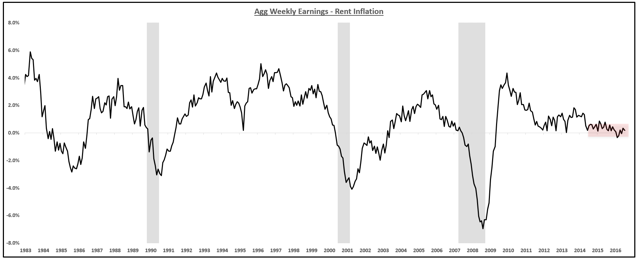 The growth in wages minus rent inflation has been hovering around the zero line and decelerated in this past month. This shows wages are not outpacing the cost of shelter. Shelter, therefore, consumes a larger portion of the household spending basket each year, leaving less disposable income for marginal discretionary consumption.
Takeaway:
I don't think it is wise nor accurate to take the stock market euphoria and extrapolate that to the health of the economy. The economic reality remains clear and those who are very long stocks are doing so with tremendous risk.
Growth will almost certainly fall short of expectations this year as real wage growth is moving towards 0%.
Although hated, Bonds continue to perform well and TLT remains the largest holding in the model portfolio that I recommend and track on a monthly basis. There are stocks in the portfolio but defensive ones and it is a relatively small allocation.
For the most recent allocation see the article here.
Disclosure: I am/we are long TLT.
I wrote this article myself, and it expresses my own opinions. I am not receiving compensation for it (other than from Seeking Alpha). I have no business relationship with any company whose stock is mentioned in this article.