Admittedly, these kinds of posts aren't a whole lot of fun to write.
It's kind of liking being the guy tasked with writing the warning labels for cigarette packs. You know people are going to smoke them anyway, but alas, it's your job to patiently explain the risks.
The consensus - especially among retail investors - is that fundamentals no longer matter. But that's not the scary part. After all, fundamentals really don't matter in the face of the central bank liquidity tsunami.
Rather, the scary part is that retail investors don't generally appreciate to what they owe their success. That begets all manner of complacency and leads everyone to believe that they became experts in 2009.
Indeed, even sophisticated investors might be tempted to forget what's in the driver's seat considering the market's obsession with the Fed's push to normalize policy and shrink its bloated balance sheet. In short, it's easy to forget that the central bank "put" is still firmly in place.
On Sunday evening for instance, Nikkei confirmed the back-of-the-envelope math everyone else had already done. The Bank of Japan's ETF holdings rose by 80% y/y through March 31, bringing the bank's total equity holdings to a cartoonish 16,000,000,000,000 yen.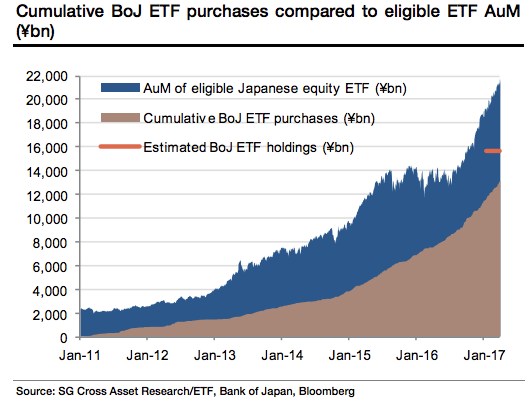 (SocGen)
As noted a couple of weeks ago, they time those purchases to coincide with market dips.
Specifically, 85% of the bank's ETF purchases have occurred on days when the TOPIX clocked a negative return. Here's what that looks like: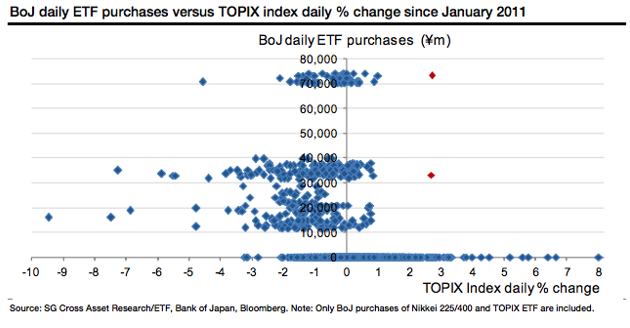 (SocGen)
Yeah, who wants to fight that kind of overt manipulation right?
Make no mistake, that kind of thing has a lot of psychological power when it comes to how traders think about dips. Simply put: the backstop is still there. The training wheels are still on - in Japan, in Europe, and in the US. We are still operating in crisis mode across developed markets, nearly a decade after the actual crisis.
So if you accept all of that for what it most certainly is, then you might very well be able to make a strong case for not fighting the powers that be.
Still, I think it's important that you occasionally take a quick visual trip across US equity markets (NYSEARCA:SPY) just so you can say you've appraised the situation.
I'm going to just throw these charts out rapid fire.
Let's start with Shiller P/Es in the US versus the rest of the world: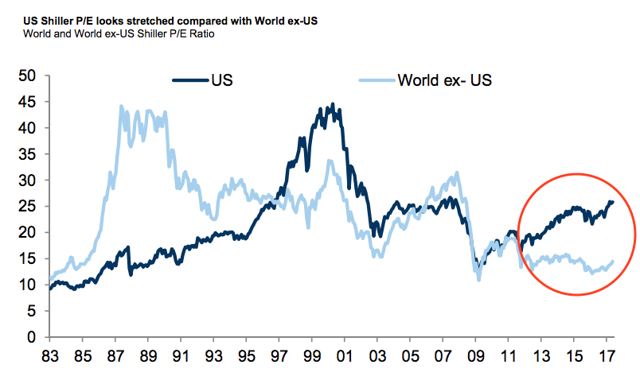 (Goldman)
Next is the S&P versus earnings: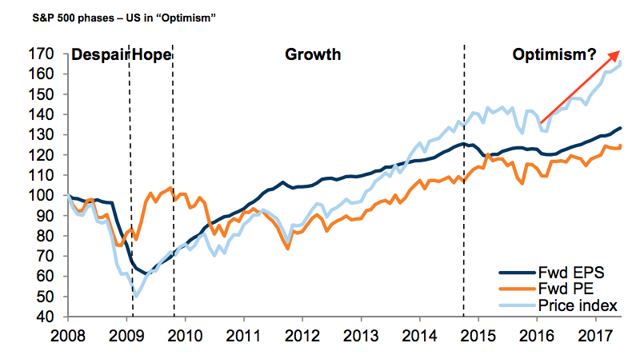 (Goldman)
And then there is of course volatility or, more appropriately, a complete lack thereof: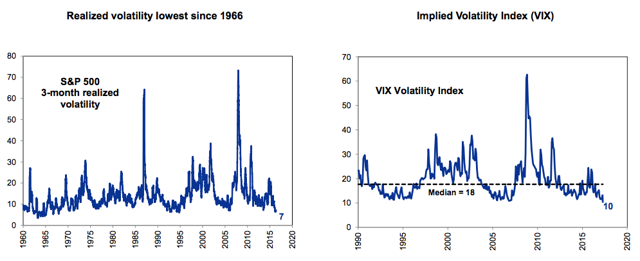 (Goldman)
The same goes for rates and credit volatility: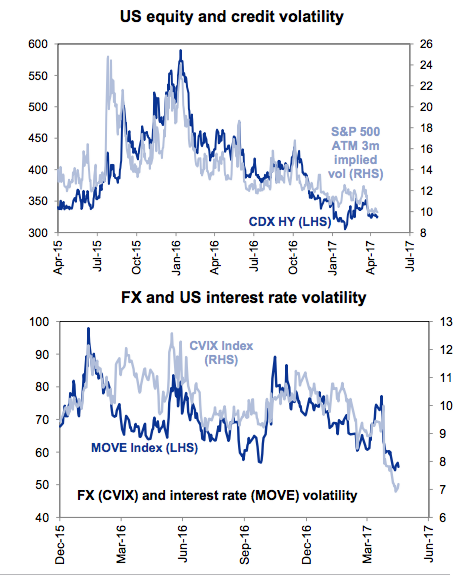 (Goldman)
Margins have peaked (and wage inflation is likely to take hold with the economy at full employment leading to further compression):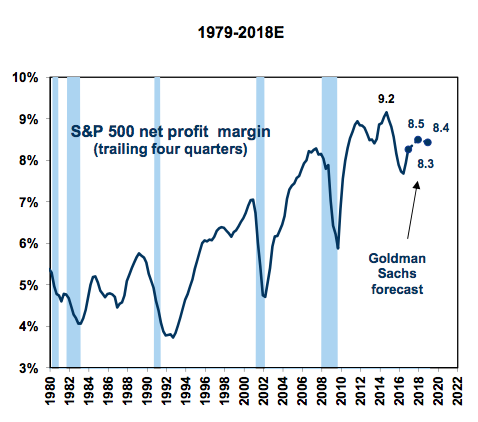 (Goldman)
The "Trumpflation" narrative is dead as evidenced by the market's aggressive fading of high tax stocks, small caps, and infrastructure plays:

(Goldman)
Forward multiples are stretched to the breaking point: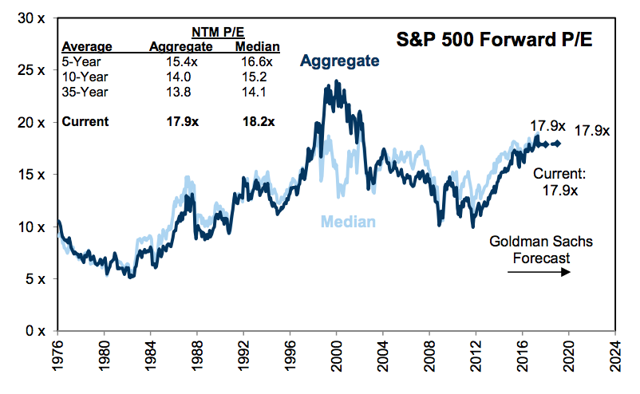 (Goldman)
And finally, "no", these multiples are not justified (historically speaking) by where rates are as the following bar chart and scatterplot make abundantly clear:

(Goldman)
So as usual, feel free to ignore all of that and keep buying.
That's obviously a sarcastic remark, but if you do choose to stay long or get longer, just do me a favor and appreciate why this is working so well.
Finally, for whatever it's worth, Goldman thinks the S&P is headed for a 6% decline because while "hope" got us to 2,400, "reality" will take us lower by year-end: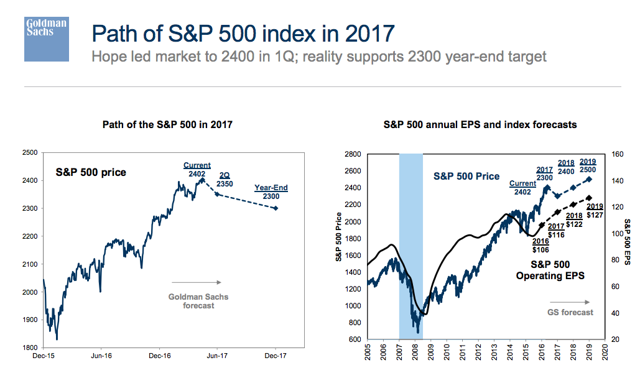 Disclosure: I/we have no positions in any stocks mentioned, and no plans to initiate any positions within the next 72 hours.
I wrote this article myself, and it expresses my own opinions. I am not receiving compensation for it (other than from Seeking Alpha). I have no business relationship with any company whose stock is mentioned in this article.