Williams (NYSE:WMB) has several key expansions coming online soon for the Transco pipeline and the recovery for volumes can really start to receive a boost. This is much needed after what has been a tough start to the year, with the stock down 5.94% already. In the last two weeks, commodity price weakness has led to the stock trading well below $30/share and it is my view that this is a perfect buying opportunity for the long-term. With the company having a diversified stream of catalysts through Transco expansions and a clear path to higher EBITDA generation over the next twelve months, investors should consider diversifying into this name.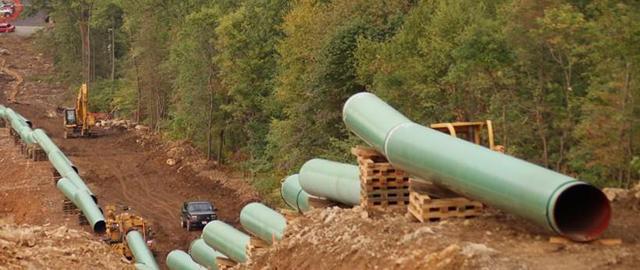 Source: Williams
Key Projects To Provide A Pick-Up
As the company's core asset is the Transco pipeline, Williams has several key expansions coming online this year that will help it to accelerate its volume recovery. First, there's the Dalton Expansion. It's a 0.4 Bcf/d expansion that will be fully completed by Q3 2017, helping to aid that quarter's earnings and every quarter thereafter. The Hillabee Phase 1 is another Transco expansion, which is a 0.8 Bcf/d expansion that is already partially online, but full service will be available during Q3 2017. Two Q4 2017 expansions are the New York Bay and Virginia South Side Phase II expansion. These expansions will be for 0.1 Bcf/d and 0.3 Bcf/d, respectively. These expansions are geographically represented on the slide below.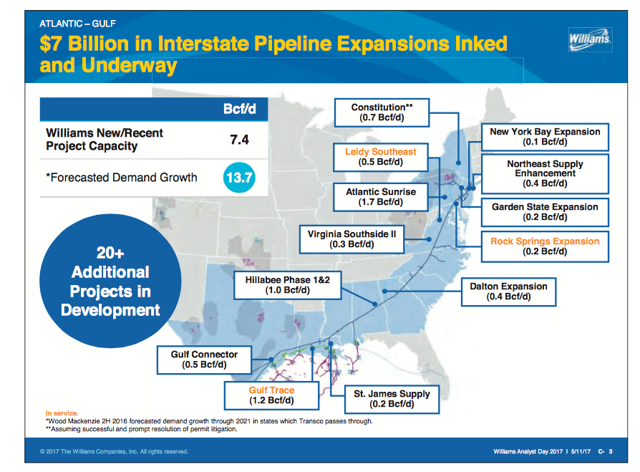 Source: Investor Presentation
Fortunately, Williams has taken a large leap to move forward with the largest ever Transco expansion, called the Atlantic Sunrise project. This is a massive project, costing $2.6 billion that already has long-term commitments from producers. Williams began construction on this pipeline back in March, so it's well on its way to implementation mid-next year. Thus, we should expect strong EBITDA growth thanks to this project next year, which will compliment the financial support from the multitude of Transco expansions being placed in service this year. Rather, the company provided the statistic that after the expansion is fully in service, $35 million per month in fee-based revenue will be coming in. IF we assume that a majority of 2H 2017 will benefit from this expansion, then Williams is looking at an additional $200-210 million in EBITDA next year.
Atlantic Sunrise is key because by mid-next year, it'll be fully in service and the capex that Williams is spending to put this massive pipeline project online will start to pay off. The project has also led to the development of the Susquehanna Supply Hub expansion, which works with Cabot Oil & Gas (NYSE:COG) in order to build new compression facilities to allow the fulfillment of that company's commitment to Atlantic Sunrise.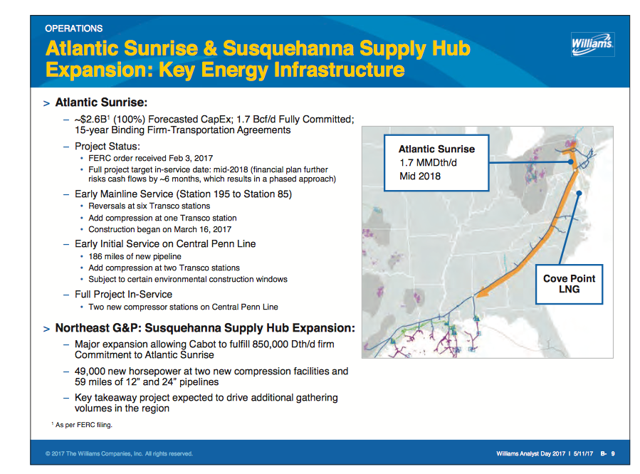 Source: Investor Presentation
These expansions are great, but what's the impact on earnings this year? Williams estimates these expansions will generate an additional $250 million in EBITDA for FY 2017. To put that figure in perspective, the company generated close to $2 billion in EBITDA during Q1 2017, so if we annualized that out to $8 billion for the full year, the improvement to EBITDA is about 3.13%. These are just expansions, the smaller portions of the company's growth profile, so it's still great to see that they'll have a positive effect upon EBITDA in a commodity price environment that remains challenging. The exact EBITDA impact from Atlantic Sunrise isn't disclosed, rather the $650 in EBITDA additions from 2018-2020 are due to Atlantic sunrise, Garden State, and a few other projects.
These expansions will also support margin growth, which is something that midstream peers have lagged on throughout the downturn. Williams, however, is the exception as they've grown their gross margin and operating margin since the downturn began in late 2014. Their operating margin, which is critical as the input for dividend coverage, has grown from 52% to 60% since 2014. A continuation of this trend, which is certainly possible given the projects that are due to come online, will help this company to outperform not only peers but against estimates on future earnings report. That, to me, is a reason to buy.
Consecutive quarters of higher earnings are going to boost cash flow and, in turn, secure this company's future. One of the more positive shifts I noticed on the Q1 2017 earnings report was the fact that cash assets increased from $170 million to $639 million, which means that the company is beginning to have the flexibility to pursue more aggressive growth opportunities. I've seen few midstream companies thrive during this downturn, with Enbridge (NYSE:ENB) and Enterprise Products Partners (NYSE:EPD) the expectations, in my opinion, so this is a quality development for Williams. After these large capital projects are complete, I'll be looking for Williams to pursue inorganic growth opportunities.
Should Investors Buy Now Or Is It Too Early?
Whether or not it is too early to buy Williams is a matter of investors' time frames. Naturally, the underlying problem is commodity price stability and the relatively low level of prices isn't aiding volumes. I reasonably expect crude oil and natural gas to finish 2017 higher, with crude notably trending towards at least $55/barrel, but anything can happen. Thus, I advise that if investors are going to take a position in a quality midstream name like Williams, that they hold for the long-term such that they have time to ride out commodity price uncertainty.
On a trailing two year basis, the stock has performed quite well and the recent dip sets us back to levels we saw in the first three months of the year. WMB actually hasn't moved all that much since Q2 of last year, after the initial strong uptrend in commodity prices. This is fine because dividend investors can collect their 4.14% dividend and spend less time evaluating this position and can defer to a quarterly or monthly check-up. We're going to need to see WMB retain ground above $28 after this recent dip in order to allow time for commodity prices to rebalance themselves before we can see a trend above $30.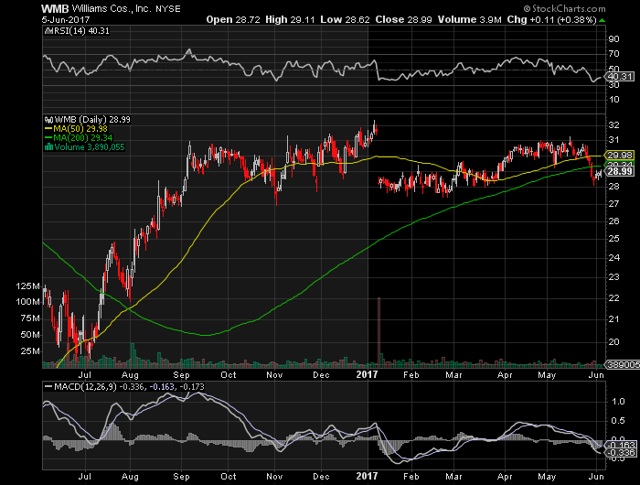 Source: StockCharts
The last six months have been quite interesting for WMB. At the start of the year, we saw the large gap down in WMB on announcement of their increased stake in their MLP (NYSE:WPZ) to below the 50 DMA. After that, the stock was pretty steady, which again works to the strength of dividend investors, and edged above both primary moving averages. Unfortunately, the last couple of weeks have been challenging for WMB because of commodity price weakness. The stock has rallied back in the last few sessions and this may very well be a buy on the dip opportunity, especially with the long-term perspective in mind. A sub-$30 entry point seems attractive, here.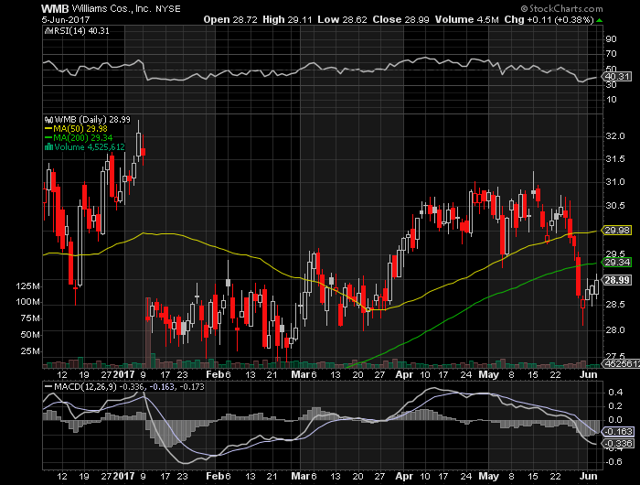 Source: StockCharts
Conclusion
Investors keen on the midstream space definitely need to give WMB consideration. After a treacherous slide last week due to commodity price weakness, the stock is back below $30 and this is a great spot to initiate a position for the long-term. Key growth projects like Atlantic Sunrise and multiple Transco expansions will help to accelerate this company's volume recovery and provide greater financial stability, which means larger coverage for the dividend and lower leverage.
Disclosure: I am/we are long WMB. I wrote this article myself, and it expresses my own opinions. I am not receiving compensation for it (other than from Seeking Alpha). I have no business relationship with any company whose stock is mentioned in this article.