By Gary Alexander
There has been great moaning and gnashing of teeth over the long string of low-growth quarters we've seen since 2010. This isn't anything like the Reagan recovery of the 1980s, pundits proclaim. I agree. The facts are clear. Growth rates were far more robust in the Reagan and Clinton years than the Obama years, but what these pundits fail to add is that 1982 followed a decade of slow inflationary growth and two steep recessions in short order - a short recession in 1980 followed by a major setback in 1981-82.
Whenever economists or laymen call 2008-09 the "worst recession since the Great Depression," I always wonder when 1981-82 got flushed down the memory hole. The jobless rate was much higher (for longer) in 1982 than in 2008-9. The inflation rate was higher by a factor of 10, as were interest rates. Real GDP declined 5% between June 1981 and December 1982. The number of monthly jobs "added" was negative for 17 straight months. In the middle of 1982, we LOST 280,000 jobs in April. We lost 243,000 jobs in June, lost 342,000 in July, and lost 2,833,000 net jobs from August 1981 to the end of 1982 (source - BLS).
In 1981-83, the unemployment rate was over 9% for 20 straight months and over 10% for 10 consecutive months, September 1982 to June 1983. Inflation had receded from 10.3% in 1981 to "merely" 6.2% in 1982, but the annual rate was still running over 7% as of mid-1982. The Prime interest rate was in double digits for seven years, 1978-85, peaking at 21.5% in late 1980. In the first half of 1982 it was still 16.5% (or higher). The Fed Funds rate was 20% for most of 1981 and it was still a lofty 15% for most of 1982.
Perhaps I remember 1982 so well since I was a free-lance financial writer (a polite term for unemployed) that year, but one good thing came out of the pain of 1982. The Fed and our political leaders (Reagan, then Clinton) delivered low-inflation growth policies, preferring long recoveries to boom-bust cycles. The result is a Goldilocks economy in which we've only seen three recessions since 1982, two of them mild:

Since the end of 1982, we've seen 34 months of contraction and 381 months of growth. In the eight years since the middle of 2009, we've seen two down quarters out of 32, but we haven't seen two consecutive down quarters - which is the standard definition of a recession. No single quarter has grown by greater than 5%, while the rolling 12-month growth rates have ranged from 1.0% to 3.3%, averaging slightly over 2.0%. The last four quarters have risen 1.4%, 3.5%, 2.1%, and 1.2%, averaging a 12-month gain of 2.05%.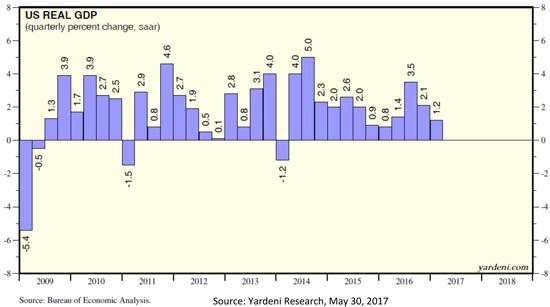 Graphs are for illustrative and discussion purposes only. Please read important disclosures at the end of this commentary.
Slow Growth is More Sustainable Than Rapid Growth
Back in 2010, when the recovery (and bull market) was very young, 2% was considered "stall speed," since previous expansions tended to enter a recession after real growth slowed to 2%. Not this time.
We should always be wary when someone says, "It's different this time," unless there are some logical reasons for the difference. This time around, part of the reason why slower growth isn't "stall speed" is due to the natural limits to growth for a larger entity - "the law of large numbers." It's much harder for a $20 trillion economy to grow 5% ($1 trillion) than for a $5 trillion economy to grow $250 billion (+5%).
Another difference is the lack of a "bubble" mentality in the stock market or in business spending. Most past recessions and bull market peaks resulted from a runaway sense of euphoria, including borrowing large amounts of money at high interest rates to fund business expansion. That has not happened this time around. Banks have buried their cash (putting it on deposit at Federal Reserve banks) rather than lending it out to businesses. There has been no huge building boom or borrowing for business expansion loans.
In the May 18 Wall Street Journal ("The Economic Headwinds Obama Set in Motion"), former Senator and lifelong economist Phil Gramm and economist Thomas Saving wrote that "every significant postwar recovery" had "the same driving force: a sustained rise in private investment and new home building, which increased borrowing and drove up interest rates." This time around, they say, housing starts have lagged past recoveries. Private investment has been lacking and housing starts have lagged past patterns.
The classic end to a business cycle is a "credit bubble" that drives prices and interest rates higher. But nobody would claim we're in a credit bubble now, or even on the way there. Banks don't seem to want to lend to even credit-worthy customers. They were burned too badly in the crisis of 2008, due to all those kinky mortgage-backed securities, which fed a market panic. Bank credit standards are much higher now.
Another difference is the lower cost of servicing debt, due to the Fed's "zero interest rate policy" (ZIRP), in effect from late 2008 to late 2015. Even though the U.S. public debt has doubled since 2008, the cost of servicing that debt has not risen much. As a result of that and some spending cuts, real GDP excluding government spending has been growing much faster - at around 3.0% since 2010 (and 2.6% in 1Q 2017).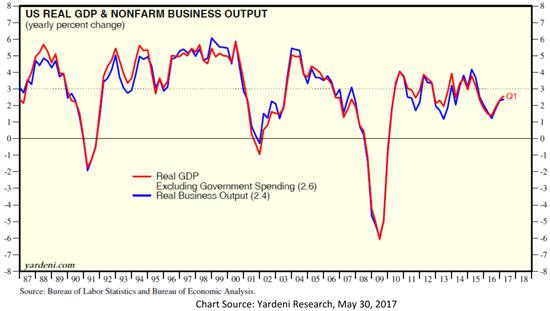 Graphs are for illustrative and discussion purposes only. Please read important disclosures at the end of this commentary.
This chart also shows how shallow the 1991-2 and 2001-2 recessions were, and how bad 2008-9 was.
Stagnation ("stall speed") remains a greater risk than a classic credit bubble right now, but chronically low growth is a more constructive economic backdrop than the "boom and bust" cycle which dominated most of American economic history. As usual, we would be more successful investors, in my view, if we saw the positive side of reality (counting our blessings) rather than wishing for some alternative reality.
Disclosure: *Navellier may hold securities in one or more investment strategies offered to its clients.
Disclaimer: Please click here for important disclosures located in the "About" section of the Navellier & Associates profile that accompany this article.