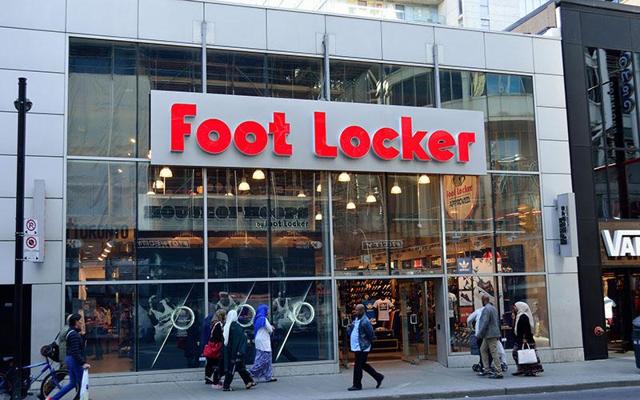 Source: Public Domain
The ongoing retail hurricane has left many stocks in its wake.
This bricks-and-mortar breeze has affected everything from department store titans Macy's (NYSE:M) and J.C. Penney (NYSE:JCP), to mall REIT Simon Property Group (NYSE:SPG), and apparel names L Brands (NYSE:LB) and Michael Kors (KORS).
Another retail giant that has seen its share price plummet in 2017 is Foot Locker (NYSE:FL), seller of all things sneaker. FL is down almost 19% this year, most of that loss the result of a Q1 earnings release that did not meet analyst expectations.
For those who don't know me, I am always on the lookout for strong companies with healthy balance sheets and growing dividends. Is Foot Locker worth consideration for my portfolio?
In this piece, I'll discuss the company's recent news, earnings history, debt profile, dividend and current valuation.
About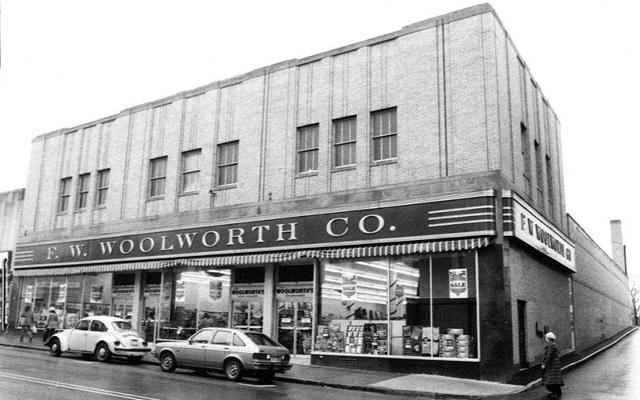 Source: Bill Damon
Foot Locker is what remains of the historic Woolworth's company, founded in 1879. The pioneering 'five-and-dime' behemoth once had stores across the globe but declined rapidly in the 1970s and '80s due to competition and changing consumer tastes.
G.R. Kinney was a shoe company acquired by Woolworth's in 1963 and this subsidiary gave birth to Foot Locker in 1974. The whole company was restructured at the turn of the millennium, changing name to Venator in 1998, and finally Foot Locker in 2001.
FL is now a $7 billion market cap athletic shoe specialist with over 3,300 branches worldwide and a substantial presence online. Its brands include Foot Locker, Lady Foot Locker, kids Foot Locker, Champs Sports and Eastbay. It is based in New York and led since 2014 by CEO Richard A. Johnson.
Recent Developments
Off the back of a fantastic run of annual earnings reports, Foot Locker released subpar Q1 numbers in May.
Management reported diluted earnings per share of $1.36 and net income of $180 million. Those figures were lower than expected and a shade below the prior year's results.
Like a number of retailers, the company blamed delayed tax refunds for less cash in the till in February. Here's the CEO in the Q1 earnings call:
While U.S. store traffic was down in the quarter, the drop was entirely driven by February which we believe was heavily influenced by the delayed tax refunds. Traffic in the remainder of the quarter improved and we expect traffic which has been positive most of last year to normalize over the balance of the year.
FL plans to keep a tight handle on business expenses and inventory for the rest of the year. It expects sales to rebound and help towards a single digit increase in year-end EPS.
In other first quarter new, the company closed 39 stores, opened 30 new ones and remodeled/relocated 61 properties. A new three-year share repurchase plan worth $1.2 billion was announced in February.
Earnings
When it comes to sales growth, Foot Locker has been an outlier in the retail landscape in recent times.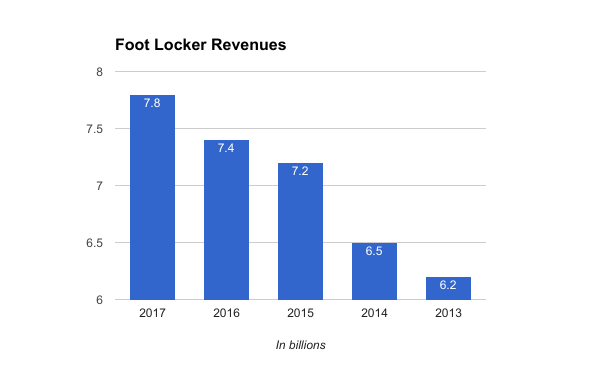 Source: High Plains Investor
Over the past five years, overall sales (+26%), operating income (+67%) and diluted EPS (+91%) have improved substantially. Sales primarily come from stores although the direct-to-customer (online) segment has steadily grown.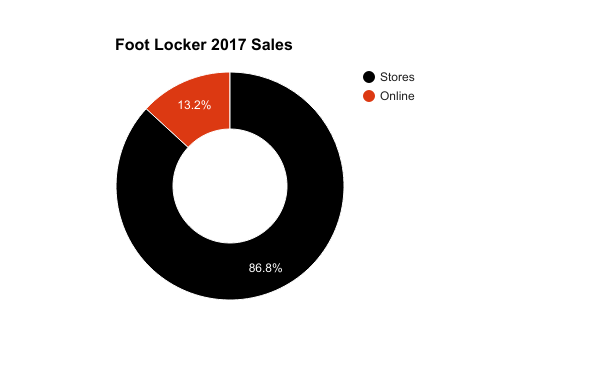 Source: High Plains Investor
FL has profited from a boom in high-priced basketball sneakers and casual shoes like Adidas's Stan Smith range. On the bearish end of things, a recent Barrons article suggested that this uptrend in basketball shoes may be at an end.
Debt
While some may question the future growth in sales, one can't dispute that Foot Locker is in an enviable position when it comes to debt. The truth is, there's barely any of it.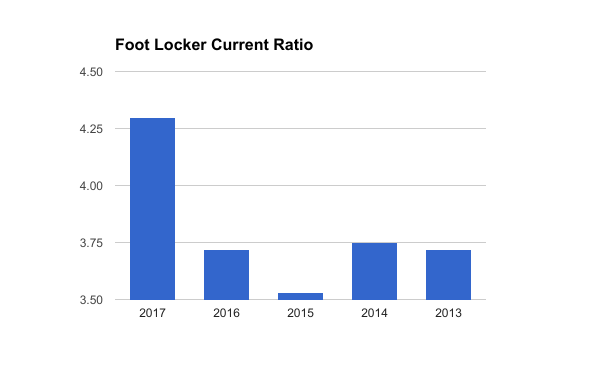 Source: High Plains Investor
FL finished 2016 with just $127 million of long-term debt against total assets of $3.8 billion. It has a current ratio of 4.3, quick ratio of 1.9 and debt-to-EBITDA is a paltry 0.1. Clearly, this is a company with little to fear when interest rates rise.
Dividend
The chief reason why I decided to take a deeper look at Foot Locker is the potential for dividend growth.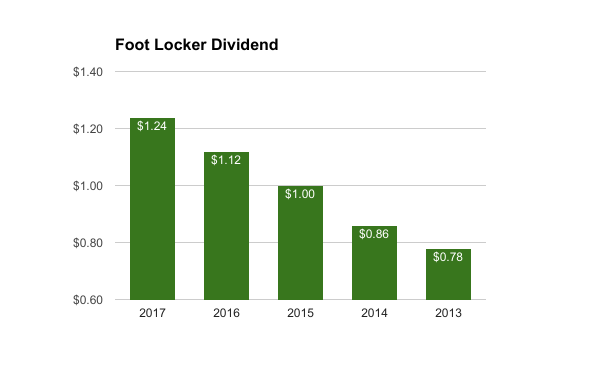 Source: High Plains Investor
FL has increased its annual payout to shareholders by a double-digit percentage in each of the last seven years. The dividend has grown 59% in five years, and 13% year-on-year. The current yield is just over 2.1%.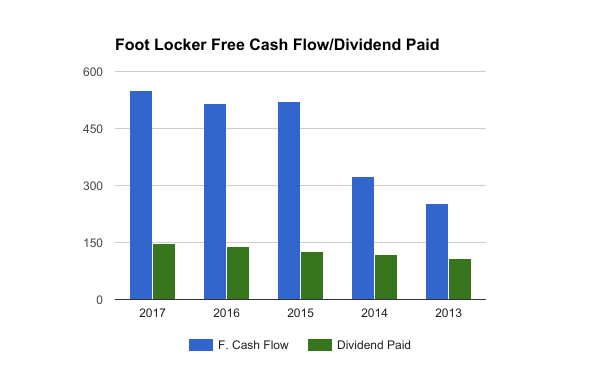 Source: High Plains Investor
With strong cash flows each year and moderate capital expenditure, FL has plenty left to give to shareholders. The free cash flow payout ratio is a healthy 27%. Such a low figure gives sufficient room for dividend growth and a sizeable buffer against any future contractions in sales.
Valuation
At just under $58, Foot Locker has a trailing P/E of 11.8. According to Morningstar, it has a forward P/E of 11.2. When you consider that the five year average P/E is 15.8, it's clear that the athletic shoe retailer is on sale at the moment.
But is it suitable for my portfolio?
Conclusion
I've been interested in Foot Locker for a few months now. This is due to a variety of reasons.
I like that it's a globally recognised name with growing earnings, a strong balance sheet and impressive dividend growth. I also like the current valuation which is comfortably below my ideal P/E limit of 15.
However, there are serious concerns.
FL has been beaten down in price because we are undergoing an extraordinary shift in the retail landscape. Department stores are closing and a significant number of malls are dealing with reduced footfall. Meanwhile, Amazon (NASDAQ:AMZN), Alibaba (NYSE:BABA) and their ilk continue to cannibalize the online marketplace.
To be honest, I can't commit to buying shares in the shoe retailer at this time. But, having kicked the tires a little, I'm still interested and would like to know more.
It's likely that I'll hang around until the Q2 earnings are released. Then I'll see how the figures - and my gut - stand.
Disclosure: I/we have no positions in any stocks mentioned, and no plans to initiate any positions within the next 72 hours. I wrote this article myself, and it expresses my own opinions. I am not receiving compensation for it (other than from Seeking Alpha). I have no business relationship with any company whose stock is mentioned in this article.