As part of the biotech bull run that commenced in late 2016, Exelixis, Inc. (NASDAQ:EXEL) rewarded shareholders with more than four-folds appreciation in share price for the past year. Based in San Francisco, California, the firm is focusing on the development and commercialization of molecules to improve the outcome and care for patients afflicted by cancers. While it is seemingly the market sentiment that share price is trading at a premium, our analytical research proved otherwise. There is substantial unlocked value in the cabozantinib franchises that, in and of itself, ensures aggressive future sales growth. And, despite that the company has a highly enriched pipeline, we shall evaluate the prospects of cabozantinib alone in this research.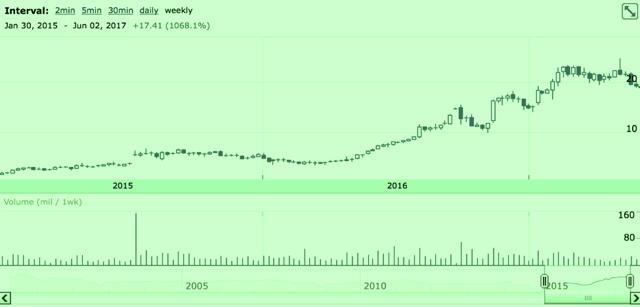 Source: Google Finance
In 2012, cabozantinib received its first U.S. FDA approval for the treatment of progressive, metastatic medullary thyroid cancer under the brand Cometriq®. Moreover, the said molecule gained further approval as Cabometyx® on April 25, 2016, to manage patients afflicted with advanced renal cell carcinoma, who had undergone prior (angiogenic) treatment.
Cabozantinib's Mechanism of Action
Usually, a patient who is put on the cancer treatment coined chemotherapy would show improved responses and only be disappointed when their cancer comes back due to drug resistance. Among the various anti-cancer drugs, cabozantinib strongly differentiates itself due to having the specialized mechanism of action. Instead of attacking a single target (like a monoclonal antibody), the said drug works by simultaneously inhibiting different kinases (MET, AXL, VEGF receptors, and RET) involved in the disease processes (including oncogenesis, metastasis, tumor angiogenesis, drug resistance, and the maintenance of tumor environment).
Research proved that the inhibition of multiple targets (as well as the application of combination therapies) is better at preventing cancer relapses than conventional treatment alone. In addition, the aforementioned approach ensures the optimized efficacy and safety due to drug-target specificity. With cabozantinib having great safety and efficacy due to its stellar mechanism of action, Exelixis is currently investigating it as the potential therapeutic for 20 different cancer indications.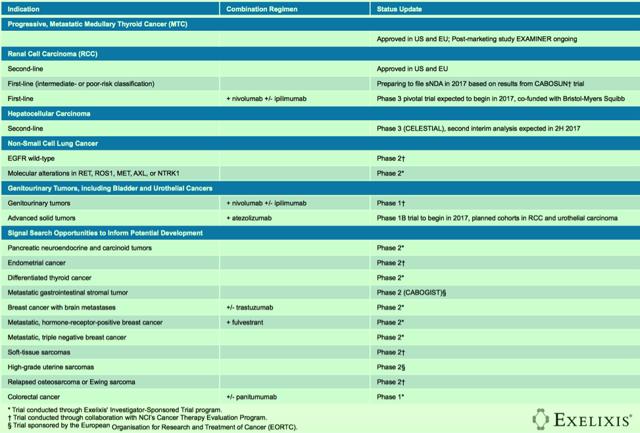 Source: Exelixis
What is highly promising about this intelligent therapeutic design is that it enabled cabozantinib to manage cancers that are quite difficult to treat. The life-saving drug can deliver hopes to patients afflicted with cancers that are already in advanced stages (spread to distant sites, and/or failed initial treatments). In addition, the unique mechanism of action also enabled the molecule to serve as an excellent add-on therapy (to improve the efficacy and safety of various existing anti-cancer therapeutics).
Strong Financials
As indicated in the figure below, Exelixis generated the total revenues of $81M for Q1 2017 while incurring only $61M in operating expenses. As a result, this enabled the firm to enjoy $20M in net profits for the period mentioned. While this is not a seemingly staggering figure, it surely represents a stepping stone that foretells the complete transition (and upcoming growth) of what was formerly a developmental stage biopharma.

Source: Exelixis Q1 2017 Report
As of March 31, 2017, the company has $183M in cash plus $241M in short-term investment. With the total assets of $587M, $202M current debts, and $467M net liabilities, Exelixis's financial position is strong for an emerging growth drug developer.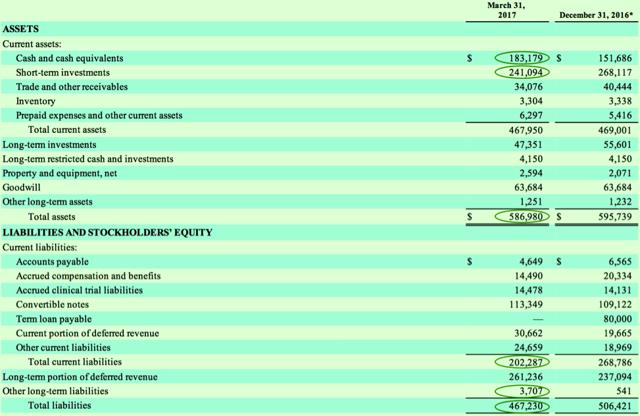 Source: Exelixis Q1 2017 Report
Favorable Valuation
The complete valuation of Exelixis requires the appraisal and summation of various molecules (that include both approved and in development therapeutics). Instead of using the sum-of-all-parts valuation, we solely appraised the key therapeutic franchises of cabozantinib, as we believed they hold the most unlocked value. By focusing on the most promising therapeutics rather than all molecules, we enabled Exelixis's valuation to be more meaningful and to have a wider margin of safety for prudent investing.
Accordingly, we estimated that Cometriq sales already peaked while Cabometyx sales are in the aggressive growth phase. For 2017, we estimated that Cabometyx will generate a sum of $280M in sales and the peak sales will top out at $600M.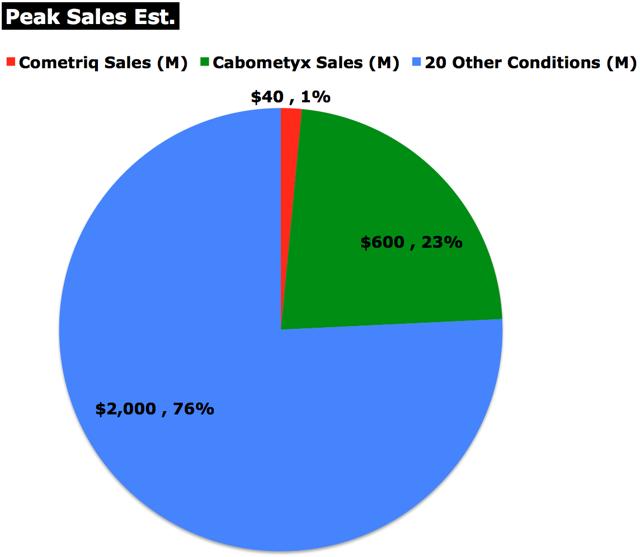 Source: Dr. Tran BioSci Advisory
Given the stellar efficacy and safety of cabozantinib, we project that most of its therapeutic developments (for the 20 cancer indications) will pass later clinical trials. And, with that, we ascribed the peak sales estimate of $2B (after discounted with 1/2 for the opportunity cost). This figure is further discounted for the failure rate of 90% as well as operational expenses of 85% (or conversely the profit margin of 15%) to arrive at $300M in net earnings. To learn about the details of our discounting factors, readers can refer to the prior research on another firm, Protalix Biotherapeutics (PLX).
After appropriate discounting, we estimated the peak net annual earnings of $6M, $90M, and $300M for Cometriq, Cabometyx, and cabozantinib's 20 other indications, respectively. Taking the sum of the three figures ($396M) multiplied by 33 P/E average (of large-cap biopharma), we arrived at $13B enterprise value. This figure is 130% higher than the current market valuation of $5.6B.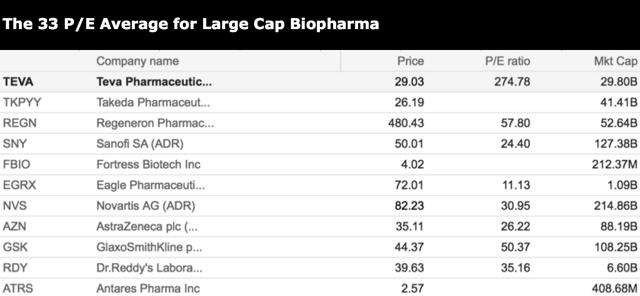 Source: Dr. Tran BioSci Advisory
Stellar Management
As the president and CEO of Exelixis, Michael M. Morrissey, Ph.D., has the impressive pedigree and the extensive track record of performance. Moreover, the chief has 17 years' history of commitment with the firm. Prior to joining Exelixis, Dr. Morrisey served as Berlex Biosciences' vice president of discovery research. He was also the senior scientist and project team leader in medicinal chemistry at CIBA-Geigy Corporation. As a Ph.D. graduate from Harvard University and an inventor, Morrissey holds 70 issued U.S. patents.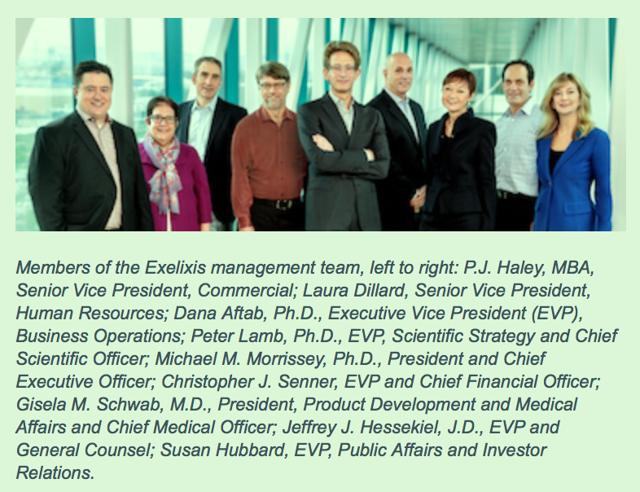 Source: Exelixis
Potential Risks
As Exelixis has demonstrated proof of profitable operations and transitioned into a commercialization-stage firm with profitable Q1 2017 sales, much of the risks (inherent to a developmental-stage biopharma) have been abated. Nonetheless, investors should be cognizant that other risks remain. Future trial data results may not be favorable as forecasted. The company could overextend its spending in developing such an extensive pipeline. Moreover, future partnerships might not be favorable.
Furthermore, it is seemingly the market sentiment that Exelixis is overvalued due to the recent four-folds appreciation in share price during the past year. With that, any negativity (be it unfavorable trial data results, partnership mishaps, or trend reversal in sales) can catalyze substantial downswing in share price as another Seeking Alpha author suggested. Nonetheless, such drops are temporary in nature and share price will catapult to new heights (in the long run) to match the firm's increasing intrinsic value.
Conclusion
For the past two years, Exelixis has been rewarding the patience and intelligent shareholders with the 10-bagger profits. Much of this growth is due to the firm's lead therapeutic franchises (cabozantinib) that have been approved to treat two different types of cancer (while being investigated as the potential treatment for 20 other cancer indications). The development of therapeutic to treat cancers not only delivers hopes to patients but also rewards the firm with premium sales margin. As the world population is aging, cancer rate will continue to rise, thus, creating an increasing demand for Exelixis's molecules.
And, while it can be strategic to take profits after such market outperformance, it is also wise to maintain sizable (or to add more) share counts of Exelixis. Surprisingly, the firm is substantially undervalued based on empirical data/analytical research. Of note, the science and art of biotech investing can reward the intelligent investors as much as 100-fold profits similar to the case of Jazz Pharmaceuticals (JAZZ). As the final note, despite that Exelixis is exhibiting the characteristics of a powerful growth company like Jazz, only Father Time can give the definitive answers regarding its growth prospects. Needless to say, time will handsomely reward the intelligent and patient investors. After all, patience and intelligence are two important virtues needed for successful biotech investing.
Author's note: If you enjoy reading our research, be sure to click the "follow" button for latest insights.
Editor's Note: This article covers one or more microcap stocks. Please be aware of the risks associated with these stocks.