I took a long break from presenting at investment conferences, during the extended correction in precious metals. Attendance at these shows had dropped considerably and there just wasn't much to be excited about.
But prices for gold and silver have started moving higher over the past two years. Gold is up 22% from the December 2015 low of $1,050 to $1,282 today. The gold bull awoke from its slumber during the first half of 2016, but gave back most of those gains in the back half of the year. Then 2017 started with a similar, albeit smaller, breakout in the gold price. A bullish uptrend has been established, with a series of higher highs and higher lows on the chart.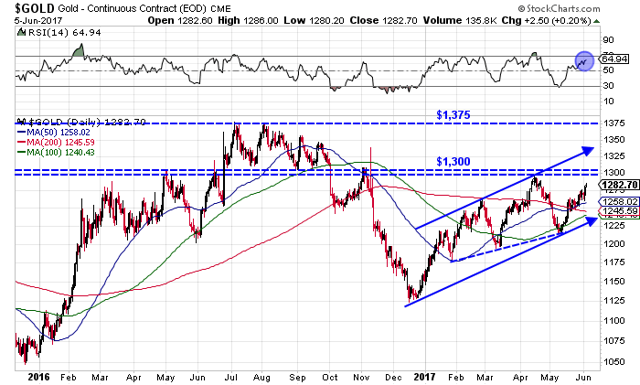 Note that gold recently bounced off the bottom of the trend channel and pushed upwards through all key moving averages. It still needs to clear $1,300 in the near term and make a new 2017 high in order to confirm our bullish bias. From there, the next target would be a move above the 2016 high at $1,375. Once this occurs, I believe we will see a very aggressive advance back towards $2,000 within a 12-month period. Note that the RSI has room to push higher before becoming overbought.
The silver chart is not quite as bullish as the gold chart, yet. The uptrend channel in 2017 is less pronounced and we instead see a double top, followed by a break down towards $16. On the bullish side of things, the silver price did put in a higher low on this drop and has since bounced back through the 50 and 200-day moving averages. The price is resting at resistance around $17.60 and we want to see a breakout above the 2017 high around $18.50 to turn bullish.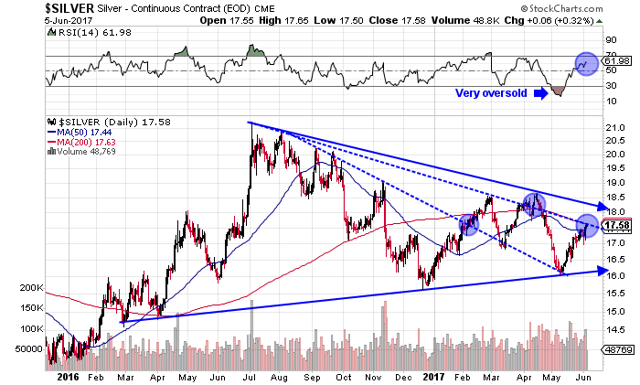 Silver had become very oversold during early May. The current RSI reading at 62 shows room to continue higher before becoming technically overbought. I think we will see this happen over the next few months and will be watching to see if the price can climb back above $20 by year-end. If silver can eclipse the 2016 high around $21, I think we are likely to see a quick test of $25 and then $30 within 6 to 12 months.
At any rate, there is finally some excitement in these markets, so I decided to fly to Vancouver last weekend to speak at one of the better investment conferences for gold and silver investors. I was excited to meet investors and mining executives face to face and I am always happy to return to Vancouver in the summer months. It is a stunningly beautiful city and the conference is held right on the water, overlooking gorgeous snowcapped mountains in the background. The scenery and conference certainly did not disappoint.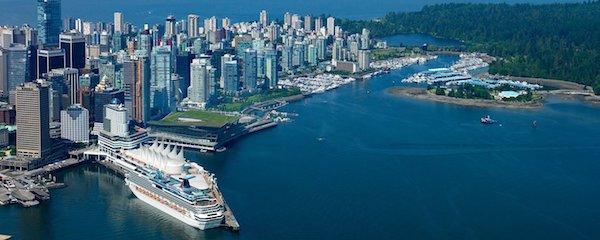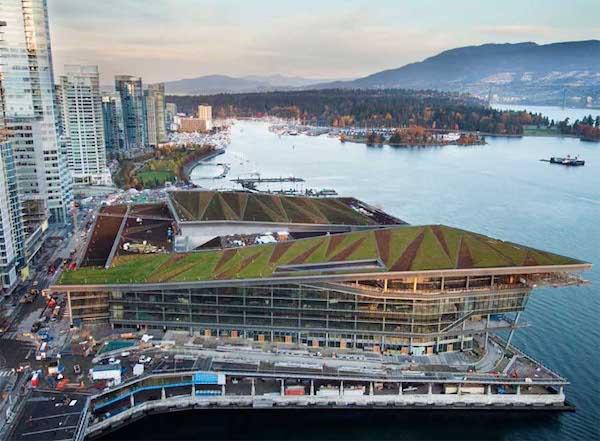 I started the conference Sunday morning sitting on a panel moderated by Rick Rule featuring David Morgan, Brent Cook, John Kaiser and myself. We all talked about a few of our top picks and I mentioned Integra Gold (OTCQX:ICGQF) and Alexandria Minerals (OTCQB:ALXDF), both operating in the gold-rich Val d'Or region of Quebec.
Integra Gold had been one of our top gold exploration picks of the past year and Alexandria Minerals is a recent addition to the portfolio, with high-grade properties bordering Integra's Triangle Zone. Of course, Integra is being acquired by Eldorado (NYSE:EGO) at a 52% premium and I am hopeful that Alexandria will continue to grow and define their resource to the point of being taken out at a much higher price than today.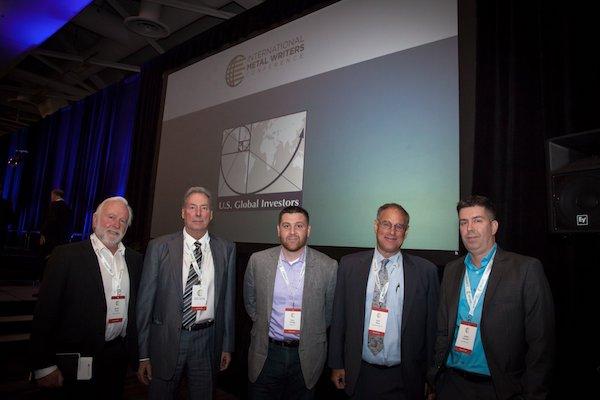 I met with the management teams at Alexandria, White Gold (GFRGF), Gold Standard Ventures (NYSEMKT:GSV), Caledonia Mining (CALVF), Riverside Resources (OTCQB:RVSDF), Minaurum Gold (OTCQX:MMRGF), and a few others. It is good to get a sense of the people involved in these projects, their character, business acumen, genuine excitement for the project and ability to articulate their vision for the company.
On Sunday afternoon, I gave a 20-minute presentation titled "Gold, Silver and Bitcoin: The Perfect Trifecta." It was well attended, but I wasn't sure what to expect when speaking about cryptocurrencies to mining stock investors. Several people stood up to ask questions at the end of my presentation and several more met with me outside the workshop room to inquire about how to invest in cryptocurrencies and which ones I thought had the most upside potential. I met a few premium subscribers and had lunch with a few people in investor relations for various mining companies.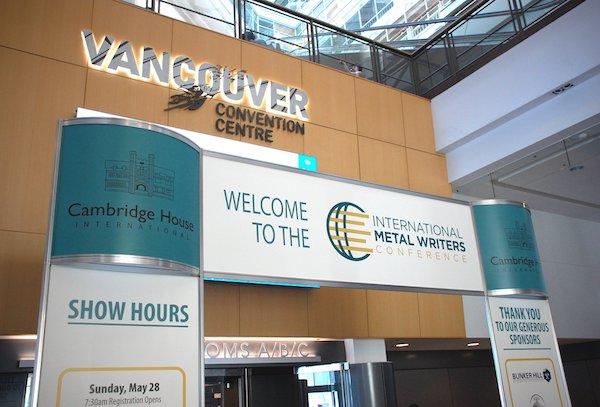 All in all, it was a very productive and informative few days in Vancouver. The show had a more boutique feel with more of a focus on quality over quantity. If you ever have the opportunity to attend one of these conferences, I highly recommend it.
3 Takeaways from the Vancouver International Metal Writers Conference
Junior Mining Is Back - The mining sector in general is finally heating up again, raising funds has become a bit easier, there is an increasing pace of acquisitions and several small producers have been reporting blowout quarterly financial results. The junior explorer space is increasingly attractive these days, as the big producers are having a harder time finding new projects and instead are turning to takeovers. Larger cap gold reserves and production are both falling. This presents a great opportunity for investors to pick up quality, best-in-breed explorers with "the 3 P's" in place: Project, Place and People.
Industry Insiders Are Buying Aggressively - Not only are there more and more acquisitions taking place, but industry insiders are very bullish. Several of the big funds including Sprott, Van Eck, Dundee, Tocqueville, etc. have all been increasing their exposure to exploration companies during the downturn. Not only the funds, but the large cap producers are increasingly taking equity positions in multiple juniors, getting a foot in the door for potential acquisition in the future. And of course, the royalty and streaming companies are busy trying to make as many deals as possible while prices are still low.
Cryptocurrencies Are Still Undervalued - There is tremendous investor interest in the cryptocurrency space, but very few people understand it or know how to get started. Even amongst investing professionals, fund managers and other newsletter writers that I spoke to during the conference, there is quite a bit of misunderstanding and general lack of knowledge about cryptocurrencies. This is a good thing for those of us already having positions, as it suggests that there is plenty of big money that has yet to start buying. I would estimate that less than 1% of the investing public owns any. Yet, they are all intrigued. How could you not be with the levels of returns we have been experiencing? Interestingly, there were a few other speakers that talked about cryptocurrencies during the mining stock conference, including Jeff Berwick and David Morgan.
Insider buying vs. selling in Canada has been trending at a ratio of around 2:1 lately. This is a bullish sign for mining stock investors.

In case you haven't been following the moves in cryptocurrencies, here is the 3-month chart for ethereum, which has been our top recommendation in the Gold Stock Bull portfolio: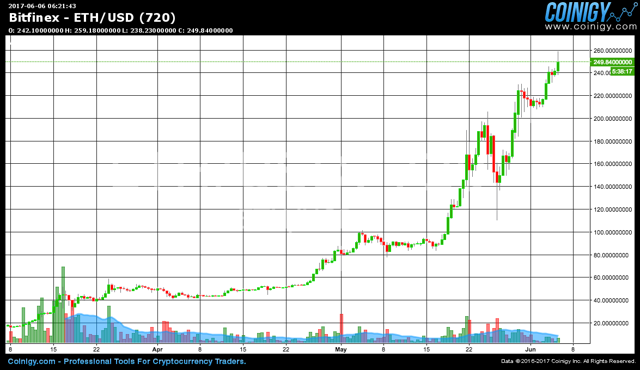 Yes, that is a gain of over 12X in just 3 months! An investment of $100,000 in ethereum on March 8th would be worth over $1.2 million today. I believe it is still headed much higher, but we have been focusing on a number of smaller altcoins targeting specific business sectors that can be made faster, less expensive and more efficient with blockchain technology. Some of these coins we are buying during ICO (initial coin offerings) before they hit the exchanges and others we pick up directly on bittrex.com, one of the better cryptocurrency exchanges.
So, we are now positioned in mining stocks, cryptocurrencies, a cannabis play, an agriculture play and lithium miners that just started producing. The portfolio is generating ridiculous returns for our subscribers and we believe this trend is just getting started.
Wishing you health, wealth and happiness.