While the market looks calm, a storm awaits Chesapeake Energy (NYSE:CHK). The company survived one of the worst commodity environments in 2016, but another storm is coming. The management did (and is still doing) a good job of managing liquidity when the sky was falling; but with the worst behind the industry, now investors want to see profits. Unfortunately, I do not expect the company to make any money in the foreseeable future. I believe that over time, Chesapeake's option value on higher commodity prices will fade.
What Investors Want
Investors care about different things at different times. What sent Chesapeake flying in February 2016 just isn't there anymore. As I noted in one of my previous articles, there was significant uncertainty regarding the company's ability to operate as a going concern, which was the opportunity for one to express a contrarian view (read Chesapeake Is Not Going Bankrupt). As management showed the market that they had the chops to manage liquidity challenges, the stock recovered (of course rebounding energy prices helped too).
While investors had hoped for continued strength in the energy market given OPEC's support, by now it is exceedingly clear to me that "lower for longer" is here to stay. This means that swinging for a homerun by investing in Chesapeake based on hopes of rapidly appreciating commodity prices is no longer a sensible strategy. When the future is uncertain, a company can get away with a good story. For Chesapeake this was about lowering debt, selling assets, lowering costs, etc. But when the fog clears, investors want to see that the company can ultimately make money.
Chesapeake's cost profile has improved dramatically (production expense decreased from$3.36/boe in Q1 2016 to $2.84/boe in Q1 2017), but it's still far away from any meaningful cash generation that would justify the current market cap of $4.3 billion. Supposing that 10x cash flow is what the company should shoot for, it would need to generate $430 million on an annual basis. Even if we add back the non-cash derivative gains of $322 million (i.e. assuming that they took profits) in the first quarter, the company would still be $12 million short after accounting for $433 million in drilling and completion costs. Note that management recently updated the capex budget to $2.1-2.5 billion, so the company is actually spending below the annual run rate in the first quarter, which implies that capex will increase in the future, making positive cash flow even more unlikely.
Hedges Will Prevent Disaster
...but they won't be money makers. The management hedged a significant amount of 2017 production to protect the downside (70% of oil (NYSEARCA:USO) at >$50/bbl and 80% for natural gas (NYSEARCA:UNG) at >$3.07/Mcf). Although the company will survive another short-term decline in energy prices, the hedges are not going to magically generate more cash for Chesapeake. On a consolidated basis in the first quarter, those hedges merely raised Chesapeake's average realized prices by $1.48/bbl for oil and $0.08/Mcf for natural gas, so they aren't going to meaningfully boost profit. Furthermore, the current natural gas futures curve is not friendly for hedgers at the moment since it's in backwardation, meaning that the company would be locking in lower prices if they wanted more stability.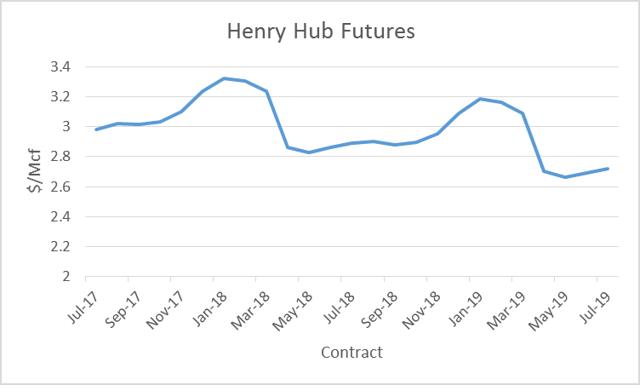 Source: data from CME
Conclusion
Chesapeake survived the cull in 2016, but now investors want to know the upside as the environment has stabilized. Unfortunately, I don't think Chesapeake can make much at these stabilized prices. If shareholders can't see cash flow in a normalized (I'm using that term very loosely here) commodity environment, then what's the upside? There will always be optionality associated with the stock given its leverage, but I believe that as more investors accept current commodity prices as "normal," the lack of profits will cause Chesapeake's perceived option value to fade.
Author's note: Click the "Follow" button beside my name on the top of the page to be updated with my latest insights. To learn more about the Core Value Portfolio, whose goal is to compound capital at 20% over the long term, I encourage you to read the introduction to my investment process. Premium subscribers get full access to the Core Value Portfolio.
Disclosure: I/we have no positions in any stocks mentioned, and no plans to initiate any positions within the next 72 hours.
I wrote this article myself, and it expresses my own opinions. I am not receiving compensation for it (other than from Seeking Alpha). I have no business relationship with any company whose stock is mentioned in this article.