In our previous article in the "Gimme Shelter" series we focused on the partial diversification provided by Municipal closed-end funds. In this article we continue the series and look at how various closed-end fund sectors performed in two volatile market events over the last few years: the Taper Tantrum of 2013 and the Energy Crash of 2015/2016.
Why Look at Historic Scenarios?
The motivation for performing this type of Historic Scenario Analysis is to be able to gauge how various sectors respond to a particular set of market and macro variables. This is particularly helpful in gaining an intuition on what drives various fund sectors and the potential volatility embedded in the underlying fund products. Another way this type of analysis is helpful is in portfolio construction so as to minimize volatility, drawdowns and permanent capital losses.
Investors can allocate to more defensive sectors based on their market outlook but also as a way to create a store of value which can then be used to reallocate into more aggressive sectors when those sectors suffer drawdowns.
The Taper Tantrum of 2013
The Taper Tantrum is referred to as the violent market reaction to Fed Chair Ben Bernanke's indication that the Fed will begin to taper the pace of bond purchases conditional on improving fundamental data. The market was caught unawares and the reaction was large and swift. 10-year Treasury moved sharply, finishing 100 basis points higher by August. Equities did not escape unscathed - the S&P 500 fell 100 points in the following month.
The Energy Crash of 2015/2016
The combination of high energy prices and improvements in technology, particularly shale exploration pushed the oil market to unsustainable production levels by 2013. By end of 2014 oil prices began to soften and prices fell by 1/3 in 2015. By January of 2016 panic set in as oil fell from 44 to 34 over three weeks.
CEF Sector Reactions
In the table below we show the Net Price moves across select closed-end fund sectors for these two historic scenarios.
The moves are broadly intuitive:
During the Taper Tantrum Emerging Market funds did poorly as EM countries are vulnerable to capital flight and carry trade unwinds on higher interest rates. Muni funds suffered as well since they are most highly correlated to US Treasuries.
During the Energy Crash, clearly the MLP was by far the worst sector falling by almost a quarter but US equity sectors suffered as well.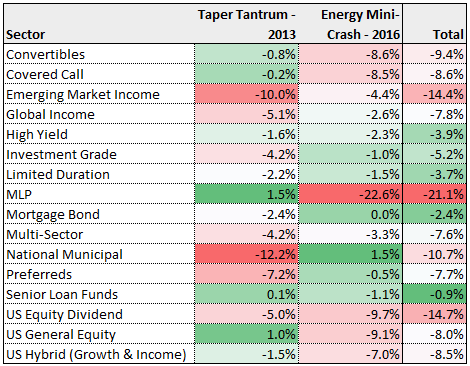 Source: ADS Analytics
Sectors that performed the best across the two scenarios:
Limited Duration Funds
Mortgage Bond Funds
Senior Loan Funds
We continue to like Senior Loan funds for a number of reasons.
We like the sector's relatively defensive profile having one of the lowest NAV volatilities of all CEF sectors,
We like its attractive relative value versus High Yield Bond Spreads (see chart below) and,
We like the fact that the Libor floors have now mostly kicked in and investors should start to benefit from increased income on Loan portfolios as interest rates rise.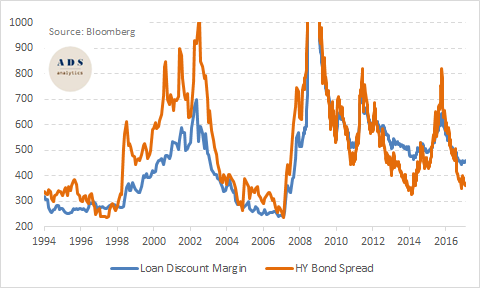 Digging into the Senior Loan Fund Sector
The following Loan funds screen well on our Gross NAV Alpha report. We collate all funds in the sector and adjust the 3Y Gross NAV Return by leverage and volatility in the fund as a way to gauge Alpha.
Voya Prime Rate Trust (PRP)
Western Asset Corporate Loan (NYSE:TLI)
THL Credit Senior Loan Fund (NYSE:TSLF)
Blackrock Floating Rate Income Trust (NYSE:BGT)
EV Senior Income Trust (NYSE:EVF)
Invesco VK Dynamic Credit Opportunities (NYSE:VTA)

Of the above funds, TSLF, EVF and BGT have the highest excess NII which gives us some confidence about distribution sustainability, though we admit it is far from an exact science.
Conclusion
There are many techniques investors can use to minimize volatility, drawdowns and capital loss on their portfolios. In this article we touched on one of them - namely, allocating part of the portfolio to defensive sectors. One way these sectors can be identified is by their performance during particularly volatile market periods in the past. And while it is true that future periods of market weakness will have their own distinct features, we get some measure of confidence from how these sectors have performed in the past. As a great Roman once said "Luck Is What Happens When Preparation Meets Opportunity" - defensive allocations is one way investors can be prepared for an uncertain future.
Disclosure: I/we have no positions in any stocks mentioned, and no plans to initiate any positions within the next 72 hours.
I wrote this article myself, and it expresses my own opinions. I am not receiving compensation for it (other than from Seeking Alpha). I have no business relationship with any company whose stock is mentioned in this article.
Additional disclosure: This article is for information purposes only and does not constitute investment advice or an offer or the solicitation of an offer to buy or sell any securities. Past performance is not a guarantee and may not be repeated. Investment strategies are not suitable for everyone and you should always conduct your own research or speak to a financial advisor. Although information in this document has been obtained from sources believed to be reliable, ADS ANALYTICS LLC does not guarantee its accuracy or completeness and accept no liability for any direct or consequential losses arising from its use. ADS ANALYTICS LLC does not provide tax or legal advice. Any such taxpayer should seek advice based on the taxpayer's particular circumstances from an independent tax advisor.