Advanced Micro Devices (NASDAQ:AMD) got a pretty measurable boost today (rallying 3% on the session), but it was mostly attributed to the launch of new Apple (NASDAQ:AAPL) iMac SKUs that are inclusive of higher-end variants of the Radeon line-up, or Pro variants of consumer graphics from the currently outgoing Radeon HD 4000+ series.
We like AMD's strategic execution when pertaining specifically to the OEM channel, as the market opportunity expanded upon the inclusion of graphics cards across the bulk of Apple's desktop product stack. Though we have not weighed the impact from this within our GPU industry model, we believe that graphics contribution from Apple is thematic to the AMD gaining share thesis.
We find it extremely unlikely that Nvidia (NASDAQ:NVDA) could ever recapture the OEM segment with meaningful volumes absent of Apple contribution. Keep in mind, the reduction in price, and inclusion of higher-end variants for Apple's consumer-grade hardware diminishes the competitiveness of competing Windows-based PC makers, and may create headwinds for Nvidia when selling into the PC channel (particularly at the high-end of the market) where competition has intensified within the Apple/AMD camp versus Nvidia/Windows.
How WWDC 2017 contributed to AMD's valuation
The recent refresh to Apple's outgoing line-up of iMacs with increased graphical capability implies heightened industry-wide attach rates for GPUs on aggregate. This is due to Apple's disproportionate market share in the high-end of the desktop and notebook segment, which we approximate to 80%+ of total industry share at prices above $1,250.
Keep in mind, AMD doesn't need a substantial uptick in AIB (add in board) shipments to drive financial performance, as AIBs are a low-volume higher-priced segment when compared to consumer MPUs (microprocessor units). But, with the inclusion of the Radeon Pro 550 (Polaris architecture) at prices starting at $1,300, we can expect a substantial uptick in the number of GPU units shipped, as iMac shipments when proportionate to the industry desktop/notebook mix represents 40% of total Mac segment shipments, or 7.55 million units of the 18.884 million units we're currently forecasting for Apple's FY'17.
Keep in mind, of those units, roughly 50% are priced above Apple's current ASP of $1,300 to $1,350 (figures on pricing fluctuate on quarterly seasonality). Therefore, the unit contribution from its $1,300+ priced iMacs averages into 3.5+ million units per annum, which translates into 1.75 million added GPU shipments (as there are only two quarters left in the current fiscal year).
When running our analysis, we believe AMD sold 5.57 million desktop graphics cards last year, so the inclusion of more graphics SKUs in Apple's outgoing iMac line-up increases unit contribution by 60%+ over the course of a full fiscal year (when pertaining specifically to desktops). Furthermore, AMD's graphics ASPs hovers at $60 to $70, which is expected to improve due to the inclusion of mid to high-end workstation cards that sell at ASPs above $150.
Keep in mind, this is absent of a flagship GPU. So, there's more room to improve pricing-mix beyond the implied financial impact from selling more chips to Apple. Therefore, there's a reasonable basis to get excited on AMD's financial performance when pertaining specifically to the graphics segment. Absent of a material decline in Apple's desktop shipments (extremely unlikely), we think our thesis holds water.
Therefore, Apple's product introductions add both a volume/price mix-shift narrative that exceeds our initial expectations/projections.
There are caveats to this, as AMD doesn't recognize revenue on channel sell-in, but channel sell-through (another way of saying AMD doesn't record revenue when it sells to third-party OEMs, but when the third-party OEMs/retailer sells the device/graphics card directly to the consumer).
Therefore, we're expecting earnings/sale contribution in Q3'17 with partial contribution in Q2'17. Hence, the lackluster financial guidance despite the astounding progress among PC OEMs to adopt the new graphics architecture. i.e., the product-driven narrative still holds water despite the skepticism it tends to create among equity analysts.
Keep in mind, we've seen many cases where companies have not delivered astounding results on great products, but when pertaining specifically to this isolated incident, we think AMD's financial results are directly proportionate to their ability to sustain a performance and pricing advantage. This discrepancy goes broadly ignored though it's a clear differentiator to the underlying investment thesis.
Dealing with the reality of today's stock price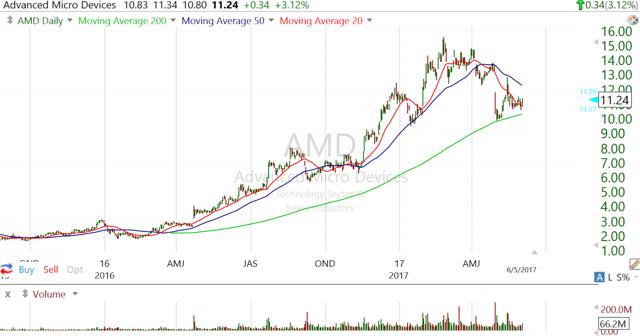 Source: TC2000
In the past couple of weeks, we can acknowledge that AMD's stock performance has been lackluster. Notwithstanding, we waited for announcements among major PC OEMs to determine whether our investment thesis held water.
Clearly, we've seen enough evidence from initial product announcements to substantiate our stance. Furthermore, there has been no shortage of questions pertaining to our analysis on AMD, and whether the recent quarter impacted our stance on AMD.
It has not changed. We're certain that AMD's financial guide though open-ended was at least honest. They have no idea as to the contribution of sales/earnings from these new production introductions, because they've never refreshed the entirety of their product line-up across three major segments (PCs, servers, semi-custom) in a single fiscal year.
In other words, AMD hasn't experienced this much success since the early 2000s. From a managerial perspective, it's hard to gain conviction when you've been a comfortable second place loser the past decade (no offense to anyone who works at AMD). Goliath (Intel (NASDAQ:INTC)) is busy communicating their waning dominance, whereas David is figuring out a way to explain the functional discrepancies between a sword and a slingshot.
So, there's hardly any incentive among members of AMD's management to provide concrete figures on revenue and earnings for the duration of the fiscal year. They're not forecasting, because they have no way of predicting end-market demand across every pricing tier.
From a practical standpoint, AMD's component orders could easily outstrip supply, so the only constraint is how quickly AMD can package and send chips out the door. Of course, the supply chain of semiconductor fabs is flexible due to the usage of industry standard wafers, but how flexible can the supply chain get?
AMD is launching over 50 different SKUs this year when including APUs, GPUs, MPUs that are categorically split between form factors, categories and end-users. When you analyze that many data points, it's hard to develop a regression model with accurate data on pricing/volume contribution, hence the lack of financial guide. AMD can't predict where demand could exceed model, or where supply will perform below model. It's hard to predict the individual success of any single product, much less 50+ products in different market environments.
Final thoughts
It's ironic, AMD is great at designing CPUs and GPUs, but can't use those same parallel workloads to reliably predict FY'17 sales/earnings. We don't blame them. We're sticking with our financial model, because the underlying thesis hasn't diverged by much. We've adjusted the impact from modest market share/pricing gains from 2H'17 onwards in our prior model revision, and we're fairly convinced that the bullishness will return.
We felt we were conservative given the impending onslaught of PC OEM orders, but we're not certain as to how well AMD can fulfill demand. We acknowledge supply is a constraint, though the extent to which is difficult to articulate given one announcement from Apple swings figures by millions of units. The remaining PC OEMs have yet to announce their refreshed PC line-ups using AMD parts, but we'd imagine the difference will be felt once we add in Dell (DVMT), HP (NYSE:HPQ), Lenovo (OTCPK:LNVGY), Acer, Asus (OTC:ASUUY) and so forth.
As such, we're maintaining our top-pick designation on AMD when pertaining specifically to semiconductors. We believe our 12-month price target of $19 may prove too conservative given enough time.
About Cho's Technology Research
Cho's Technology Research is SA's premier technology research package that gives investors and traders an additional edge when investing into tech companies. It's a trade publication, research service and an idea generator. This service comes at a low annual subscription cost of $40/month.
For more information click here.
Disclosure: I/we have no positions in any stocks mentioned, and no plans to initiate any positions within the next 72 hours. I wrote this article myself, and it expresses my own opinions. I am not receiving compensation for it (other than from Seeking Alpha). I have no business relationship with any company whose stock is mentioned in this article.