Let us introduce you to Havas (OTCPK:HAVSF), one of the largest global advertising and communications companies. The Havas group is ranked sixth-largest in the sector and is especially strong in Europe and North-America. Unfortunately, Havas is an often underrated and overlooked company on the stock market, even though the stock performs solidly. Furthermore, the company has a surprisingly low amount of coverage here on Seeking Alpha, which is why we would like to introduce you to the Havas Group.
The company
Havas is a French multinational that was founded in 1879 as a news agency. Since then, Havas has reformed itself into a communications-, and advertising group. The company has its headquarters in Paris, France and employs over 19,600 people globally.
Havas has 3 main business units, which cover all communicative disciplines: Havas Creative, Havas Media and Havas Health & You. The Creative unit represents about 63% of the total group revenue and focuses on creative integrated solutions for companies. The Media unit is good for another 37% of total group revenue, and specializes in communication and PR in both traditional and new media. Lastly there is the Health & You unit, which was launched in March 2017. This unit will focus on expanding the group's product range towards consumer health marketing communications on a global scale.
Havas specifically deals with large clients. This means that a lot of the group's revenue comes from large household names such as Unilever (NYSE:UN), TD Ameritrade (NASDAQ:AMTD), Pfizer (NYSE:PFE), Orange (NYSE:ORAN), GSK (NYSE:GSK), Sears Holding (SHLD) and many more. In 2016 Havas received a grand total of 960 creative awards for the work they did for these clients.
The stock
Havas stock trades on Euronext Paris under the ticker HAV. The stock has an average daily volume of 140,000 shares and total market capitalization of €3.831 billion, making it a slow moving mid-cap stock. HAV is also listed in the French CAC Mid 60, an index with the 60 largest French mid-cap stocks.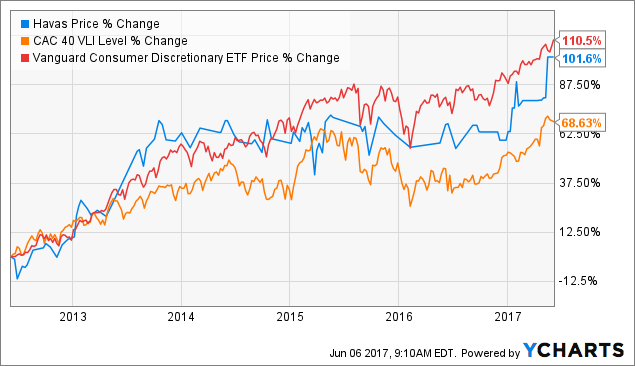 In the chart above, it is clear that Havas has been underperforming the consumer discretionary sector slightly. With a beta of 0.86, the stock is very likely to trail the market. For the last 5 years, Havas has been able to maintain an average stock growth of 20.26% per annum, which is considerably better than the 5-year average market return of 13.6%.
Financials
In their trading update for Q1 2017, Havas reported organic growth of 0.1% in comparison to Q1 2016. Revenue grew in Europe, North- and Latin America, but fell 5.1% in APAC and Africa. CEO Yannick Bolloré stated he still believes in the estimated growth of 2-3% for FY 2017, even though Q1 results remained unchanged. For more detailed reporting we take a look at the 2016 annual report. In FY 2016, Havas published net income of €177 million, out of a total revenue of €2.276 billion, resulting in a net profit margin of 7.77% and an EPS of 0.42. Revenue grew 4%, and net profit grew 2.9% YOY. All these results lead us to believe that Havas is a company that keeps on developing and expanding itself. Furthermore, Havas has a total net cash position of €791 million, good for about 4.5 times net profit. The company also has some decent solvency ratios:
| | |
| --- | --- |
| Quick ratio | 1.01 |
| Current ratio | 1.03 |
| Interest coverage | 31.50 |
To improve solvency even further, Havas is working on reducing its total net debt position, which peaked in 2012.
Source: Havas Investor Presentation
This debt reduction and the nice solvency ratios let us value Havas as a relatively safe bet. Unfortunately consumer discretionary is a sector that will always be subject to economic conjuncture. However, the strong ratios, in addition to the decent growth in FY 2016 results, lead us to strongly believe in the Havas Group.
Strengths
Apart from the above-mentioned financial strength of Havas, there are some other factors to take into account that confirm the company's strength.
Growth
The business itself, as well as the stock both know steady growth. In the last 5 years, revenue has grown over 27%, with an average yearly growth of 6%.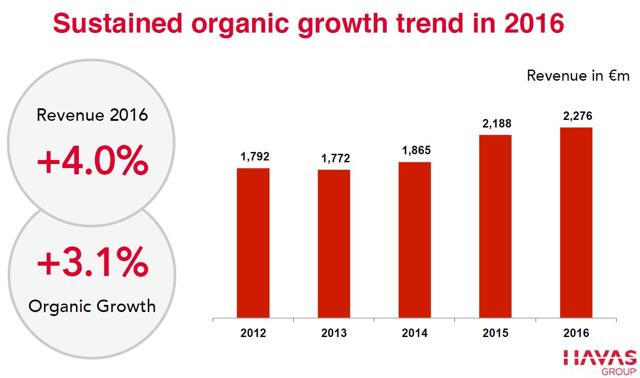 Source: Havas investor presentation
It is true, however, that revenue growth is slowing down. The average of 6% is now down to an expected growth of 2-3% per year. We believe that this is no reason for investors to panic, as this is just Havas shifting focus from increasing revenue to lowering net total debt and increasing profit margins, which is set to eventually lead to an equal if not larger growth of net profits.
Economies of scale
Havas is active in over 100 countries worldwide. This makes it very easy to move their already existing clients in particular countries to new countries. Due to keeping an excellent rapport with their clients, the group can easily shift marketing from country to country, based on the client's needs. This has been a prolonged strategy of Havas and has already yielded very good customer growth results.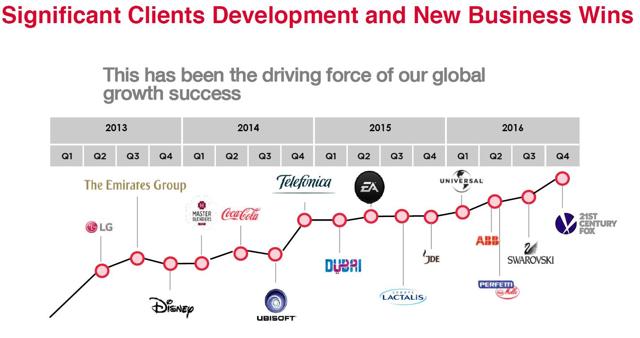 Source: Havas FY 2016 Presentation
Growth to return in APAC
As we mentioned before, Havas has reported a significant lower revenue in Africa and especially in APAC. This should soon be resolved, as the company is talking to GIMC, China's leading advertising group about a strategic partnership. The two groups plan to both enter a joint venture to share knowledge on geographically based marketing. We believe this joint venture should prevent Havas' falling APAC revenue from dropping even further in the near future.
CEO with stake in the company
Another reason we believe in Havas as a company is the fact that Yannick Bolloré is both CEO of Havas and holder of a majority share of Havas, which is a subsidiary of the Bolloré group, his family business empire. As of late, Havas has been in talks to be taken over by Vivendi SA for a total of €3.9 billion for the entire group. The deal is being orchestrated by Vincent Bolloré, father of Yannick, and chairman of both businesses. We firmly believe that a CEO who holds a personal interest in the company he leads will go the extra mile to provide growth and stability for its investors, given he himself is one.
Dividend growth
Lastly, the company has a steady dividend for its investors. To keep up with the growing share-price the company has always put in effort to keep the dividend up to pace, and it has been growing again since 2013.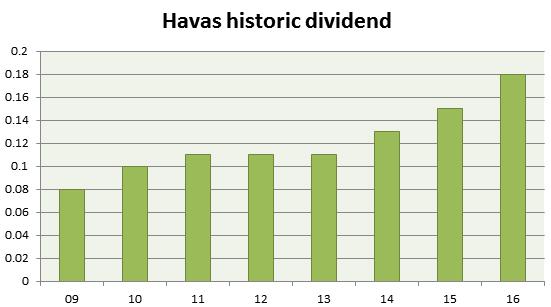 source: Havas & own calculations
In 2017, Havas will pay a dividend of €0.18 per share for fiscal year 2016. This is good for a dividend yield of about 2%. That is not the greatest dividend in the sector, but together with the rapidly growing stock price, we believe it is the icing on the already well-baked cake.
Conclusion
Havas is a strong stock with steady growth. The company fundamentals all support this thesis. Furthermore, there are several other reasons to believe that Havas has a strong long-term case. There is a decent dividend, good economies of scale, a CEO with a personal interest in his own company and strategy deals that might improve the APAC situation. Havas is an expanding global player, and is willing to do what it takes to keep up with its fast-paced industry. We believe that all of these reasons make Havas the perfect stock for the long-horizon investor.
Disclosure: I/we have no positions in any stocks mentioned, but may initiate a long position in HAVSF over the next 72 hours. I wrote this article myself, and it expresses my own opinions. I am not receiving compensation for it (other than from Seeking Alpha). I have no business relationship with any company whose stock is mentioned in this article.
Editor's Note: This article discusses one or more securities that do not trade on a major U.S. exchange. Please be aware of the risks associated with these stocks.