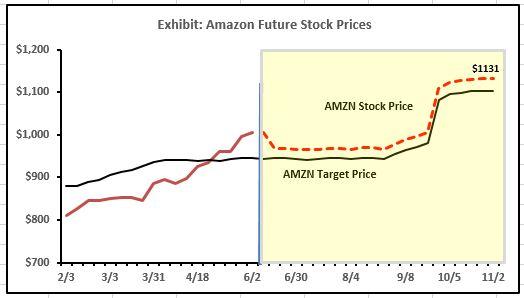 (Source: Bloomberg)
As one of the most covered and widely held stocks, there seems to be little doubt about whether Amazon.com (NASDAQ: AMZN) is a good company or not. AMZN proceeded to soar another 10% in a month even after its Q1 announcement, and doubts have been raised as to whether it is a "good stock" to own at this point of time. Some may argue that the stock price has been driven by emotion and that fundamentals don't matter.
Slim Shady on SA argued that the company may have been overstating its free cash flow, which inflated the current share price. F.A.S.T. Graphs shows that AMZN stock price is more related to operating cash flow instead. While SIC Investment Research has valued AMZN's AWS at $180 billion, Robert Honeywill deduced that the rest of Amazon's non-AWS business then has to grow over 100% annually to justify the $1000 share value. While SA readers may be puzzled by the seemingly correct, yet conflicting, arguments, they should also come to the realization that it is the market winning the argument all the time. Ultimately, all arguments need to be converted into stock prices which can be transacted upon. Therefore, in this article, I seek to compare AMZN stock price to a large number of Street estimates of the company's fair value.
Analysts' Target Prices
In deriving a fair stock valuation, there is no reason why rational investors will systematically ignore any public information available. In a perfect market, stock prices should only respond to new information. The analyst community uses the most recent quarterly information derived from the earnings announcement to update their fair value and target price estimates. Although there has been anecdotal evidence showing that some analysts are biased in deriving their estimates and recommendations, as a group their average (consensus) target prices are predictive of future stock price movements.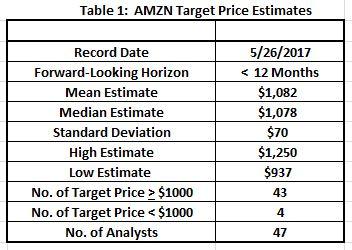 (Source: Bloomberg)
Accordingly, in order to decide whether AMZN is properly priced, I compared the recent stock prices with analysts' target price estimates. Using the current price target estimates of the analysts who followed AMZN as tracked by Bloomberg, I summarize the distribution of 47 analysts' target prices (Table 1). From the current date to the first approximation, the mean target price for the stock is $1082, within a range of $937 and $1250. Compared with the current price at $1010, AMZN is undervalued by 7%. Specifically, 43 of the 47, or 92%, analysts gave target prices higher than current market price. Figure 1 displays the historical relationship between AMZN stock price and average target price. It seems obvious that for the last 6 years, the stock has been consistently trading under analysts' target prices by 12%.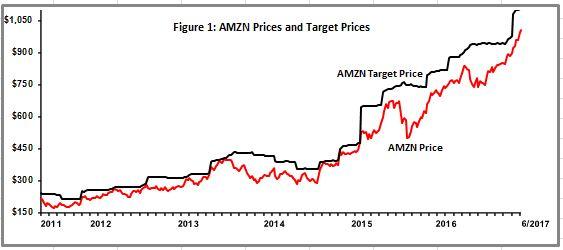 Do the Comparison and Mispricing Make Sense?
Due to lack of new information, analysts generally do not revise their target prices between two quarterly earnings announcements. The changes in the excess valuation are usually driven by stock price changes rather than fair value changes. As AMZN, the most watched and covered stock, has been significantly undervalued, an obvious question arises: How can the market allow such a deep discount to exist for so long?
However, the fact that AMZN is almost always traded well below the price targets by itself begs the question whether the comparison between the market price and target price is meaningful. Most of us use "fair value" interchangeably with "target price," where the latter refers to the future fair value for a forward-looking time horizon. Obviously, professional analysts often do not specify the forecast time period for their target price estimates. It is very likely, therefore, that the so-called "consensus" target price is computed by averaging across individual estimates targeted for different future time periods, from now to the next 12 months. Let say if target prices are meant for future time periods and AMZN has been on a secular upward trend, it is also likely the target prices for the stock have been regularly revised upward over time. As a result, comparing today's market price to future (higher) fair value estimates will automatically give the appearance of undervaluation.
Forward-Looking Target Prices
In order to correct such a mismatch bias, the average target prices has to first be brought back to the same timeline with the actual market price. This is accomplished by pushing the target price forward, since it is supposed to forecast future stock price. The forecast error between the future stock price and current target price can be computed for a forward-looking 1 week to 26 weeks ahead. In Exhibit 1, it is clear that the average bias of -12% has quickly dissipated to near zero (-0.02%) by week 20. This is consistent with the speculation that when analysts set their target price, they have some future dates in mind.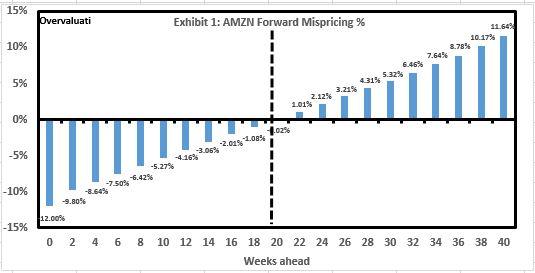 Furthermore, if the history points to the fact that analysts set their target 20 weeks ahead, a proper examination of the accuracy of the recommendation should be pairing up the current stock price with the target price 20 weeks ago. As expected, the correct "mapping" suggests that AMZN is currently overvalued by 6.3%, which is a strong contrast to the previous +7% undervaluation. In Figure 2, it is also clear to see that AMZN stock prices have historically closely followed the "fair values." In other words, it has been fairly priced generally over the last 6 years, although AMZN can be mispriced by +/- 20% over an extended period of 20-25 weeks (Figure 3).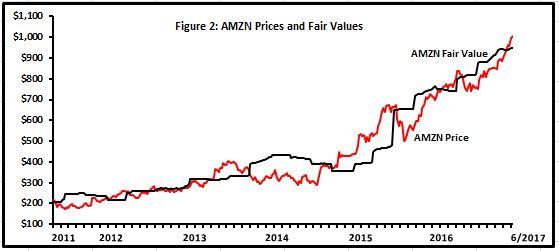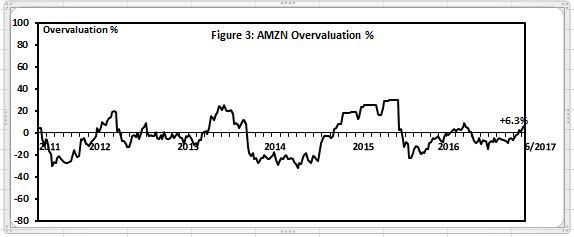 Price Target for 2017
Finally, there is a pleasant surprise for the outcome of this examination. Interestingly enough, as today's target prices are most correlated with stock prices 20-22 weeks down the road, current target price can be used to "predict" the actual stock price 20-22 weeks from now. Thus, it stands to reason that today's average target price of $1082 will be a reliable estimate for what the stock price will be 20-22 weeks from now. After adjusting to the current +6.3% overvaluation, I am able to infer AMZN's most likely future price path using the past 20 weeks' average target prices. AMZN will first take the -6.3% correction and resume its increase to the $1110-1131 range by the end of 2017 (see Exhibit at the beginning).
Disclosure: I am/we are long AMZN. I wrote this article myself, and it expresses my own opinions. I am not receiving compensation for it (other than from Seeking Alpha). I have no business relationship with any company whose stock is mentioned in this article.