This post was written by Hamish Kumar, Integer Investments analyst.
Investment Thesis
Constellation Brands' (NYSE:STZ) FY2017 results emphasize the company's strong qualitative factors and earnings power. Despite trading near its 52-week high, we still believe the stock is a worthy buy.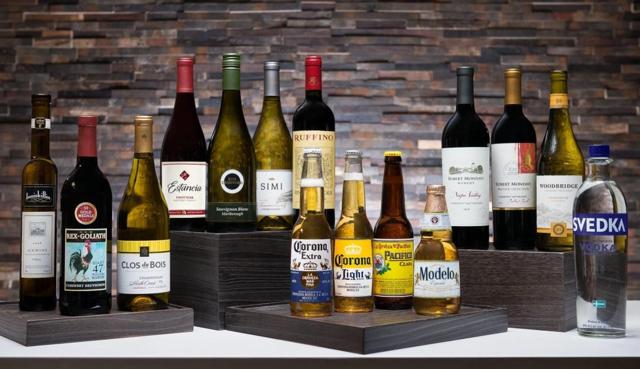 What Does The Company Do?
Constellation Brands produces, imports and markets beer, wine and spirits in the United States, Canada, Mexico, New Zealand and Italy. The company sells wine across various categories, including table wine, sparkling wine and dessert wine. Notable brand offerings include the Corona beer range, the Modelo beer range, SVEDKA vodka, Casa Noble tequila and Black Box wine. The company primarily offers its products to wholesale distributors and retailers in the United States.

Constellation Brands breaks its sales into three divisions. Shown above is a breakdown of sales across these divisions for the past three years. The company has become a lot more dependent on beer sales to generate growth, with this segment generating nearly 60% of consolidated net sales for the business. Sales growth across all divisions has been generated through effective acquisitions, as well as through management driven organic growth.
Financial Highlights
Below is a visual depiction of the company's income statements since 2013. As we can see, Constellation Brands has an outstanding track record of generating both top and bottom line growth. As stated above, this growth has been driven through both effective acquisitions and management-driven organic growth. Following the acquisition of "Beer Business" in 2013, the business became USA's leading imported beer company, now selling six of the top fifteen top-selling imported brands. This is just one of several successful acquisition made by Constellation Brands, allowing the business to increase sales and profit margins.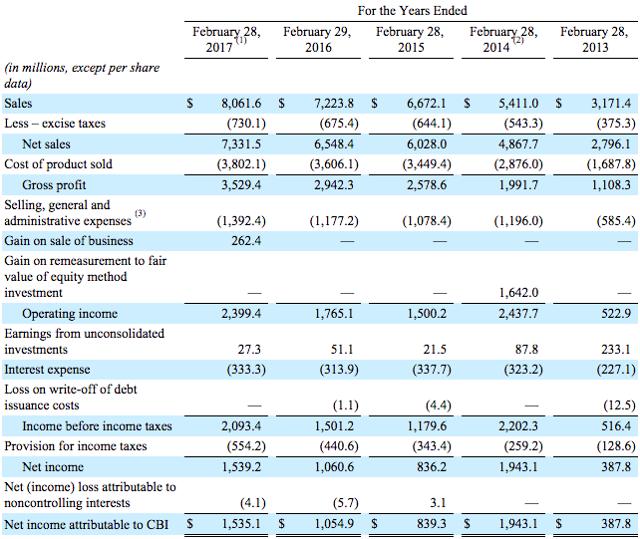 Competitive Advantages
Constellation Brands has two competitive advantages:
Although susceptible to changes in the future, we see management as a key competitive advantage for the company. Management has a proven track record of generating excellent growth for the business. An example of this is Modelo Especial's exceptional growth in the US market. Modelo Especial is a beer brand that is imported, marketed and sold by Constellation Brands in USA. This brand is currently the country's fastest-growing beer brand, having grown by 135.3% from 2010 to 2015.
Through the acquisition of Beer Business in 2013, Constellation Brands gained exclusive perpetual brand rights to import, market and sell Corona and certain other Mexican brands in the US market. Corona is currently the fifth-largest beer brand in America and ranks as the country's top ten fastest growing beer brands in the country. This perpetual right shall provide an excellent growth opportunity for the business moving forward.
Strategies
Constellation Brands has been growing exceptionally over the last several years. In light of the company's recent results, is this growth sustainable going forward? Management is focusing on several key growth initiatives over the coming years. These initiatives are listed below.
Expanding Beer Distribution for Key Brands: Constellation Brands aims to lead the high end of the US beer market. As a result, the company has been expanding its distribution of key beer brands across the USA. This has led to phenomenal growth from all of its beer brands in the portfolio. Organic growth from the beer sector has therefore increased by 11.1% over the last year. We expect this to continue at a similar rate as these brands gain more recognition and distribute to more wholesalers and retailers.
Brewery Growth: In response to rising demand for Constellation Brands' beers, the company has expanded the Nava brewery's production capacity from 10 million to 25 million hectoliters. Additional capacity activities are also underway, with the business aiming to eventually generate 27.5 million hectoliters of beer from this site. The expansion from 10 to 20 million hectoliters capacity cost the business approximately $1 billion. Constellation Brands is also building another state-of-the-art brewery in Mexicali, Mexico. The Mexicali brewery will provide 10 million hectoliters of beer, with the ability to scale to 20 million hectoliters of capacity in the future. This brewery shall cost approximately $1.5 billion to develop. However, the additional scale to 20 million hectoliters will cost an extra $500 million.
Acquisitions: Constellation Brands has realized that there has been growth in the U.S. per capita consumption of premium and above wine and spirits (as opposed to value-priced wine and spirits). As a result, the business has made a series of acquisitions in this segment to have exposure to this growth. This includes the Casa Noble acquisition (a super-premium tequila business), the Prisoner acquisition (super-luxury wine) and the Charles Smith acquisition (high-quality super and ultra-premium wine). Not limited to the wine and spirits segment, Constellation Brands aims to continue making acquisitions that can add substantial value to the business. Acquisition criteria include that the target company is premium, growing, high-margin, consumer-led, has a low integration risk and/or fills a gap in the company's portfolio. There has also been word of Constellation Brands looking to acquire Brown-Forman (BF.A, BF.B), the company that owns Jack Daniels. At this stage, however, these are just rumours.
Through these initiatives, we see that management has a clear direction for the business. These promising strategies have plenty of potential to deliver growth for Constellation Brands.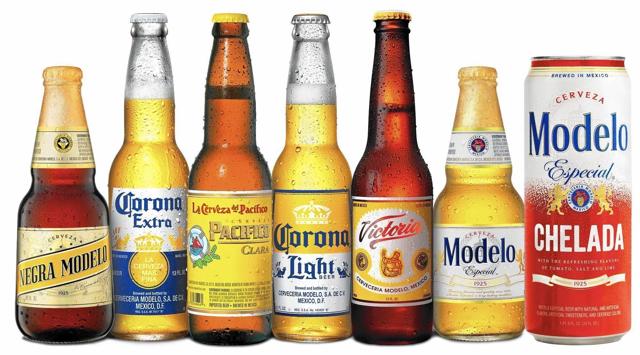 Key Risks
Despite Constellation Brands' exceptional growth, we must be aware of the risks associated to the business.
Competition: Despite operating in an oligopolistic market structure, the beer industry is extremely competitive. This is through both price and non-price competition (advertising and product variation). Constellation Brands' biggest competitor is Anheuser-Busch (NYSE:BUD). With its relatively recent acquisition of SABMiller, Anheuser-Busch has the ability to significantly drive production and overhead costs down, allowing the business to either reduce prices or increase advertising to generate more sales. Therefore, if Constellation Brands is unable to continue attracting existing and new customers through enhanced customer offerings, it will be detrimental to the business.
Importance of Mexico: Constellation Brands is heavily reliant on the production and sales of Mexican beers. In regard to production, the Nava brewery currently supplies ~80% of total production requirements. If any issues with this brewery were to occur, the company would struggle to meet market demand and therefore lose out on sales. In regard to sales, Mexican beers contribute a significant portion to the company's net revenue. Any changes in consumer preference away from Mexican beers could be extremely damaging for the business. Additionally, there is also the political risk of increased taxes on imported beers. This is in line with Donald Trump's plans of "bringing jobs back home."
Acquisition Related Risks: The company has a strong focus on acquisitions to generate growth. Just like with any acquisition, there are many risks associated with Constellation Brands purchasing other companies. These risks simply boil down to the fact that it may not realize the expected benefits of purchasing these businesses. As a result, it would mean an ineffective allocation of funds, as well potentially increased costs. Any overlooked or unforeseen issues with acquired businesses could also be extremely costly for the business. Further, the company financed these acquisitions with debt. Its debt levels increased significantly, from $3.8 billion in 2010 to more than $9.2 billion today. Considering that 2017 EBITDA was $2.5 billion, the level of debt is significant.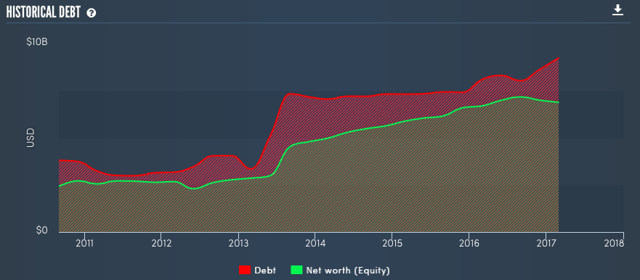 Weather: Adverse weather conditions could substantially decrease the supply of grapes for wine production. Approximately 80% of all wine produced by the company is through 3 wineries across America. Therefore, the concentrated production by the company adds further risk to this factor.
We have done a simple multiples analysis to value Constellation Brands. We used an EV/EBITDA metric to value the business, EV to strip out any capital structure differences and an EBITDA metric to nullify any D&A differences between the companies. We have also placed less weighting on Anheuser-Busch due to the skewness it would cause to the data set.
| | | | | | |
| --- | --- | --- | --- | --- | --- |
| Company | Weighting | EV | EBITDA | EV/EBITDA | P/E Ratio |
| Constellation Brands | - | 45271 | 2721 | 16.64 | 24.68 |
| Heineken N.V. (OTCQX:HEINY) | 25% | 71946 | 5277 | 13.63 | 27.65 |
| Boston Beer Company (NYSE:SAM) | 25% | 1720 | 181 | 9.52 | 21.43 |
| Asahi Group Holdings (OTCPK:ASBRF) (2502) | 25% | 2569460 | 168725 | 15.22 | 24.85 |
| Carlsberg A/S (OTCPK:CABGY) (2836) | 25% | 131618 | 13006 | 10.12 | 25.51 |
| Implied Value | | | | 12.13 | 24.86 |
| Implied valuation | | | | +37.18% | -0.73% |
Based on our EV/EBITDA metric, Constellation Brands is overvalued by 37.18%. Based on our P/E multiple, though, the company is undervalued by 0.73%. We do, however, believe that the EV/EBITDA overvaluation is warranted. Below is a graph demonstrating the performance of comparable companies over the last year. Our analysis shows Constellation Brands has performed better than all of the companies we have compared the business to. In our opinion, this performance difference is significantly large enough to warrant the overvaluation compared to its peers. We therefore conclude that the business is fairly valued.
| | | | | | | |
| --- | --- | --- | --- | --- | --- | --- |
| | Constellation Brands | Heineken N.V. | Boston Beer Company | Asahi Group Holdings | Carlsberg A/S | Average ex-Constellation |
| Net Revenue Growth | 20.34% | -1.84% | -5.57% | 5.94% | -6.90% | -2.09% |
| Gross Profit Growth | 19.95% | 0.05% | -8.35% | 8.81% | -4.37% | -0.97% |
| Operating Profit Growth | 35.92% | -13.25% | -11.84% | 48.61% | -5.26% | -4.57% |
| Net Profit Growth | 45.50% | -21.11% | -11.28% | 23.43% | N/A | -2.99% |
Conclusion
Constellation Brands is qualitatively an outstanding business that has generated excellent growth over the last five years. The business is particularly attractive as an investment due to its ability to grow both organically and inorganically. We also believe the company is fairly valued at its current share price of $185.
As always, thank you for reading. If you wish to follow our future articles, just click the "Follow" button next to our name at the top. If you would like us to cover a company, please let us know in the comments.
Disclosure: I/we have no positions in any stocks mentioned, and no plans to initiate any positions within the next 72 hours. I wrote this article myself, and it expresses my own opinions. I am not receiving compensation for it (other than from Seeking Alpha). I have no business relationship with any company whose stock is mentioned in this article.