Article authored by Cristiano Bellavitis, Integer Investments portfolio manager
A while ago, we summarized our current understanding of trading strategies and signals based on insider transactions. This is the second article of a regular newsletter where we will review insider transactions and select the most interesting companies to invest in. The companies that we reviewed in our first article, performed as follows:
Truth being said, we did not recommend any of these stocks for various reasons. For example, in relation to OPK we wrote that insider "could be buying shares to sustain the share price where so much of their wealth resides. For now we will pass." This confirms the importance of carefully selecting which insider transactions to look at rather than just follow what insiders do. The graph below shows the performance trend of these stocks (Source: Google Finance).

We will select these investment ideas based on insider activity that follows the 7 rules.
The 7 rules are as follows:
Lesson #1: Following every insider transaction is not feasible, nor profitable.
Lesson #2: Only relatively large insider trading provides an informative signal.
Lesson #3: Aggregate insider trading is more informative than individual insider trading.
Lesson #4: Insider transactions generally do not predict short-term movements, but rather long-term stock price changes.
Lesson #5: Insider transactions are more effective in predicting returns for small companies.
Lesson #6: Insiders are generally contrarian investors.
Lesson #7: Insider sales do not offer a strong trading signal.
Therefore, our strategy follows these criteria:
- U.S. listed companies
- Share price above $2
- Insider transactions above $100,000 and that increase the amount of shares owned by at least 20%
- We will pay particular attention to aggregate trades
- We will pay particular attention to trades in small caps
- We will focus on Buy signals
Based on our search criteria we obtain 52 transactions. Let's look at the most significant (data from Open Insider). Follow this link to see the full list of transactions reviewed.
Fibit (FIT)
Director Paisley Christopher B has recently invested $134,740 to acquire 25,000 shares at an average price of $5.39. Reviewing his transactions, we can see that he is regularly selling shares in the companies where he is a director, and this is the first time that he has been buying. Over the last two years, he sold shares in various companies in 21 occasions for a total of $4M.
However, the screenshot below shows that many Fitbit insiders have been repeatedly selling shares, not an encouraging trend. For example, on the 21 st of May, director Steven Murray sold 500,000 shares (out of 4.4M shares owned) for $2.6M. He again sold 173,000 shares in March.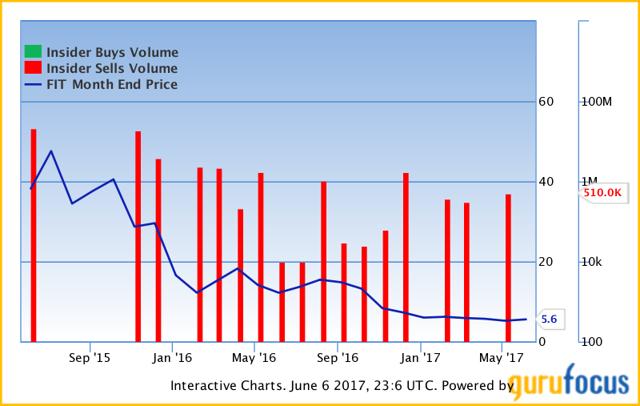 Fitbit designs and sells connected health and fitness tracking devices. The company offers Fitbit Zip, an entry-level wireless activity tracker that allows users to track daily activity statistics, such as steps, distance, calories burned, and active minutes. Fitbit also sells slightly more advanced devices. I personally own a Fitbit and I would say that it is an OK device, nothing spectacular. Yet, I have returned a Fitbit Charge 2 because I did not find it particularly useful, and I bought a Flex that broke down after 3 months. I am now waiting for a replacement (ordered 2 weeks ago, not received it yet).
The stock has lost 33% YTD and 63% over the last 12 months. Analysts expect the company to lose a significant portion of its revenues and to start losing money (source: Simplywallst.com). At the moment, there is not much visibility on the company's future products and the current offering is losing steam. This Fortune article argues that Fitbit has fallen to 3rd place in terms of wearables ranking.
Overall, the transaction is reasonably large and is coming from an insider that usually sells. However, despite plummeting stock prices, we do not see a catalyst for increasing revenues and profits. Does the insider know more than us? We will keep an eye.

Omega Healthcare Investors (NYSE:OHI)
Another company that experienced significant insider transactions is Omega Healthcare Investors. The corporation is a U.S. real estate investment firm. It invests in healthcare facilities, primarily in long-term healthcare facilities in order to create its portfolio. Omega Healthcare Investors was founded in 1992 and is based in Maryland, United States. OHI is actually already in our portfolio so we are happy to see that insiders are buying shares.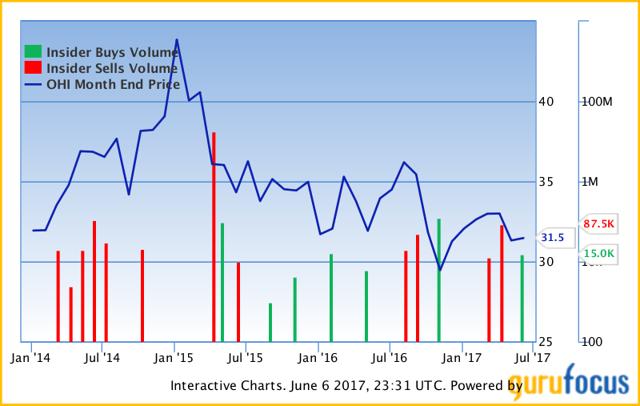 Our research shows that in June, director Callen bought 15,000 shares for $471,000. Before this transaction, the director owned only 3,000 shares. Further, at the end of 2016, the CEO and another director bought shares worth $637,000 and $3M respectively. In between, there has been some selling activity but the purchases are significant.
The stock has lost approximately a third of its value from the peak of $44.5 achieved at the beginning of 2015. We like this company for a variety of reasons. First, it is a stable player run by competent managers. Second, despite some political turmoil surrounding the healthcare system, it is undeniable that the population is aging and there will be an increasing necessity for healthcare facilities such as those managed by OHI. As the slide below shows (source: here), aging demographics would drive skilled nursing facility (or SNF) occupancy beyond capacity in less than 10 years without efforts to reduce the lengths of stay and increased utilization of alternative care sites.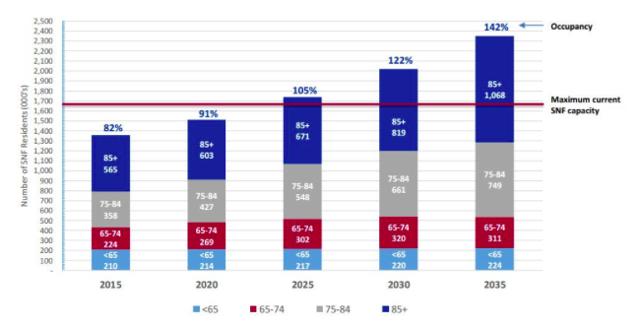 Third, OHI pays a significant dividend that currently yields above 8%. The dividend yield is high, and it is important to note that in recent years the dividend has been steadily increased. The current divided of $0.63 is considerably higher than $0.42 paid in 2012. Finally, despite being a high quality player, OHI trades at a low valuation, even compared to its peers. OHI only trades at around 9X free funds from operations (FFO) and, based on this metric, it is the third cheapest REIT in this sector. Historically, OHI has traded at 13X FFO (source: here). Overall, we like OHI and the insider activity strengthens our conviction.
CSRA (CSRA)
CSRA delivers a range of information technology solutions and professional services to its U.S. government customers to modernize legacy systems, protect networks and assets, and enhance the mission-critical functions for war fighters and citizens. The company offers digital platforms and services, data and analytics, intelligent business processes, enterprise business services, and cyber security services. It operates in two segments: Defense and Intelligence, and Civil. The Defense and Intelligence segment provides services to the Department of Defense (DOD), National Security Agency, branches of the Armed Forces, and other DoD and Intelligence agencies. The Civil segment offers services to federal agencies within the Department of Homeland Security, Department of Health and Human Services, and other federal civil agencies, as well as various state and local government agencies.
The President and CEO of CSRA has recently purchased 49,500 shares for a total disbursement of approximately $1.5M. The transaction is also relevant in relative terms as the CEO increases its share ownership by 185%. The CEO had bought shares also in August/September 2016 and, from those transactions, the share has appreciated between 16 and 20%.
The company experienced some bumpy performance. EPS declined from $1.83 in 2015, to $0.53 in 2016 and is expected to go back to around $2 over the next couple of years.
(Source: Simply Wall st)

Investigating the annual report, we can understand that the company EPS was impacted by $259M in "separation and merger costs" and $184M of "Actuarial and settlement (gains) losses of the defined benefit plans ("Plans")". After adjustments the pre-tax income increases from $149M to $494M (quite a jump!). These merger costs arose after the merger between CSC and SRA finalized in 2015."
These corporate actions make the company difficult to analyze and a deep investigation is outside of the scope of this article. We encourage interested investors to dig deeper. In particular, it is important to note that the company generated approximately 94% and 91% of its total revenues for the fiscal years ended March 31, 2017 and April 1, 2016, respectively, from sales to the U.S. government either as a prime contractor or subcontractor to other contractors. The concentration of revenues, and the source, are a risk considering the unstable political landscape.
Yet, based on the analysts' forecast, the company trades at around 15X the EPS for 2017 and 2018 and slightly lower for 2019. The company, among others, operates in the cybersecurity business. The recent international issues with cybersecurity could provide new revenues streams to the company. It is estimated that there is a significant shortage of cybersecurity professionals, and this could increase demand for the company's services.
Overall, we do not have enough information to make an informed guess and therefore we cannot issue any recommendation on the stock.
Mattersight Corp (MATR)
Mattersight provides enterprise analytics managed services. It focuses primarily on behavioral analytics with products in routing, coaching, analytics, and quality. The firm captures and analyzes customer and employee interactions, employee desktop data, and other contextual information to optimally route customers to the best available employee, improve operational performance, and predict future customer and employee outcomes through its behavioral analytics service and related services.
Based on pure transaction data, MATR seems to be on a roll with insider activity. A large number of insiders bought shares. Each of them invested approximately $750,000. However, it looks like these transactions were part of a private placement at $3 per share.
(Source: Open Insider)

This capital raising is not surprisingly because, although the company's revenues are expected to continue to climb, profits are still a mirage. In 2016, MATR has lost $21M out of $42M in revenues, not exactly ideal. Over the last 4 years, MATR burned cash from operations amounting to $30M. The company has approximately $20M in cash and $20M in debt. If its cash flow won't improve, the company will likely need to raise additional capital (it had a negative operating cash flow of $17M in the last year alone).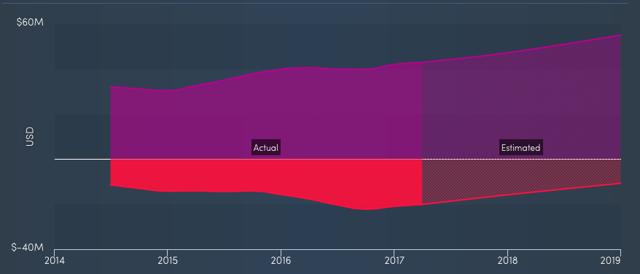 The current insider purchases failed to raise the stock price that plummeted by 28% in 2 weeks. Overall, MATR stock price lost 37% of its value over the last 12 months, and 65% over the last 5 years.
Going back in time, we can see that all of the insiders initially sold 1M shares for approximately $7M in November 2015. We tried to go back to news related to November 2015 but we did not find any explanation for that block sale. Hence it looks like they all sold shares (at double today's price) 2 years ago, and then they bought together the shares during the current private placement.
Overall, it looks like the company's path to profitability is rather uncertain. We do not know whether the company's products and analytics are revolutionary, but the revenues are not increasing very rapidly (3% from 2015 to 2016, and 23% from 2013 to 2016). Based on the current analysis, we are not attracted to MATR.
Bioverativ (BIVV)
Between May and June three Bioverativ directors invested almost $57M to purchase the company's shares. These are rather significant numbers. In particular, director Denner Alexander bought 1,010,000 shares at an average price of $55 (current stock price is $58). Looking at his previous insider activity, we can find a few transactions.

Let's look at whether his purchases have been well timed:
BIIB declined from $277 per share to $257 (-8%)
APRI plummeted from $8.8 (split 1:10) per share to $0.91 (-90%). In this transaction he lost approximately $6M (ouch! Alexander, if you are reading, give us a call, we might be able to help!)
Bioverativ engages in discovery, research, development and commercialization of therapies for the treatment of hemophilia and other blood disorder. The company itself is doing fine. Revenues and profits are expected to increase and it trades at reasonable multiples (approximately 20X EPS next year). Insiders might have information about valuable drug discoveries or developments. Yet, the previous lack of success of these insider transactions makes us a little skeptical. Not the company for us.
GNC Holdings (GNC)
GNC has been through a roller coaster and we have written a couple of articles in recent months. We even traded the stock for a reasonable profit across the latest earnings' releases. In recent months, nearly every executive has been buying shares. The CEO invested a total of $7M in two occasions. Director Hines invested $1M (although he also invested $1M when the stock price $35, now it is $8).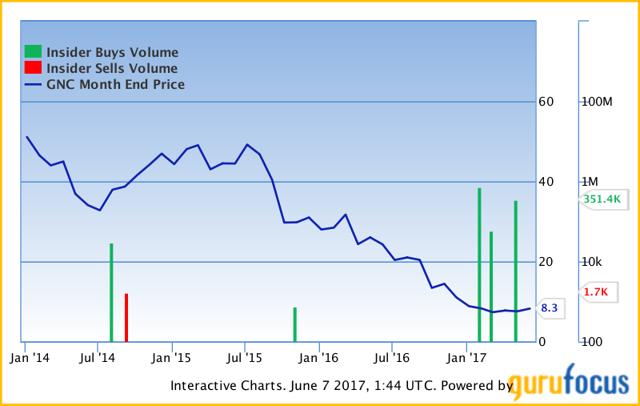 Overall, the company is in serious troubles: Declining revenues and comparables, high levels of debt, just stopped paying a dividend, negative retail trends. As we wrote in March, "management has a clear plan to address many of the issues the company has faced over the past year. Many strategies have already been implemented by the business, and early signs show a positive turnaround thus far. The big question is whether management can continue to drive this improvement and restore the business to where it once was. Turnarounds pose significant risks, and GNC is no different. Plenty of faith must be placed in management to turn this business around - a task that is not very easy, particularly in the dynamic retail industry we live in today." The situation has not changed. The company is facing severe challenges and bankruptcy is not to be excluded at this stage. The management is aware of the problems and is implementing intelligent policies (such as the dividend cut and debt repayments) and is putting its own money behind its actions. We see some potential, but the level of risk is above our investment philosophy (Integer means that the capital needs to stay intact).
Macro-trends
In our first article, we also showed how cumulative insider activity can act as a strong market signal. Looking at data taken from www.openinsider.com, we showed that insiders generally sell (red) many more shares than they buy (BLUE). The last period is no different. The graph below shows that, over the last three months, there is increasing insider selling activity. We will continue to keep an eye on this indicator as this can signal a trend reversal and offer a very precise buy signal.

Conclusion
This is the second article to review insider transactions. We will aim to regularly publish a summary of the most significant transactions, especially those that follow our 7 rules. Today we did found an interesting company that we already own: Omega Healthcare Investors. In addition, Fitbit and GNC might offer risky but interesting turnaround activities.
As always, thank you for reading. If you wish to follow our future articles about insider trading, just click the "Follow" button next to our name at the top or below. If you would like us to cover a company, please let us know in the comments.
Editor's Note: This article covers one or more microcap stocks. Please be aware of the risks associated with these stocks.